Analogue Photography Meets NFT Technology
There's nothing like an analogue experience in our highly digital world…it is a slower process, nothing is instant, you have to wait to see the images, and the unknown of what you captured makes it a surprise every time…I have shot hundreds of rolls of film and I still feel the excitement of the unknown.
This is why I create with film…My genesis collection tells my story from the past 5 years of exploring and experimenting with film, boiled down to 35 images. Within this collection I used expired film that is not manufactured anymore, as well as experimental techniques such as "film soup", double exposures, and long exposures to create these unique images. I do all my "editing" in camera, so literally the negatives of my images are Non-Fungible Tokens!
Each digital asset in the collection is packed with utility. From physicals to airdrops and access to future collections as well as member only benefits. One physical that I am especially excited for, that will be sent to holders of my collection, is what I am calling a "living" photo book that will tie the whole collection together using QR codes…Readers will be able to scan QR codes that will link the 35 images to the owners of the digital assets, how many times it has been traded, etc.
The book will also include descriptions of how each image was created, what type of film was used, as well as other details about the project. Like I said before, my collection is a story and what better way to bridge the gap between the digital and physical world than a tangible photo book showcasing the collection.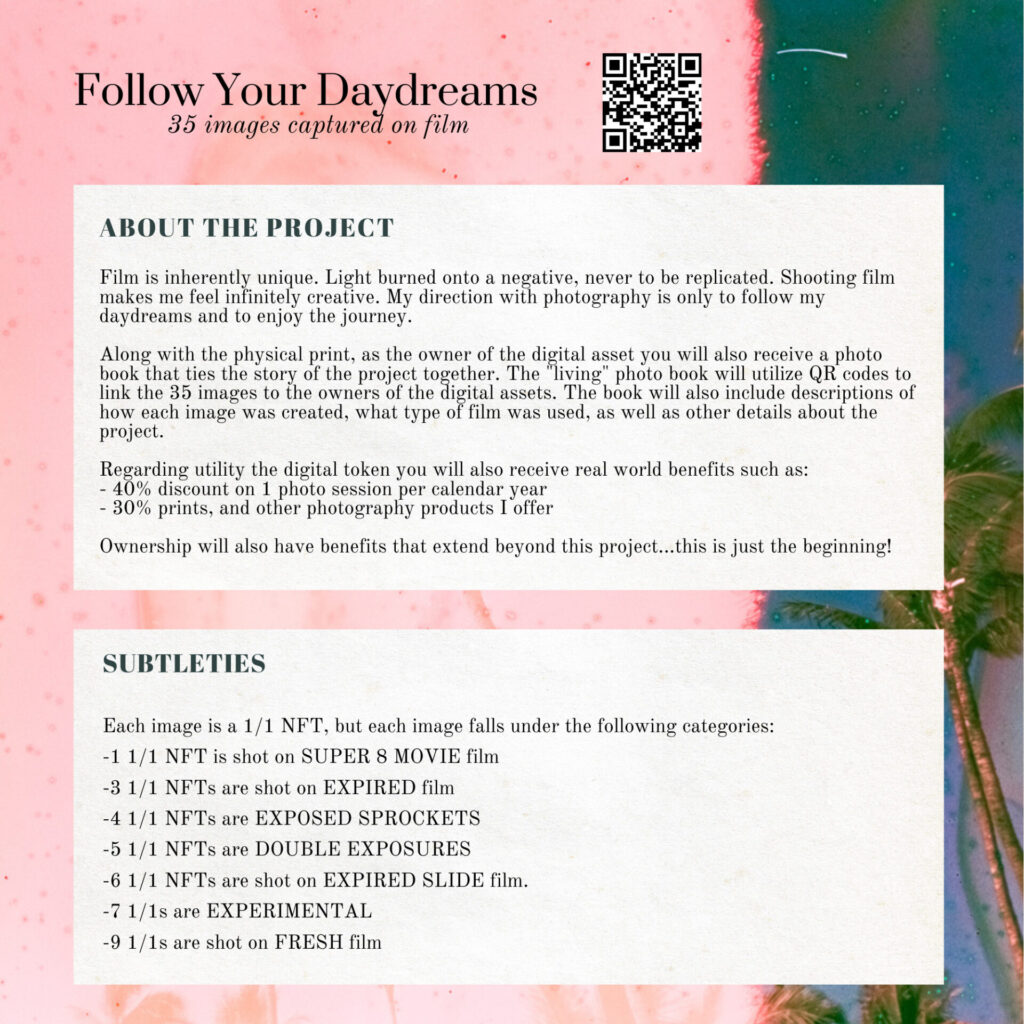 For the past few months I have seen how rarity can be a driver of value in the generative art space. I thought it would be fun to incorporate that kind of metadata into a non-generative art collection. Even though my photos are 1/1's, I divided them into categories of what kind of film I used to create the images. I won't say "how" but the rarity of the pieces will have some influence in the future…
To conclude, I've had the majority of my content for this project ready to go since February…but I've just been collecting, learning, and absorbing everything I can from the NFT space so I could properly build my long term vision and story for my projects. I know the NFT space moves fast, so I wanted the next steps to be ready to deliver to my collectors before I dropped. Entry is set at .15 ETH.
You can view the Follow Your Daydreams collection here: https://opensea.io/collection/godaydream