Coat colors are a part of Zed Run we all love. 
The game has fantastic graphics and horses are aesthetically pleasing with colors like Chartreuse, Gainsboro, and Golden Rod.  There are even different rarity levels making some horses more valuable than others.  This is especially true with regards to breeding.  Don't we all want to pony up with a Super Rare ;).  Fortunately, Zed Run has provided us a tool to show groupings and rarities, but is it meant for all horses or only Z1 Nakas?      
Introduce the Zed Run Color pyramid by @PremiumCarrots.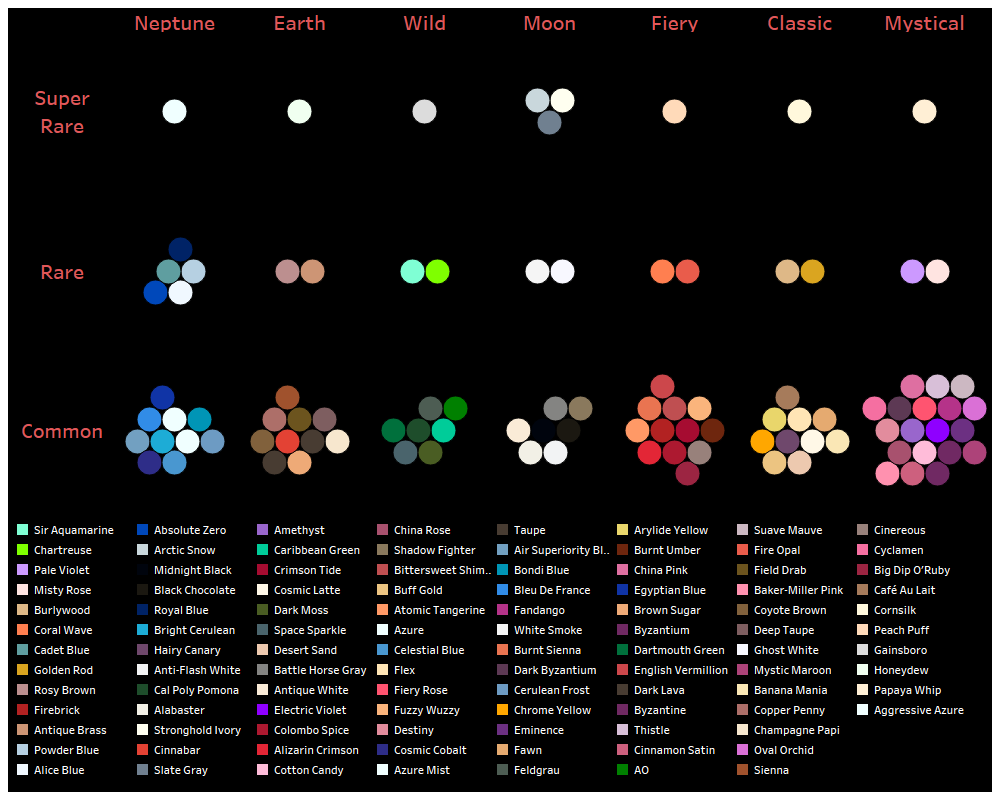 The pyramid could be a tool that is here to help us navigate the 100+ colors and rarity tiers in the game.  Per Zed Run: "Coat colour rarity is defined as the intended number of Nakamoto Z1 Genesis racehorses which have that particular Coat Colour."  No specific mention is made to all Genesis horses so why put this out there when most of us can't afford 6+ ETH Z1s?  We all see the ads in Discord with bolded Rare and Super Rare.  Many of us use the rarity tiers to value horses in the marketplace.   So how should we be using the tiers and what can we expect from them?  Let's take a look at how color rarities have played out through the drops.
Below is our baseline view for color rarity. The table shows the distribution for Z1 Nakas through rarity tiers and color groups.

Some things to note: Moon Super Rares dwarf remaining Super Rares, same goes for Rare Neptunes, and Mystical Commons make up one fifth of all Z1 Nakas. Some interesting tidbits but the most important takeaway is to understand the spread so we can compare to the rest.
Let's now take a look at the rest of Gensis horses in circulation (excluding Z1s).

Looking at the remaining population of Genesis horses from above there has been a huge shift in total color distribution.  Zed Run has reduced Common colors by 10%, added 31% to Rares, and increased Super Rares by an enormous 80%! 
So what does this all mean?  Have many of us been working under incorrect assumptions?  The data used in the Z1 Naka table includes about 942 of the 1,000 expected to drop.  Because of this we can consider the rarity percents to be accurate and reliable, I.e won't change.  The data used in the excluding Z1 Naka table includes over 20,000 horses bringing our total to just over 21,000.  With this all in mind there are two possibilities to consider.  Some of us have been using the color pyramid and rarities as Zed Run has presented to us in a misguided fashion.  Instead of being intended for the Genesis population it is in fact only for Z1 Nakas.  The other option is that the distribution of non Z1 Naka horses dropped so far have lived away from the mean in both directions. If so, this will all course correct over the remaining 17,000 to come.  Working under this assumption we can expect the remaining drops to include approximately 1% Super Rares, 10% Rares, and 89% Commons.
It's certain that many of us in the community hope rarity tiers consider all Genesis and is not exclusive to Z1 Nakas. This will all play out over time and we will update the community accordingly.
* Please note data does not include Million Dollar Drop
– Michael
Twitter: @PremiumCarrots