BAYC Weekly Recap: October 20, 2021
This week has been monumental for the apes . Here's what happened in the BAYC this week!
Key Stats:
Current # of Unique BAYC Wallets: 5,617
Total Volume Traded:  187.2k ETH
BAYC Floor: 36 ETH
Current # of Unique MAYC Wallets: 9,309
Total Volume Traded: 88.8k ETH
MAYC Floor: 3.79 ETH
Mega Mutant Monday
This week started off with two MAJOR Mega Mutant Sales. Each Mega sold for 370 ETH within the same day (a whopping $2.8m USD). The first sale was the Mega Radioactive Mutant.
The other mutant that sold is the one and only Mega Swamp Mutant.
Mega Trifecta
Both megas were purchased by the owner, @ptmNFT who now owns three total (including the Mega Electric Mutant purchased last month). He explained why he bought the legendary mutants in this thread.
Steve Aoki's New Kicks
Steve Aoki shared his new Aoki x BAYC kicks that sport MAYC artwork on the sides.
Neon Apes
@NeonApesYC shared his stunning neon sign collection purchased by many proud BAYC owners.
BAYC Signs Representation Deal
On Tuesday, @BoredApeYC signed a representation deal with Guy Oseary who also represents Madonna and U2.
Robot Cyborg Purchase
A clean matching robot fur cyborg ape was purchased for 425 (~1.6m USD) by @machibigbrother!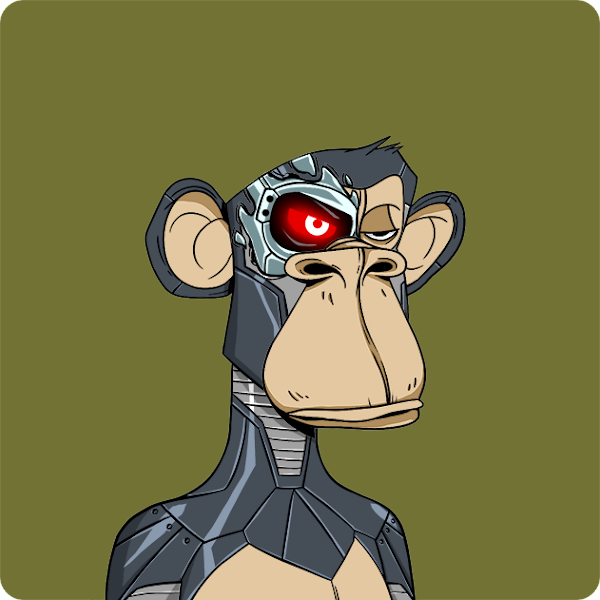 BAYC on Fox Business
News of the purchase was broadcasted on Fox Business News that day with the headline "Cryptocurrency Craze."
Maui Prime on Google
Josh Ong discovered that his ape, Maui Prime, is featured under the Google search: NFT Avatar.
Christie's London Auction
A set of Laser Eyes Bored Apes including M1 and M2 variations were fixed regally on the wall of Christie's in London ahead of the auction.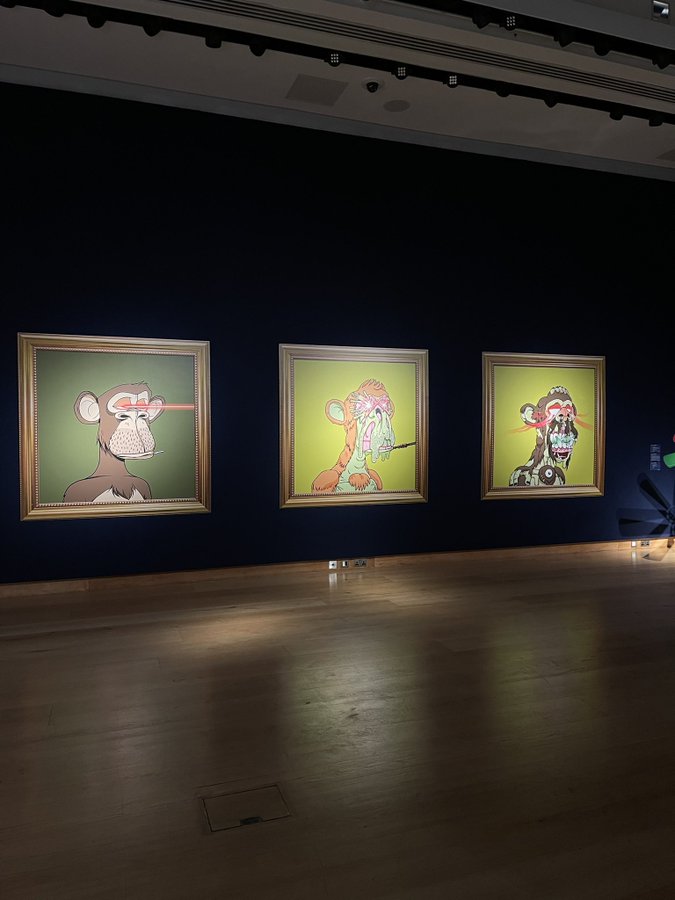 Sold!
The Laser Eyes set sold for 354 ETH at the auction on Thursday!
BAYC Wall Art
Cryptopainter (@painter_crypto) tweeted pictures of Ape #768 painted on a brick wall in Brooklyn
NHL Goalie Mask
Painted on the New York Ranger's @Blockaid1's goalie mask is a Statue of Liberty Bored Ape which he will be wearing during the NHL season! Afterward, it will be auctioned off for charity.
Ape Army
@OGDfarmer shared his aesthetic Bored Ape army consisting of some absolute bangers.
Bored Ape Ladies Club Collection
The @BoredApeLadies Club dropped "its Genesis Collection" featuring the works of artists who belong to the Bored Ape Lady Modelling Residency Program. The drop sold out 13 works within 3 hours of the launch!
Cross-chain Diplomacy
Yesterday, Apes, Spacebudz, and various NFT holders across different chains united in a Twitter Space hosted by @IbisNFT to set aside differences, discuss the mutual appreciation of the digital collectible renaissance, and outline plans to build more cohesion in the NFT space.