Thus far, artificial intelligence (AI) has no doubt been the stand-out performer of the tech world in 2023, with the likes of Openai's ChatGPT-3 bringing AI popularity to the masses, whilst AI art-centric platforms such as Nightcafe, DALL-E, Starry AI, Jasper, and Deep AI have caught the attention of many digital artists.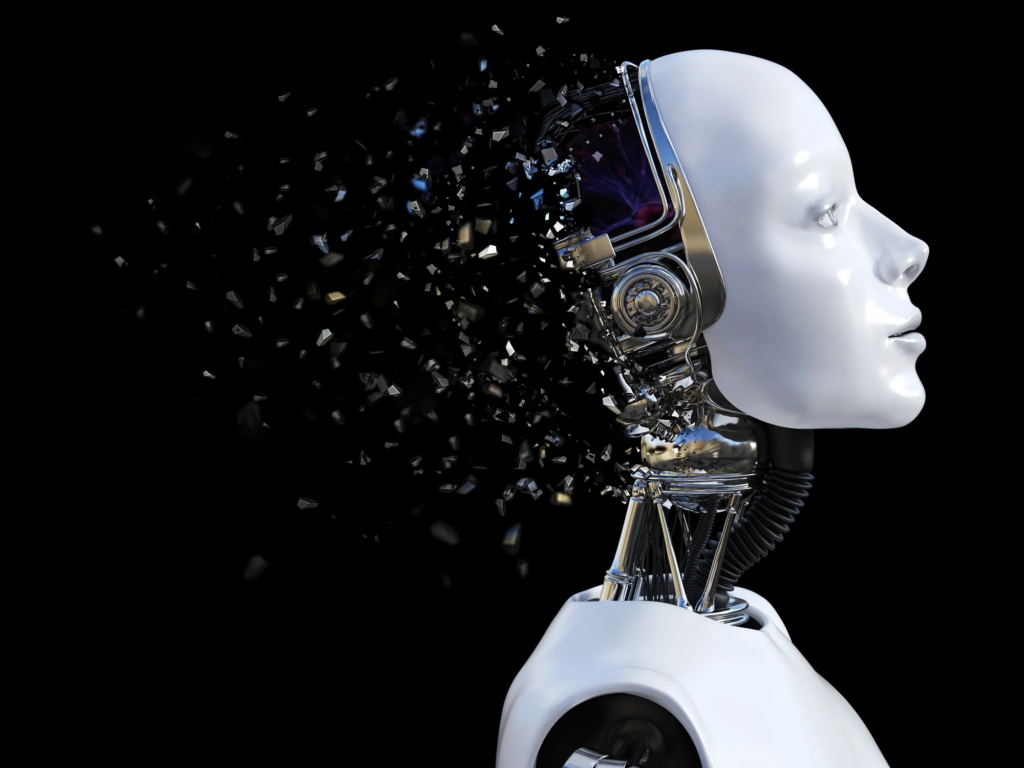 Here, the latter 'type' of AI program is what's of more focus to the Web3 space as of today, as by nature, the vast majority of NFTs also fall under the 'digital art' remit.
Binance's Bicasso
With this in mind, yesterday (March 1st) saw leading crypto exchange Binance– which also dabbles with non-fungible assets via its NFT marketplace- launched a beta version of its AI-powered NFT generator 'Bicasso'.
Per the words of the announcement, the way in which Bicasso works is through text prompts called 'Magic Words'. Here, users can enter multiple prompts (in English)- be it directly or as written descriptions- in order for the AI to generate high quality digital art images.
To achieve even more 'optimised results,' users also had the option to upload an image of the person or animal in question- with the image- be it one of portrait or landscape format- having to be in front of a 'clean background'.
Immediately after launch, Bicasso churned out its capacity of 10,000 NFT mints in as little as 2.5 hours, with each residing on Binance's native BNBchain. However, given the fact that Bicasso was only released in pilot mode, the NFTs haven't been available for resale- therefore meaning they can't be classed as the inaugural Bicasso NFTs to hit marketplaces.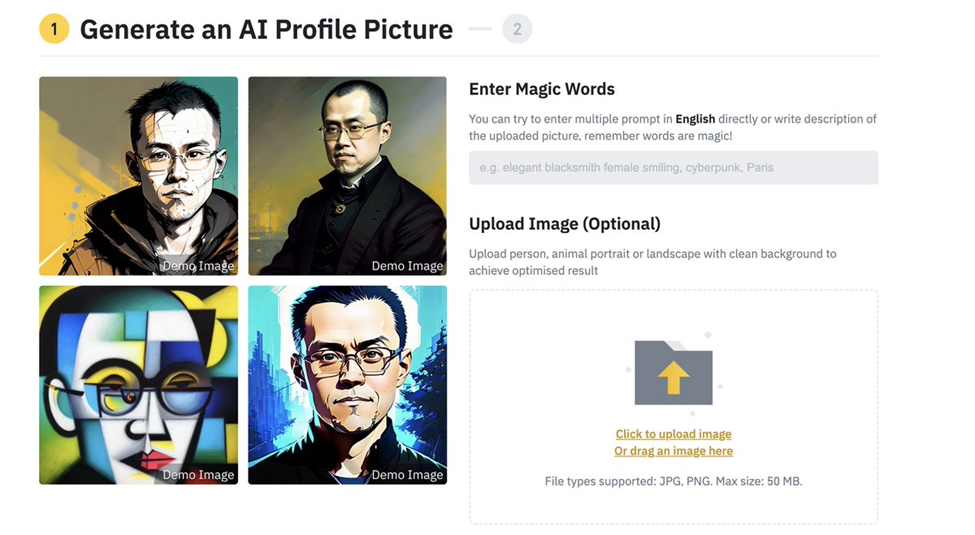 In commenting on the feat, Binance's notorious Co-Founder and CEO Changpeng Zhao (a.k.a CZ) said this on Twitter: "The AI was a little stressed out, but caught its breathe now".
According to data from the event, the 10,000 minted NFTs were curated by 9,909 individuals, with many taking to Twitter to showcase their AI-powered creations. In doing so, users' collective posts demonstrated the quality and diversity of Bicasso's cartoonist art, as examples included an array of facial portraits- from humans, to humanoids, to monkeys– as well images of mystical forests and scenery.
Many users also paid homage to the platform itself by centring their images around the Binance logo, whilst others- including Bicasso's promo pictures- decided to make CZ the centre piece.
Bicasso's short window of activity didn't go completely plane sailing however, as some users received an error message stating that the system was 'busy' and that they should 'try again'. In addition, there were also reports of the NFT minting process having issues.
When trying to access Bicasso as of now, the program's landing page states that the product test is now closed. Given the success of its shortly lived beta test, the program will most certainly be returning, with users now able to join its waitlist.
AI-Powered Art in the NFT Space
As inferred by the inferno of new AI-powered programs gracing the digital art scene, many believe that AI-generated art is poised to become the next 'trend' of the NFT space.
In fact, such dynamic has already made its way into the Blue-Chip corner of non-fungible ongoings, as Tyler Hobbs' infamous 'Fidenza' and 'QQL' NFT collections were created through users manipulating a computer algorithm in order to manifest an artwork of their choosing.
As of the time of writing, the 999 NFTs of Fidenza have accumulated almost 56,000 ETH worth of secondary sales on OpenSea in their 16 months of activity, whilst OpenSea's 191 QQL NFTs have generated 190 ETH of secondary sales in just 5 months. Just as staggeringly, Fidenza's floor price currently sits at a whopping 72 ETH, whilst QQL's falls just short of 6 ETH.
When it comes to the future of 'AI-generative NFTs,' many are tipping such sub section of art to emerge as the next 'buzzword' of the Web3 space- alongside the likes of NFTs, AI, the metaverse, crypto, and the blockchain.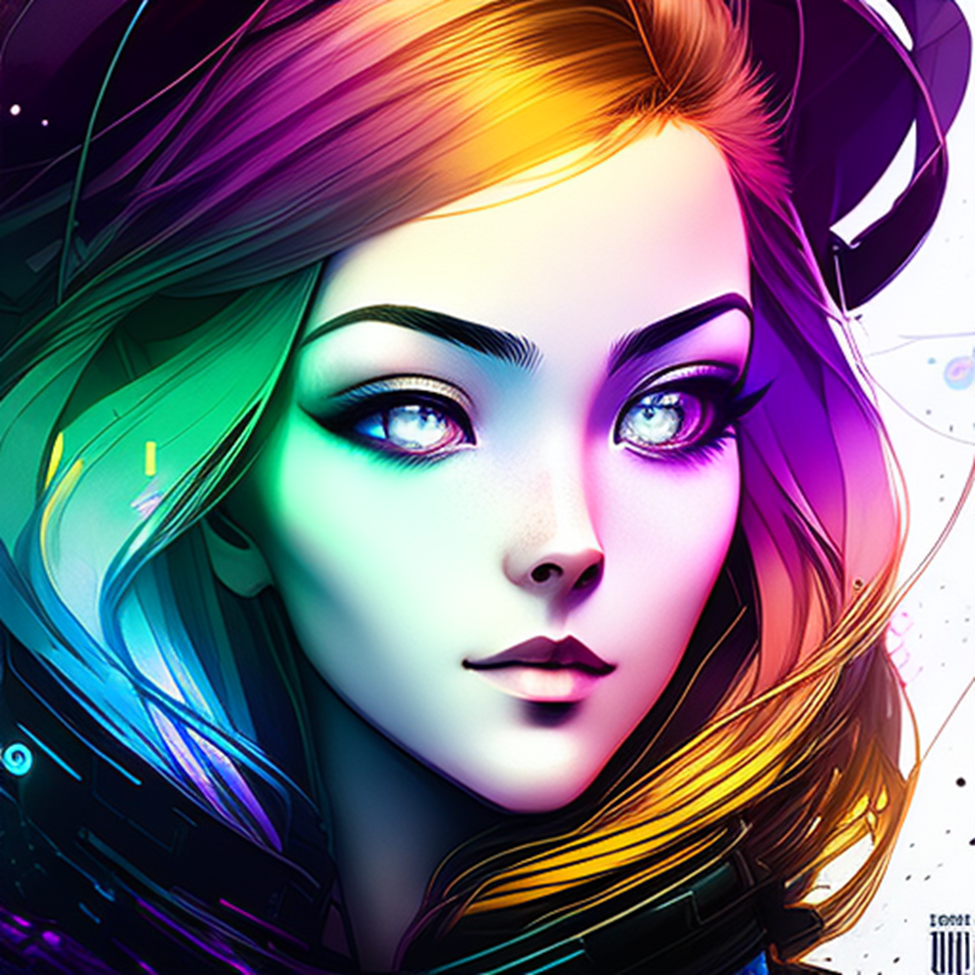 With regards to what this mean for artists- of the 'human' sort that is- AI-generative NFTs will most certainly revolutionise their role within the artisan process. One of the ways will be with regards to the actual tasks at hand, as through humans working alongside algorithms to create dynamic and essentially 'collaborative' outcomes, there will be more need for data collection, code writing, theme curation, and algorithm 'coaching' to take place.
On the collector side of things, the introduction of AI-generated NFTs will mean that there will be ample more choice out there, as intuitively, AI work a lot quicker and more efficiently than humans. When it comes to what 'feelings' the assets may elicit, some collectors may (understandably) wish to continue buying human-made assets, whilst curators themselves will be able to pick and choose which AI-generated art pieces are worthy of being open for public sales.