Buy Big Bad Bitcoin
Say what you like about Bitcoin: Boomer coin, Bunker coin, it's too expensive, it can't do smart contracts, no one is using lightning network, if you think you are going to make life changing money you are too late.  The reality is that the entire market is tied to it. 
No one on the planet has ever bought Bitcoin, held it for four years and then sold it at a loss.  A full node can be run on a raspberry pi, it can sync from the first block all the way to the tip of the chain – and stay in sync. The cost is an internet connection and a few hundred dollars to truly be your own bank vault.  
Its development moves slowly because security is valued above all else.  It is technically still in beta.  Other blockchains have other uses; their price action is more volatile because they are younger.  They're innovative, exciting and wealth creating but they are not hard money.  Bitcoin is hard money.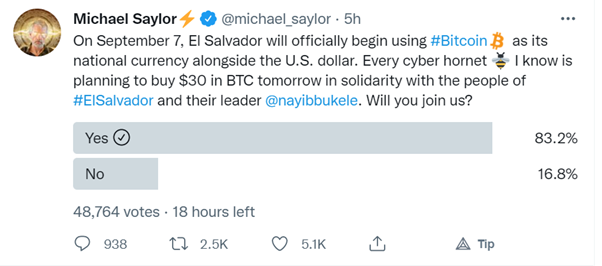 On September 7, 2021, El Salvador will become the first country to recognise Bitcoin as legal tender.  The significance of this should not be underestimated.  The president of El Salvador announced the government will airdrop $30 worth of BTC to every adult citizen of the country.
For the decentralised generation, it's about having the opportunity to choose if you want to use a government backed fiat currency, or a permissionless, self-sovereign, decentralised store of value; or use both – whatever suits you best for the job in hand. The bigger bitcoin becomes the better things are for all of us. The president of El Salvador may have his own reasons, but we are lucky he has stepped forward and given bitcoin the status of legal tender. More will follow.
You don't need to be a cyber hornet but if you're a part of the decentralised generation, you only have to do one thing on September 7, 2021, if you want to send that message.  Buy $30 worth of Bitcoin.