With all the exciting drops lately, the Chicago Bulls NFT drop seems to have been lost in the shuffle. The legendary NBA franchise is dropping three NFT "rings" of different rarities for each of their six titles over the course of six days. I missed the first drop today, but the good news is, the Bulls won so many freaking titles (this hurts me to type as a Cavs fan) that you'll have plenty of chances to snag one.
When is it?
Tuesday, July 27 through Saturday, July 31. One set of rings will drop per day. They don't give a specific time, which isn't ideal. Today's drop was at 11am.
Where's the drop?
What's it cost?
It's unclear, although according to the website, the sold-out first set was only $49 per NFT. It's also unclear how people will pay – if you'll set up a new wallet (like CNN or Top Shot) and pay in fiat or be able to kick them to your Metamask. Given they appear to be offering a wider appeal to more casual fans, it's likely the former.
How many will drop?
There are different numbers available for each type of ring. The Legendary rings will only have six each, the Iconic will only have 23 each, and the Rare will have around 60 each.
My take:
I'm the idiot who keeps minting CNN NFTs on their hit-or-miss platform, so this sort of thing interests me. I don't know if they'll be worth anything long term, but as NFTs become more popular, I like getting my hands on this kind of project (especially at $49). They also seem to be pushing some kind of utility with challenges exclusive to NFT holders. So, net-net, I'll probably keep an eye out and try to snag one of these rings, which for some reason, is in the middle of the woods in their 1992 version.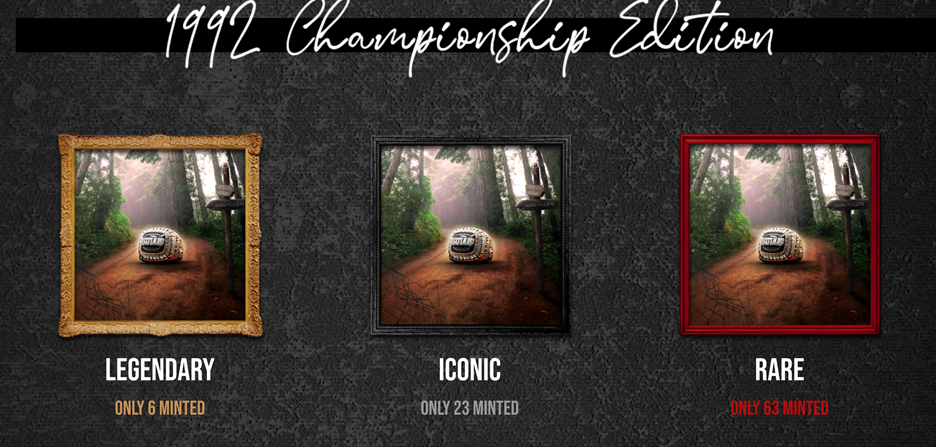 Disclaimer: This article is not financial advice. The NFT and Cryptocurrency markets are very volatile. Please don't invest what you can't afford to lose. Always do your own research before investing.