Welcome to the second installment of "IN SPOTLIGHT". Your source for bi-weekly articles that will allow the industry's pristine NFT artists and projects to shine.  We are going full throttle with written articles, video clips, audio content and more.  While the mediums might change, hanging with dGens in the community and sharing their experiences won't!  In this installment we talk to CryptoRobo from Apymon Revolution. A fun, easy to talk to people person. With a very unfortunate run-in with a rug puller.
How do you start over when you've had your legs literally swept out from underneath you? Where do you find the passion again? The energy to keep going? Why not just walk away?
I think the answer is simple. CryptoRobo and Team!
CryptoRobo and the Apymon Team never gave up. He truly believed that Apymon had the potential to be one of the top metaverse games. A game that has beasts, apes, and cats as warriors. Warriors that could fight in single hand-to-hand combat or in teams. With weapons and wizardly attributes! Features that would only be fit for a futuristic zed like coliseum!
CryptoRobo knew that to pull this off, it would require not just a team, but a Revolution! "We will not forget the past, rather we will learn from it and build the new army of unstoppable Warriors full of passion and drive to right the wrongs and deliver on promises made long ago. Today, we start anew as Apymon: Revolution!!"
The new Apymon Revolution features will include four brand new 3D modeled game ready warriors with AR.
The warriors are:
The Ape Warrior-Bold and bad, for sure to pack punch!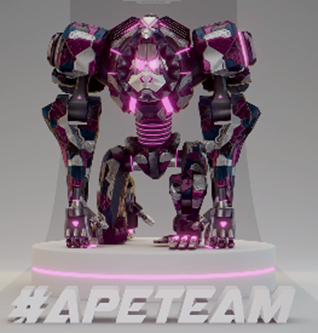 The Cat Warrior– "She's sexy yet lethal. A lady, yet a warrior!"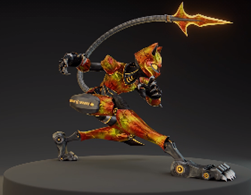 The Beast Warrior-This warrior is literally a beast!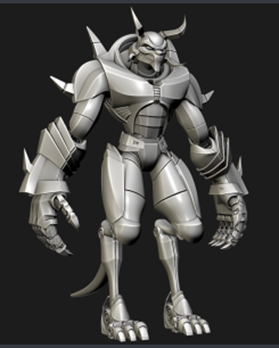 The Unnamed Warrior- yet to be seen. If what we have seen already, the fourth warrior better come out fighting!
Alright! Let's get into it with CryptoRobo!
Mad$en: Did you want to focus on the past, present or future? The past is a great story, but that would be enough information to make a documentary.
CryptoRobo: "I don't mind addressing some questions from the past, ya know. The why's and how's are something that I'm not really that familiar with because I was not on the previous team-I was a Mod, but I wasn't part of the founding team, so why they did what they did and how they did what they did are things that I'm unfamiliar with and was unaware of."
Mad$en: So, I researched the calendar, and it seems from what I found on Discord, everything started right around April 13th-which was kind of the beginning of Apymon, and then as I go through the announcements, it very quickly gets into a massive number of giveaways and then the launch on the 30th. Is that correct? Is that when Apymon officially launched? (April 30, 2021.)
CryptoRobo: "Yes."
Mad$en: As we go on, I just want to say also that I don't want to disgrace anyone or drag the skeletons out of the closet.
CryptoRobo: "You know, I've never been a person that believes that degrading or bashing someone else does anything for me, so I won't be doing much of that.  Am I unhappy with the way that they handled things and the position that they left us in, absolutely! Would I ever go into business with either one of those two? NO!"
Mad$en:  OK, and those two are Happy Magic and Archie.
CryptoRobo: "Yes, Happy Magic has essentially disappeared.  He's deleted his profile from Discord and he's gone!  He's probably the real villain here. I think Archie is just, I'm not sure what's up with Archie. Emotionally, he seems to be erratic, and I don't know if I'd say unstable, but Happy Magic was gifting himself two of the eggs on random reveal, then the contract being exploited as they were loading it up with prizes and everybody started to see where the referral ETH (etherium) was, where the 80 WETH in 1 WETH prizes. THEN the Punk was stolen.  So, all of that, I think, put Archie mentally in a place where I think he wanted to step away and, you know, he disappeared for a month, left Happy at the reins, and it was a pretty brutal month for our community.   It was tough because I was doing my best to stand up for them, not knowing that they were going to pull the rug, and then when they did, you know, it was pretty tough to digest. So Happy's the real villain, and Archie has given us some funding, little by little.  I've been able to extract some willingness for him to give us some funding.  He's trying to help.  He's still making off with a lot of ETH that he doesn't deserve and there's nothing anybody can do about it at this point, from what I know."
Mad$en: Just brutal.
CryptoRobo: "It is. So, we started with about $90,000 in funding, we got the bulk of that from him (Archie), and 5 ETH from dingaling, who's a pretty big whale in the NFT space."
Mad$en: The decline happened quickly in a way, but NFT space moves very fast. I had seen that you jumped on June 3rd as the big announcement basically saying that everything was pretty much screwed and we're (Apymon) going to try to make this right.
CryptoRobo: "That was June 3rd. Yes."
Mad$sen: And Happy got away with approximately $1.6 million.
CryptoRobo: "Correct."
Mad$sen: OK, well I don't want to linger on the past too much. Let's talk about the positive and what you guys have got going on for the future. I understand the eggs, but just to clarify, because by the looks of it you are like a fireman. You're constantly putting out fires. A lot of confusion about the monsters being there-whether they're there, whether they're not there. Can you just clarify to set the record straight on how everything is going to be determined-if the monsters are in the eggs, if they're not in the eggs, etcetera?
CryptoRobo: "So the monsters are on their own contract and the eggs are on their own contract.  A little over 4,300 monsters have been minted.  There are still roughly 2,000 that are not minted. (As of the time of this interview, July 28, 2021.) Now these are not per say, in the egg but rather, in the contract.  The two contracts communicate with each other and when you select mint creature from the egg, it communicates with the monster contract and mints the monster for free plus gas.  Currently with those roughly 2,100 monsters still in the eggs, for someone to retrieve that Monster, simply go to our website, (APYMON.com), connect their wallet, their wallet will read the eggs that they have, and they'll be able to click the three dots on the upper right of the egg and mint a Creature/Monster. That is not currently a requirement (minting the Creature), but we will let everyone know with as much notice as we possibly can if that changes. 
The way the new contract is being written, everyone who has a monster minted, which is the new updated placeholder image, the humanoid head and shoulders, with the egg skins on them. We wanted to get those updated because nobody was really in love with the GAN Monsters. So, we wanted to get that replaced and were able to get that done earlier this week. So that was a good step forward. 
Moving back into, how do I trade my old monster in, or what if I have an egg that hasn't minted, how do I get one of these new warriors when it comes out? It's a really simple process. You will link up to our website (APYMON.com) and there will be a section on there where you can go and swap your current monster from the old contract that is currently running, and it will communicate with the new contract to validate that you have a authentic Apymon monster in your wallet and it's number, 100 or whatever the number is, and it's going to mint you a NEW warrior, and BURN the old monster. So those will be burned, in exchange for the new warrior and all it will cost the end user is gas to mint the new warrior. We think that is important because essentially everyone bought the egg thinking they were going to get a kick ass monster out of it, and everybody was unimpressed with the GAN monster, so we wanted to provide the new warriors at the same cost (0+Gas) that they were originally expecting. If you have an egg with a monster that has not been minted, the system is going to read that, and it's going to say, OK you have an egg, that hasn't had a creature minted, would you like to mint your new warrior from the egg now? And then you'll select the mint button and it will mint the new warrior for you rather than the old GAN. If you have an egg that has already had a monster minted from it, and you sold the monster and now you just have the egg, the monster already minted, you do not get a new warrior. I want to make that very clear."
Mad$sen: But the egg is usable for battle re-ups on energies, is that correct?
CryptoRobo: "That is correct. Yes."
Mad$sen: OK, so the egg is still of value?
CryptoRobo: "Absolutely! And every egg has a multiplier, your warrior will heal after battle proportionate to the multiplier on your egg."
Mad$en: Are there still eggs available on your website?
CryptoRobo: "No, all of the eggs have been minted. There are no more to be minted.  To purchase, go to our Verified account on OpenSea"
Mad$en: So Open Sea is where someone can still find eggs, some with unminted Monsters?
CryptoRobo: "Yes, all on Open Sea."
Mad$en: How about monsters?
CryptoRobo: "Max supply of 6,400 monsters available from the old contract. 4,353 monsters minted currently (July28, 2021) and you can trade those on OpenSea as well, under Apymon Monsters. That means that 4,353 eggs have had the monsters minted from them. Leaving 2,051 eggs that have not had the monsters minted from them."
Mad$en: How would someone get started with an egg and monster not minted with Apymon? Are they still out there?
CryptoRobo: "Yes, go to our Discord or our (APYMON.com)and verify if an egg has had a monster minted or not. Then you can go to Open Sea purchase an egg and mint that monster from it.  You can also purchase them separately."
Mad$en: What are the plans for new reveals?
CryptoRobo: "We will have four base models being built and designed, two of those have already been revealed, the ape and the cat. The Beast is yet to be revealed to the public in it's finished rendering as well as our fourth-which is a surprise. We hired a very high-end, 3D game modeling company that develops high quality models and we are working with them to bring out the best that we can fiscally produce. Our number one goal is to deliver quality, not velocity."
Mad$en: Will there be a coliseum where battles will take place?
CryptoRobo: "Yes, the game is going to tie into probably the most notorious battle arena in the history of man. It's going to be a futuristic design if you think like the Zed Run style of racetrack, but now take the ancient Coliseum and imagine it more futuristic. The idea/goal is eventually to have a collaboration with Zed Run (among others) and have them build a racetrack around the top of our coliseum. So, when they're racing, they can see down into our coliseum and see our guys battling. And when we're battling, while the racing is going on, we can see these beautiful Zed Run horses running around the ring up top. Really cool concept and an important goal for us to get there.
One of the most important aspects to us is to consistently add value. If we do something we want to make sure it adds value. Don't just do it, to do it. Don't do it because some other project did it. We want to innovate; we want to be on the leading edge of NFT gaming technology and for us to do that we need to press the envelope and we need to do things that other projects aren't doing."
CryptoRobo added that it's very important to him and the team that when they do the randomization assignment of the new warriors, that they get it right, and that there are no leaks.
"The team is not currently taking any pay, were not dipping our hands into the project funds to pay ourselves just yet, not until we accomplish what we have sent out to do (get the new artwork rendered and delivered to the community). We're also going to sell four very unique and special new eggs as well, which will also help raise money for the project as well as trading fees from the added value of the new artwork. We also have a line of weapons being designed and rendered for sale to the community, that are interchangeable, to upgrade your Warriors for Battle. Main point, we are going to deliver value at every stage of the Road Map."