In Spotlight: Noisy + Murder Houses
Welcome to the first installment of "IN SPOTLIGHT"! Your source for bi-weekly articles that will allow the industry's pristine NFT artists and projects to shine. We are going full throttle with written articles, video clips, audio content and more. While the mediums might change, hanging with dGens in the community and sharing their experiences will not! In this installment we talk to Noisy – a "pixel peepin" self-proclaimed "twitter dickhead" who transitioned from Instagram photography to heading up one of the most unique NFT projects in circulation.
We have all experienced the vortex that is the NFT space. It's easy for us to hide in anonymity, speak our minds, and ape into projects with the greatest degree of recklessness. In doing this we forget that we are all just 'normal' people hiding behind our goat, ape, or monster avatars. Noisy, our spotlight guest is no exception. He is genuinely a nice, down to earth family man who lives in an area of the country that is self-described as a "landlocked cowboy continent".
Noisy can almost be considered an OG in the Crypto and NFT space. He first heard about Bitcoin back in 2012 from a friend and thought "what kind of space money… what kind of idiot is going to use this kind of weird internet coin". He could have been that guy from the pizza BTC anecdote that we are all familiar with. However, he is not the pizza guy and is not sour about the missed opportunity. Instead, he has been successfully investing in ADA, XRP, ETH, BTC, and DOGE since 2018. We pushed him on the DOGE investment and Noisy was happy to recognize that "DOGE is far from a stable coin – it's a shitcoin made strictly to pump and dump".
Moving onto NFTs we both easily acknowledged that the space is the frickin' "wild, wild west", in good, scary, and ways still unknown. In December of 2020 he transitioned into NFTs with Murder House and Murder Rooms. Since his first design dropped it has been a roller coaster experience. The space has been "frustrating yet eye opening and creatively liberating". Frustrating because "Some guys are whipping up projects to make a quick buck and leave. Then you got us guys trying to make a true project with some utility that will be usable in other areas and we're getting screwed over by the guy selling pickles". While this is unavoidable in the space it has also been liberating. "It's opened up creativity in the sense that I've never done or explored pixel art in any shape or form and in fact, I made fun of it. I would always think stop collecting toys and collect art (like a real jerk). Then I downloaded the program and thought this is fun, I can see why people do this". Noisy comments that he now "wants to write a big apology letter because pixel art is not stupid-this is awesome".
Now for the big reveal. Below is Murder House # 3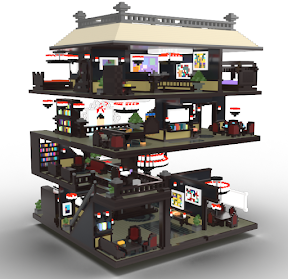 So what projects are you currently involved in?
These NFTs are beautiful – super creative and the design is crazy detailed and intricate. How long do they take to make?
Tell me more about the details of the house and crime. How did you come up with all this?
I love this idea; how will you know when the city is complete? Is there a set number of homes that will be mapped out?
How can somone purchase a Murder House – will they be minted or dropped?
Anything else the people should know about the project?
Noisy is ambitious with the undertaking of his project. He has some grand plans and hopes that "the project just becomes known. I am not in this for the money, that is great and all, but I am more interested in people talking about this project and making it an NFT household name-like a BAYC". We also hope his project becomes a household name. The art and creativity involved is totally unique in the space and we think Noisy is well on his way!
Follow Noisy on Twitter: https://twitter.com/ForeignOrganism
Check out Murder Houses on OpenSea: https://opensea.io/collection/murder-houses