In Spotlight: Punk Portraits
For the In Spotlight, I try to find artist that might need a little push to be seen. Projects that are up and coming and haven't been noticed yet. Photographers that are wanting to shoot their first shot or musicians that just want to be heard. The In Spotlight series gives me the opportunity to find artists of all kinds. In some cases, I get lucky, and the artist will find me. This is one of them.
Utility seems to be the "must have" if you are starting a new NFT project. In NFT terms utility is what an NFT will offer besides the already great art provided. What if there could be a project where the actual project is the utility? This is exactly what "Punk Portraits have done.
Confused? Let me help. With the vision of Steve Wimmer (art direction/project management) and David Lawrences (Photography) each Punk Portraits will become a real-life portrait. That's correct! The original pixelated CryptoPunks that we all cherish, and love are duplicated with real life models. The models go through hours of clothing and make-up so that Steve and David can capture the exactness of each original CryptoPunk NFT. There are clown noses, cowboy hats, wigs, 3D glasses, hundreds of props, nothing is left out.
There is a total of three different NFT drops, each will depend on the timing for hair, makeup, and costumes. The Punk Portraits have already released two of the three drops so you're in luck. The Third and final drop will take place on Halloween, October 31, 2021, and will include Zombies!
Interview with Steve Wimmer and David Lawrence from Punk Portraits
Mad$en: How did you guy's meet? Was it through NFTs?
Steve: "We ran in similar circles here in Orlando and have crossed paths a few times. I have worked for start-ups my last couple of gigs and one of them was sold to a corporation, so I moved to Chicago for the job. and at an extremely random moment, David was in Chicago, and we saw each other across a restaurant."
David: "Across, in a department store restaurant! (laughing)"
Steve: "Yeah, it was a restaurant in Macy's. I have always loved David's photography and our company was looking to do head shots. So, I told them that my buddy is really good, really artistic, let's bring him up. So, we worked together on that. And then we just stayed in touch. I moved back to Orlando to start another startup. I reached out to David around late July to see if he had any interest in cryptos and NFTs and was thankful that he did. So, we have been acquaintances for a while and this project has brought us closer together."
Mad$en: When did the two of you decide to start Punk Portraits together?
Steve: "We had some initial meetings and test shots in early August. So, the first mint was the first week of September."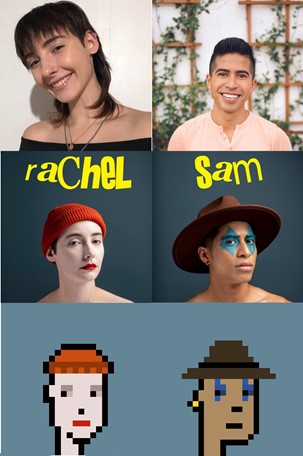 Mad$en: After Steve reached out to me, and I saw the Punk Portrait next to the Crypto Punk for the first time I was immediately on board. It is a great idea. Wouldn't it seem like all the CryptoPunk owners would want a Punk Portraits to match their CryptoPunk collection?
Steve: "It really seems like there may be two camps. There are punk owners who appreciate derivative projects and then there are some who are like "How dare you besmirch the good name of Larva Labs by putting this dreck out in the universe," And I get that to some degree that they might feel people are trying to ride their coattails from the Punk's fame.
So, for me and I think for David, this is our chance to improvise, riff, and use his medium to express something that no one else has really done in the same way yet. There has been a lot of pixelated derivates. But photography is kind of a new frontier. There is a project called @punksare "CryptoPunksAreAlive" that came before us. So, they deserve the credit for being there first."
Mad$en: David when Steve introduced you tothis idea were you already into NFTs? Or is Punk Portraits your introduction into NFTs?
David: "This is my introduction, I wanted to say also that I was aware what NFTs were but, Steve didn't tell me that he was trying to do NFTs. He just sent me an Email that said, "How long would it take for you to do 10,000 head shots?" And I literally responded back asking if that was a typo? Are you joking?
After we talked on the phone, he explained his whole idea. I had previously toyed with the NFT idea a little bit. I have been a photographer for 10 years and I have thousands of photos. But to be honest I couldn't figure it out. So, when Steve called me and told me about it after I accused him of sending me a fictitious email. I was definitely amped!"
Mad$en: This project is such a massive undertaking; how do you bring something fictional to life?
David: "It's a Labor of love that I am very passionate about. Over the last couple of months, I will get genuinely excited. This looks amazing or this looks incredible. But it's fictitious, so we are having to imagine all of it. The goal is for them to be real people in a sense, but they are also not real. Like, they don't have personalities. I guess we could imagine they have personalities.
But they are all very stoic and serious, a couple smirk, and a couple are a little bit goofy. But for the most part there isn't a lot of personality. But I say that in the most positive way because it's really challenged me to learn something new or to be able to step into a fictional realm because I would of normally never have done anything like this on my own."
Mad$en: You are right, David, The CryptoPunks are stoic and serious, kind of expressionless. What do you guys' think was the initial alure of the CryptoPunks?
David: "It is such a simple thing, yet that is what blew my mind, was seeing such simplicity catch such fire. For me at least it doesn't happen a lot. I used to really discredit myself as a photographer because I felt like all my portraits were very simple. I wasn't designing sets or doing anything over the top. Like it was just people in their element. So, I think that there is a beautiful simplicity to even the idea of Punks because it is literally just a single person on a flat background. Sometimes smoking, sometimes with their Twirly hat, so maybe at the end of the day people find enjoyment in simple things?"
Steve: "Mad$en have you ever read PUNK 6529 threads?"
Mad$en: No, I have not.
Steve: "Punk 6529 has threads that are on the philosophical, a revolutionary end of the spectrum. He writes like 30 to 70 Tweet threads and his big thing is that we need to seize the memes of production. I think a lot of us think of memes as a silly JPEG that make us laugh but the actual definition is a shared myth. Like Nike is a meme. So, for me I think the CryptoPunks, maybe with just their timing and the fact that they were named thusly around Crypto became kind of iconic. The art is simple and compelling, but I think it's probably a chicken and they egg thing.
They struck a chord as a meme that represents decentralization, it represents a new movement, it represents millennials and Gen Z's and Zoomers. So, even though they are now multi-million-dollar assets. We have kind of painted ourselves into a corner. So, they can't be revolutionary anymore in that way because they are out of reach, but they still symbolize that, and their symbolic nature is what catapulted them. I think. Maybe everyone already knows this but to me realizing that over the course of last couple of months is one of the reasons that I have had such an admiration for the project."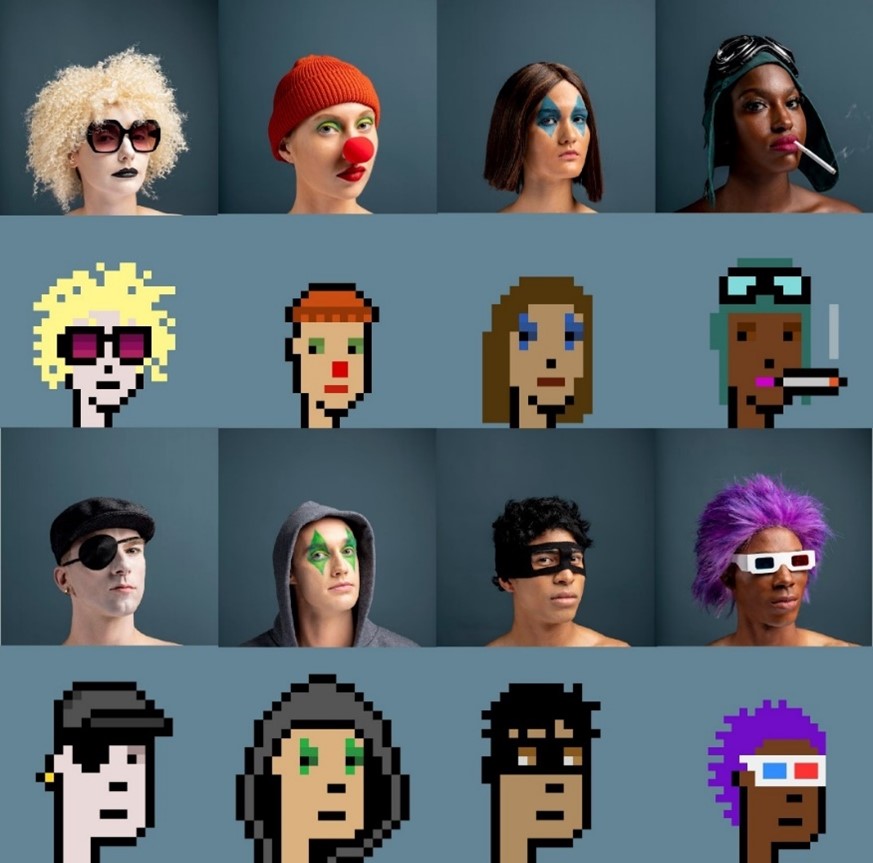 Mad$en: You guys have successfully coordinated and released two parts of the Punk Portraits collection, when do you plan on releasing the third part of the Punk Portraits collection?
David: "Our goal is to have less things get behind, which they inevitably do is to have everything done by October 31 and release the whole last batch. We have that coordinated with Halloween with the Zombies coming out. And then from there that should put a cap on our goal which is to do 1,000. We have released two collections so far, meaning two parts of the collection and then we are going to release a third part on Halloween. And then we will kind of go from there. Our plan is to not do anymore at this point and have it exclusively be the 1,000 pieces."
Mad$en: How many Punk Portraits will each collection/drop have?
Steve: "Our initial plan was to do four drops. Three individual drops of 333 each, and then auction off the last piece, CryptoPunk #8348, which is the rarest one with seven traits. The auction proceeds are going to go to "Art Reach Orlando.""
Mad$en: How did you decide which Punk to put into each Collection?
Steve: "This is brand new to us, I have never put together a photo shoot I have never hired models, I never hired make-up artists. So, I picked the easiest shots basically, Stuff that would only require hats and props. Not really wigs and not really crazy make-up. So, we hit our number there so on the second collection we got a little bit more ambitious, we brought in a bunch of different wigs, but what we had immediately realized was that our speed that we had hit on drop one was impossible to maintain for drop two. For drop three we are going to catch up even though we are doing the hardest stuff of all.
We were there for ten hours today and normally we are getting 120-130 shots in a day, today we got 80 because of this drop. We have bald caps, and mohawk wigs and if you move them just a bit it leaves a slight crease that shows up. So, all that to say, the plan was summitry 333 times 3, auction the last one to get to 1,000. We are still going to get there, just a little bit more creatively."
Mad$en: For the third drop on Halloween, how crazy are you guys going to get with hair and make up for the Zombies?
Steve: "I am so stoked about the Zombies we found aspecial effects artist on LinkedIn of all places. His name is Mark, he is a 30-year industry veteran. He's worked on films, and he has been with us for every shoot and so he is doing prosthetics around the eyes and the mouth to give it that gore and that elevated feel. One of the things that we really want to do is high production value, We, want it to really feel like these guys put a ton into this, but we are not going to go so over the top that the story is about the make-up.
We still want it to be a portrait, so we have custom contact lenses called scleral lenses, which means they extend all the way out and change the entire color of the eye, they are not just changing the iris. We selected 50 of the 88 zombies in the collection to give a range so we will have some with facial hair, some with mohawks and some with hats. So, we are going for a cool looking, could be confused for Hollywood special effects but not so special effects that, that's the only thing that you see."
David: "One cool thing to add is a couple people had asked Steve on Discord to do some special commissioned Punks that they wanted to see in this next drop. So, there was a hand full that we specifically are doing and even did today because someone who wanted one suggested it and that was really cool to me. It's really cool to know that people are excited about this project, and they want to be a part of it."
Mad$en: Can you guys talk about the charity that the donations will go towards?
David: "Yes, a big thing that really helped me to be able to jump fully into doing photography full-time was that I became an artist and residence at a non-profit called "Art Reach Orlando". They are an art space non-profit here in Orlando. They work in a lot of underserved communities throughout Orlando teaching art at different schools, at the public libraries, and they host things like summer camps.
The goal is really to use art as an avenue to build relationships and create consistency in kids' lives, A lot of the kids in the underserved communities do not have a lot of consistency or any adults regularly showing up in their lives, So, through art we can not only teach a skillset but to show them that people can be trusted and can be reliable. And hopefully that overflows into the long term of their lives. Showing that some form of sustainability is possible. They really helped me to get off the ground and to be able to do photography full-time. And it's all based off fundraising and grants and private donations."
Mad$en: What does the future of Punk Portraits look like?
Steve: "To get this project off the ground we found an investor who was willing to put up the money, who understood NFTs and said "I get it, but what's the big vision. It can't be just this project. Where are you going after that?" In NFT land it seems like you only need one hit and then people kind of trust you. I am not an artist, but I love art, I'm not a taste maker but I think I have taste.
So, if Punk Portraits goes as well as I think it can then to use this as a platform for onboarding other people like David who went to figure out NFTs and couldn't do it. To have a launchpad for people that is almost like an Art Blocks but not for generative art. A trusted place where it's vetted, it's got support behind it. It's coming out and it's the artists first go at it and it's giving the artist stability."
Watch the Video: https://twitter.com/i/status/1452747979748696071
Punk Portraits by David Lawrence – Collection | OpenSea
Portrait Punks Twitter: @PunkPortraitNFT
David Lawrence Twitter: @dlawr
Steve Wimmer Twitter @willwork4packs
Donations for Non-Profit: HOME (artreachorlando.org)