In Spotlight: Rosko & Friends
In this installment of In Spotlight, we interviewed Felix Schlater from Rosko & Friends.
There are many different reasons how we all ended up meeting each other in this current space we call the NFT/Crypto Metaverse. The Metaverse is a comfortable space with likeminded people who have many different talents and skills.
This space gives people the opportunity to have a creative outlet to express skills and talents in ways that have never been available before. The Metaverse has allotted opportunities for creativity to shine, opportunities that a lot of us have been waiting for. This new opportunity for having a creative outlet was a perfect gateway for Felix Schlater.
At the beginning of the conversation with Felix, I asked him if there was ever a defining moment that made him realize that he wanted to one day be an artist. Felix replied that he always enjoyed drawing, remembering times back in elementary school when he would get in trouble for doodling on the back of tests and worksheets. Or buying a comic book to read but using it mostly to draw the characters from each page in the book.
After years of drawing and sketching, Felix knew that he wanted to do something that involved art, but what? He knew that it would be a very difficult path to make a living solely as an artist. Wanting to continue in the field of art Felix began to get educated in graphic design, illustrator, photography, and marketing.
Felix is the creator & artist behind Rosko & Friends. Rosko & Friends is a collection of projects that revolve around Rosko the Rat and the Lucky Cats. Current collections include:
Rosko Sees the Future: A Tarot Card Project: "78 hand drawn Tarot Cards from Rosko & Friends. Drops occur daily."  
Rosko: GODKILLER: "Mere mortals all in search for the legendary Godkiller"
Rosko: Rosko and Friends: "A ragtag group of lovable, anthropomorphic punks who just want to make the world a little louder."
Rosko: Lucky Cats: "Lucky Cats are Hand Drawn + Randomly Generated!
With 1000 unique and Ultra Rare's to choose from, there's a Lucky Cat for everyone.
UPDATE: We are currently in Phase 2 of Lucky Cats – The EXISTING collection of Cats are being INFECTED and REPLACED as zombies daily!
Scoop up and save Lucky Cat while also snagging zombies, they show up each day!"
Let's get into my conversation with Felix Schlater:
Mad$en: When was the first time that Rosko became more than a sketch, essentially becoming a character?
"I drew Rosko for the first time pen to paper maybe about four years ago."

Felix
Mad$en: Where did your inspiration come from when creating different characters like Rosko and Friends?
"I grew up reading comic books, as a kid I would buy comic books and sometimes I would even read them but I would draw every single picture in the comic book. So when people often ask me how I learned to draw I would just copy everything that I saw and I eventually just kinda learned it, Iv'e always had the idea of coming up with characters in a universe and I think it stems from reading so many comic books.

When you think about your Jim Lee's and your Stan Lee's and your Rob Liefeld's and all of these well known artists there are always tied to paticular characters like Bob Kane with Batman, It's that idea where the characters are known first and then the diehard fans would delve in to figure out to see who created this character, who drew this character first. And I've always been really drawn to that idea".

Felix
Mad$en: Are the crowns on top of Rosko's head symbolic for anything?
"Yes, There is a lot of symbology to that. The short answer is that I've always been a big fan of graffiti art. I've done a little of it, not as much as I care to admit, I mean I wish I had done a lot more of it. But alot of my favorite graffiti artists would use the crown as a symbol.

So for me it was kinda of tied to this old school eighties graffiti, Which is were a lot of those rules came from and were broken and that was the start of a lot of it and so for me it's a nice little knod and omage to that part of me that I really love."

Felix
Mad$en: It seems like there are a lot of artists that try graffiti. Why do you think a lot of artists turn to graffiti for a form of expression?
"I think it stems a lot from the discipline it takes to be an artist. There are a lot of rules that come along with learning the "Correct way to do things in art" and in art school. I didn't go to art school but the idea of learning the correct proportions on how to draw a person or an animal, landscapes and color temperatures, there's a lot of rules that you have to learn initially in order to be able to break those rules later to define your own style, even getting noticed in the art world there is a lot of those rules that you have to follow so I think graffiti is a nice breaking of the mold where you don't have to follow any of those rules.

Which is funny because the more of those rules that you know, I think the more effective your graffiti can be. So a lot of these artists who did come in with some formal art background but decided to go that route, there's is the stuff that really, really stands out! So I think a;lot of artists tend to go that route because it is rule breaking. Rule breaking in the sense of the law, but also in the sense of what art is supposed to be. Whatever that means, since it's such an subjective answer."

Felix
Mad$en: I saw a clip of you painting a pair of Nike Air Force One sneakers. Are sneakers a normal art platform for you or was it a side project that you were having fun with?
"It all stems from being a child of the eighties I guess! Where a lot of graffiti, Old school Hip-Hop, cartoons, B-Boy culture, Dj culture, alot of that stuff really originated in the eighties. And while I was, you know 7 or 8 years old when the eighties was done.

The early 90's still had a lot of that heavy infuence which is where I started consuming a lot of content early on, and so sneaker culture has always been a big part of my life as well as graffiti and art, and so I tend to just try and do things that I gravitate towards, that I like, you know what's the point in doing it if you don't like it?

So yeah I've done a good hand full of pairs of shoes and I've got an entire closet full of shoes that still need to be done. I still need to knock those out."

Felix
Mad$en: Another platform that I noticed you painting on was spray paint cans. Are those part of the utility for when someone buys one of your NFTs? How are the spray paint cans incorporated?
"I think it again stems back to idea of art, graffiti, the 80's culture. It's pretty awesome how widely accepted graffiti art is these days. You go down to StarBucks and you will see it on a printed piece of banner advertising the newest Pumpkin Spiced Latte, which is hilarious to me. But, the esthetic of the spray can and the idea of the spray can still to me symbolizes that old school rebel, graffiti artist. And it's such a cool piece of history and utility to me.
I currently have tons of these cans lying around that I refuse to throw away, So I look at them and I think, that I could display them but they're  just cans, so then I thought, I'll just start painting them to see kinda what happens with that. And then I had the idea to tie them to utility with NFTs. A lot of people are still trying to figure out that sort of tye in, so it's not just a full blown essentially ecommerce platform. Like how do you make a physical utilty just as exciting as NFT utility, and I haven't really seen anyone crack it yet. I've seen some cool applications, but I haven't seen anything as common place and blueprint that's like 10K PFP."

Felix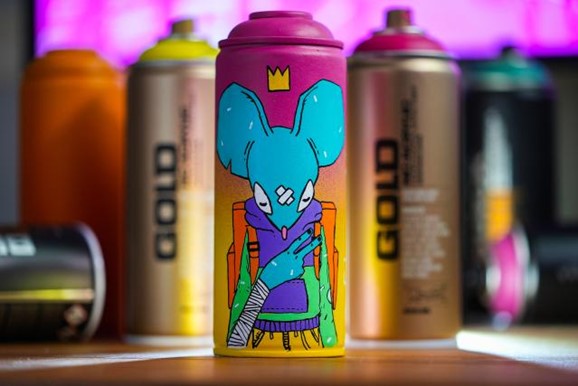 Mad$en: How did you first hear about NFTs? What was your gateway into the NFT space?
"I think it was around February of this year, a friend of mine sent me a link to Super Rare and so I started browsing Super Rare and at the time their Twitter Bot was advertising every single time the sight made a sale, and I was blown away at how much these artists were making. At the time I had no concept of Ethereum, I had a little bit of Bitcoin at the time, was sitting on a little bit of Dodge coin, I wasn't nearly as into it as I am now. So, the idea that someone would make .15 Eth on a sale back then was mind blowing to me.

So, to see it happening quite literally every three or four minutes on Twitter, and not a lot of people were doing big generative projects back in February. No one was, so to see these individuals make sales on these one of one pieces of art, cause generative wasn't really a big thing yet. I mean Crypto Punks was around and Crypto Kitties and things like that, but no one was doing and schilling 10k projects in February. So I immediately put together my video application to get on to Super Rare.

Nifty Gateway was another one that I saw that they were doing drops, they were doing like five-minute opens where artists were making 3 million dollars in five minutes. So, I submitted my application to Nifty Gateway. It started there that's what really peeked my interest. And it was this sort of question like how are they doing this? Is it the platform? Is it the artist? Is it the technology? Is it all of those things? So, like a lot of I stumbled across Open Sea and have been hammering away at that ever sense."

Felix
Mad$en: I noticed the Tarot card NFTs, are they part of a brand-new project with Rosko & Friends?
"Yes, I'm about a month and a half into Tarot. The idea was releasing a tarot card, it was once a day, but I think I kind of exhausted my visual audience with one a day, so now I've switched to about two-ish a week. But the idea is at the end of the project I will of hand drawn 78 individual Tarot cards and then ordered full tarot decks and then if you collect a certain amount of cards along the way then you get access to the physical deck at the end of the project."

Felix
Mad$en: Each tarot card has different color combinations, how many different color combinations come with each tarot card drawing?
"When I draw the initial tarot card for the day, I will pick the colors for that card, and I call that the original coloring. I then have a script that will go in and generatively color the cards for me, and then I'll kick out 10 color variances. So, the line art will be the same for the color variance but the A.I. is choosing the colors based on randomization. Those I will sell for slightly cheaper, so the original coloring, if you own one of those at the end of the project gives you access to the collector's deck, (the collector's edition deck).

If you own 3 of any of the other types of cards you get access to the standard deck. The only difference between the standard deck and the collector's edition is that there are certain cards within the deck called major arcana, and those will all be holographic in the collector's deck. That's really the only difference, other than that all of the colors within the deck for the regular cards will be what the original colorings are."

Felix
Madsen: So, when I buy 3 NFT tarot cards I get one standard deck, Is there a number of NFT tarot cards I need to buy to be able to get the collector's edition pack?
"No, you need to either hold an original coloring or a holographic variance. So, the holographic variance exists, I create those on the day that the card being released that day is part of the major arcana. The tarot deck is broken up into what is called the minor arcana and the major arcana.

The minor arcana is essentially just the suits like a regular deck of cards, but there not spades, hearts, clubs, and diamonds. It's cups, pentacles, wands, and swords. They brake that up into suites, and there are 22 cards in the deck that are essentially trump cards. Back to think when a lot of us think of tarot cards we think of the major arcana's like The Fools, The Lovers, The Chariots. I think that's what we think of when we think of tarot cards but realistically there are only 22 of those cards in a 78-card tarot deck."

Felix
Mad$en: Another part ofRosko & Friends is Godkiller. Can you talk to me about what Godkiller is?
"Godkiller is interesting because it is still very much in its infancy, and I haven't revealed a whole lot to it just yet. I am releasing 99 Ronin, the entire thing is very Samurai themed,and so I am in the process of releasing 99 Ronin, all of them will be released as true one of ones.

They won't be multi addition stacks there won't be where I release one but there are twenty copies. I draw one, I release one, and that's it, there will never be another one like it. But the idea is when you get to the end of the 99 there will be additional characters created but you will have to have certain combinations in order to get access to those other characters. You will need to have a successful snapshot of all of your characters in your wallet in order to unlock Godkiller.

So, people don't know what Godkiller is yet? If it's a person if it's a weapon if it's something else. So right now I am releasing the one of ones and I am trying to be as tricky as I can be with them because I am in a very fortunate situation where if I drop something in Discord that's Rosko themed and even within a twenty or a thirty stack people buy them which I am internally grateful for, the fact that it happens pretty regularly is astounding.

I not a lot of people are trying to get to this point where their marketing and trying get people to buy their pieces so the fact that I have a community of people that like my art enough to where I can drop a twenty-five stack of this little rat that I drew, and they are all scrambling to get to it. I will always be grateful for that. So, with these pieces because they are true one of ones, I have to try to be trickier on how I release them.

Because, again once I draw one and it's sold, that's it for that one, it's gone. Unless they resell it or trade it, it's gone. I will say that there are puzzles hidden within all of the cards, all of the individual Samurai as well as them being a collective puzzle."

Felix
Mad$en: When was Lucky Cats introduced as part of Rosko & Friends?
Felix: "Within the Rosko & Friends universe there is a character that I have deemed Lucky Cat. He essentially is just a Japanese Lucky Maneki, You know you see the Lucky Cats everywhere, in every sushi place you go into every Japanese and Chinese restaurant that you go into, so the idea of Lucky Cat isn't new I just put some Nike Dunks on them, I put a red hoodie, I add different things like that and then talked to a friend of mine who is a developer, brilliant developer and so I told him Hey there's a way you can make generative art with photoshop so if you can write the script to randomize it I can create the assets.

And so, he made it for me, and we were able to kick out 1,000 of these generative pieces of art. And then over the period of a week and a half I input every single one by hand in Open Sea. So that was my first and so far, right now my only generative collection. So, the pieces were moving but we got about maybe halfway through the collection of 1,000 and it kind of stalled out. And there actually a period of about three weeks when I wasn't doing anything with NFTs, so I thought well that was fun, I guess that was the boom, I guess were done with it.

And then I came back in and decided ok, a lot of people have been burning their existing inventory that hasn't sold but I didn't want to do that, so I created an entire new asset base within lucky cats that were zombies, and the idea is I regenerated an additional 10,000 cats but all as zombies. And I created a new asset trait called zombie infection level and that was denoted by the amount of traits infected by worms, so the idea is every zombie cat has a base level infection of four and for every worm trait that is included in the cat it increases that number by one.

So, the lowest number infected lucky cat you can find was four and the highest was fifteen of which there are only two in the entire 1,000-piece collection. And so, I realized that with art that you own on Open Sea you can replace the art. You can replace and edit all the traits. So, I would pick four to ten a day and then just randomly infect unsold cats. And advertise it as a save the Luck Cats campaign. And it brought in a whole new inflex of people who realized that this was cool.

Now I can save these Lucky Cats cause what it was doing was dwindling the pool of existing healthy cats but also increasing their rarity because it was eliminating a lot of the pool but also increasing a new asset trait and asset traits into the collection and creating a whole new set of rarities, so that brought some new people in and people were really interested in it. After the Vogu sale all of the cats sold out. So as of right now there are 199 infected Lucky Cats, and the rest are healthy Lucky Cats."

Felix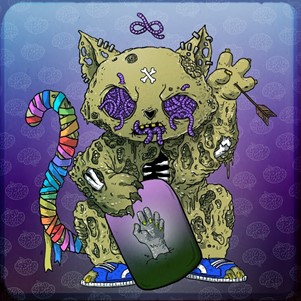 Another fun and creative idea that Felix is doing for the Rosko & Friends community is in his Discord under #Ideas-for-a-rosko. You can enter an idea you have for the next Rosko & Friends NFT and if Felix picks your idea as the winning idea he will draw and mint a stack of 10 winning NFTs, and you will get 1 of the 10 for FREE!