In Spotlight: The Crypt
Welcome to the fourth installment of IN SPOTLIGHT where we interview Jordan Stanley from The Crypt. IN SPOTLIGHT is your source for bi-weekly articles that will allow the industry's pristine NFT artists and projects to shine. We are going full throttle with written articles, video clips, audio content and more. While the mediums might change, hanging with dGENs in the community and sharing their experiences won't. 
Jordan Stanley didn't jump headfirst into cryptocurrencies. He watched closely from the sidelines while taking note for years. Twitter started to talk about a new brand of NFTs called NBA Top Shot and Zed Run. That's when Jordan shifted it into drive, He found his space in the metaverse where "artists can thrive, not just sell art but really thrive." He started some derivate projects, but his passion was graphic novels. Graphic novels that have utility and value through their photography, literature, and artwork.
Being a creator and artist Jordan started a series of thirty different one-of-one short stories called "The Crypt".  Each short story is a graphic novel in reference to those struggling with mental illness. Jordan wanted to bring light to mental illness through NAMI the National Alliance on Mental Illness. NAMI offers support, resources and education through helplines, text, emails, and orgs. NAMIs hotlines are used by Jordan, so this project is personal to him.
Interview with Jordan Stanley of The Crypt
Madsen: Tell me about the Crypt?
Jordan: "The project is a Graphic novel, so while we're pitching the art, we are also pitching the literature as well. The 30 different entries that we have will all have submitted text with them once it's all done, we are going to have a complete book in digital which can also be redeemed for a physical version that I will be handcrafting myself. Kind of tying into the whole art side of me. This is a project where I feel like I get to put everything that I love doing into one thing. Giving, art, creating, crafting all that stuff."
Madsen: How does NAMI tie into the project?
Jordan: "NAMI stands for The National Alliance on Mental Illness, it's an American group." "I've dealt with depression my whole life, sometimes have been a lot harder than others. Being a male, we don't get that kind of light shed on us, artists as well. Sometimes they create with their own story in mind.

That's why I wanted to do this project. It brings a little light to something I don't see happening in the NFT space right now, not that it's definitely not happening. I know there are great projects out there. But with this is one I feel people can really get behind it.  It's sure nature of dealing with NAMI within the roadmaps leaves a lot of funds for community members and the holders specifically to nominate other charities that have to do with mental illness"
Madsen: What charity contributions will go towards NAMI?
Jordan: "40% of all initial sales are going to be donated to NAMI amongst a lot of other things. Whether it be secondary royalties, some merch. Profits are going to be divided up between NAMI and the holders of the NFTs."
Madsen: Is "The Crypts" roadmap currently up to date for viewers?
Jordan: "Yes-the roadmap really depicts the actual percentages that go everywhere for everyone that is buying into the project since they are one of ones, so they clearly understand where all of the funds are going."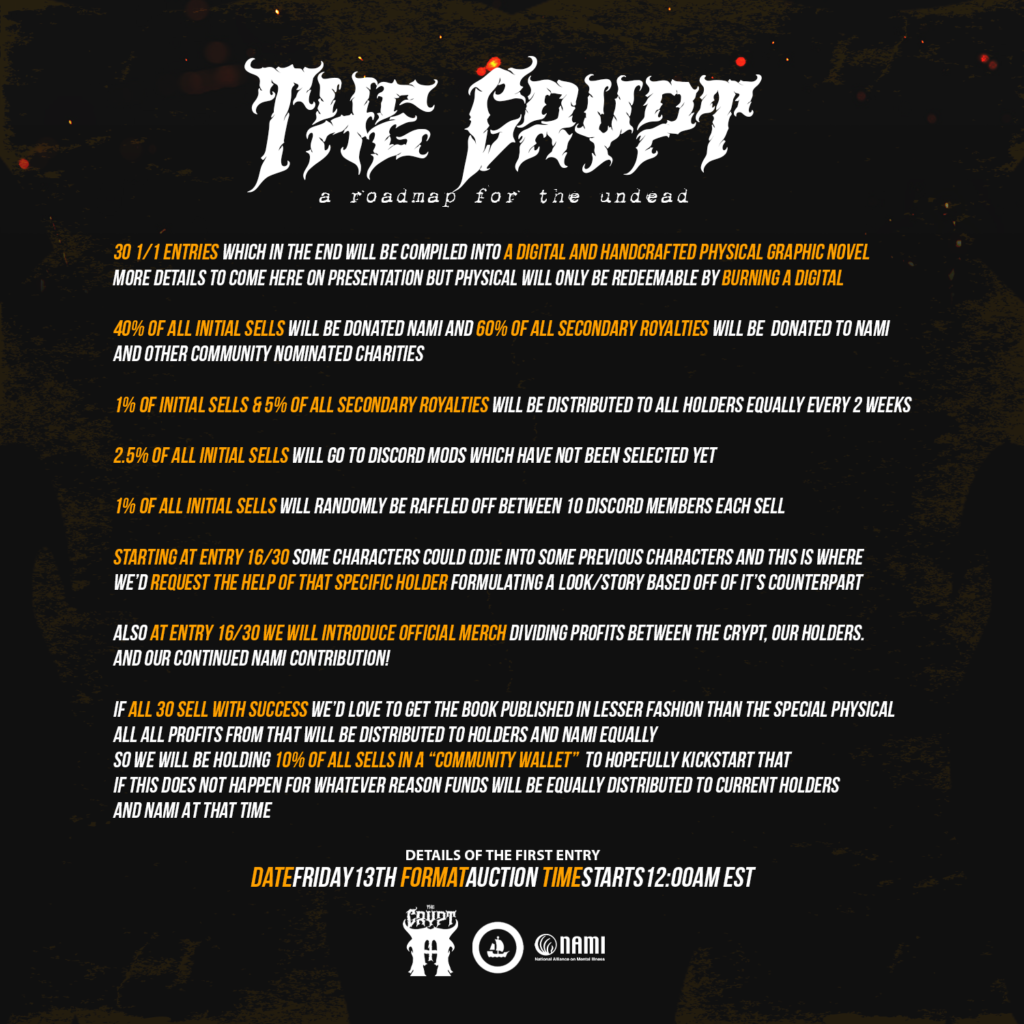 Madsen: Can you tell me about the next entries for the novel?
Jordan: "The next release will be four separate entries, so we will go from the first entry then two to five. Everyone will come to learn the characters within each story. At entry 16 we will reach out to whomever owns a specific number, and those stories will bridge together with the help of the community. The community will have some input on the story past 16 but more so the holders. Example entry 5 will connect to entry 17."
Madsen: Can you talk more about the artwork?
Jordan: "The characters that are featured in the artwork are going to be very prominent figures. These will be pieces of art that we feel you can hang up on your wall or you can definitely have as your PFP profile picture-they will be very distinguishable. The characters are in the middle of passing on to the afterlife and typically they're choosing whether to be disgruntled and frustrated or accepting and pleasing of what is happening. The first original artwork the character, she has devil horns and a halo. Going forward each character will choose one of those. Not have both."
Madsen: The first short story that was released sold, does that mean that story one is written and available?
Jordan: "Yes, everyone gets to see the literature that is on the actual artwork so that everyone can follow along with the developing story. And the paths that the characters take within the novel. I did it this way in case a specific story resonates with someone so they can collect the artwork with it."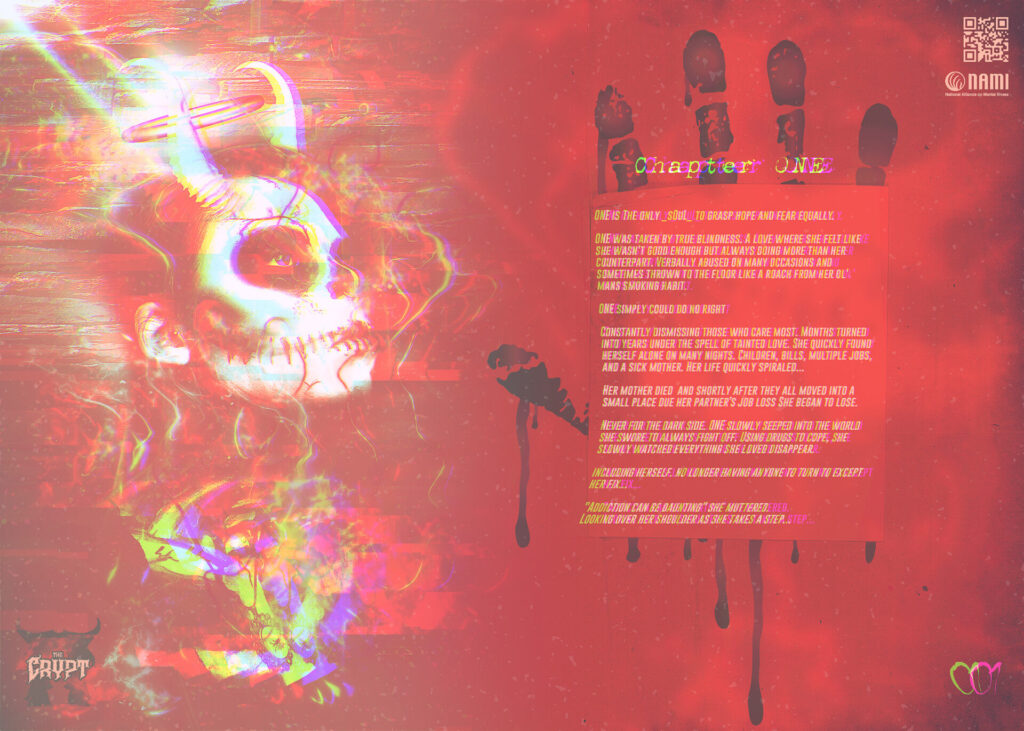 Jordan's goal is to have great artwork on display with a short story attached to the physical copies of the book There will be unlockable artwork content with each purchased NFT.
To be able to have access at the physical copy of the crypt book the digital NFT version will need to be burned, Digital books will be exclusive to the short story holders and physical copies will hopefully be publishable one day.
National Alliance on Mental Illness
Helpline 1-800-950-6264