Two projects I've been bullish on since mint – Jenkins the Valet and Gutter Cat Gang (GCG) – are beginning talks which could lead to a huge partnership for both camps. If you're not familiar with either, Jenkins is a project which allows Bored Ape Yacht Club holders to license their IP and monetize their Apes. They anticipate having a variety of applications, however the first one currently in motion is a book being written by 10-time New York Times bestselling author Neil Strauss. It's one of the first wide uses we've seen of the IP rights given to Ape holders and will allow those who license their Ape or Mutant to split profits with the project on book sales.
Gutter Cat Gang is a profile picture project which has given its token holders value through both IRL and digital utility. It's had a recent run up in price with a flurry of activity, including the introduction of a new set of NFTs to the GCG universe and speculation around the drop of their fungible token called $GANG.
Jenkins Enters the Gutter
To follow what happened this weekend, see the images of the tweets below. It all started when Pat, a friend of the dGEN Network, tweeted that a collaboration could make sense for both projects. Shortly after that tweet, Jenkins chimed in that they would love to work with GCG. Following this, I tweeted speculating talks were already underway, but Jenkins quickly squashed that, but reiterated they'd love to work with Gutter Cat Gang. Following that exchange, noted member of Gutter Cat Gang Stoni worked on connecting the dots with the two projects, and appears to have started the dialogue between Jenkins and GCG.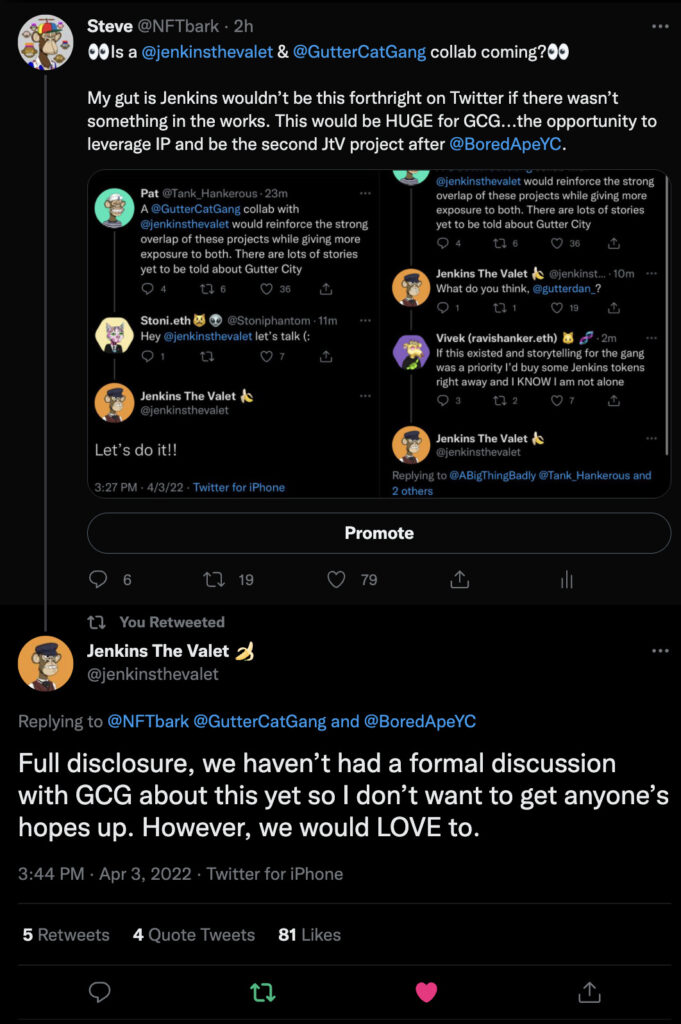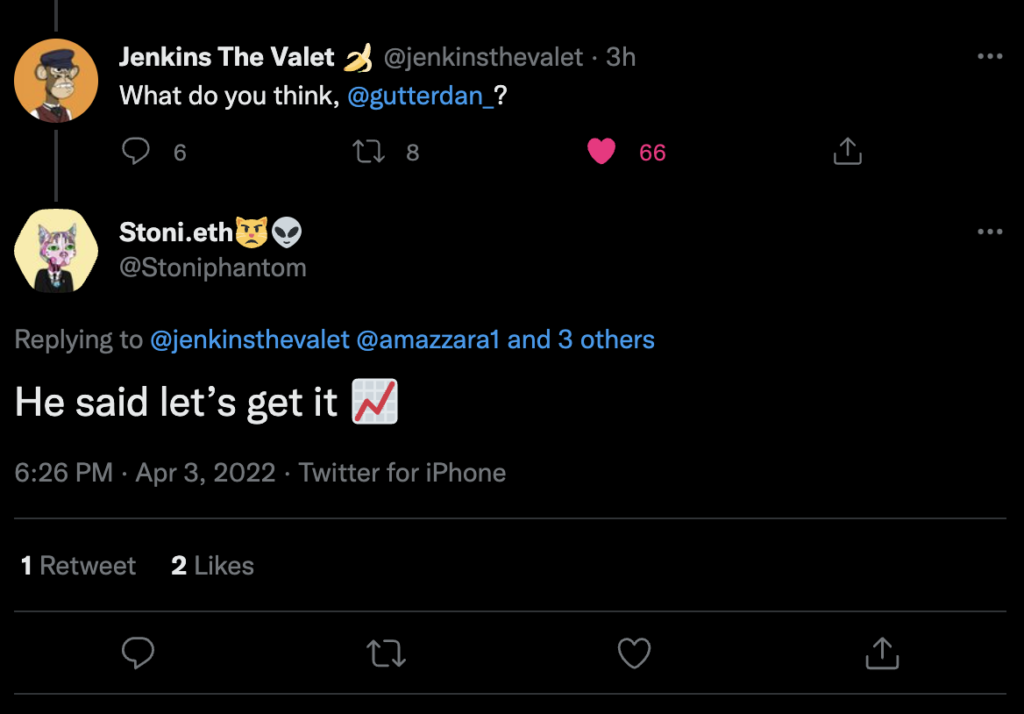 Win-Win
A partnership with Gutter Cat Gang and Jenkins the Valet makes sense and would be big for both projects. It gives Jenkins new characters to play with from a major NFT project and creates additional demand for all NFTs in the Jenkins ecosystem. It gives Gutter Cat Gang a huge seat at a table currently occupied only by Bored Apes and opens an opportunity for monetization with the Gutter Cat Gang IP. Jenkins has mentioned they'd look to other projects for potential IP usage, so this could be their first foray outside of the world of Bored Apes.
This is the type of thing we need to see more of in NFTS – strong projects collaborating to create value for both of their communities. We've seen the some of the top projects in NFTS connect for the highly anticipated Otherside metaverse, so there's no reason everyone else should be working in silos. I've talked about the need for mergers and acquisitions in NFTs, and I still believe that, but partnerships are also a great path forward.