I'm gonna go ahead and disclose this up-front…I love Goatz. I had it on my list of the five best NFT projects under 0.25 ETH because of the top level founder/team, cool art, fun community, and deflationary mechanics. I own six of them, and I'm always considering getting more.
This Friday, the Goatz universe will begin to expand when they introduce a new element: Kidz.
If you're unaware, a "kid" is what you call a baby goat, so of course, Kidz are the perfect companion for Goatz. In a clever twist, while Goatz wear outfits of real-world jobs like pilots and fire fighters, Kidz will wear outfits of things children aspire to be (pirates, wizards, etc.). And once again, the art is great…just look at these little buggers.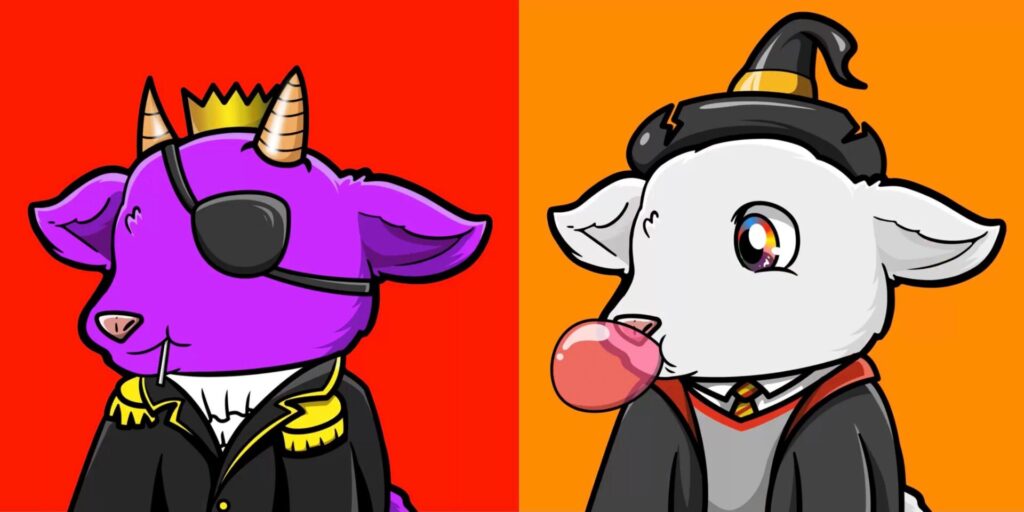 So how do you get one of these adorable Kidz?
The Goatz project is big on deflationary mechanics like The Forge, which lets you combine two of your Goatz, picking your favorite traits from each. Then, one of the two Goatz is burned, reducing supply. You get a shiny new Goat, and you increase the scarcity of the overall supply. For example, I decided to forge a Goat in honor of my late grandfather who was a NYC Firefighter.
There are three ways you can claim a Kid:
If you've forged a Goat, you can claim one Kid per forged Goat between the claim window of 10/22-10/27. You just pay gas and you have yourself a beautiful little furball.
If you own a Goat which has not been forged, you can burn that goat and get a Kid in its place.
You can claim one in the public sale, starting on 10/29. The price per Kid reduces the more you mint… 1 for .14 ETH each, 2 for .13 ETH each (.26 ETH total), or 3+ for .12 ETH each.
So what do Kidz do exactly?
Kidz provide additional utility in the Goatz universe. Holders will be able to enter exclusive giveaways, but the real treat is access to Adventureland. What's Adventureland? It's a theme park with fun arcade-style games being built by LandVault in The Sandbox. LandVault (another project I'm bullish on) has partnered with various projects to create this theme park which will have real play-to-earn prizes. So, tl;dr..Adventureland is gonna be lit and you're gonna want to have access.
Bottom Line
I've forged three Goatz, so I plan to claim those three Kidz. I won't be burning any additional Goatz, and I'm happy with my current trip (a trip is what you call a group of goats) of six Goatz and can't bear to send any more to be burned. Furthermore, I'm excited to see the continual evolution of this project, because I'm having an absolute blast with Goatz.
Disclaimer: This article is not financial advice. The NFT and Cryptocurrency markets are very volatile. Please don't invest what you can't afford to lose. Always do your own research before investing.