A revolutionary fan experience is on the way! LALA is offering enthusiasts of movies and TV shows a top tier level of ownership and engagement with their favorite stories. For the first time ever, fans have the opportunity to own a portion of the revenue generated by major blockbusters, marking a new era of fan ownership.
LALA is launching the world's first digital collectible marketplace for film and TV. The platform's first drop in the partnership, The Wolf of Wall Street, signals the commencement of a new journey where fan ownership is redefined.
🚨 Announcement time!

Drum roll please… 🥁

We're thrilled to announce that LALA is partnering with The Wolf of Wall Street for our debut collection! 🐺📈

From exclusive access to official merch, we're going to redefine what it means to be a fan of this iconic film together!… pic.twitter.com/Y5macPysiy

— LALA (@_lalaxyz) April 19, 2023
Embracing the Web3 Revolution
Hiram Vazquez, founder and CEO of LALA, is driving the company's mission to democratize access in the entertainment realm. Vazquez has over a decade of experience in the startup community and notable contributions to innovative products for companies like Uber and venture capital firm Seven Seven Six, lead by Alexis Ohanian. Furthermore, Hiram was part of the inaugural Operator in Residence program at Seven Seven Six.
LALA announced a $3M seed funding round, led by Seven Seven Six in April of 2023. Hiram envisions LALA as a platform to empower fans and bring them closer to the movies and shows they love. In a medium article, he shares his vision.
"My vision is to elevate culture by bringing a new level of ownership and access to the movie and TV stories we know and love, all unlocked by blockchain technology."

Hiram Vazquez
Fan Ownership Redefined
What sets the LALA NFT collection apart is that owners aren't just acquiring digital assets, they're gaining tangible stake in the revenue stream of associated movies. Now, fans become active participants in the success of their favorite productions. In addition, holders of this collection receive a variety of exclusive perks, including access to real world events, merchandise during releases, and more. 
Ohanian and Vazquez recently hopped on a Twitter space to talk about building a vibrant community for entertainment fans by leveraging Web3 tech.
How Does Revenue Work?
In general, a movie or TV show generates revenue through multiple streams, including but not limited to box office sales, streaming licensing, merchandise, and intellectual property (IP) infringement.
According to the company's medium article, LALA will be offering fans access to the IP infringement revenue stream, specifically for bootleg or illegal merch from the film.
For Drop 001: The Hustle, 33% of the total revenue recovered from enforcing this IP (after legal costs) will be fractionalized and distributed to collectible holders on a semi-annual basis for as long as you hold onto it, up to 10 years. Based on the tier of collectible purchased, holders will have a different fractional percentage of this 33%. The remaining 67% of this revenue stream will be gradually distributed in future drops.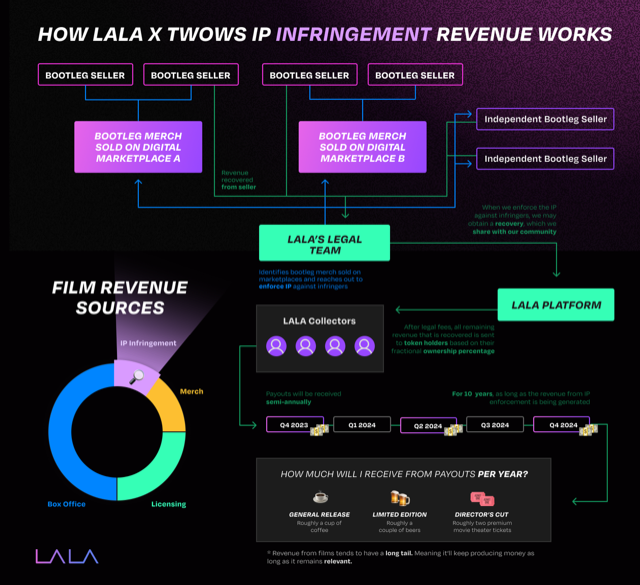 To learn more about how LALA unlocks this revenue stream and estimated payouts, check out this medium article.
LALA Collection Details
The collection's pioneering launch, in collaboration with The Wolf of Wall Street, introduces an exceptional collectible experience, tailored specifically for passionate movie fans. As the much anticipated "Drop 001: The Hustle" approaches, let's take a look at the details of this groundbreaking venture.
Quantity: 2,225 pieces (spanning 3 tiers of rarity)
Drop Date: July 25th, 2023
The collection will offer three distinct tiers for customers to purchase. Each tier offers a different perks, benefits, exclusive artwork, and varying degrees of scarcity. Before buying a LALA collectible, the customer will see the list of perks received, like those mentioned previously.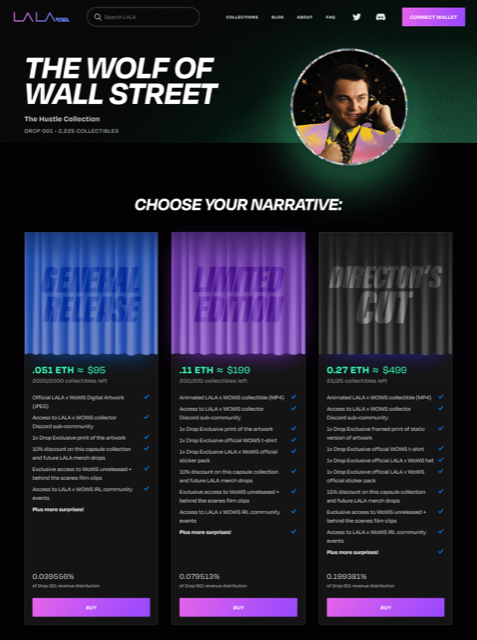 In addition, LALA collectors will be granted entry into an exclusive rewards system, granting them discounts on future collections, access to captivating content and events, as well as an array of privileges including access to gated communities, behind-the-scenes content, merchandise drops, in-person fan experiences, and more. These exciting rewards, along with surprise benefits, will gradually unlock over time as fans actively engage with the collection.
After purchase, there will be a user dashboard that provides a breakdown of the collectibles, payouts earned, rewards unlocked, and more.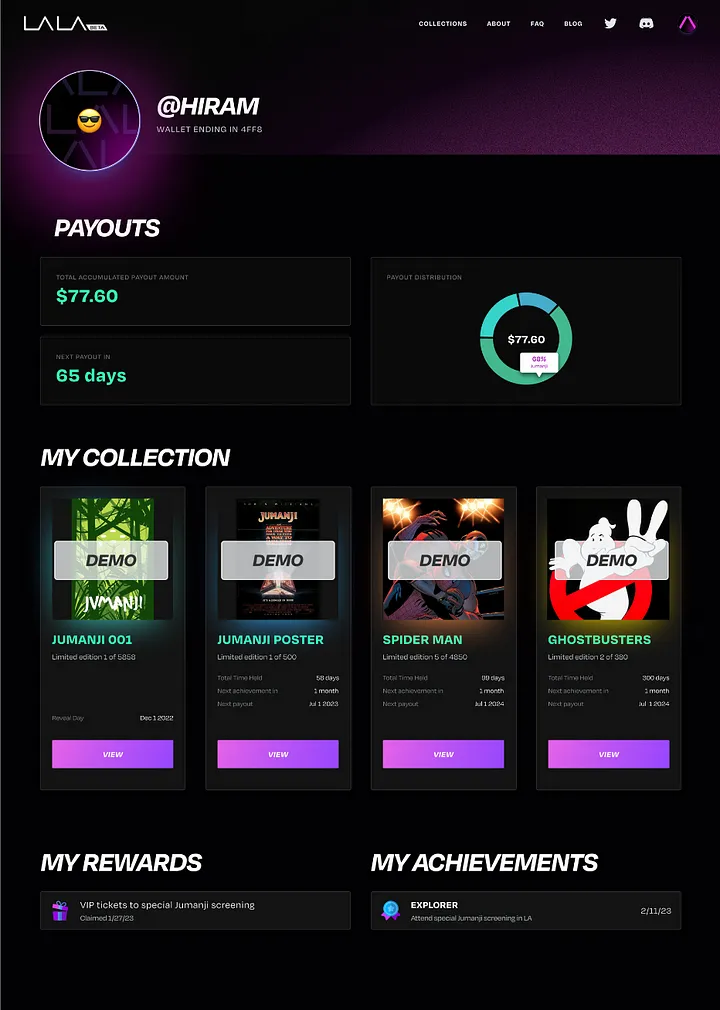 Join the LALA Movement
As LALA emerges as a collectible marketplace for movie and TV show fans, its partnership with The Wolf of Wall Street is only the beginning. As the company aims to forge more collaborations, fans will be offered more unique experiences and investment opportunities.
By allowing fans to become stakeholders in the revenue streams of major blockbusters, LALA is setting a precedent for the future of fan involvement in the entertainment industry. This collection is not just about owning an NFT, it is about empowering fans and transforming the entertainment landscape for the future.
To learn more about LALA and their ecosystem, visit their website and check them out on Twitter to stay informed. Additionally, fans can join the LALA community on Discord to connect deeper with like-minded supporters.
Check out more article's by Pain here.