Metawatches NFT: Watches for the Metaverse
What makes NFT collectors in the metaverse say "we are still early"? We see Bored Apes on sweaters, Gutter Cats on hoodies and Cryptoon Goonz on T-shirts. But we still haven't seen actual NFTs that you can wear, until now! Metawatches!
Metawatches is the first-of-its-kind NFT watch company. The first to combine cutting edge technology with luxury art.  Fully functional NFTs, displaying the owners current time with three different modes: Metaverse, Smartwatch, and Clock. These functional NFT artworks are focused on the synergies that exist between art and technology. They combine the utility of a smart watch along with luxury that current smart watches are lacking.  
Metawatches recently had their first bidding auction. The bidding for the pre-collection would begin with a starting bid of 0.05 Eth. with the highest bid being accepted. The auction featured Metawatches pre-collection called "The GM Collection" which had 17 unique 1 of 1 NFTs to bid on. The auction was a success with each NFT selling for an average of 0.56 Ethereum.
Metawatches first collection, "The Analog Summer 2021" will be released on January 8th-10th 2022 with a mint price of 0.8 Ethereum.  A pre-sale whitelist will be available on January 7th-8th. The NFT watch Reveal will be on January 10th, 2022, with a total collection size of 1,234 NFTs. All 1,234 NFTs will include special rarity traits for trading on OpenSea. Out of these 1,234 watches, there will be 4 legendary manually designed watches with rainbow graphical effects.  They will be named Lonely Rainbow, Crazy Rainbow, Dancing Rainbow and Happy Rainbow. Additionally, there will be 8 ultra-rare manually designed watches with Aquarius effects. They are named Running Aquarius, Hovering Aquarius, Focused Aquarius, Fighting Aquarius, Spinning Aquarius, Flying Aquarius, Coding Aquarius, and Jumping Aquarius. The collection will also feature 4 sets of 16 watches. These 64 watches will be designed partially manual and include the graphical effects "Explorer", "Inventor", "Scientist" and "Visionary." These 4 features were also featured in the "GM" Collection. The 1,158 remaining NFT watches in the collection will be automatically generated, so they will be random, but they'll still have rarities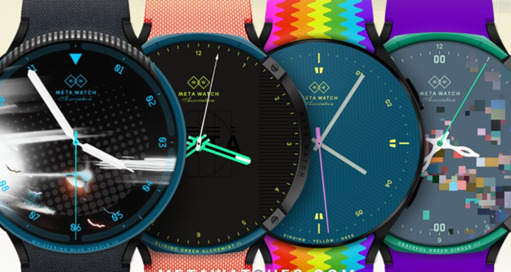 The website Metawatches.com is very informative. It has fun features that allow you to switch the different variations of watch bands around to see which one you like best. It also provides tons of images and information about the community driven team that formed Metawatches, including their CEO Martin Welker-who bought his first Bitcoin in 2013, then his first CryptoPunk #7344 in March of 2021. Being a part of the community is key for Martin and his team.  
Mission Statement: "We see NFTs as the perfect platform to start a whole new ecosystem: watch designers, brands, and watch lovers-the current generation and the next one".
Be on the lookout for future collections that include "Digital Spring and "Chronographic Winter." And be sure to check out their website for more information and minting.
Website: Metawatches.com
Twitter: @metawatches
There is also a very fun and active Discord to join!