Before I get too deep here, I want to clarify that I am pro-NBA Top Shot and a huge fan of the NBA in general. I've had a sizable collection, flipped, held, completed challenges, etc. I was a mid-pump adopter of the platform hopping on the ride up in early February and I hope they succeed!
All that said, I'm beyond burned out on NBA Top Shot, and I don't think I'm the only one. There are some glaring issues that need to be addressed, and soon! It would suck to see it act as the NFT onramp for so many people just too slowly drift into oblivion.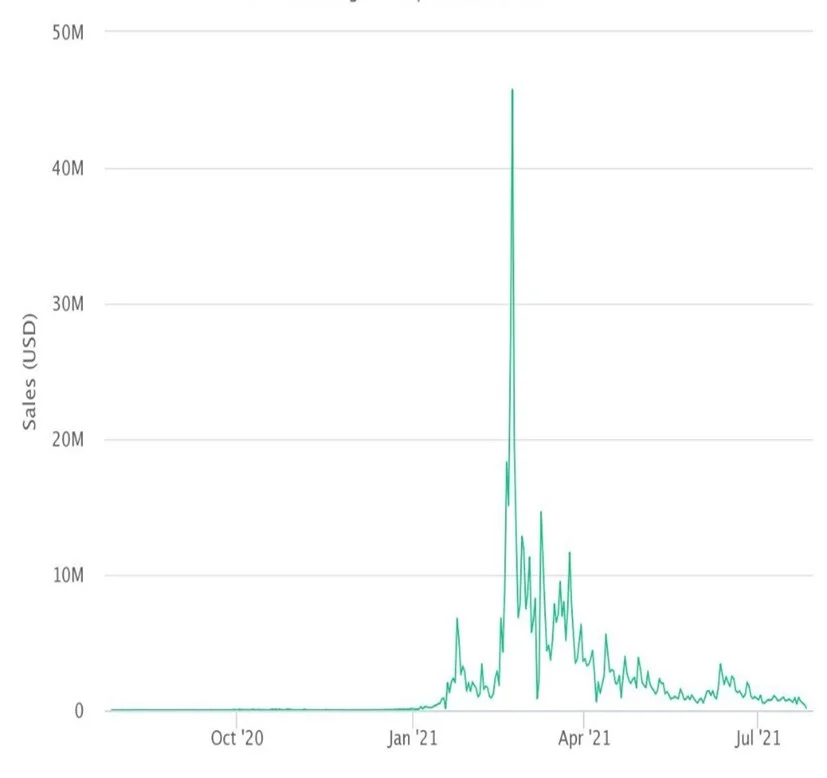 For some context, take a quick glance at this chart. How does it make you feel? Fearful, anxious, depressed…nostalgic ICO feelings from 2018? This chart isn't the latest Pancake Swap pump-and-dump token, this is the daily sales chart for NBA Top Shot. Peaking on February 22nd at just over $45M in sales before seeing a quick drop then steady bleed in the weeks/months to follow to about $450k as of today.
Daily Sales is not a great indicator, But it's a starting point. We could also look at Market Cap (down ~75%), sell pressure, average moment cost, and more.
Here are some of the issues Dapper Labs and Top Shot are facing as I see it, and hopefully one of my dGEN Network counterparts can jump in and share some hopium on how to find solutions! Or leave your thoughts in the comments section below, I'm curious to see where everyone's enthusiasm level is Top Shot as a whole.
Collector's Score and Buying Restrictions
While good in theory, this is creating a barrier to entry for new collectors who may not want to dump a ton of money into the marketplace without a good understanding of the economics at play. The initial "lottery ticket" feel of landing a limited-edition type pack was part of the fun. Not to mention, this is making the Top Shot whales even larger (see Whales below). The market needs all types of collectors, and catering to the largest players in the group seems counterproductive.
While we're at it, let's make it easier to calculate a score please!! I know we're dealing with the big brains at Dapper Labs, but the average NBA Top Shotter isn't about all that math. Not everyone needs to land a pack every drop and giving the heavy hitters an advantage on the best drops is driving the average collector away. I know I could certainly live without the overly minted base set drops.
Whales
Necessary evil? I guess? I don't know what the crypto market cap looks like distribution wise, and I'm not smart enough to figure it out. But what I can see is that roughly $100 million, or 20% of the market cap in Top Shot is held by the top 25 accounts. The ability of these top collectors to move the market must be a factor here; my gut tells me that the whales of the group are more of a threat to the success of Top Shot than the flippers and speculators are. Every successful market needs a bit of both, and Top Shot is catering to the heavy hitters while the little guys fight for overpriced scraps in the marketplace.
Challenges
The challenge system, with a few exceptions, is largely broken. In most cases you're spending so much money to complete a challenge only to watch the moments you bought at a premium to complete the challenge tank back to normal levels, or lower, once the challenge ends. This may not be the case on some of the higher cost challenges, but the financial barrier to entry on many of those keeps the average Joe from even participating.
Seasonality
How will Dapper Labs drive interest in NBA Top Shot in the offseason? Will this lead to a huge ramp up for next season, or will interest have died off completely by then? By nature of the NBA season, the interest really starts to wain as the playoffs drag on and more and more teams are eliminated (the playoffs last foreverrrrrr, but that's not a topic to discuss here!). Maybe there are already ideas at work here, but it's concerning how the interest seems to have peaked months ago and a lot of momentum has already been lost heading into the off-season.
Better Moments
There are obviously plays during a game and season that are no-brainers, but I could live without the end of the bench player stealing the ball from another nobody or hitting a routine 15-foot jumper. Not every play is a highlight that is moment worthy. And not every player needs moments. Maybe they could add moments from interviews or social media rants to spice things up. Do we need to be more star heavy to reduce the sheer volume of trash moments? Lebron index as of today is 17.4% per FlowMarketCap. The top 10 players already make up almost half of the total market cap, that's a lot of bad moments to sift through.
New money
The boom of NBA Top Shot came from new money flooding into the marketplace, flippers, and collectors alike, the model was a free-for-all that drove the market to parabolic highs that were never going to be sustainable. But instead of a mild correction, or a more even keeled correction, the market tanked with only occasional relief as new playoff series started and others ended. The market has reached lows now that are concerning, hopefully temporary, but concerning, nonetheless. A lot of "pump chasers" got burned, will they come back next season with credit card in hand? I guess we'll have to wait and see.
I absolutely do not have all the answers here. But as a fan of the concept, I want to see Top Shot continue and keep growing, and not just turn into a learning experience project for the rest of the industry to improve on. They have the capital and the experience behind them to have staying power in the NFT space. But for now, I'll be watching closely and waiting to throw in heavy again when/if we see some changes, or the new season is in view.
Also, wen UFC Dapper Labs? Let's GO!
Sources:
Evaluate.Market https://evaluate.market/
Moment Ranks https://momentranks.com/
Crypto Slam (CHART) https://cryptoslam.io/
FlowMarketCap https://flowmarketcap.com/total-market-cap