NFT RedZone Draft Grades
Week 1 of the NFL season is underway and while the masses are wondering if Tom Brady and the Tampa Bay Bucs can repeat, all the eyes in the NFT world are debating which community is the favorite to bring home the championship for the first NFT RedZone season!
We'd love to hear from you – while you're watching the games today vote for which NFT community team had the best draft & enter to win a mint pass to the NFT RedZone drop!

Full Draft Board can be viewed HERE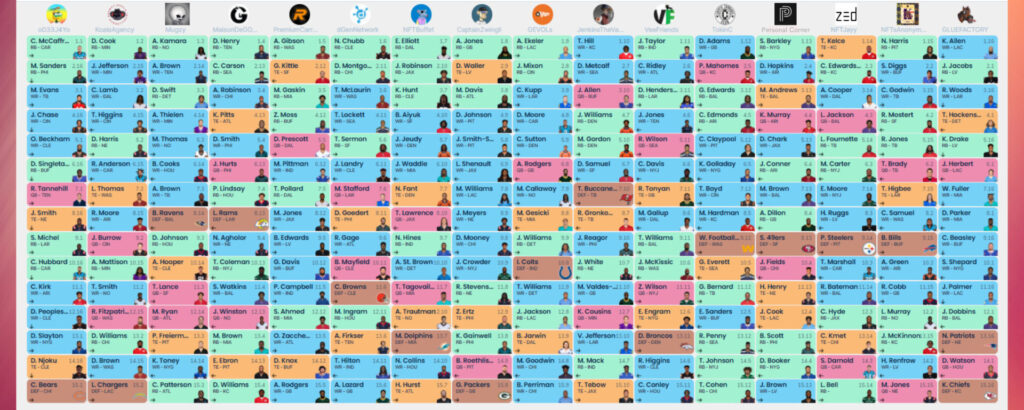 (NFT RedZone Mint Pass awarded at random – winner selected during Monday Night Football on 9/13)
This 16-team snake-style draft took place on Sunday, September 5th. Captains and Co-Captains representing 16 of the leading NFT communities drafted live and will be managing the squads for the duration of the season with input from fellow committee members.

The full draft board via link above, below were some of the most talked about during the draft. 
Sup Ducks – starting out CMac / Sanders gives this squad a strong floor
Koala Intelligence Agency – bold move starting off with the Vikings stack of Dalvin Cook and Justin Jefferson – the experts at Fantasy Pros agreed with the move giving KIA a100 Draft score!
The Alien Boy – started with AK47 at #3 and then scooped Michael Thomas in the 5th as he slid due to his injury
GOATz – started with two big time backs in Henry & Carson and then landed the TE darling Pitts in the 4th
Riot Racers – took their guy Antonio Gibson with the 5th overall pick and then scored a top TE in George Kittle on the way back
dGEN – Steve, dGEN co-founder and co-captain likes the Buckeyes
Gutter Cat Gang – loaded up with 3 running backs in the first 3 rounds with Zeke slipping to 1.7

Bored Ape Yacht Club – drafted an unprecedented 7 wide receivers in a row, including four with a week 7 bye week
GEVOLs – likely the strongest RB duo drafted with Mixon and Ekler in the first and second
Jenkins – likely the strongest WR duo drafted with TyFreak & DK
VeeFlickers – sneaky good draft anchored by J Taylor and Ridley
CCC – took the first QB off the board in Mahomes and paired him with Davante Adams to secure a high ceiling every week

NFT2040 – if Barkley's health holds up, this squad could be dangerous pairing him with the Kyler/DHop stack
ZED – hard to go wrong with 2 key pieces of the Chiefs offense with Kelce and CEH
RSOP – Brady/Godwin stack to go with Diggs and Harris is scary
Glue Factory – Bold move with Deshaun Watson late, even bolder with the JK Dobbins pick
How the experts at Fantasy Pros scored the NFT RedZone Draft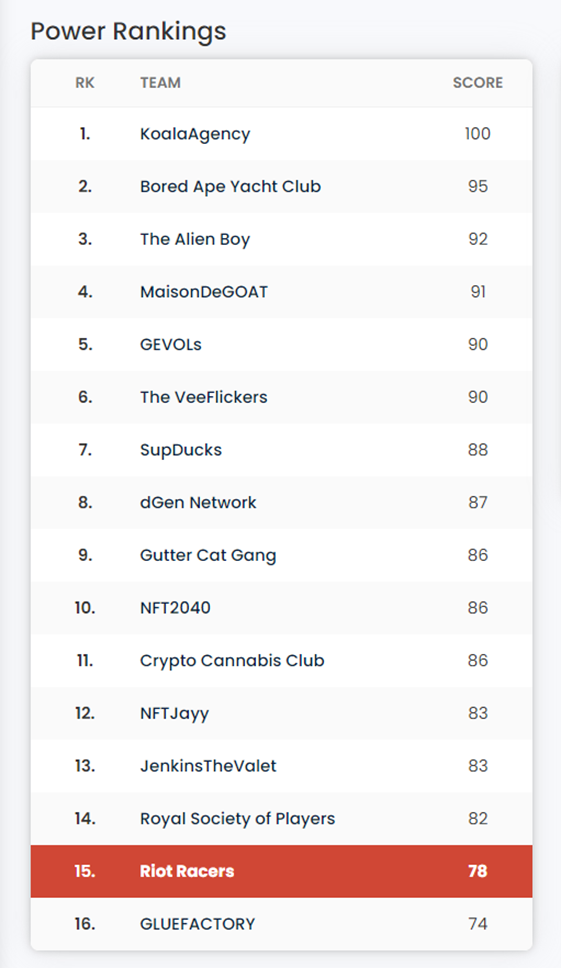 dGEN Network and NFT RedZone are not affiliated with the National Football League (NFL) or NFL RedZone. dGEN Network and NFT RedZone respect and love the NFT communities participating in the NFT RedZone league; however, all teams are managed or co-managed by individual community members, co-founders and community leads and their opinions and who they drafted are their own and not representative of the community(s) at large. dGEN Network & NFT RedZone are not affiliated with The Glue Factory, RSOP, ZED, NFT2040, VeeFriends, GEVOLs, Bored Ape Yacht Club, Gutter Cat Gang, Riot Racers, GOATz, The Alien Boy, Koala Intelligence Agency, Sup Ducks