What happens when you take 16 of the top NFT communities in the world and pit them against each other in a season long fantasy football battle for bragging rights and championship trophies? You get NFT RedZone, the first of it's kind, HIGHEST stakes fantasy football league in NFT history! Here's what you need to know. Let's start with how to find the league.
Twitter, Discord, Whitepaper, WHITELIST FOR PREMINT!
NFT RedZone League
As you may have seen in yeserday's draft grade article, we have rallied 16 passionate NFT communities together to compete in a season long fantasy football league, run by founders and community managers of the respective projects. Each team has drafted a full fantasy football team and will manage the roster and matchups alongside their communities. As you can imagine, this is a recipe for trash talk and amazing cross community engagement, but this is just the beginning.
What's At Stake?
Umm, a lot.
Like, a lot, a lot. First and foremost, if you are holding a card of the team that wins the NFT Community Championship, you will be in a drawing for a Bored Ape (we told you it was high stakes), so start analyzing those rosters NOW!
In addition, 97% of all of the minted funds will be going back into the community for weekly prizes and giveaways based on the game, which I will outline below. That's an estimated total of 490 ETH (assuming sell out), which works out to 24.5 ETH worth of giveaways per week. These prizes and giveaways will be of the projects that are participating in the league, so you will have chances to win a BAYC, MAYC, Gutter Cat, VeeFriend, RSOP cards, GOATz, Koala Intelligence Agency, Personal Corner (Dez Bryant's project) and many more!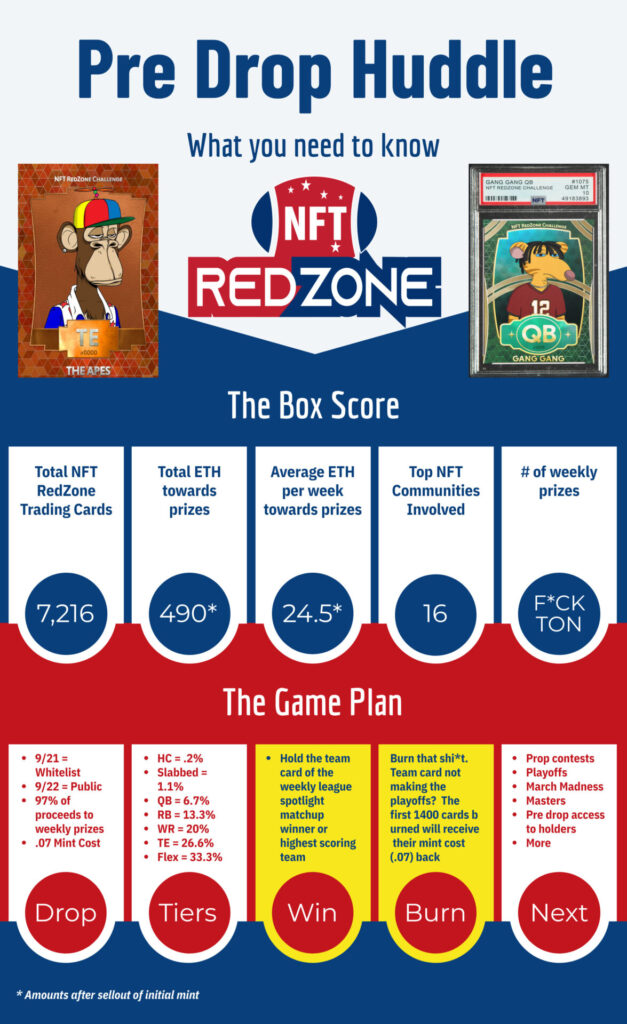 The NFT RedZone Game
Fantasy football is fun, but NFTs are all about giving people ownership and a stake in the action. That's what NFT RedZone intends to do. Here's how it works.
The NFT RedZone NFTs consist of 7,216 unique tokens. They are broken up into 451 tokens representing each of the respective 16 NFT community teams in the league, with 7 rarity tiers. The rarity tiers and breakdown can be found in the infographic above or here in the full whitepaper.
Each week, card holders will have chances to win a f*ck ton of prizes (24.5 ETH worth on average) by holding specific team cards in their collections. The rarer the tier of the team card you're holding, the better your chances of winning the prizes become.
"So, how do I know what cards will win me prizes?" Great question! Each week there will be a featured "Spotlight Matchup" of two of the 16 teams in the league. If you are holding the cards of the winning team in that matchup, you're eligible. For example, week 3 features Team BAYC, and Royal Society of Players. If you are holding the cards of the winning team in that fantasy matchup, you are in the running for the weekly prizes. In addition, prizes will also be awarded if you are holding the cards of the HIGHEST scoring fantasy team in the whole league for that week.
This creates a really interesting and unique game theory in terms of playing specific matchups and analyzing teams in the league for the highest scoring potential etc. The idea is to give the communities a stake in the league results and create a fun DFS style mechanic in the process.
How Else Can I Win?
In addition to the two main ways to participate above, there will also be weekly prop style contests that will make you eligible for prizes/airdrops as well. For example, if you are holding the team card of the highest scoring wide reciever of the week, or holding the card of the highest scoring defense for the week. These are just some additional examples of how challenges will be built into the fantasy season.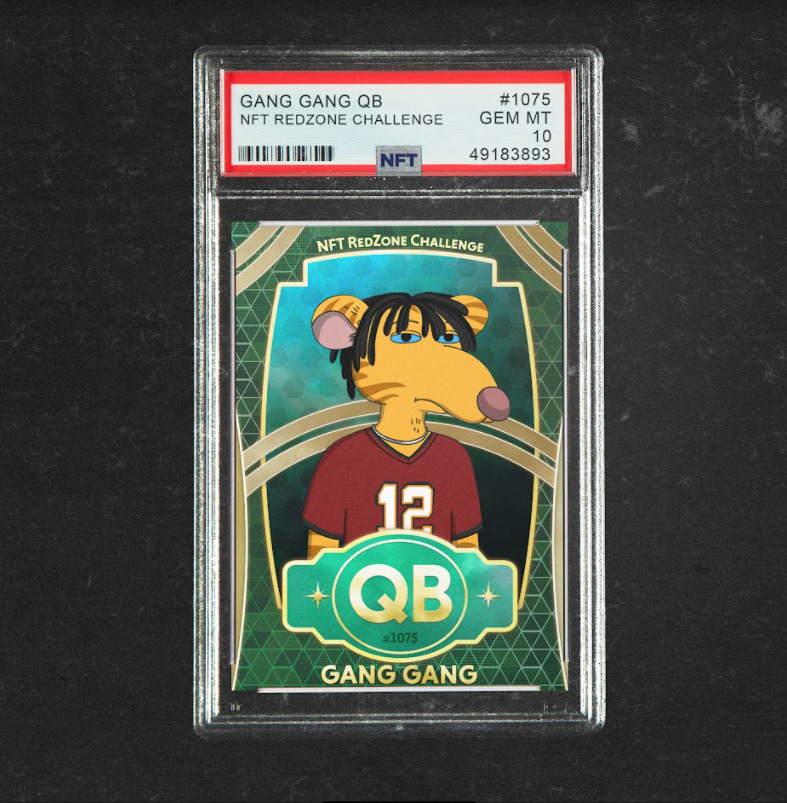 What if I'm Holding Cards of Sh*t Team?
Don't fret! On top of the possibility of still winning potential prop style challenges, there is a burn mechanic that will be introduced in week 6-7 (rough estimate) that will allow card holders to make an important decision with thier cards. If you so choose, the first 1400 cards burned will recieve a full refund of their mint price of their card. This is in place to protect against teams that may be out of playoff contention, or teams riddled with injury etc.
Don't be so hasty to burn that token however, these tokens will also serve as your mint passes to any future events and contests put on by the NFT RedZone team in the future. There are plans in the works for, playoff contests, March Madness events and potential live events in the future. These tokens will also serve as a mint pass to the genesis launch of a future dGen Network project to be announced later.
Bottom line, choose wisely!
What Do The Prizes Look Like?
As mentioned above, we will be giving away prizes from the projects participating in the league. Here is an example of some of the prizes that will be up for grabs weekly based on the Spotlight Matchups. You will also see in the graphic below, probability of being awarded a prize based on holding 1 QB tier card.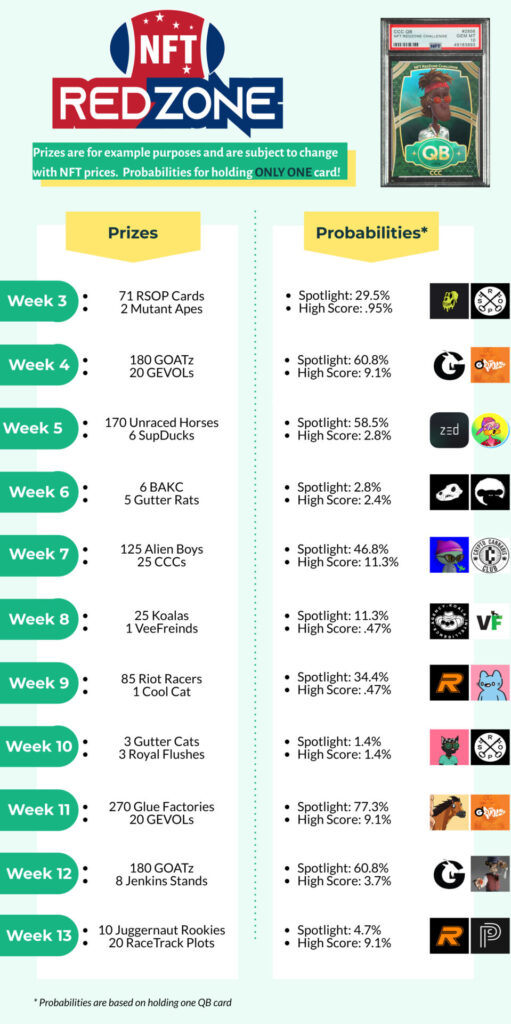 Wen Drop
If you're interested in NFTs and Fantasy Football, hopefully you've made it this far into the article and want to know more details!
Whitelist Drop: 9/21 – Sign up for the whitelist! Whitelist deadline 9/20.
Publis Drop: 9/22
Mint Price: .07 ETH (Touchdown)/Card
97% of all mint proceedes go back to community prizes.
Wrap Up
Want to have a chance at winning a Bored Ape? Love fantasy football and NFTs, and want to combine that passion for a season full of football, game theory, and prizes? This project is definitely worth checking out! See you on the gridiron!