(Photo by Melanie Kreutz)
Full disclosure, I'm a holder of a FameLadySquad(FLS), I actually minted one during the drop and I have #542, so you know I was early. I'd heard about the first all-female team and jumped in without looking into it too much. I only minted one, so there wasn't a massive impact to me if it went way up or down.
That being said, holy cow what just happened tonight. For those of you who don't know, FameLadySquad was touted as one of the first all-female generative art projects in the NFT space. Most of their roadmap items were focused on charitable contributions to fight against violence against women. Fast forward to today, ColeThereum who was one of their early supporters has now publicly denounced the team as frauds.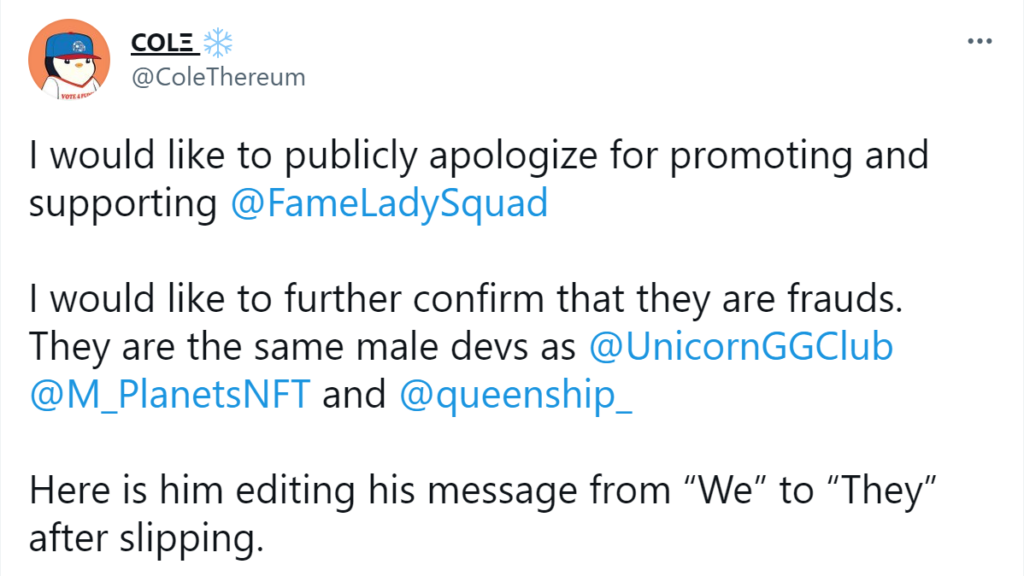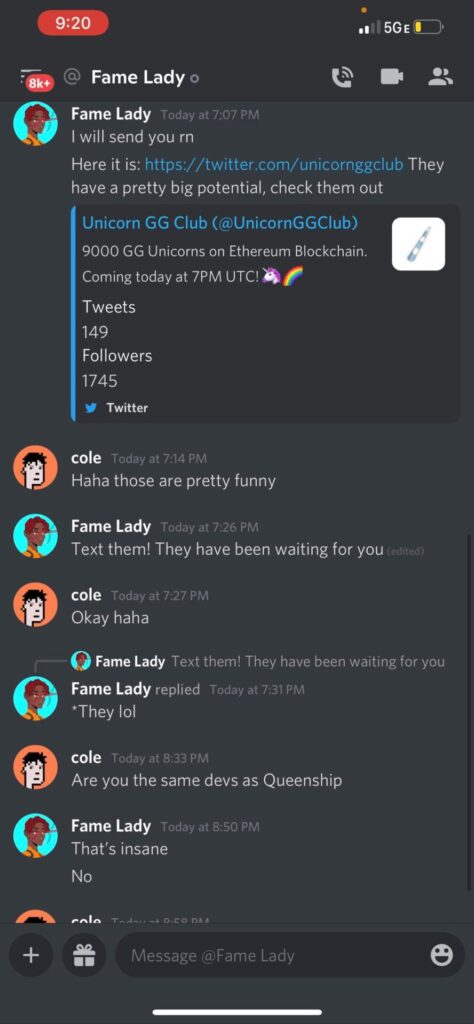 Cole has apologized and donated what he made promoting FameLadySquad to a wallet which is slated for supporting African American artists & minorities struggling to find light in this space. This is a great step in the right direction. ArtChick has also come back from vacation to tweet about moving past FLS to support another female led project – Long Neckie Ladies.
What does this mean for the NFT space? Unfortunately, there are a few different takeaways. The internet is built around anonymity for better or for worse. The vast majority of people feel comfortable being who they really are under the protection of the internet. That same protection allows EXTREMELY shady characters to get away with things that may take time or never be exposed.
Another takeaway here is that you cannot trust those individuals who tweet about details of projects. You never really know if they did their research thoroughly or you end up in an unfortunate scenario of the blind leading the blind. Artchick was another early supporter of this project and did some vetting of the technology behind it. She also greenlit the project to encourage others to mint!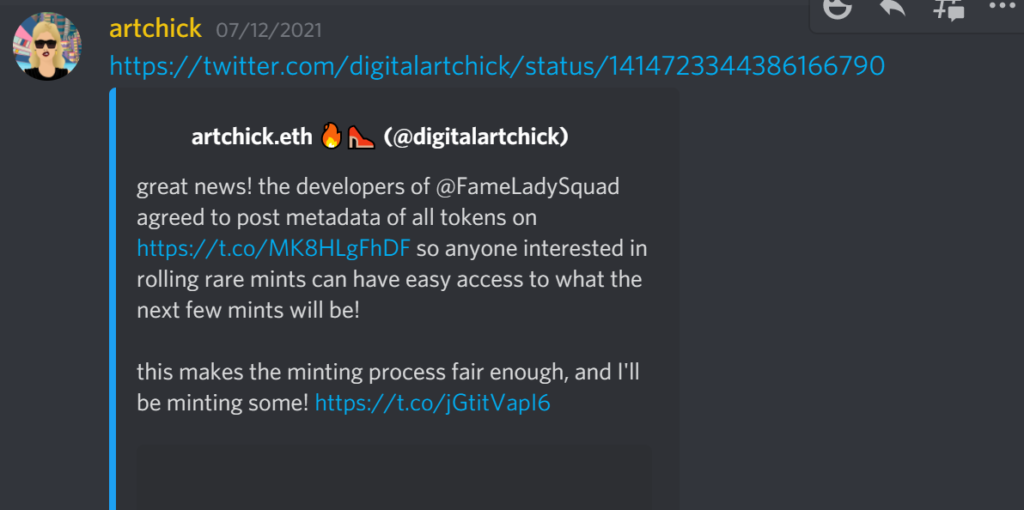 We NEED increased transparency in the space. A team that might be hiding behind the internet to trick everybody into believing the best in everybody for a good cause convinced a lot of people to buy into this project. GaryVee has also mentioned FLS multiple times, and they even were referenced in the New Yorker. Unfortunately, I for one will be on the list of people who will need to stick to the mantra of Do Your Own Research (DYOR) and need to ensure that projects I join are not just out to make a quick buck.
The aftermath of FLS will be large, hopefully a lot of us will learn from this situation and come out better on the other side. I think there is still room for the FameLadySquad team to prove themselves, as of right now the primary information we have is the tweets from Cole. The path of NFT-bodies left in the wake of this will leave a community shattered either way.
BoredBecky on twitter is a phenomenal follow and is trying to rally together the true community of FameLadySquad in a new discord – Ladies Unite. She has been a huge proponent of the FLS throughout the community and was part of the reason I still felt comfortable holding my own. As of writing this article the discord is in relative disarray with people wondering what do we do next? There have been some ideas floated around about wrapping the contract to stop the original devs from continuing to profit, airdropping new NFTs to all holders, and more.