Philanthropic Focus: Blazed Cats
Welcome to Philanthropic Focus, for those of you who have seen some of my recent work you'll know that the charitable aspect of the NFT universe is something I really enjoy. This segment is where I'll be working to highlight different projects and how they're working to improve the world. If you have any recommendations of projects that deserve this Focus, please find me on Twitter.
Blazed Cats has been on my radar for a while. It was a project created as the Stoner Cats initial drop was struggling to get their technology right. The Stoner Cats project was supported by big names like Ashton Kutcher and Mila Kunis and more…but their release was completely bungled. The NFT community was outraged, calling it an obvious cash grab, and a team of 5 strangers decided to show they could do it better.
The Blazed Cats' team formed overnight with the goal to create a mintable avatar project in less than 24 hours with the goal of getting a project level before Stoner Cats. They were successful in creating all the necessary designs, technical assets and getting a website ready to generate all 10k of the avatar NFTs in a seamless fashion.
Blazed Cats was dedicated to having this project be a change maker and commit 25% of minting proceeds and 100% of secondary royalties to charity. Their charity was chosen by the community of catholders and Mental Health America (MHA) was the overwhelming choice.

Mental Health America's Goal:

MHA is focused on addressing mental health as it fits into the bigger picture of overall wellness. Now more than ever given the global pandemic mental health needs to be a focal point of anybody's wellness routine. MHA hopes to help many of those struggling through their different programs which includes regular education & outreach, research, and contributions to numerous publications.
Blazed Cats have been funding their community wallet in a variety of different ways. 25% of minting proceeds, 100% of secondary royalties, direct donations to their wallet and specialty on-chain collaborations. The numerous ways they are continuing to fund their donations is astonishing, and at time of writing this Blazed Cats is north of $250k in donations to MHA.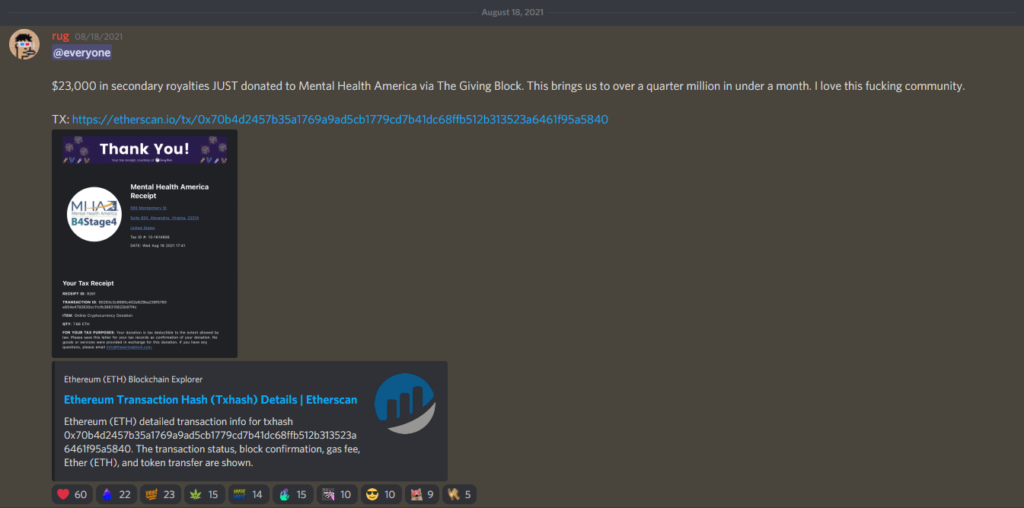 The collaboration auctions have been going extremely well, and I'm excited to include here that the upcoming one will be with Dario De Siena! This launches 8/31 with all proceeds continuing to fund the charity wallet! OpenSea Link.
I'm super excited about all the funds' Blazed Cats have been able to raise and happy to help Focus our community on their project. I would love more projects to find ways to partner beyond donations to establish further relationships. I believe each NFT project builds off the successes of previous projects, and if projects follow Blazed Cats charitable lead…we'll be in great shape.
Disclaimer: This article is not financial advice; I do not own any Blazed Cats. The NFT and Cryptocurrency markets are very volatile. Please don't invest what you can't afford to lose. Always do your own research before investing.