If you've been keeping your eyes peeled on what's going on the world of NFTs this week, you would've probably come across Porsche's inaugural NFT collection 'PORSCHΞ 911'.
Intuitively, the collection is marketed as a celebration of the iconic Porsche 911- a car in which the German car manufacturer describes as "A timeless icon. A car that broke boundaries and defied convention. A car born out of a relentless pursuit of a dream".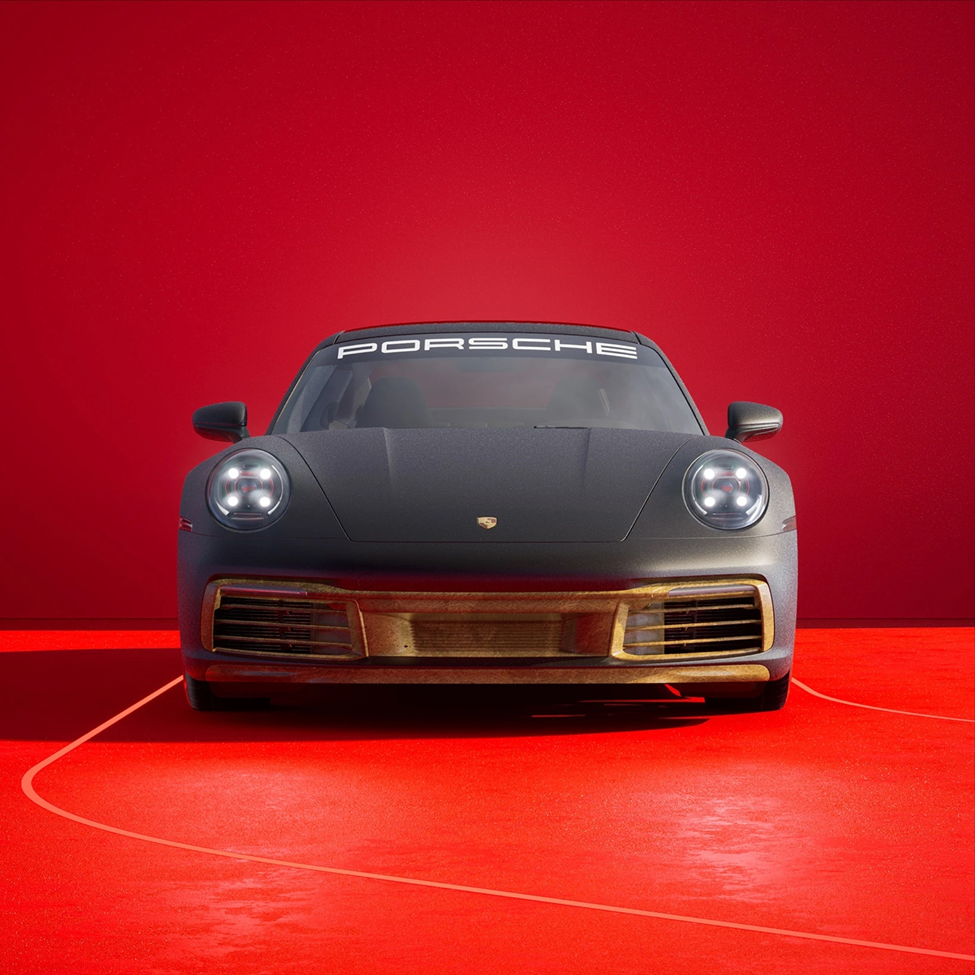 Ironically, and again if you've been keeping up to date with things, you'll know that such collection has most certainly 'broke boundaries and defied convention'… however not necessarily in a good way.
The Demise
PORSCHΞ 911 was initially planned to feature 7500 Ethereum-residing NFTs which each pay homage to the famed sports car through an artistic portrait.
Here, ownership is said to offer holders "access to a new world of Porsche where the rewards are real and special to you". In practice, such rewards included access to events and exclusive merchandise, as well a vague promise of giving crypto-come-car enthusiasts the opportunity to "help design Porsche's future in the virtual world".
Things took a turn for the worse when the company announced the mint price for the collection, which although apt, stood at an objectively hefty 0.911 ETH (which at the time equated to around $1450).
Intuitively, such price point was deemed far too steep among Porsche's onlooking community, whether it be because of the ongoing bear market, or because it was unclear as to how each of the collection's uniform assets were to evolve into something distinctly unique… or perhaps a convolution of both.
In turn, the announcement tweet racked up over one million impressions, with many mocking the launch as "clueless" and "tone deaf".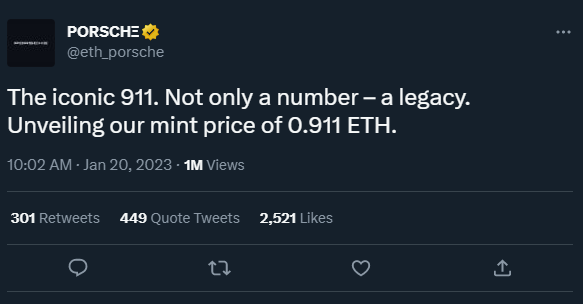 With calls of the collection also being a "cash grab," others also suggested that mint price could be scaled down (whilst simultaneously staying on-brand) to a price 0.0911 ETH (approximately $145).
Despite such backlash and constructive criticism, Porsche preceded with the mint as originally planned, with the sale commencing on Monday 23rd January.
However, after only a mere 1500 NFTs were minted in its first hours of activity- with many then being listed on secondary marketplaces for less than the 0.911 ETH mint price- Porsche were finally forced into altering proceedings, with the company tweeting:
"Our holders have spoken. We're going to cut our supply and stop the mint to move forward with creating the best experience for an exclusive community. More info in the next hours".
In turn, the sale closed at 6AM ET on Wednesday 25th January, with 2,363 Porsche 911 NFTs being minted in total (meaning the company had raked in a little under $3.5 million).
Here, notorious NFT figure Farokh was quick to describe the above tweet as FOMO-inducing, as on-chain analytics shows that a bullishness for the collection increased monumentally in wake of it being published.
Despite this, Porsche's intended 7500-member community never came to fruition, with the company responding to such circumstances by saying:
"The size of the community is not decisive for us. What is crucial is that we can offer the community the most exclusive and individual events and utilities possible".
Although such 'utilities' remained relatively ambiguous back then, Porsche then took to Twitter to clarify what they will entail. Within the thread, the company stated that holders will receive:
-Behind-the-scenes access to the world of Porsche- which will include "eye-level conversations with Porsche insiders, guided by who you would like to speak to designers, engineers, racing drivers, ambassador artists or Web3 partners".
-The opportunity to co-create Porsche's future in the virtual world- through initiatives such as workshops with the Porsche Core Team and deploying Discord polls for community decision making.
– An exclusive capsule collection with physical items (penned-in for Q2 2023).
With regards to the cosmetic appearance of the NFTs- which for now, remain completely uniform and rather dull- they are said to 'evolve' over time via four customisable phases. Here- and through contributions from the company's partners and artists- over 150,000 possible design variations will be possible, with each NFT to eventually manifest into a completely unique asset with a respective level of rarity.
Come the end of such process (scheduled for the end of Q2 2023), a community vote will then decide which Porsche NFT is the coolest, with the winner to then be turned into an actual Porsche 911.
Other perks for 'most holders' include 'money-can't-buy Porsche experiences,' whilst all minters will receive a private airdrop of an NFT designed by partner artists.
The Rise
In a swift turn of events, and at the time of writing (January 26th), the PORSCHΞ 911 NFT collection's floor price on OpenSea now sits at 2.465 ETH- a figure that's more than double the initial (and once-deemed-hefty) mint price.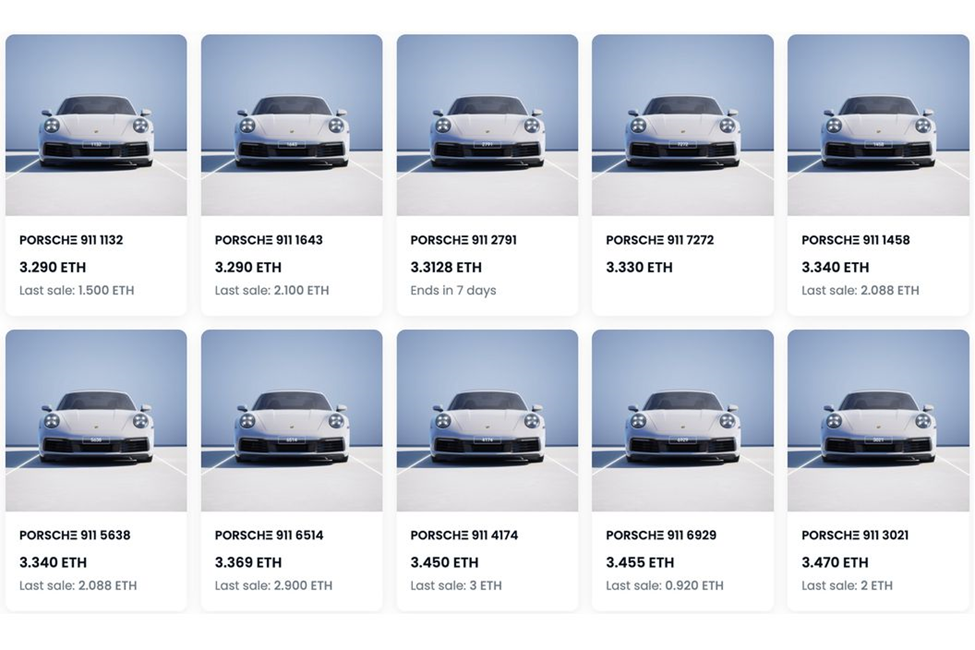 As simple economics suggests, a supply-side shock is partially to explain such price hike, as well as the fact that the collection's hot publicity helped the aforementioned Twitter thread attract a lot of attention.
The collection is also looking healthy when it comes to its overall trade volume- which currently sits at 1676 ETH (just above $2.7 million)- however as per the words of the company itself, its assets should be viewed as a 'long-term investment,' as "this is just the beginning of the PORSCHΞ adventure".