The Fantom of the Opera
The Fantom of the Opera is there inside my mind
The last few months have seen some exciting inflows of capitol into more nascent smart contract blockchains. Institutional adoption of DeFi as well as further retail NFT mania has shown once again some of the issues Ethereum has with scalability. The idea of smart contracts no longer needs to be proven, but rather implemented at scale.
Interestingly, the adoption of Ethereum has been so great, many L1s are re-branding to L2 scaling solutions. Rather than competing to overtake eth, many smart contract platforms are competing to help it scale. Avalanche and polygon have seen incredible success with their liquidity mining (LM) incentive programs.
Solana has had an incredible summer and has recently announced plans for EVM compatibility, so even it can be an L2 now. The last week has seen record high gas prices on Ethereum a couple of times. I think some peoples surprise that they still must pay gas after EIP 1559 is adding even more fuel to the scalability fire.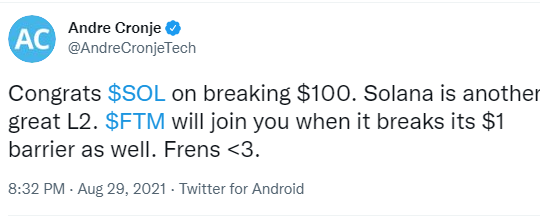 Everyone heard of an improvement, misunderstood it and assumed it would fix their problem. Now that the Ethereum scaling issue is in the news again, let's look to L2s. Fantom is a pretty interesting blockchain that is back to being talked about as an L2 solution now. Andre Cronje has been posting the last couple days about fantom and yesterday hinted that incentives could be coming.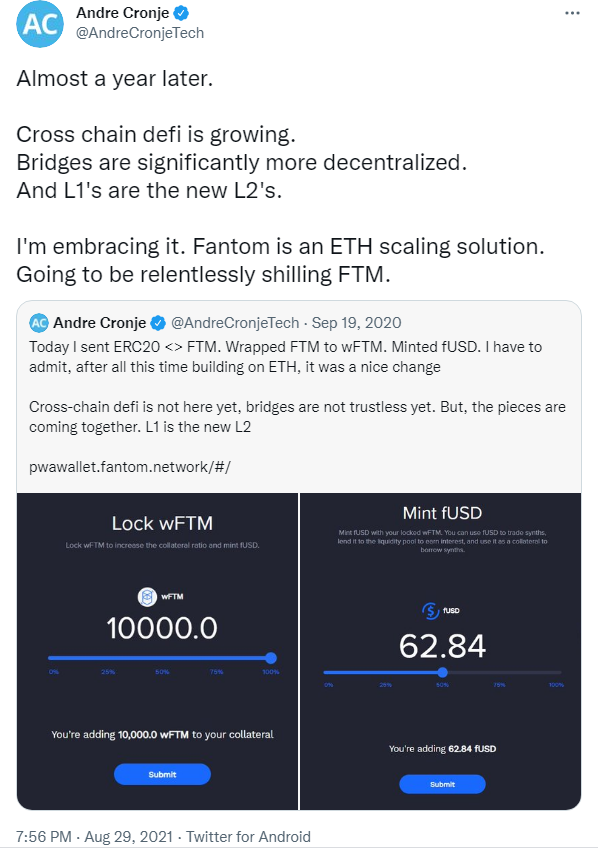 Today, fantom announced 370 million FTM in incentives for developers. This is similar, but slightly different than the LM incentives that have recently been offered on polygon and avalanche. The foundation is giving their native currency to developers from other protocols to build on their platform. In the traditional liquidity mining incentives, the applications use their own native token as incentive for people to bridge their funds to the new chain.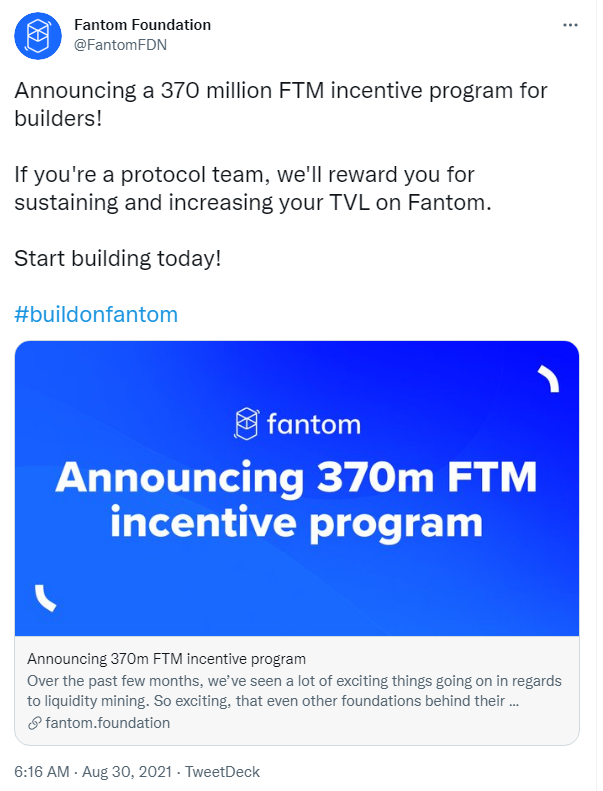 Many in the community feel that there isn't much difference. The teams and protocols will use the capital to fund their own incentive programs. Kyle Samani from Multicoin Capital and Jason Choi from The Spartan Group quickly weighed in on the incentive offering.
Sandeep Nailwal from Polygon seems to find Cronje and FTMs pivot humorous. I agree with Choi and Samani that liquidity mining incentives will not keep capitol on a chain. I also agree with Mr. Choi that the nimble apes will win in this game. Towards that aim, let's look at some things you can do on fantom with your money.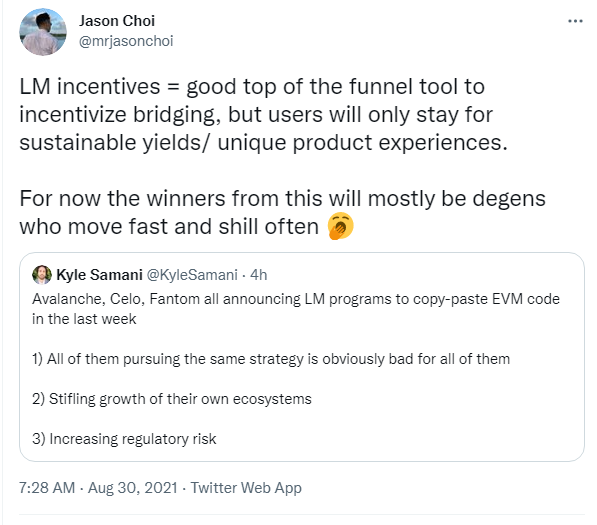 Fantom is a blockchain with near instant settlement and darned cheap transactions. This lends itself to yield farming and liquidity mining well. You can use your MetaMask in this environment. That makes it instantly more appealing to me. There are a few bridges including Multichain.xyz and SpiritSwap.
Probably the place to add liquidity here would be sushi or curve. Providing liquidity on sushi and curve will earn you a share of the fees, but not yet liquidity mining incentives. I bet these will eventually offer token incentives on fantom as well, but who knows. Providing liquidity on these audited platforms, in tokens from proven ecosystems represents minimal risk.
Let's get to the chain specific stuff here. As always, let's start with a few Dexes. Spiritswap and SpookySwap both reacted to the FTM hype violently today. They are both pretty awesome as far as user experience. They both recently released a single sided staking and revenue sharing pool a la xsushi.
This locked up a large majority of each the Spirit and Boo tokens. Then yesterday and today everyone bought the token to start farming here. So, the float was hella low and now the price has gone nuts! Im not saying it must crash, there is a whole lot of room to run in this ecosystem, just be aware that these two tokens have been repriced. BrushSwap is a smaller DEX who's token may present an opportunity for expansion.
There are many options for leverage in this ecosystem right now. Scream is a fork of cream for fantom. If you are unfamiliar with cream for eth it is a lending and borrowing protocol. MIM is an Ethereum protocol for lending interest bearing tokens that has a few options on fantom. Tomb finance is a fantom native Stablecoin pegged to FTM that has been fairly true to its peg.
The most interesting leverage play on this chain for me is Tarot Finance. They offer leveraged yield farming. Their token has gone pretty nuts the last few days like most of fantoms ecosystem. Their platform allows you to lend out single sided liquidity as well as lending and levering LP positions.
Additionally, there is an interesting reinvestment mechanism. Instead of doing so automatically, they offer a bounty for other users to reinvest these available positions. This way a watcher or a tourist can actively participate in the strategy of others, while gaining a reward for doing so.
If you want to use an auto-compounder that doesn't leverage you up, there's beefy and reaper. Reaper is a fantom native smaller project while beefy has money on a few other chains. Anecdotally, beefy seems to be falling out of favor. It certainly has not received the repricing of the fantom native projects today. Robovault is an auto-compounding strategy situation for some single sided liquidity provision.
This is no risk of impermanent loss and correspondingly less reward. Liquid driver is a project that compounds positions on sushi for you. Their LQDR token reacted even more violently than most fantom tokens today, but they do have a version 2 coming up. All these projects are worth checking out. Transactions are so cheap on fantom it is easy to go experimenting as well.
Anyway, this is an interesting chain, and some cool folks are building on it. Let the developers and fund managers argue over the philosophy. We can make money right now no matter how this experiment turns out later. Everyone flocking here today will certainly not stay forever. If you make money and do want to stay in this ecosystem, check out Spookies, a fantom native NFT project.