To Sell or Not to Sell: The NFT Question
One of the most difficult aspects of the NFT space is deciding whether to sell your NFTs or not. Some people sell too soon and miss out on significant profits. Some people hold forever and never realize their gains.
So, how do you time everything perfect? Well…you don't
Trying to find the sweet spot is difficult. However, you must remember, if you're making a profit, you're winning. Period. Some people will sit and stew on the unrealized gains that they missed when they sold their CryptoPunk at 5ETH or their Bored Ape at 0.5 ETH. You must account for what you used that ETH for afterwards?
Did you take that 5 ETH and mint 50 Bored Apes? Did you take that 0.5 ETH and mint 15 Gutter Cats or World of Women? The trick not to lose sight of the value of your overall portfolio. I know it's hard, but it will help you sleep sounder at night.
Now the flip side is, did you take that 5 ETH and go all-in on Queenship? Or countless other fly-by-night NFT drops over the past 6-8 weeks.
These days, the best play seems to be to wait for the project to sell out. Then, see which way the market takes them. Can you pick it up on OpenSea for less than mint? Do you want to? Do you buy it at a slight premium but get the assurance that the project is legit and will grow in value?
It's always a good idea to learn from other's mistakes. There is a bunch of great content discussing this very topic.
Ultimately, we will see the NFT market suffer serious pullback at some point. It's always good to look for "Top Things" as my friend Ledger would say. Is the most recent purchase of Bored Apes by Logan Paul one of those "Top Things"? Possibly, it's difficult to say.
You can take a lot from the more traditional markets when playing in the NFT/Crypto markets. We use this image a lot on Crypto Twitter: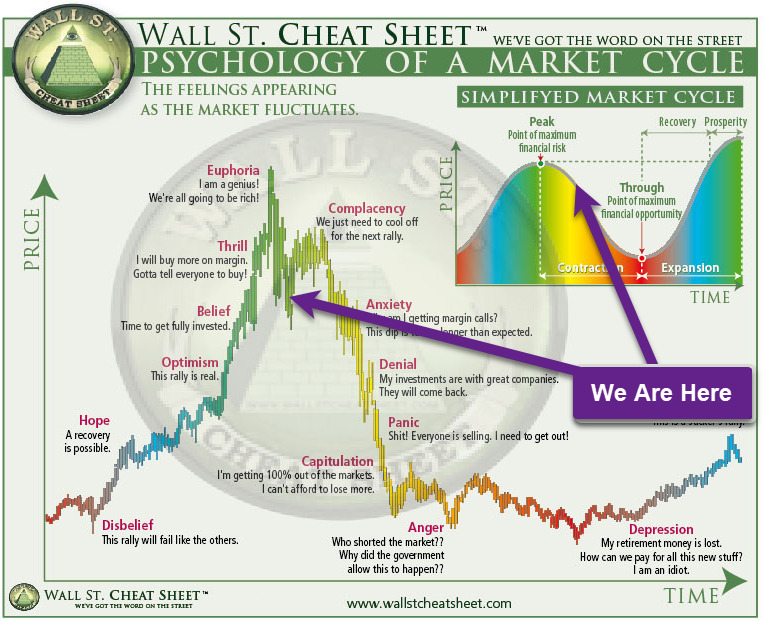 For the record, I'm not saying "we are here" for the current NFT market cycle. But we could be. I have seen a lot of people get hurt by pullbacks. So, please take some profit…and pay your taxes. You'll never time anything perfectly, but if you can catch most of the moves up and avoid most of the moves down, you're probably GMI.
Disclaimer: This article is not financial advice. The NFT and Cryptocurrency markets are very volatile. Please don't invest what you can't afford to lose. Always do your own research before investing.