This year's South by Southwest (SXSW) was the first one since NFTs took off. The implications of this are big, as SXSW is a convergence of culture with a focus on music, film, art, and most importantly to us – technology. I had the chance to attend several sessions outside of the actual conference, and as a generally social person, I spoke with dozens of people in my four days in Austin. Based on those conversations, here are three takeaways from SXSW.
Technologists are bullish on augmented reality (AR) and virtual reality (VR)
This wasn't surprising to me since I recently interviewed Andrew Chen of Andreessen Horowitz, and he indicated he was very bullish on VR. With that said, in several conversations I had during SXSW, this topic came up. As an NFT geek, my mind immediately went to the Metaverse. It makes sense, as technologists are forward-thinking, and there is a generation emerging that is growing up on what I call "Metaverse Light" – Minecraft and Roblox. My kids play it every day after school, and their favorite gift for Christmas this year was a Roblox gift card which they used to buy skins and other digital items. I even think these properties could usurp existing Metaverses. The addition of AR and VR to these experiences will enhance them, and based on what I was hearing in Austin, there's a lot of money and human capital flowing into this emerging technology.
Fungible tokens will propel NFTs forward
This seems obvious with the recent drop of Ape Coin, but when I was at SXSW, it hadn't been released yet. My insight here is being driven by people I spoke with who are diehard crypto folks who aren't into NFTs at all. A handful of them proactively expressed interest in the fungible tokens being introduced by NFT projects, as they make their money by betting on cryptocurrencies to go from two cents to two dollars. Their way of getting exposure to NFTs will be through these coins, which are easy to purchase on a variety of exchanges. And who knows, maybe that will draw them into the NFT projects themselves? Additionally, while many will want to get exposure to fungible tokens like Ape Coin, as they look for those big gains, I imagine they'll start digging into fungible tokens for mid-cap and small-cap NFT projects, which is good for the overall ecosystem.
NFTs felt right at home
With this being the first SXSW with NFTs, I expected that people would be hesitant about the new technology, or conversely, this would be the "NFT SXSW" where they were everywhere. Instead, it just felt seamlessly plugged into the conference. Cool Cats painted up a Pizza Place on 6th Street. Doodles had an immersive warehouse which was attended by NFT and non-NFT people alike. Fluf World threw a rave, there were panels on various NFT topics, and everything felt normal. The way NFTs were just weaved into the conference and festival in an organic way made the technology feel more accepted, as if they were supposed to be there…not just some passing fad. The technology folks in Austin understood the power of NFTs and were exploring how they can be applied in the future.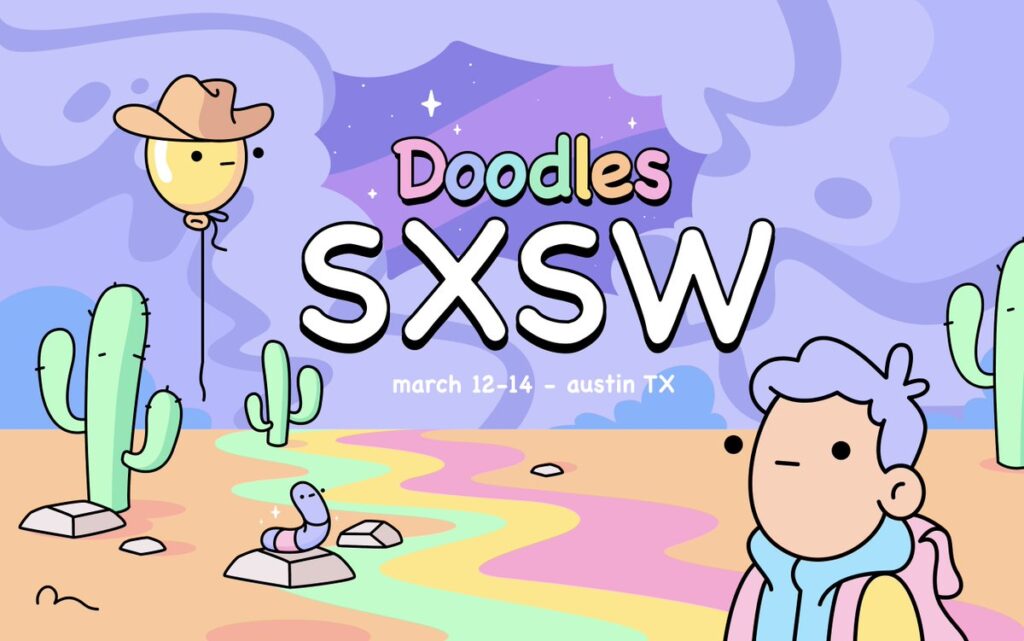 Bottom Line
There are a lot of tailwinds coming for NFTs, and the acceptance and adoption of people in the technology sector is very bullish for our world. It'll be interesting to see how NFTs find their ways into other conferences and events which are not solely dedicated to NFTs.