UncuttArt x Neurite, Dropping Exclusive 1/1 NFT at Art Basel
Recently I've found myself getting more into art. I never was much of an "art person," but NFTs taught me that I just wasn't looking at the right art. Artists like Cat Dirty, Showdeer, Dario De Siena, Vinnie Hager, and more have opened my eyes to what's out there. This week, UncuttArt, a prominent street artist, will be joining them in the world of NFTs, bringing his unique style to the digital realm.
Back where it all started
UncuttArt has been a street artist for over a decade, but Art Basel in 2014 was where he really came on to the scene. That year, he introduced his #ProtectYoHeART mural in Miami; a mural which can now be found in almost every major city in the country. You may have seen it yourself, and if you haven't, a quick search on Instagram will pull up some of the 3 million social media posts with the work of art. UncuttArt is returning to Art Basel to launch his genesis NFT, with an auction taking place from Monday November 29th at 9:00PM EST to Friday December 3rd at 9:00PM EST.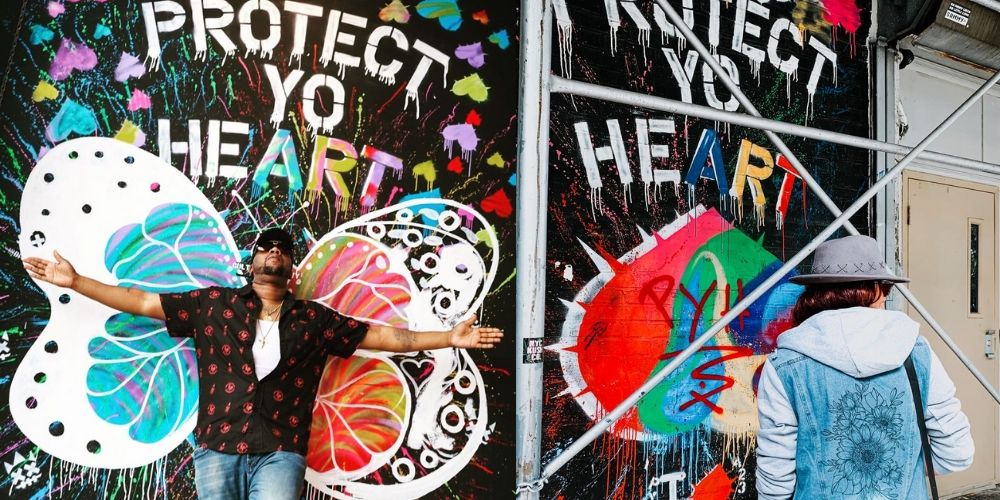 A creative drop
To send people to the sale, there will be QR codes dropped around Miami that will lead to the auction. From there, people can bid on the 1/1 piece, animated by Neurite, aka Carmen Aguirre an NFT artist, animator, and creative director.
Carmen, is an illustrator, animator and creative director who is also a medical student. Her work in the NFT community bridges a gap in medicine and art by bringing awareness to mental health. She uses her work to raise awareness but she also donates 10% of her profit to a local non-profit called the mind deconstructed and has raised over 10 thousand dollars for charity.
Additionally, anyone who shares and reposts the code will receive a free Uncutt scarf, part of his signature look. The NFT is expected to look like one of UncuttArt's signature designs (below) and will come with a signed print.
The bigger picture
As more people are embracing NFTs, we're seeing an increase in well-established physical artists coming over to the digital world. People with years of experience in physical art like Dalek and Buff Monster have even begun collaborating on NFT projects. As I mentioned at the start, I've only recently gotten into art (thanks to NFTs!) so I'm excited to see more talented physical artists hopping into our world.
This story is part of a partnership with UncuttArt.
Disclaimer: This article is not financial advice. The NFT and Cryptocurrency markets are very volatile. Please don't invest what you can't afford to lose. Always do your own research before investing.