Wild Lion Society: A Look Inside The Pride
Wild Lion Society is an NFT project on Ethereum. This collection will be composed of 7000 erc-721 lions. These lions will be generated through the random assignment of over 150 traits in eight categories. This community was dreamed up by two real life, off chain friends. These friends go by Flowzee and Geebs. After exploring a bit on his own, Geebs got his buddy Flowzee in to crypto about a year ago.
Ever since then they have enjoyed learning and collaborating together. As soon as they Found NFTs they got obsessed with that corner of the market. Through minting, collecting and flipping they became familiar with several of the larger pfp communities. Around June of this year they started talking about making their own NFT community. By July, they had formally begun work on the Wild Lion Society!
They enlisted the help of a talented anonymous artists whom they know through meat space. The previews I have seen do look pretty sweet if I do say so myself.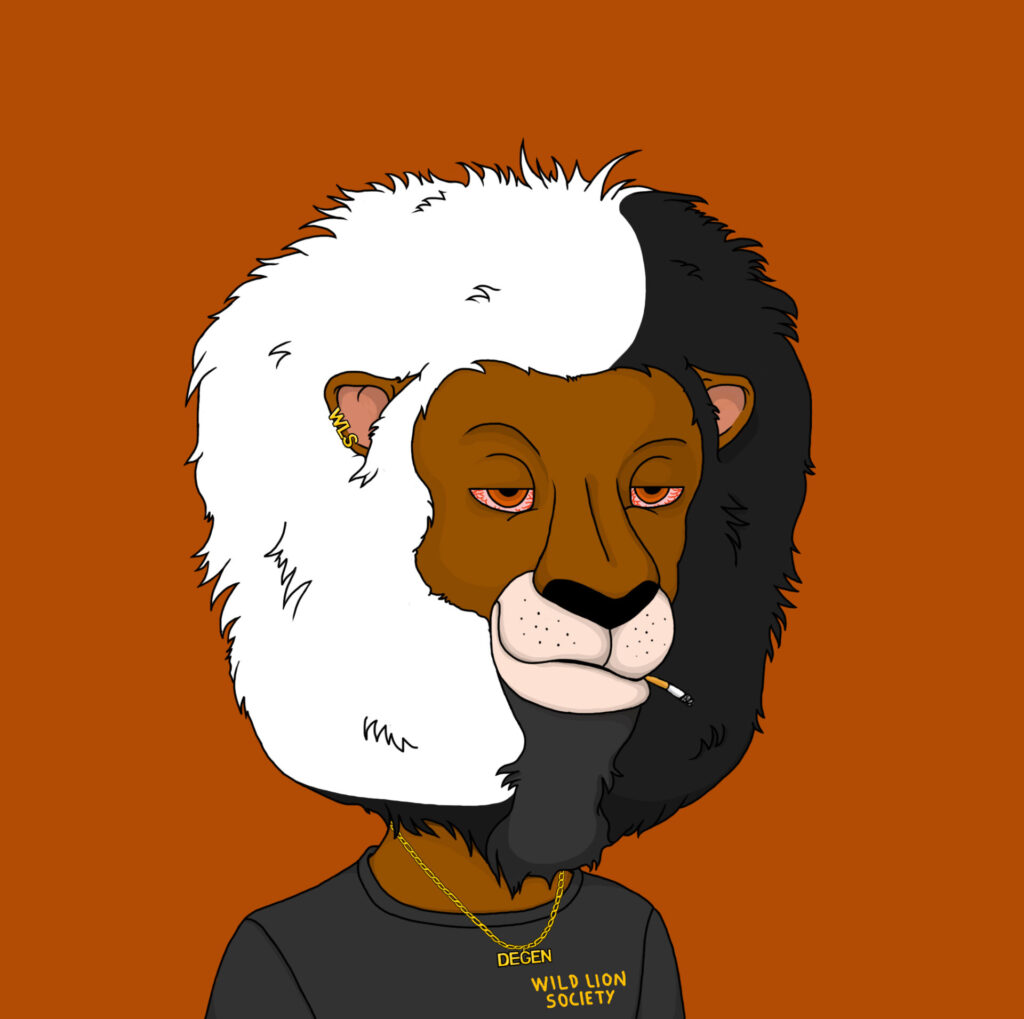 One of their main reasons for doing their own project was to unite and bring value to some of the other communities they had grown to care about while exploring NFTs. Towards this end, they dreamed of a community fund of NFTs from other projects that were collectively owned by the lions. This initial fund, or family, will consist of a Bored Ape, a Gutter Cat, a Gutter Rat, a Goatz, an Untamed Elephant and a Bull on the Block. This is one of the reasons they chose ethereum as the home for the lions. This is already an extremely rich ecosystem of NFT projects to work with and contribute to here.
These family NFTs will be purchased once they reach the 75% milestone on their road map. A copy of the road map is include below, before the interview responses. The Wild Lons are poised to unite all of the avatar fauna on ethereum. Each lion owner will be eligible to mint a family portrait for only the price of gas. This will be a picture of the owners lion, with the initial genesis family of community NFTs in front of a savanna backdrop. Later on, lion holders will be eligible to mint a lioness for free to continue growing their family.

Full commercial rights to everything the lions do going forward are owned by individual lions. The commercial rights to the family are owned by the community. There is a 4% royalty fee applied to all secondary transactions. This is split between the team and the community wallet. In the future the community wallet will be used to fund collaborations and further feline content. The fee is meant to allow the wild lions community to be self sufficient. In the creators words "The Community Wallet will act as a fund to finance community members projects designed to add value to the Wild Lion Society." They want this, above all else, to be a community project.
There is already a fierce pride of lions chatting on discord. Increased involvement in the discord can gain you levels that grant you Alpha and Fierce lion status. These kings and queens of the pride will receive first notice when minting is live. This is important as they are planning a stealth drop any time no later than 15th of October. The mint price will be 0.045 ETH, with a limit of ten per mint.
There are many more exciting things to come for lions and lion holders. Below are a few questions I asked Flowzee and Geebs and their responses. I would like to thank Sir Vincent Fred, in his role as ambassador lion, he was a great help communicating and coordinating all the parties involved.
The below is a transcript of questions I asked the team, and their answers in their own words. This is unedited and to be considered the words of the team as a whole. For any questions regarding the Wild Lions Society, please reach out to them via email [email protected] follow them on twitter @WildLionSociety or join their discord.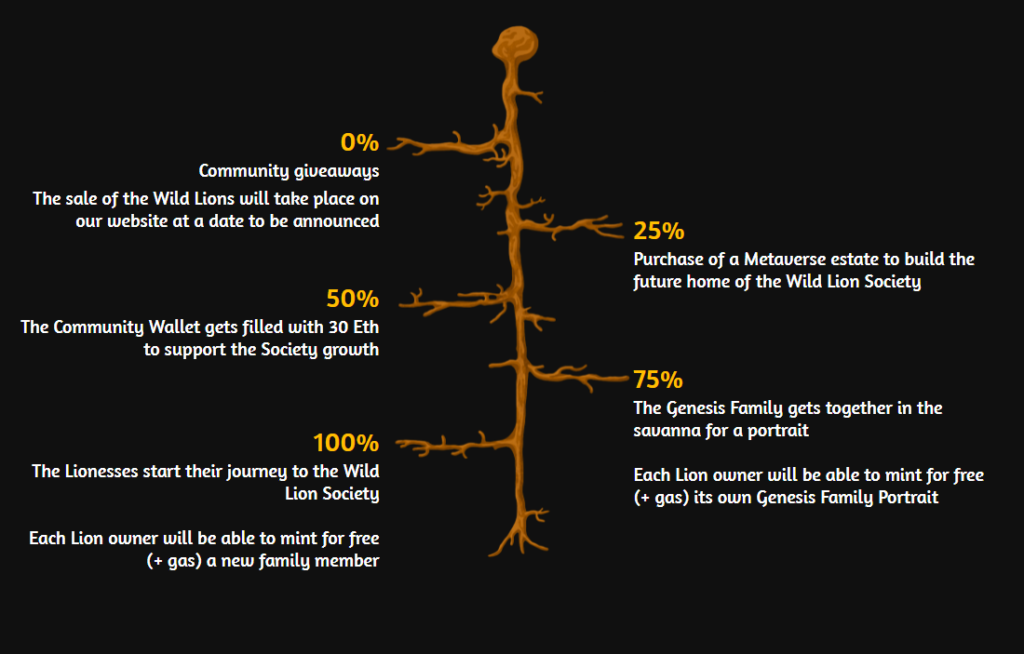 Why a PFP project for Wild Lion Society?
We don't see Wild Lion Society only as a pfp project. Of course, one of the utilities can be that but we don't see it as an end to our project but a starting point. Our first goal is to connect people through the art, leading to a healthy beginning and a strong and long-lasting community.
What is your favorite crypto PFP project other than the lions? What's your favorite thing in your wallet right now?
For us artwise Bored Apes are our favorites and in terms of community. We think the Gutter Gang shows a lot of promise.
How have NFTs and the larger cryptocurrency industry as a whole changed your life since you ventured down the rabbit hole?
It has changed it profoundly. First phase when we entered the world of crypto, we started learning about different projects and understanding the potential of each one, after that the adrenaline of the fast-paced NFT space immediately brought us in, but the biggest change was definitively when we started building this project. Our whole perspective on the space changed and or focus was completely drawn to thinking about and building the project.
What do you see as the largest opportunity in crypto right now outside of NFTs?
We would say DeFi. We are believers in decentralization as a moral principle and DeFi tackles one of the biggest and centralized industries in the world. The idea of eliminating the middleman in the Finance world can sound scary but through the blockchain it becomes transparent and also lucrative. For outsiders it might sound strange, but DeFi creates new ways for people to invest money and earn passive income just by helping to create liquidity in markets. It's really exciting once you understand how it works purely based on code. Besides that, it creates a big opportunity for people in developing markets to have access to various financial options that they wouldn´t have access to in the real world.
Eliminates the need for you to trust a bank and jump through their hoops to use your money.
Gives people in developing markets access to financial options that they wouldn't otherwise have access to.
Creates new ways to invest your money, for example to stake coins and earn interest without losing liquidity
What non-crypto or NFT related community has had the most positive impact on your life your life?
I would say our family and friends. 😊
What does community mean to you?
Community for us is the strength inside the unity of people around and ideal, a goal or set of values. We see it as one of human's greatest strengths for creating and building societies.
What impact would you like this project to have on the world?
Inside our goals the idea of bringing talent together is the big impact. One of the NFTs strengths is the amount of talent that as drawn in and we are true believers that when you get talent together – it can be art, technology, intelligence, critical thinking or any other type – new paths and ideas start to appear. We have our ecosystem well designed but its open enough to adapt to new branches that appear from this cross-talent ideal.
What is the most interesting use for NFTs you would like to see come to fruition in the next decade?
We think the potential is endless and really exciting. From corporate use to governmental use, we think it's going to have a big impact. They can be a way of funding or governance it can enter more traditional markets as financial instruments, real estate or any tokenizable asset.   We see the next big step being the full integration into the real world and we think this cannot be stopped.