Zed Run: Paid Racing Update – Week Ending 7/18/2021
Weekly we will be taking a closer look at the happenings on the digital dirt from the week prior. These views will focus on racing totals by class and distance as well as horses that are making the biggest noise in the Zed Run community. The week ending 7/18/2021, Zed Run surpassed 10K races and 300ETH wagered. Weekly totals were up for both races (10,427 v 8,643 from the week prior for an increase of 21%) and ETH wagered (316 v 266 from the week prior for an increase of 19%).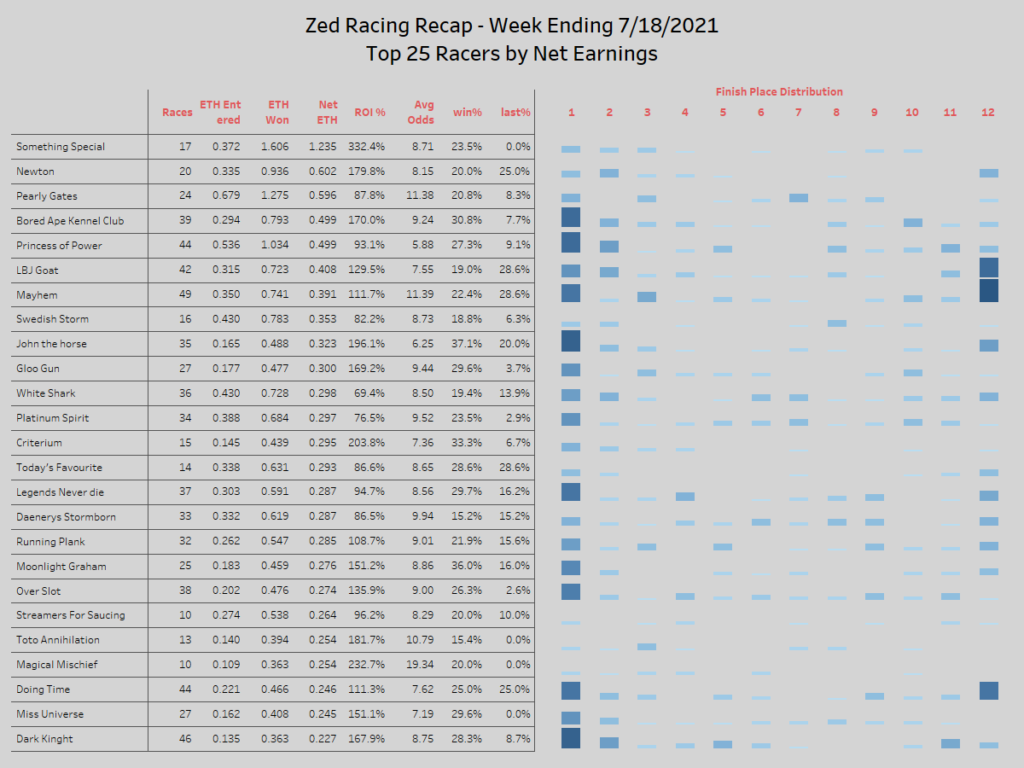 My how the king falls hard and quick. Last week we saw Charlie Cheval crush the field and take down a monster C1 pot to catapult him atop our 25 top weekly earners. Not only is Cheval gone but has missed the list entirely. Some new and old faces jockey for position in the power struggle that is their right at fame. Princess of power, LBJ Goat, and BAKC are back on the list and are vying to become permanent weekly fixtures. Interesting to note not one horse on our list went over 100 races while last week we had 6. No doubt that the 9 hour wait times are taking a toll on our thoroughbreds. Something Special earned 1.235 ETH doubling Newton and Pearly Gates as the next two top earners. Something Special is a Z1Genesis Mare who has run over 400 races in her career and routinely gets high single digit odds at C1 level. Helping her rise to the top on the week was the high stakes Gran Premio del Collsium (race id Z3H4LK3). A C1 1600m race with an entry fee of .214 ETH and a payout to first of $2,400 USD. This was a special victory as winning the race required defeating some of the best including Ducky Mallon, Barok, Proud Delight, and You Gonna Work B!tch. Something Special deserves some recognition from the Zed Run Community for her efforts this last week.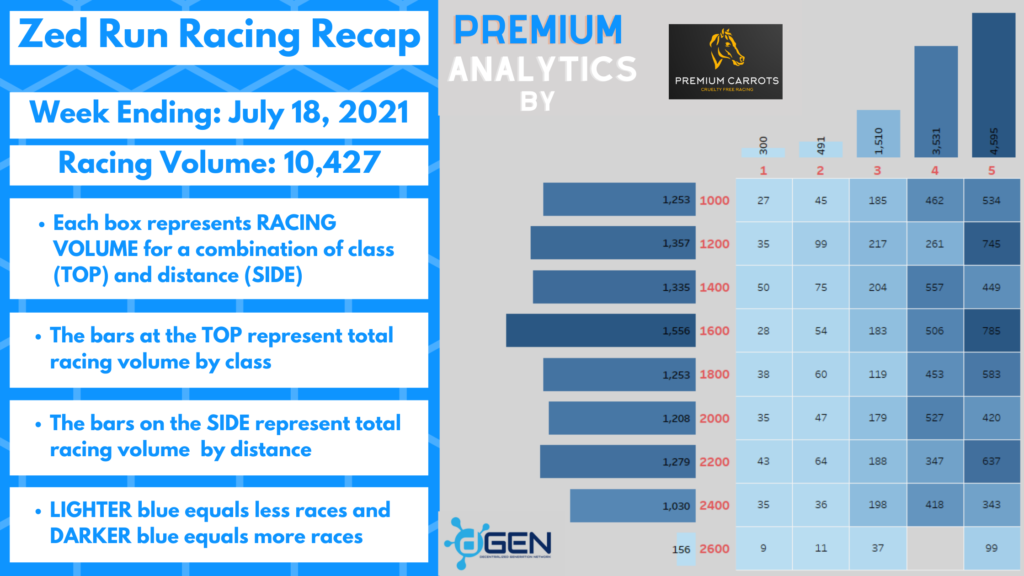 Once again Class 5 saw the most action with almost 4,600 races an increase of 1,000 over last week! Class 1 and 2 races remained almost flat over last week in total but on a percent-basis saw a considerable decline.
While 1600m is still the distance preference of choice the mix (excluding 2600m) is now extremely balanced. This includes 1000m which saw a jump over last week of 490 races good for an increase of 64%.
2600m had a paltry 156 races which is a rise over the week prior but still remains somewhat stagnant.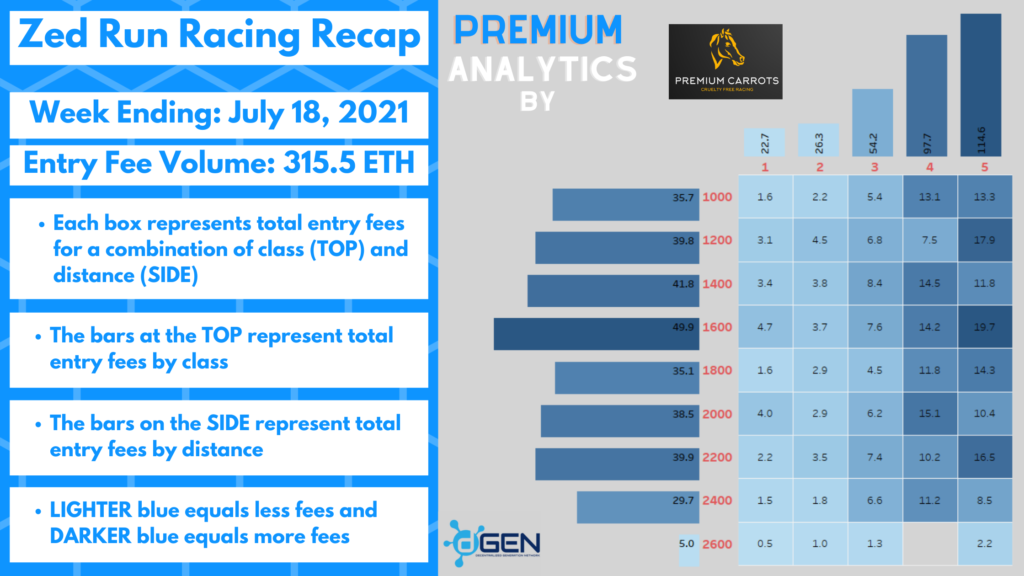 Like last week ETH wagered mostly followed race counts throughout the distance preferences. Average Zed Run entry fee preferences changed throughout the classes as C1 and C2 racing saw an increase and C4 and C5 both saw a decrease.
Class preference continues to see average race fees increase up to higher levels.

Average Class 1 entry was .076ETH

Average Class 2 entry was .054ETH

Average Class 3 entry was .036ETH

Average Class 4 entry was .028ETH

Average Class 5 entry was .025ETH