Zed Run: Paid Racing Update – Week Ending 8/1/2021
Weekly we will be taking a closer look at the happenings on the digital dirt from the week prior. These views will focus on racing totals by class and distance as well as horses that are making the biggest noise in the community. The week ending 8/1/2021 showed that the faucets are back on folks! Both races and ETH wagered almost double from last week with 18,980 and 479 respectively.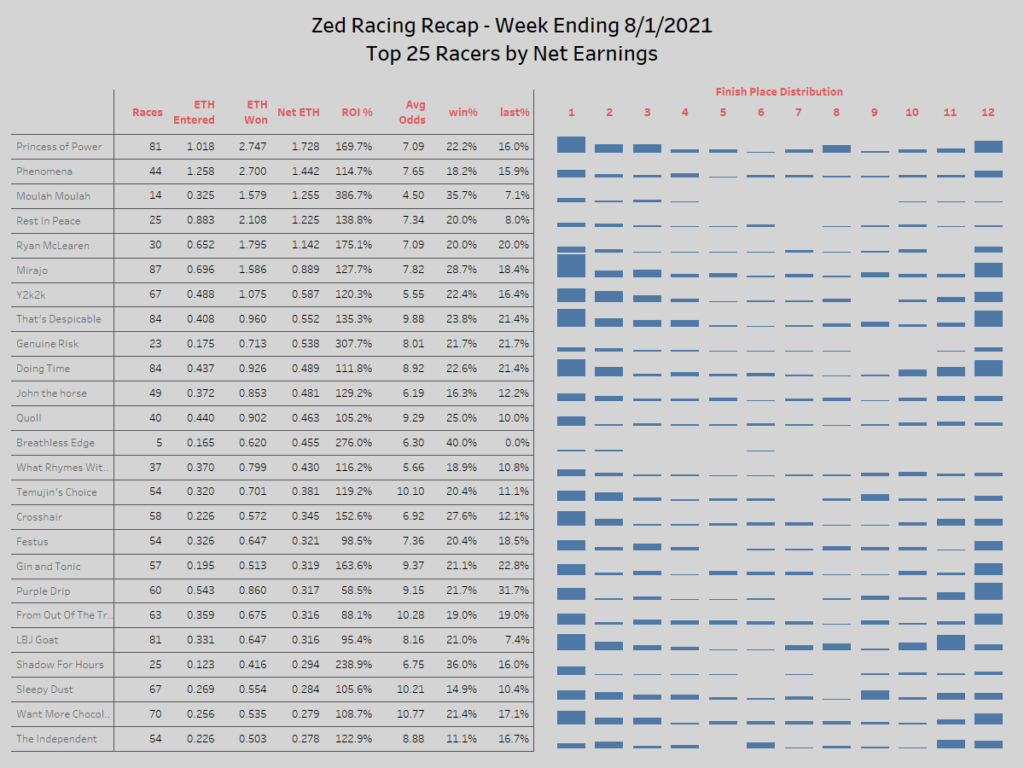 This week our top racers segment was absolutely bonkers.  Truly the only way to describe what happened up at the highest levels of Zed Run.  For the first time in covering our weekly updates we saw FIVE horses all surpass one ETH in net weekly winnings.  All the big dogs came out to play as this leader board is a who's who cast of top PCR horses including: Moulah Moulah (PCR 1) | Breathless Edge (PCR 5) | Y2k2k (PCR 7) |Princess of Power (PCR 11) | John the horse (PCR 16) | What Rhymes With Venus (PCR 20) | Genuine Risk (PCR 25) and more! Top spot went to Princess of Power who had an impressive week netting 1.728 ETH, boasting a 22%-win rate, and pulling in 170% ROI.  Even more impressive was that it was over 81 races!  In one of the biggest races of the week (Race ID: X1eAtZu) Moulah Moulah and Princess of Power went neck and neck for a 1|2 finish netting them $3,600 and $1,500 respectively.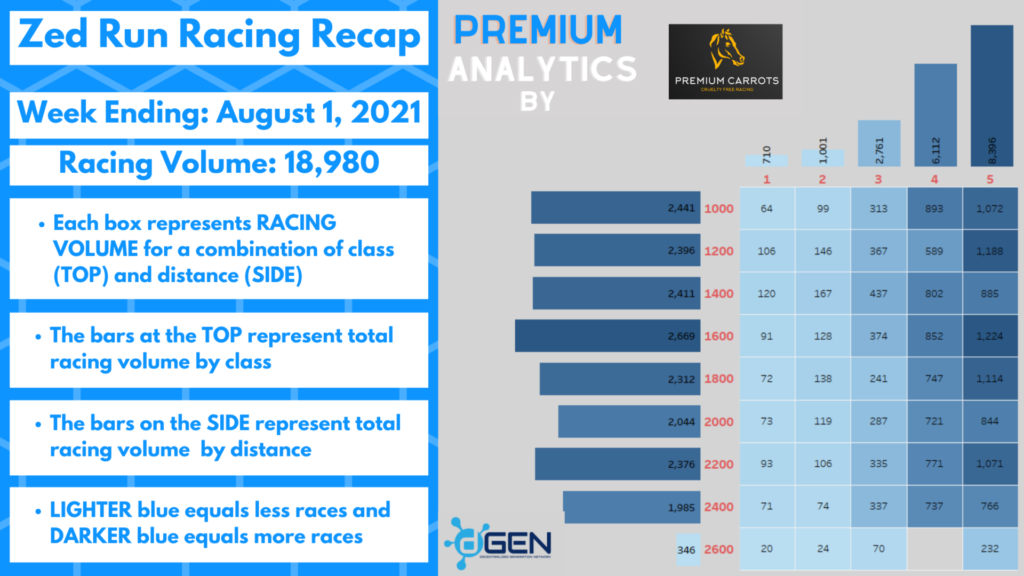 Racing came back with a bang this past week as we saw close to 20K races ran. Class 5 alone almost surpassed last weeks total of 8,400 races.
Sprinters are really coming front and center as spots 2-4 in the most popular distances all came at 1400 or less.
We are starting to see a clear distinction between sprinters and distance runners. The 4 short distances (1000-1600m) are now accounting for over 50% of all distances ran.
1600m is still the distance of choice, although the gap has tightened and was not all that different from the remaining segments (excluding 2600m)
2600m still remains infamous in our circles and continues to get no love. With just 346 races out of 18,980 in total 2600m accounted for a measly 1.8% of distances.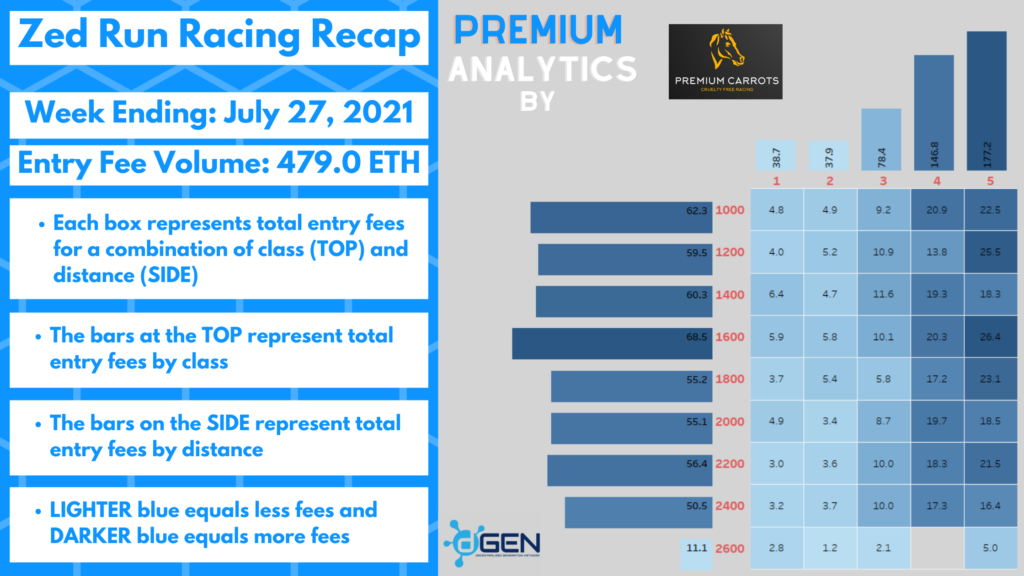 ETH wagered continues to mostly follow race counts throughout the distance preferences with 1600m getting a slight bump to avg entry fee.
While racing volume was up significantly average entry fees were down across the board
C1 once again saw the steepest decline as an influx of new horses comes in and tested their merits against the big dogs.  C1 entry fees declined week over week from .064 to .055
All other class segments declined as well.
Average Class 1 entry was .055ETH
Average Class 2 entry was .038ETH
Average Class 3 entry was .028ETH
Average Class 4 entry was .024ETH
Average Class 5 entry was .021ETH