Zed Run: Paid Racing Update – Week Ending 8/15/2021
Weekly we will be taking a closer look at the happenings on the digital dirt from the week prior. These views will focus on racing totals by class and distance as well as horses that are making the biggest noise in the community. The week ending 8/15/2021 saw almost the same number of races as last week! Both races and ETH wagered remained at elevated levels although average entry fees have declined. Total races on the week were 21,248 with 408 ETH wagered.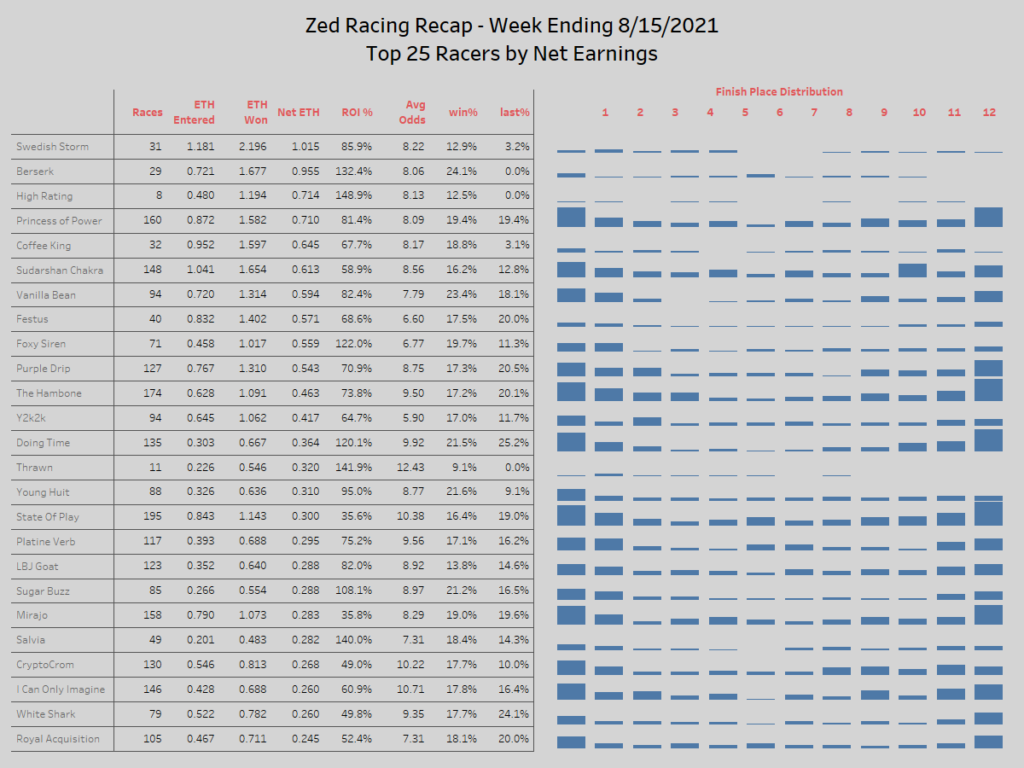 Here she is again Princess of Power peaking her head out and waving at us wondering why she is still not top ten in the PCRs.  PoP dominated two weeks ago netting 2.2 ETH and last week appears on the list in the 4-spot netting .7 ETH.  Despite PoP impressing week in and week out it is not her time to shine!  Instead, we'll be looking at Swedish Storm and Beserk, two racers who were short on volume this week (31 and 29 respectively) but were extremely efficient netting 1.01 and .96 ETH respectively.  Swedish benefited from winning a big stakes race otherwise raced to a paltry 13%-win rate – not impressive based on our typical top 25!  Swedish Storms big win came at the C1 Chilean Guineas 1800m race (id: jYUTp6Vr) with an entry fee of .177 Eth.  Swedish went up against the likes of Breathless Edge (PCR 5), Diamondz (PCR 13), and Festus (PCR 16).  Despite being the 9th betting favorite, she gutted out the win for a $3400 payday.  Beserk our other top weekly racer ran it up for the highest win rate on the week at 24%.  Interesting to note neither of these horses run a typical top 25 U-Shape.  On the other hand, our darling PoP had a perfect 19.4% win and loss rate over 160 races.  It needs to be brought to attention that LBJ Goat someone who we have not talked about much makes yet another top 25 appearance.  This marks her sixth consistent showing and has now appeared on SIX out of SIX updates!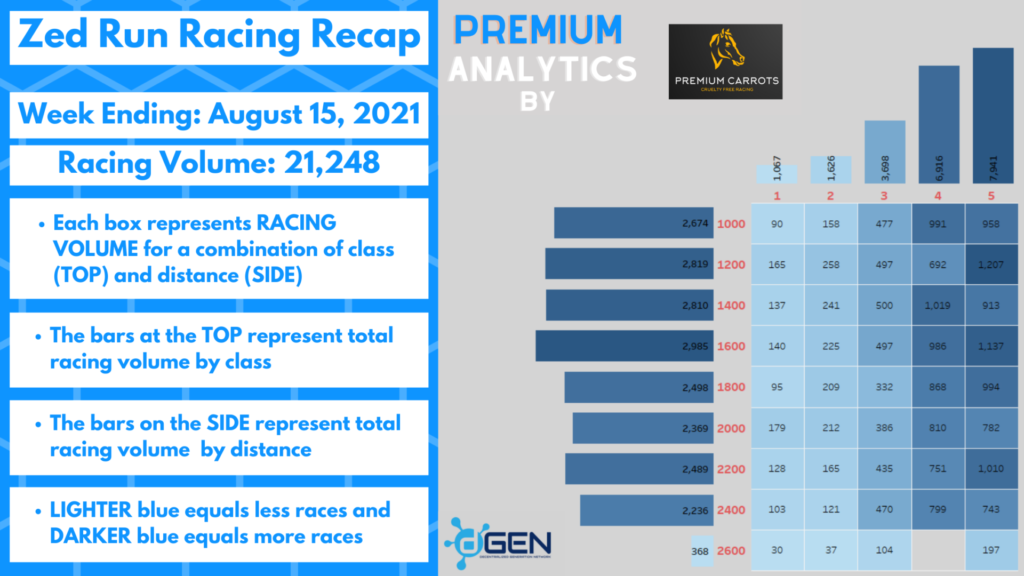 Racing was practically flat compared to the last update both of which were all time highs.
While small, racing climbed by 40 marking yet another week of Zed paying out over 21,000 first place winner!
Sprinters are still accounting for the biggest portion of racing. Last week the most popular spots between 2 and 4 all came at 1400 or less.
1600m is still the distance of choice and once again accounted for 14% of all races!
2600m fell to 368 races or 1.3% of total. This marks a steep decline from last week of 1.89% of total races.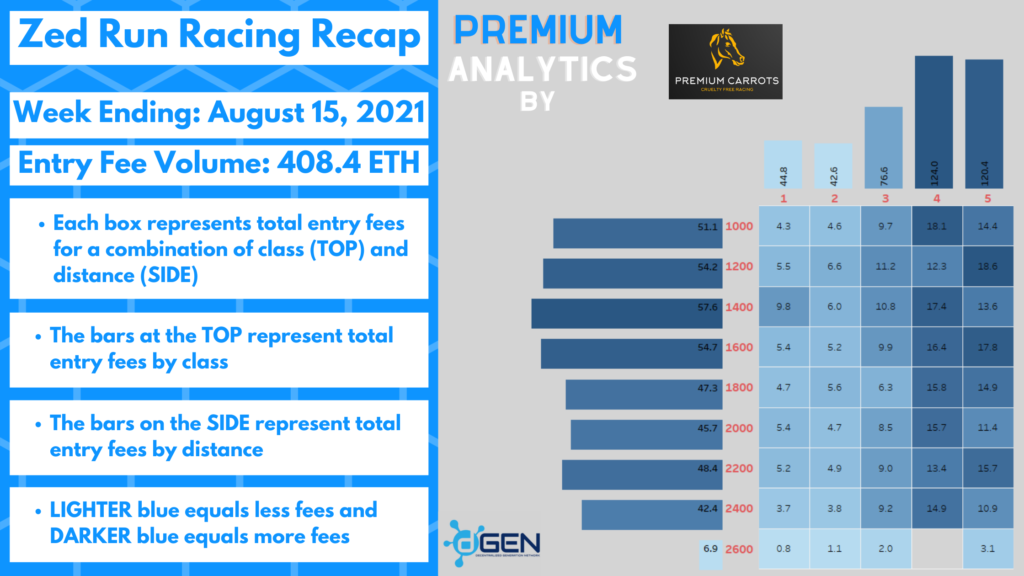 For yet another week average entry fees saw a decline. This past week over two weeks prior saw a decline from .0208 down to .0192 a drop of 8%.
Once again C1 races increased as a portion of total rising to 5% from 4.6% two weeks prior and 3.7% 3 weeks prior. This is an interesting development as its likely that this is being caused either by a decline in U Shaped runners among successful horses or an influx of high end bred horses. We will check in on the causes!
Again, despite the increase in C1 volume our average entry fees were down.
All classes declined in average race entry, and this contributed toward the overall entry fee decline. A drop once again at C5 was the main contributor as we saw a decline from .0171 down to .0151.
Every Class saw a decline in average entry fees.
Average Class 1 entry was .0419ETH
Average Class 2 entry was .0261ETH
Average Class 3 entry was .0207ETH
Average Class 4 entry was .0179ETH
Average Class 5 entry was .0151ETH