Zed Run: Paid Racing Update – Week Ending 8/22/2021
Weekly we will be taking a closer look at the Zed Run happenings on the digital dirt from the week prior.  These views will focus on racing totals by class and distance as well as horses that are making the biggest noise in the community.  The week ending 8/22/2021 saw a slight decline from a few weeks prior.  Both races and ETH wagered dropped off slightly with 19,959 races and 440 ETH wagered.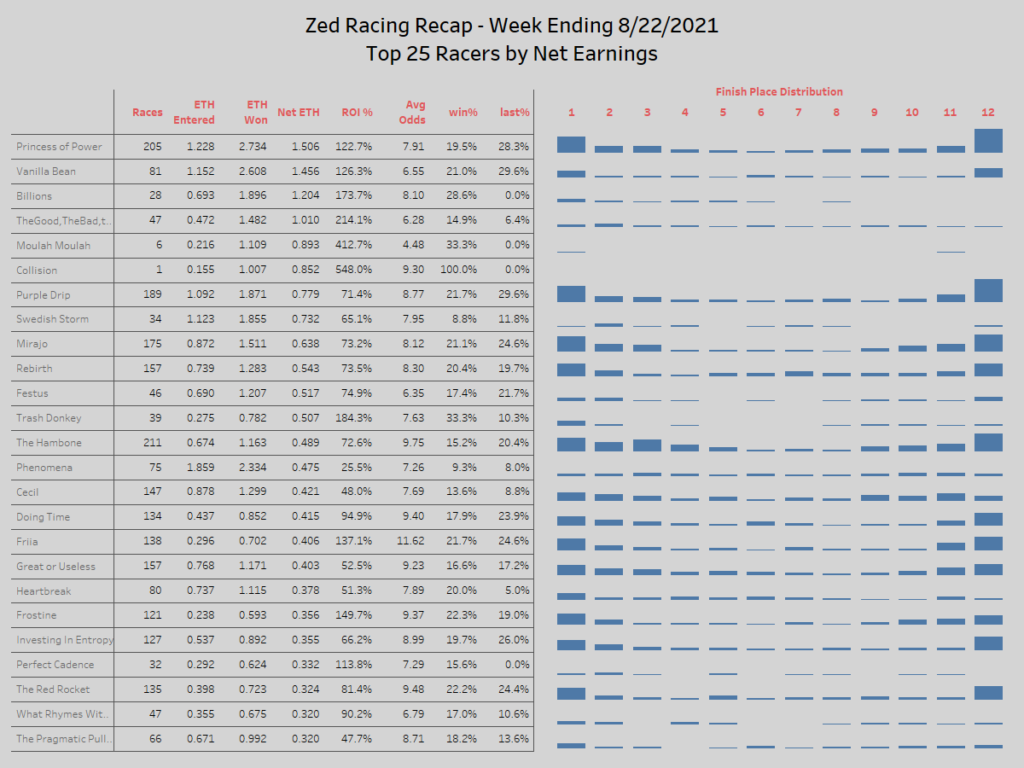 Alright enough already Princess of Power (PoP) we concede!!! You are amazing and one of the best horses. Week in and week out you appear in this list yet are utterly disrespected in the PCRs sitting too far down at 27. We agree! You should be higher and in the conversation for one of the best horses in the game. You are really making us question the math behind the PCRs.
Alright, enough gushing over PoP.  She is most certainly our star of the week but before getting to her one important thing to note.  Last week we called out LBJ Goat for appearing on our top 25 weekly list a perfect 6/6 times.  Naturally, the week following LBJ Goat is nowhere to be found – hopefully this is not the Madden jinx.   With regards to PoP she crushed it on every level holding the title last week for most races, most ETH entered, most ETH won, and highest net earnings.  We are impressed over a lot of things but pulling 123% ROI over a sample size in a week with 205 races need to really be called out and recognized.  Not going to find an investment this good anywhere else!  Welcome to the world of NFTs and Zed Run.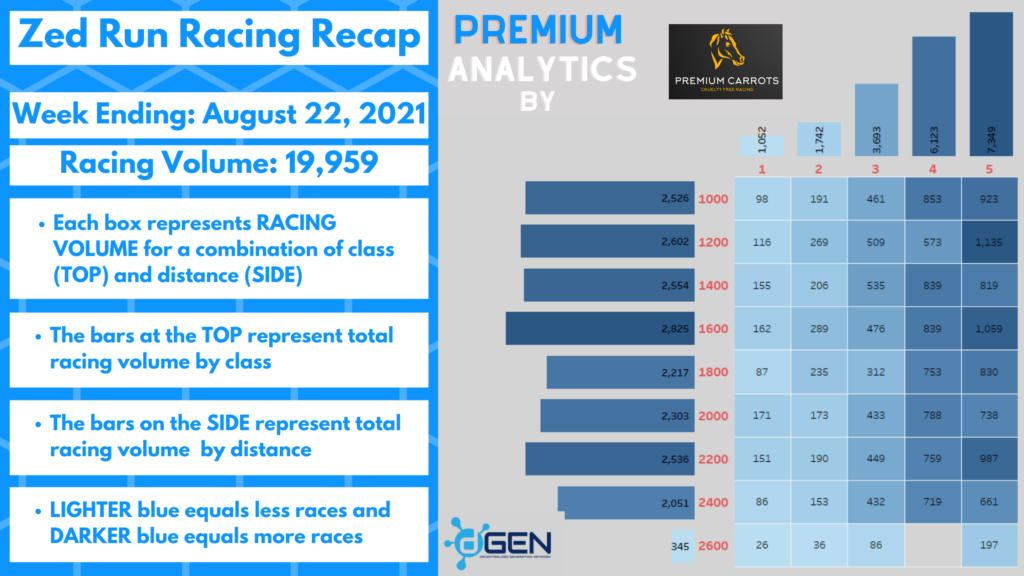 Racing is down over our past few updates but still remains near ATHs and was just shy of 20K for last week.
In total we witnessed another week of Zed paying out over 20,000 (almost) first place winners!
Sprinters are still accounting for the biggest portion of racing. For the first time in several updates 1000-1400m do not occupy spots 2-4 in most raced. Instead 2200m has crept into the top 4 spots.
1600m is still the distance of choice and once again accounted for 14% of all races!
2600m fell to 345 races however increased as a percent of total up to 1.73%.
Class III is popping off! For last week C3 accounted for 18.5% which is up from two week prior at 17.4%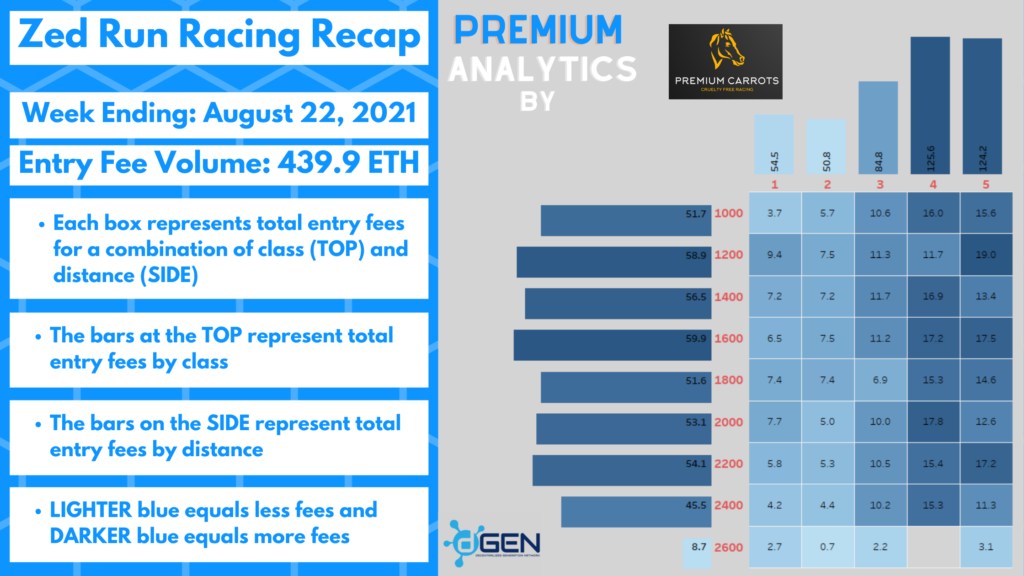 Finally, the slide downward for average entry fees has ended!  For the week prior racing fees were .022 which is an increase of 14.6% over two weeks ago and an increase of 5.8% over three weeks.  Welcome back big spenders!!
This development also spilled down to class levels as we saw average entry rise from C1 up to C5.  C1 had one of the biggest jumps moving up almost 24% from .0419 to .0518
Average Class 1 entry was .0518ETH
Average Class 2 entry was .029ETH
Average Class 3 entry was .022ETH
Average Class 4 entry was .0205ETH
Average Class 5 entry was .0169ETH