Zed Run: Paid Racing Update – Week Ending 8/8/2021
Weekly we will be taking a closer look at the happenings on the digital dirt from the week prior. These views will focus on racing totals by class and distance as well as horses that are making the biggest noise in the community. The week ending 8/8/2021 kept the volume high! Both races and ETH wagered remained at elevated levels with 21,208 races and 441 ETH wagered.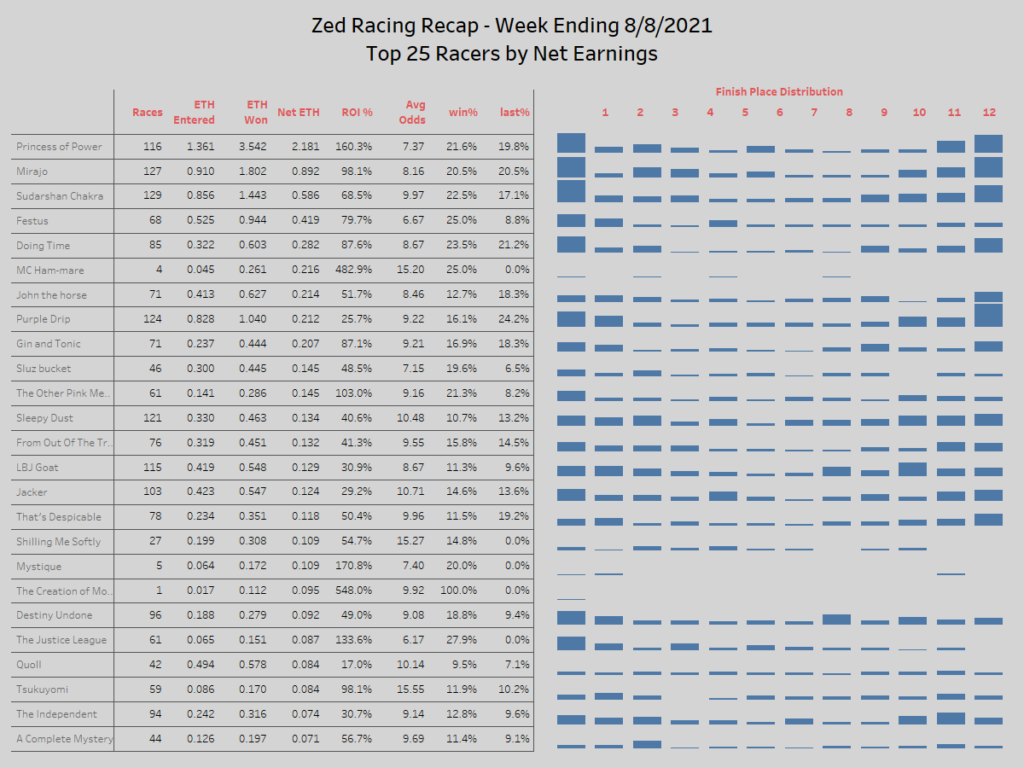 This week is really all about Princess of Power. She has been mentioned in our top racer segment one to many times. I think the disrespect in our PCRs is real because Princess of Power currently sits at 12 a couple spots outside the top ten! On the week prior over 116 races PoP won at a 22% clip netting 2.18ETH (the most that we have seen to date).
What stood out was her efficiency averaging 7.4 odds and a monstrous 160% ROI for the stable. So we are all on the same page here that was good for over a 6K $USD profit for her stable! In her biggest race on the week PoP pulled in $3800 USD at the South African National Derby, a C1 2200m in which she cruised to victory finishing an entire second ahead of the next horse. Shout out to the second and third placers on the week – Mirajo and Sudarshan Chakra.
Both these horses pumped up the volume running over 120 races at over a 50% ROI and making the perfect U-Shape curve with almost equal first and last rates.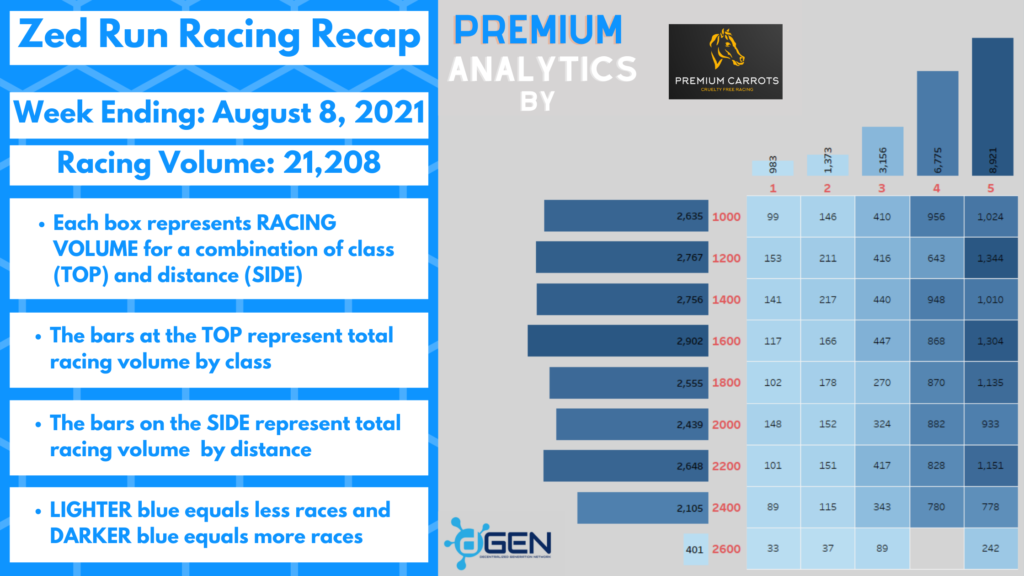 Paid Racing continues to grow with one of our highest weekly totals that we have seen yet. The Zed Run universe paid out over 21,000 first place winners as racing volume climbed to 21,208.
Two weeks prior sprinters accounted for the biggest portion of racing and last week was no different. Spots 2-4 in the most popular distances all came at 1400 or less.
1600m is still the distance of choice and accounted for 14% of all races!
Our beloved 2600m friends hit the track 401 times which was actually an increase over last week on a percent basis 1.89 v 1.82.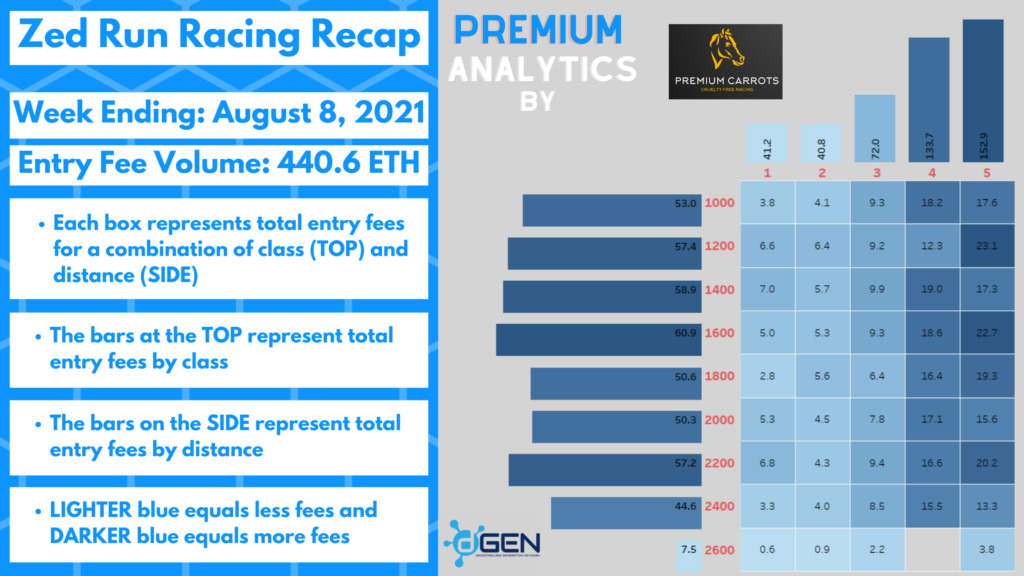 Average Entry Fees were down significantly week over week. This past week was .0208ETH compared to two weeks prior .025ETH
Interesting that this decline in average fees was despite an increase of C1 races 4.6% of total last week v 3.7% of total two weeks prior.
One of the big reasons for the drop-in average entry fee is smaller stakes C5 races. Last week the average entry fee was .0171ETH v two weeks prior at .021ETH
Every Class in Zed Run saw a decline in average entry fees.
Average Class 1 entry was .0419ETH
Average Class 2 entry was .0297ETH
Average Class 3 entry was .0228ETH
Average Class 4 entry was .0197ETH
Average Class 5 entry was .0171ETH