JPMorgan (NYSE: JPM) , a global bank with headquarters in New York, has registered a trademark for a cryptocurrency wallet with the United States Patent and Trademark Office. The trademark was granted on Nov 15th.
The trademark also includes the financial exchange of cryptocurrencies as well as cryptocurrency payment processing.
The development was confirmed by Mike Kondoudis on Twitter.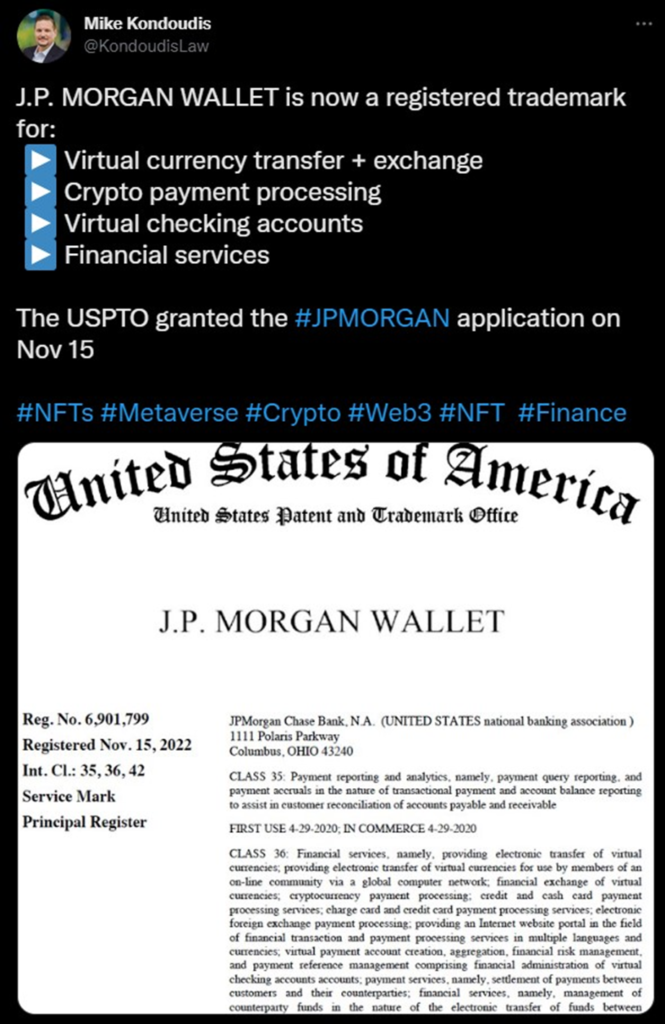 JPMorgan Bullish on Blockchain?
JPMorgan first proposed a Bitcoin payment system back in 2013. In 2018, it submitted a patent application for a peer-to-peer payment system that would utilize blockchain for intra- and interbank settlements.
The largest US bank disclosed last month that it was considering launching a digital wallet that would allow users to select digital identity credentials across multiple DeFi and metaverse apps.
JPMorgan executed its first DeFi trade earlier this month, which was facilitated by the Monetary Authority of Singapore (MAS).
In an effort to upgrade and modernize its business operations, JPMorgan has placed a greater emphasis on monitoring metaverse-related developments. The bank has acquired the California payment startup Renovite Technologies in an effort to expedite the delivery of its cloud payment services.
Mainstream Crypto Adoption on the Move?
Despite the prevailing bear market, the number of traditional financial institutions warming up to the crypto space has increased in recent months. For instance, payment giant Visa (NYSE: V) applied for a crypto wallet trademark in October alongside a patent to digitize physical fiat currency.

Earlier this week, USD Coin Issuer, Circle, reported that Apple has now authorized and enabled stablecoin-based crypto payments on their payment platform. With Apple Pay, merchants who accept USDC will be able to accept the currency.