In the wake of the crypto winter, meme coins are staging a triumphant return, and a new token has emerged as the harbinger of meme coin season.
Enter $PEPE token – crypto based on the beloved internet meme Pepe the Frog. PEPE has swiftly risen to become the third-largest meme coin, amassing an impressive market capitalization of $783 million in an incredibly short period of time.
It's meteoric rise to dominance in the crypto world has the community buzzing with excitement as they eagerly speculate on how long this bullish rally will last. So, let's take a closer look and see what all the fuss is about!
$PEPE: The Inception
As a crypto enthusiast, you're probably well-versed in the buzz surrounding two of the most hyped meme coins in the market – Dogecoin and Shiba Inu.
Dogecoin, born out of the famous Shiba Inu dog meme back in 2013, quickly garnered widespread attention and amassed a massive following, including high-profile figures like tech mogul Elon Musk. Similarly, Shiba Inu has gained a significant following due to its affiliation with the Dogecoin craze and its distinct features.
Both coins showcase the potential for meme-based projects to gain traction and become significant players in the crypto realm. The latest addition to this flourishing trend is the Pepe coin.
Soon. #MMGA pic.twitter.com/ao3EwZO1Wu

— Pepe (@pepecoineth) April 4, 2023
Pepe coin entered the scene on April 16, 2023, without any pre-sale and with a low-key launch.
$PEPE is Live. Join the revolution to Make Memecoins Great Again. #MMGA

Telegram: https://t.co/Ow65d2do6K

Website: https://t.co/JeTPIlCU7q

Chart: https://t.co/61UyZ4kl6u pic.twitter.com/UZrNfXZugk

— Pepe (@pepecoineth) April 14, 2023
Surprisingly, the project's website discloses that no established team is associated with the token, and the creators have opted to remain anonymous. While this might seem unusual to some, it's not uncommon in the crypto world, where anonymous individuals initiate many projects.
Drawing inspiration from the famous "Pepe the Frog" meme, which rose to prominence in the 2010s, the token's design pays homage to the iconic green frog and caters to the preferences of meme enthusiasts.
Amazingly, within days of its launch, the Pepe coin skyrocketed by a staggering 2000% and secured a spot among the top 100 cryptocurrencies.
What is Pepe Coin?
$PEPE launch was stealthy, devoid of pre-sale and taxes, and had a contract renouncement and LP burn. It positions itself as a coin that belongs to the people forever. The project aims to capitalize on the popularity of meme coins like Shiba Inu and Dogecoin, striving to establish itself as one of the top meme-based cryptocurrencies.
Moreover, the Twitter feed for Pepecoin declares it "the most memeable meme coin in existence" and is unapologetically throwing jabs at Dogecoin while creating its own Pepe memes, including the frog peeing on other meme coins.
The dog days are over $PEPE world order pic.twitter.com/eHHdqRbkfF

— Pepe (@pepecoineth) April 15, 2023
Besides, PEPE's no-tax policy, re-distributive rewards system for long-term stakers, and burning mechanism to maintain coin scarcity appeal to the crypto community.
The PEPE roadmap includes three phases;
Phase one features CoinMarketCap listing and trending $PEPE on Twitter.
Phase two involves centralized exchange (CEX) listing
Phase three includes "tier 1" exchange listings and a "meme takeover."
Currently, the team is working on phase three- dubbed "Meme Takeover" – with a few sections already completed.
Top exchanges like Binance, KuCoin, OKX, and more have listed $PEPE.
PEPE Tokenomics
PEPE Coin's supply of 420,690,000,000,000 tokens adheres to a "No Taxes, No Bullshit" policy, promoting transparency and simplicity. Unlike other meme coins with infinite supply, this finite supply of PEPE creates scarcity, increasing the coin's value as demand rises.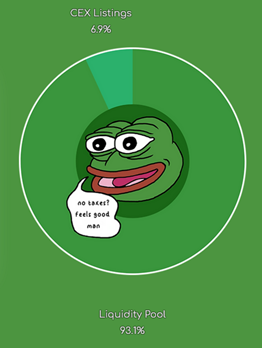 What's intriguing is that the project set the supply cap to incorporate "420," a slang term for cannabis, and "69," a reference to a sex position," adding a playful touch to its tokenomics.
It's a clever nod to the meme culture that the coin represents, adding an element of humor to its value proposition.
Interestingly, the Pepe coin took a unique approach to token distribution, allocating 93.1% of tokens to the liquidity pool and burning LP tokens.
Moreover, the project reserved the remaining 6.9% for centralized exchange listings, bridges, and liquidity pools in a multi-sig team wallet. This wallet is easily traceable through the ENS name "pepecexwallet.eth".
PEPE: A Thriving Ecosystem?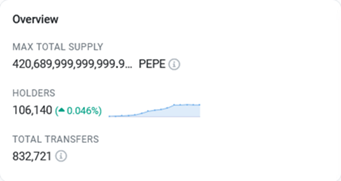 Although the PEPE meme coin lacks fundamentals, its ecosystem is thriving. Currently, the token has an impressive 106K holders, according to EtherScan.
Moreover, the official Telegram group has over 52K members, with a steady stream of daily messages. And PEPE's Twitter account, created only in April, has amassed over 253.7K followers, a testament to its increasing popularity.
The project has also gained the attention of celebrities, including Soulja Boy, who claimed to have "done got rich off PEPE" on Twitter. However, he didn't disclose the exact amount he had earned or the actions he took.
I done got rich off #PEPE

— Soulja Boy (Draco) (@souljaboy) May 4, 2023
But What Makes PEPE Unique?
PEPE stands out in the competitive meme coin scene by leveraging the legacy of the infamous Pepe the Frog, a character with a polarizing and rich history. The project's commitment to honoring the iconic frog sets it apart from other cryptocurrencies and enhances its appeal to the Web 3 community.
PEPE's redistribution system is another distinctive feature, incentivizing long-term staking to promote holder incentives and increase the likelihood of long-term success. Moreover, the burning mechanism adds to this unique proposition, preserving scarcity in the market.
Essentially, the project's marketing strategy aims to unite Pepe enthusiasts around the token, emphasizing the power of the meme culture to sustain the coin's value. The project prioritizes the meme factor over traditional fundamentals, banking on the strong emotional connection of its fan base.
Furthermore, PEPE's no-tax policy sets it apart from other cryptos by avoiding transaction fees and attracting a broader user base. Undeniably, PEPE's approach to the meme coin market is unconventional – leveraging the power of meme culture and distinct features to distinguish itself from competitors.
Recent Market Activity of Pepe
The meteoric rise of Pepe coin has been nothing short of astounding, with its market capitalization surging to nearly $709 million since its inception. The token has witnessed a breathtaking increase of over 2000% in recent weeks, soaring to an impressive high of $0.000004354.
The rapid ascent of PEPE has resulted in enormous fortunes for those bold enough to ignore naysayers who claim it's a passing craze destined for disaster. One remarkable example is a trader who goes by the pseudonym dimethyltryptamine.eth, who spent a mere $263 a month ago to purchase trillions of PEPE tokens.
That insignificant amount has since transformed into a $3.8 million profit from coins they've already sold. And according to data from blockchain research firm Arkham Intelligence, their remaining holdings are currently valued at roughly $9 million.
This data translates to an incredible profit of nearly 5,000,000%. Amazing, right? PEPE's meteoric rise has also resulted in significant losses for short sellers.
CoinDesk recently reported that short positions against PEPE cost traders at least $11 million on several exchanges,
The highest losses occurred on OKX, where traders lost $5.5 million.
Huobi saw losses of $2.2 million, while Bybit lost $3.6 million.
Even BitMEX saw traders lose hundreds of thousands of dollars.
The extreme volatility of PEPE's price has made it a challenging asset to short, and traders who underestimated its growth potential have paid a high price.Besides, Lookonchain's latest data shows that significant whale movement continues within the PEPE ecosystem. The data indicates that four whales have recently bought 8.77 trillion PEPE tokens worth $22.15 million.
4 whales (probably the same person) bought $PEPE within 3 minutes after $PEPE was listed and have not sold until now.

He bought a total of 8.77T $PEPE ($22.15M currently) with 0.08 $ETH ($166), 133,095x in gains.

Follow to see when he sells.👇 pic.twitter.com/sbVuaEcIBc

— Lookonchain (@lookonchain) May 8, 2023
Moreover, the token's buying spree did not come to a halt over the weekend as another whale purchased 962.3 billion coins worth $2.46 million. Similar high-volume acquisitions took place throughout the week, suggesting that the hype around this meme coin is far from fading.
So, Is $PEPE a Good Buy?
While the official website of PEPE insists that it is not an investment vehicle and exists purely for entertainment, the token's value has skyrocketed since its inception, leading to substantial profits for early adopters.For instance, a single investor swapped 0.125 ETH, valued at around $250, for a staggering 5.9 trillion PEPE tokens. As the meme coin gained popularity, the value of those tokens surged to approximately $1.8 million by April 19, 2023, representing a potential return of nearly 4,500 times the initial investment.
The SmartMoney is the luckiest guy I've seen recently.

He spent 0.125 $ETH ($251) to buy 5.9T $PEPE ($1.14M currently) 4 days ago.

If he sells at the current price of $0.0000001933, he will get a profit of ~$1.14M, more than 4,500x.https://t.co/cUqMO6zIVO pic.twitter.com/Ex5voyRvsa

— Lookonchain (@lookonchain) April 19, 2023
Such incredible returns have led investors to ponder whether investing in PEPE is a wise decision. After all, investing in meme coins is often not worth the risk. So, is it a good buy?
Typically, investing in new crypto projects can be a risky move. These projects require time to gain momentum, establish credibility, and garner attention within the crypto community.
Adding to the uncertainty, the PEPE coin is a meme coin. And meme coins often lack intrinsic value, and their appeal rests solely on popularity. Once the hype dies down, the value of these coins can plummet. And now we are already seeing some signs.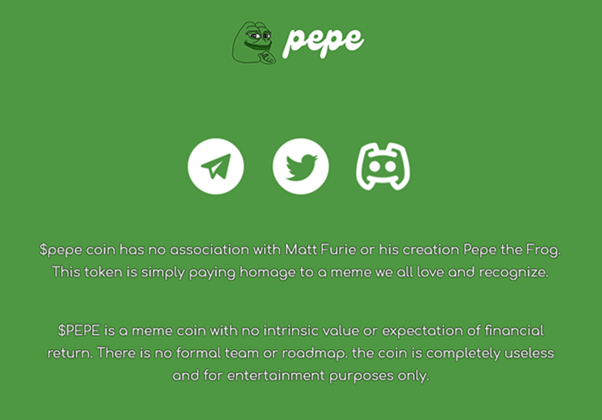 What's more, even the official website explicitly states that the project is a meme coin that lacks intrinsic value or financial return potential. It also emphasizes that Pepe is "Completely useless and for entertainment purposes only."
Various indicators suggest that one should exercise caution when purchasing PEPE.
1. Lack of Transparency
The individuals responsible for the PEPE project are unidentifiable. They have even taken additional measures to conceal their identity by redacting information in their website's domain credentials.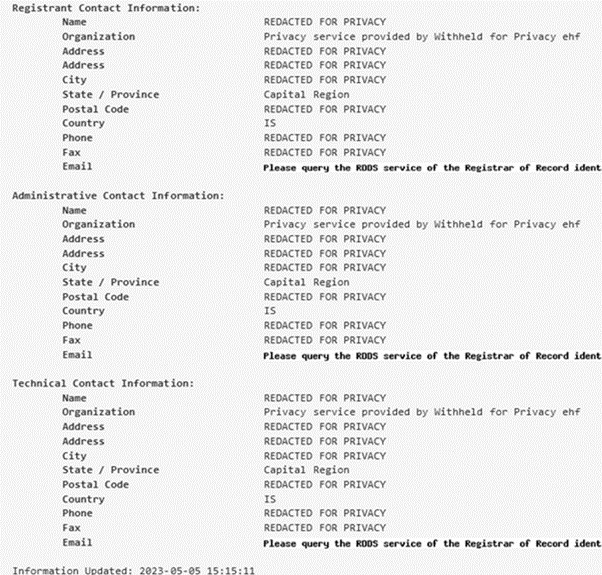 Furthermore, it raises questions when a project only purchases a domain name for a short period. It suggests that they may only be planning to operate for a limited duration.According to Whois, the domain name for PEPE's website will expire after just one year, which is a relatively short time frame for a serious project.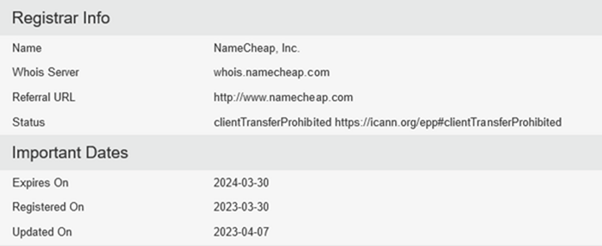 2. Unknown Whale Wallets
Louround, a Twitter user, has pointed out that a handful of mysterious wallets possess over 5% of the overall circulating PEPE coins. If these wallets choose to sell off their holdings, it could potentially lead to a drastic drop in the value of $PEPE.
A few wallets holding $PEPE went from 500$ to more than $3.78M (7500x) in 5 days.

What if I told you that those wallets are in relation and might nuke the market if they sell their holdings?

An on-chain investigation using @bubblemaps 🧵 pic.twitter.com/MS0yIeoyC9

— Louround 🥂 (@Louround_) April 20, 2023
3. Unusual Liquidity
Despite its massive market capitalization, the PEPE ecosystem's Uniswap Liquidity Pool is surprisingly small at just $3 million, significantly lower than expected for a healthy LP. One or two large sell orders from whales could cause a significant drop in PEPE's value.
Moreover, the lack of liquidity has resulted in significant slippage for those looking to convert large amounts of PEPE into other currencies, such as ETH. While there have been instances of a small investment in PEPE turning into a million-dollar return, it's important to note that such enormous gains are highly improbable.
Therefore, it's crucial to exercise extreme caution when purchasing PEPE and ensure you don't become exit liquidity for others.
Conclusion
Pepe Coin is a fascinating newcomer in the world of meme coins, boasting unique tokenomics and a strong focus on community involvement.
Although the creators of the PEPE meme coin did not intend for it to be taken seriously, its initial success has been impressive. Given the sustained popularity of the Pepe meme for nearly two decades, it's reasonable to expect that a cryptocurrency tribute to it could do well.
Nonetheless, potential investors must approach this opportunity carefully, conducting thorough research before making investment decisions. The question remains whether Pepe Coin will continue to gain traction and appreciate in value or fall prey to the unpredictable swings of the crypto market. Only time will tell!
If you're interested in a token with a similar story, check out $Turbo.