Last night Kevin Rose, the founder of Proof, wrote a Twitter thread that lit the NFT world on fire. In a sudden and unexpected change of course, he announced that Moonbirds and Oddities, two collections within the Proof ecosystem, would be transitioning from full commercial rights to CC0.
What does CC0 mean?
In a nutshell CC0 means "no rights reserved," granting any person the ability to use the art of your Moonbird or Oddity for anything they want. As an example, somebody could create a clothing brand with your Moonbird as the logo, make millions of dollars, and not owe you a dime. On the extreme end, someone could create a whole NFT collection called "Jupiter Birds" which uses the exact same art of all 10,000 Moonbirds with the exact same token numbers and have no repercussions. In fact, we've already seen a "Moonbirds 2" collection created, although this collection will likely be pulled down because rights to use the Moonbirds name is not granted under CC0.
The use of full commercial rights in Web3, popularized by NFT brands like Bored Ape Yacht Club (BAYC), has been a major selling point for many people. We've seen businesses and use cases popping up regularly from BAYC holders, including Snoop Dogg's ice cream business, a BAYC-themed burger restaurant, and shirts at Old Navy.
The move by Proof to CC0 Moonbirds and Oddities is irreversible, meaning there is no going back on this decision.
No communication and loss of trust
One of the core reasons people love Kevin Rose and the Proof team is their regular communication with the community and the credibility they have from previous ventures. Listening to Proof, Moonbirds, and Oddities holders, these two core pillars have been damaged for many people.
Up until yesterday, Moonbirds holders had full commercial rights just like BAYC, Hashmasks, Gutter Cats, and many other popular NFT brands. In fact, as of the writing of this article, it's still on the Moonbirds website (see picture below) in their FAQs.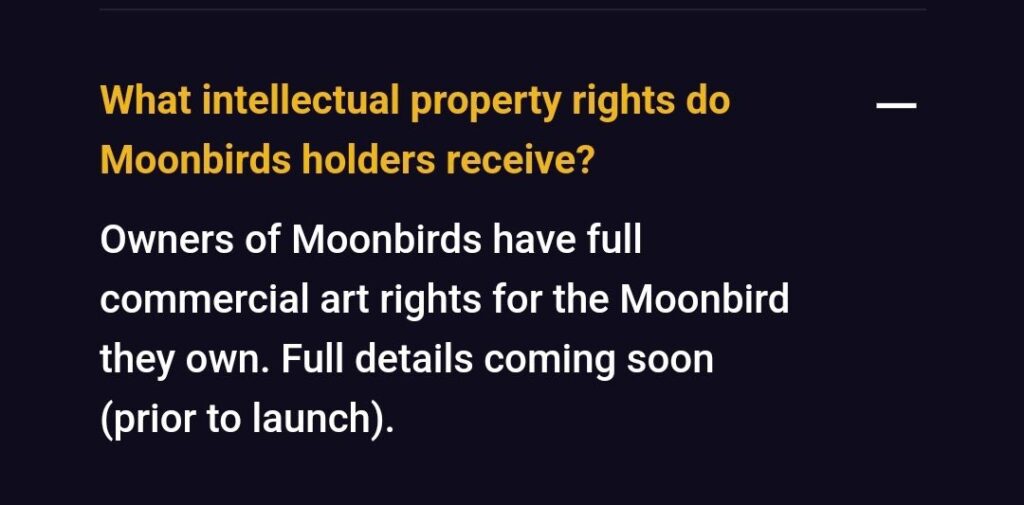 What struck people within the community is that the announcement was made with zero discussion or consultation with the holders. Several people bought Moonbirds at five and six figure price tags with the hopes of using them for commercial purposes. On the extreme end, the announcement led one holder to lose a six-figure licensing deal.
The Proof team has regular community town halls, giving them ample opportunity to float any idea with the holders and have a two-way dialogue. Instead, with this decision, the community is left confused, and without adequate reasons of how this helps them.
Web2 or Web3?
The lack of consultation with the community on the decision also calls into question the reasoning behind it. On a Twitter Space following the announcement, Kevin said CC0 is "more Web3" because you still own the token, but the community has the rights to the art. However, one could argue pretty convincingly that the Web3 thing to do would have been to consult the community first, have a healthy debate, then allow them to vote (or at least consider the feedback) prior to making a unilateral decision.
Even more concerning, the language above on the website about commercial right is trumped by fine print in the terms and conditions which say Proof can make any change at any point. Legal experts have debated if there is a case to be made that the fine print doesn't protect the Proof team from litigation regarding a reasonable expectation from holders who bought under the premise of full commercial rights.
Some people have also argued this is simply a move for Proof to protect itself from headaches. In a non-CC0 world, they would have to decide if they want to go after copycat collections. This is a decision Yuga Labs, the company behind Bored Apes, has to make regularly. They tend to avoid smaller collections that could infringe on commercial rights, while opening up lawsuits against more widely known copycats. Proof can avoid these tough decisions, and instead just go after those who use the Moonbirds name, which is not covered under the CC0.
My Take
I own one Moonbird and two Oddities, and I'm not selling at the moment. I'm still a believer in Kevin Rose and the team, and I've been a fan of Kevin for years. I think they'll continue to build an awesome community which drives value to token holders. In fact, I recently defended them when they received flack over Silver Nesting rewards and perceived miscommunication surrounding the Oddities drop.
However, I'd be remiss if I didn't say I'm disappointed, and my trust is somewhat fractured. The communication with this announcement was lackluster, and I don't jive with the idea that this is "more Web3." As stated above, the Web3 way would have been to involve the community. Unless there's a grand plan we're unaware of, there's no obvious benefit to the holders, and there's a big benefit to the Proof team.
The timing and suddenness of the decision are also curious. In roughly three and a half weeks, the Proof team will address the community with their upcoming plans during their Future Proof presentation. Why would they announce this now? It couldn't wait 25 days? It feels like there's more at play here, especially since the website copy about commercial rights remains up. If this had been in the works for a while, you'd have to imagine they'd have a plan to change the website copy to coincide with the announcement.
It also raises concerns on a macro level that founders can just move the goalposts for their community at any time, without consulting them. It's a stark reminder that as NFT holders, we're only partners in building the project as much as the founders allow. At the end of the day, they own everything.
In a recent interview, the founders of Bored Ape Yacht Club talked about how the community has helped them grow their brand. Commercial rights incentivize the community to spread the imagery in amazing ways.
As BAYC founder Gordon Goner put it, "While we build the broader brand, sort of the sandbox, the community is building the sandcastles."
At Proof, it appears that there's no incentive for the community to build any sandcastles. And with how the decision was made, and communicated, they're drawing a clear line in the sand about who owns the beach.
Disclaimer: This article is not financial advice. The NFT and Cryptocurrency markets are very volatile. Please don't invest what you can't afford to lose. Always do your own research before investing.