Great Crypto Conversation: Laura Shin and Ephrat Livni Unchained
Laura Shin is a six-year veteran of the blockchain industry. She hosts a weekly podcast called Unchained where she speaks to industry leaders about the events of the weeks. Shins most recent episode has her talking to Ephrat Livni, a reporter for the New York Times.
Shin and Livni spend the first half of the episode talking about the controversy over the SEC response to the Coinbase lend product. In a tweet storm by Brian Armstrong the CEO of Coinbase and a blogpost by Paul Grewal the CLO of Coinbase, they outlined their issues. They are a bit perturbed because the SEC said they would litigate over their lend product without telling them why. They go on to state that they even tried to meet with everybody in Washington and the SEC folks were the only ones that didn't want to be friends.
They call the intentions of the SEC and its chairman in to question and outline why their product is not a security. Livni stresses that this matter is far from settled. She sees Brain's tweets as a bit of a troll to the regulatory agency. Livni also says she doesn't believe Coinbase should lean too far in to the "just like a bank account" heuristic as that would pit them against banking regulators, which are likely to be even harsher than the SEC.
Lawyers that Shin has been in contact with seem to be split on the matter so far. They have started to mention a precedent named the Reeves test. I thought we only had to worry about Howie. There is an ever-increasing need for crypto literate lawyers. Livni sees many products offered by crypto companies as straddling regulatory and jurisdictional lines. It is not super clear to anyone who should regulate these products yet.
This industry has moved incredibly fast. Governments and regulations do not move terribly fast. She gets the sense that the SEC recognizes that some newer products are not adequately addressed by existing laws. Livni believes the SEC is seeking to gain a bit more power by attempting to bring these gray areas firmly under their jurisdiction. She leaves the subject by saying, "To me, it strikes me as very early." unfortunately, she is correct, and we are not likely to get a lot more clarity out of the government soon.
In the meantime, there will be interesting twitter exchanges no doubt. I think Shin is right on the point that people do not normally debate securities law. Stirring up some public discourse on twitter can go a long way to getting guys like me involved.
The most interesting part of the Coinbase conversation to me comes around whether the SEC "should" have met with Brian. In Livni's estimation, government must keep a dignified distance from industry. She sees the SEC's decision to abstain from meeting with the crypto industry as a whole a lot more honorably than most of CT. Of the twitter post, Livni said, "I found it unseemly".
She noted that much of the language used in the thread showed a sense of entitlement. I agree when she says that most Americans don't share Brian's view of himself, his company, or his industry. The SEC engages with the public or the industrial sector how they want and owe nothing to anybody. More towards this point, Livni stated that the SEC has declined to speak with her about the matter at all. I really appreciate hearing this point of view from Livni here. As a person who spends a great deal of his time in the echo chamber of what we lovingly call "crypto twitter", This is not the prevailing take I have heard the last few days.
I think the SEC should hear from users of these products and advocates for this technology. Perhaps the head of the largest company in the space doesn't need the ear of the SEC though. Wherever you fall on this debate, I welcome reasonable and dissenting voices to the comments section. Livni ends this section by stating firmly "I will not speculate". This is a person who has clearly spent a great deal of time interacting with policy making and doing so in the public sphere. In the crypto space we stay speculating. I'll go so far as to speculate that this conversation is far from over!
The second half of the pod concerns the recent ratification of the bitcoin laws in El Salvador and the reactions to "bitcoin day". El Salvador is officially the first country to make bitcoin legal tender. Although agreeing that this is a historic day and a huge deal, Livni raises several concerns you don't hear from the pro bitcoin crowd. The law itself was first announced at a united states bitcoin conference in English. It was then passed quickly and with minimal debate.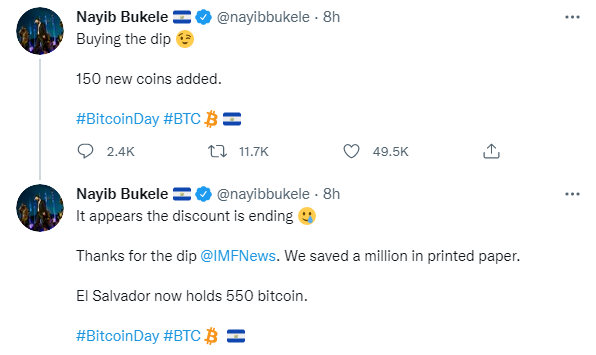 The discourse that president Bukele did engage in was primarily with American bitcoin enthusiasts a la Nic Carter and Jack Dorsey on twitter spaces. Livni's question of "who the president is wooing" is very interesting. No doubt bitcoin and further blockchain technologies could help many people of El Salvador. Is this public good Bukele's primary motivator in making these laws though? They seem to not want to say the word colonialism. But I get those vibes.
One issue many pro-bitcoin folks have with the El Salvador laws is article seven. This is the part that mandates the acceptance of bitcoin as payment. This has created all sorts of cognitive dissonance in anti-government bitcoiners heads as well as several practical issues on the ground in El Salvador. Shin and Livni briefly discuss the protests in El Salvador but recognize that they are for a myriad of reasons and not only in opposition to bitcoins adoption in the country.
They discuss the problems of a country taking on the risks associated with holding such a volatile asset. In my opinion it is much more of a risk to regular everyday transaction and the risk to the country is low from that standpoint. On longer time frames, the volatility is to the upside. This was an interesting conversation and I'm glad I listened to it.
If you enjoyed this article, please check out the others here.