In Spotlight: Brain Vomit's Garden
Artist Steven Rea's journey from broke Bay Area fingerpainter to a smashing success in the NFT space was already a story in and of itself – and then he dropped Brain Vomit's Garden, a generative project of 4,400 Flowers. The Flowers do function as PFP's, yet they also look great as standalone pieces – a unique type of look in a space flooded with PFP avatars, and brilliantly executed by the artist and dev team.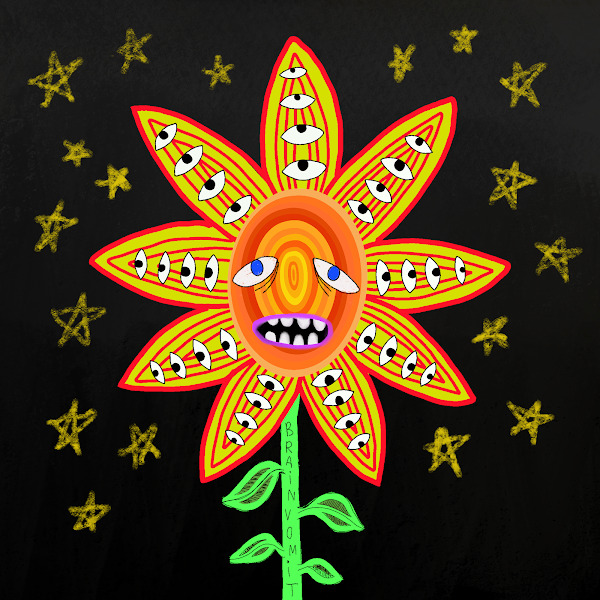 The best part is that the dev team isn't stopping there – they're sticking by Rea and creating a sandbox metaverse game in which the Flowers can roam free – but I'm getting ahead of myself.
Unimpressed and perhaps a bit disillusioned with the rigid constructs of society, school, employers, and the constant messaging about the importance of working a traditional 9-5, Rea chose to walk his own path, which for him meant spending most of his time honing his finger-painting skills at a local coffee shop. His decision drew funny looks from some, even his immediate family seemed wary with the path he had chosen, but Rea was unphased and in 2019 he began growing his Instagram following and selling physical pieces on Shopify.
When the pandemic hit in 2020, Rea had the sense to raid his local art store and stock up on canvases and materials for an extended indoor stay. He continued working and honing his craft throughout the pandemic, and in February 2021 he began minting his art as NFTs, experimenting with purely digital pieces as well as physical pieces with an associated NFT. By the time the NFT Market had whipped its way into a full-on frenzy in the summer of 2021, Rea had become Brain Vomit and was bringing in more in sales revenue from his pieces than he had ever before.
From the onset, Brain Vomits' hit the scene with a distinct style and energy unmatched by other artists transitioning into NFT's from traditional physical mediums. Most Brain Vomit pieces exude psychedelic influence, are slightly abstract, and contain mountains of emotion that strike hard in the minds and hearts of observers. Brain Vomits' have become known for their awe-power in the NFT space, as most of them accurately portray all the beauty and despair life has to offer in a single piece. The art in a Brain Vomit is psychedelic and abstract – but the emotions that bleed through the canvas are ultra-realistic.
As someone who started following the Brain Vomit twitter account in June, it was no surprise to watch his imminent rise to success. For me it was one of those few times in life when you knew you were watching something special take place while it was taking place. Throughout the journey, Brain Vomit seemingly effortlessly built a network of friends, fans, and supporters, and slowly started herding them into the Brain Vomit Discord Server. His connections and community building efforts were not in vain – by the end of JPEG summer, BV had a fanbase wanting a generative Brain Vomit NFT, and he had made the connections to make it happen.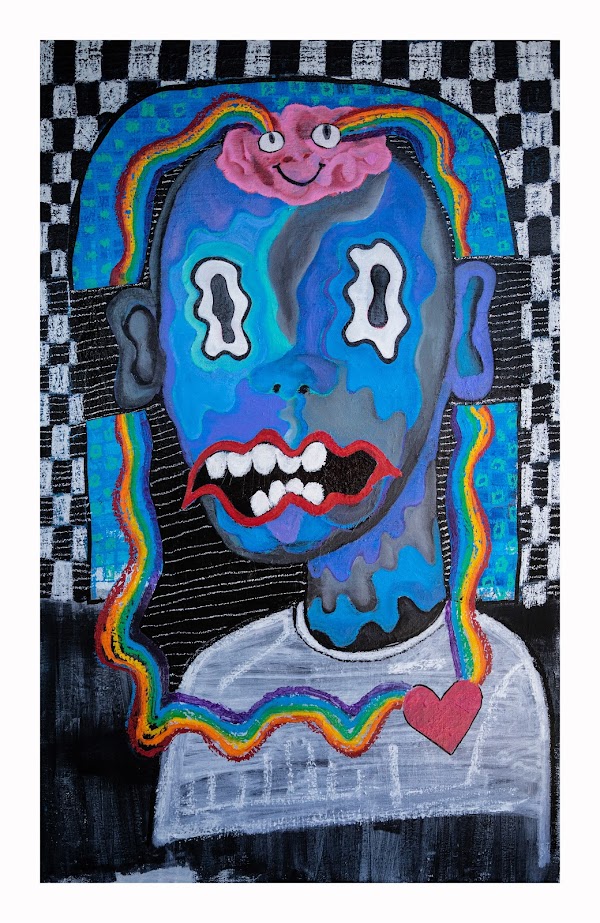 Initially, the timing of the Brain Vomit's Garden release (November 9th), seemed truly unfortunate. Gas was high, NFT sales were slowing down, and prices were down across the space. Everyone seemed very aware of how flooded the market had become during the minting craze of the summer and the sentiment amongst collectors on crypto twitter was that everyone had stopped minting new projects altogether. Brain Vomit's Garden went through an early supporter's mint round, was released to the public, and only a few were minted on the day of release.
At some point, influencer Gary V hit Brain Vomit's Garden with a twitter shoutout, and everyone on NFTwitter realized at once what was special about BV's Garden: This was a generative collection that was based around the style and sentiment of a talented and independent up and coming artist, and he launched the project himself (he didn't write the code – but his art helped him create the relationships he needed with people who could handle the technical side of launching a generative collection).
In this way, the Brain Vomit's Garden collection is truly one of a kind. While 99/100 generative projects have nothing different or special about them, Rea's project stands out as well … rare. Not only is the art in the collection world class, but the project as a whole is also one of a kind in that it was successfully launched by an up-and-coming artist (and the tight-knit community he created for himself while simply being himself).
I am very intrigued by the early success of the Brain Vomit's Garden collection and will be watching it's journey closely. I see the project and the BV community as one very interesting node in a growing network of nodes inside the creator economy. Some artists choose to launch a token on Rally.io to harness the power of web3 and their own community of fans, Brain Vomit chose to launch a generative art project on OpenSea.
As more artists and communities enter the space, I expect the Brain Vomit community to be an example to newcomers as a model for success. I am also entirely curious as to what is next for the Garden collection and the Brain Vomit community as a whole and look forward to the release of the Garden Metaverse. At the time of writing, the Flower's floor has dropped to 0.69 ETH, down from an ATH at 0.95 ETH, and the highest all-time sale was for 3.55 ETH.
Check out other In Spotlight articles here.