In the era of the user-centric internet, it's crystal clear that whoever holds the proverbial cheese wields the stick of authority. Media behemoths like Facebook and Twitter have successfully established a colossal monopoly in the data market, leveraging the fact that most users remain tethered to their platforms under the guise of social necessity or peer pressure.
The current state of affairs places a disproportionate amount of power in the hands of a select few who often wield it to manipulate and steer the public as they see fit. But what if we had a different option? Imagine a new system prioritizing decentralization, user empowerment, and equal opportunities for all to have their voices heard.
Enter MICE Media – a revolutionary network and syndication that embodies a coalition of ideas from the community, paving the way as the first decentralized Web3 media empire.
How is MICE Media different?
From the Web1 era of "websites" to the Web2 era of "peer-to-peer" social networks, we have arrived at this juncture, characterized by an ecosystem with unlimited potential that thrives on the blockchain.
Every stage of the development of the web has introduced new technological innovations that have influenced society, culture, and all corners of the world.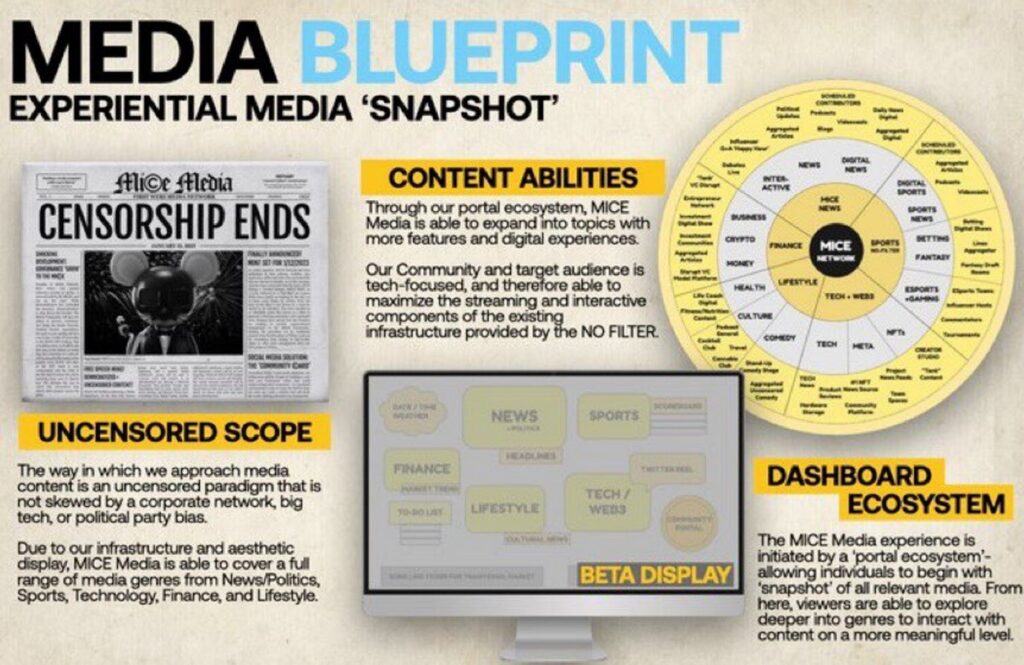 Even so, centralized platforms and systems have controlled these stages to censor and shape views to manipulate the social narrative for their own gain. The very essence of centralized platforms is to push a narrative, cause polarization and divide the populace.
Centralized media exhibits several negative traits, including:
Censorship
Manipulation
Lack of transparency and accountability
Biased content
Monetization and control of data
Influence of governing bodies with financial interests or agendas.
From Twitter and Facebook to YouTube and even PayPal, we have witnessed constant "Censorship," "Cancel Culture," "Shadow Banning + Banning," and "De-Platforming" — silencing any individual or account that doesn't match the 'norm.'
Hence, MICE Media's bold vision strives to shatter this paradigm by implementing a decentralized network that derives its strength from the Community; one that the MICE control, not the men in suits.
Announcing that Andrew Tate was a MICE NFT holder was not always the plan.

This wasn't an 'influencer play'- we didn't pay Tate a penny to join @THEMICE_ .

Andrew shared our belief that the 'power of the narrative' belonged with the people, not corporate media.#TateIsBack pic.twitter.com/4zo7SxWNr2

— MIⒸE MEDIA 🧀 (@THEMICE_) April 3, 2023
Reimagining Media: The New Paradigm
MICE Media has strategically adopted a three-pronged approach to establish itself as a fully decentralized media network:
Decentralized Governance
Decentralized Content
Decentralized storage Network
Decentralized Governance
MICE Media's governance system enables a decentralized media distribution platform. It is governed by a community which brings about several benefits. Rather than relying on filtered content, the network aggregates unfiltered content such as community editorials, news story sequences, and influencer contributions.
This approach ensures that the MICE holders run the platform rather than a centralized governing body. The Community makes all decisions democratically, and content cannot be censored or manipulated. Furthermore, content creators retain full ownership of their content on the MICE Media platform.
Decentralized Content
MICE Media's content will be geared towards – a generation of individuals prioritizing issues such as uncensored rights, freedom of speech, and logical values.
This media platform caters to adjusted-traditional viewpoints, focusing on current events, DeFi, crypto, blockchain tech, sports, and pop culture.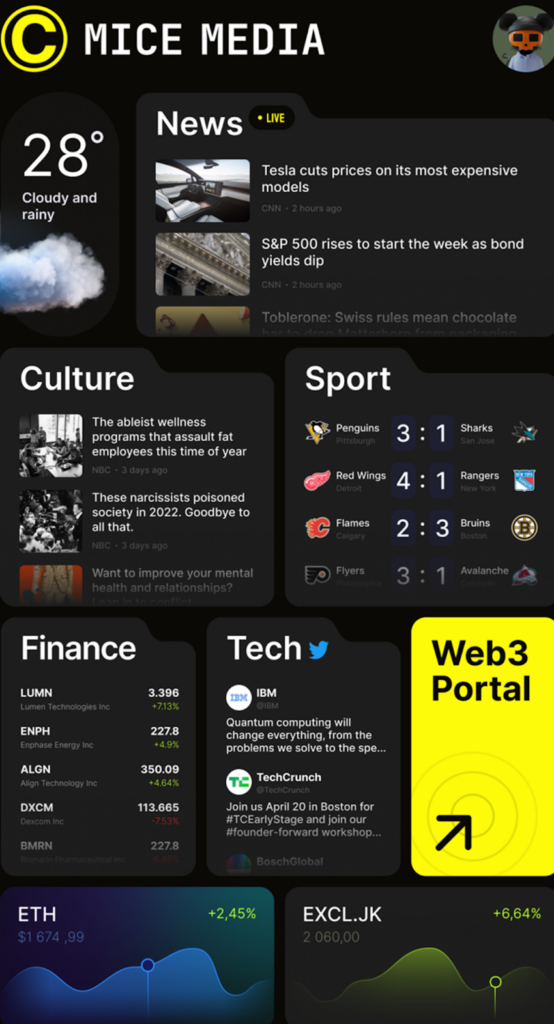 Decentralized network
MICE Media if fully decentralized, where media content and data are distributed across a global network of encrypted nodes. It eliminates the need for dependence on cloud-based web servers and storage controlled by big tech, providing a secure and independent platform for storage and distribution.
As a decentralized media network, MICE Media starkly contrasts "Woke Media" by embracing uncensored content and providing a platform that promotes freedom of expression. At the same time, the network remains impartial and neutral, providing all MICE contributors with an equal channel to voice their opinions.
This new media paradigm will exhibit several characteristics:
Owned by the Community
Uncensored content
No centralized authority
The content emphasizes adjusted-traditional views
The ability to communicate freely without the fear of getting 'cancelled'
94% of media 'viewers' get their news from 6 corporate networks.

These centralized networks are run by these 6 people, tasked to sell you a 'product'.

What would it look like if media was 'decentralized'?

What would it look like if 'the people' shaped their own minds? pic.twitter.com/jdyNzJZBFK

— MIⒸESTRO 🧀 (@bryndavis) April 10, 2023
The Inevitable Mainstream Adoption
The centralized media landscape is in dire need of a radical overhaul. The public has grown dissatisfied with the restricted freedom, censorship, and manipulation plaguing these platforms.
This increasing discontent has highlighted the significance of Community and collective effort to resist media titans' hold on our data, who frequently monetize and control our online experiences.
Undoubtedly, people are tired of the constant propagation of fear and sensationalism engineered to maximize engagement and word-of-mouth marketing. Besides, the fact that these are private organizations with largely unfettered control over their operations and practices is the root of the issue.
In this context, MICE Media has taken up the mantle, returning power to the user through a decentralized network forged by the Community. This revolution is crucial as it offers a fresh approach to news consumption, engaging with others, contributing, and shaping the direction of the new age of media.
MICE Media provides an unprecedented storage solution.

Through a global network of activated nodes, we created our decentralized storage network.

MICE is to media what bitcoin is to banks.

To shut us down, they have to shut down the internet. #censorshipresistant

🧵⤵️ pic.twitter.com/Yh9bowXOHj

— MIⒸE MEDIA 🧀 (@THEMICE_) April 7, 2023
Moreover, MICE Media's ethos is rooted in the principles of a community-owned decentralized network and decentralized media distribution. The platform strives to host a sanctuary for individuals to share their ideas without any concern of censorship or manipulation, standing in sharp contrast to the current media giants.
MICE Media NFTs
MICE Media NFTs are the gateway to the revolutionary MICE Media ecosystem. It is a collection of 10,000 unique NFTs living inside the Ethereum network challenging the conventional notions of NFTs.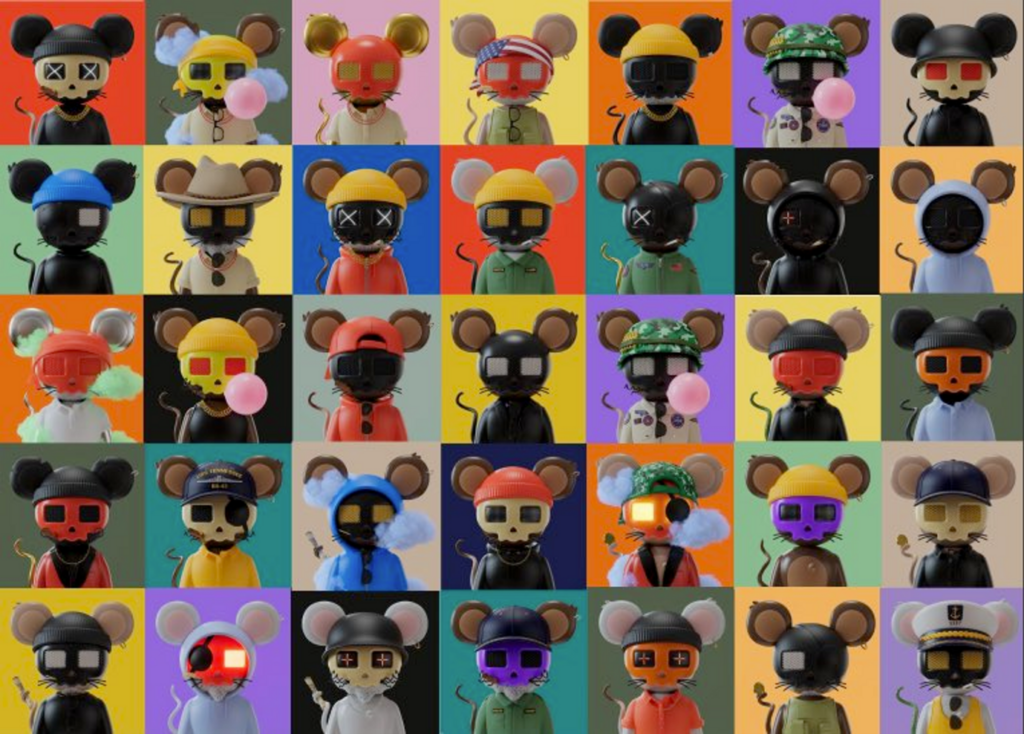 Despite their outward appearance as a collection of NFT art pieces featuring diverse 3D artwork and traits, the Mice NFTs represent much more than just aesthetics. The collection offers entry into a robust platform for like-minded individuals who share the same values, principles, and ideology as the MICE Team. Each MICE represents a member of the MICE Movement + Media Community.
They all share a common belief. Together as THE MICE Community the collection is to attract people who value individual freedom. Each MICE trusts MICE Media to represent the many but free from the control of 'the few'. Together, they form "ONE MICE," united in this shared vision.
MICE collection features over 200 traits, each with a different level of rarity, contributing to the uniqueness of each NFT. However, the value of the NFT is not solely determined by these rarity scores. Instead, it is the power of utility and the collective effort of the MICE MEDIA community in building the brand that drives the value of the All-Access Pass digital assets.
The traits vary from Background (19), Beard (6), Bodycolor (7), Clothes (63), Earrings (7), Ears (13), Eyes (11), Hats (21), Mask (14), Mouth Accessories (9), Neck Accessories (18), Smoke (4), Tails (10), Whiskers (5).
Asia's web3 community has an attention to apparel detail that is extraordinary and inspirational 🔎✨

Grateful for the recognition received for 'Design + Detail' this week at Web3 Festival Hong Kong 🌏🇭🇰

🧵 sample of 'Top Apparel' designs ⤵️ pic.twitter.com/vjtvu3ljK4

— MIⒸE MEDIA 🧀 (@THEMICE_) April 14, 2023
Since the complete collection is not minted, the team cannot yet calculate the NFT rarity or the trait distribution.
The Three Foundational Pillars
Mice Media NFTs are built on three foundational pillars that form their very essence.
1. Community, Platform, Technology
MICE is shaking up the traditional NFT approach by prioritizing Community over all else. Instead of releasing different artworks and a vague roadmap in hopes of building a disconnected community, MICE is harnessing an existing real-life community and culture and creating a Web3 home for it.
This forward-thinking approach seeks to establish genuine connections and meaningful bonds between members rather than relying on superficial engagement. By bridging the gap between online and offline communities, MICE is paving the way for a new era of NFT projects.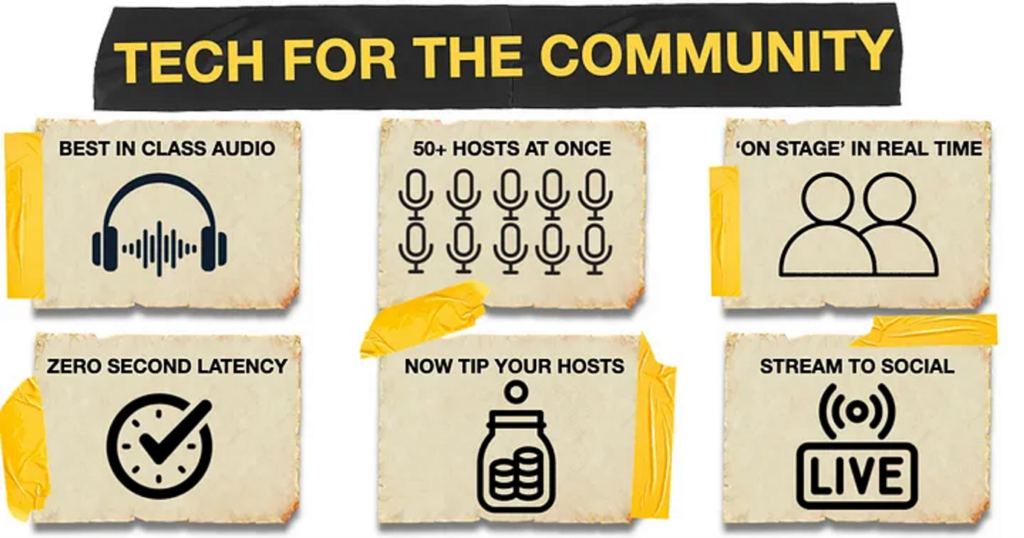 MICE Media boasts a world-class video streaming technology that outperforms existing solutions, allowing up to 300 hosts and thousands of real-time viewers with unparalleled latency of less than one second. The platform is equipped with optimized community communication, providing an immersive real-time experience with top-notch quality every time. Additionally, the platform offers fully-customizable profile dashboards, seamless social media integration, a powerful 'creator studio', and frictionless monetization channels for creators in both traditional and cryptocurrencies.
This suite of features continues to evolve and is built on an encrypted decentralized storage infrastructure of globally distributed nodes, giving control of content and data directly to the community. MICE Media offers a robust decentralized media platform that bridges the simplicity of web2 with the cutting-edge network, user, and creator capabilities now possible through the blockchain and in web3.
Moreover, the platform enables users to either passively watch or actively participate in live shows, revolutionizing the community and collaborative experience. The platform delivers stunning audio and visual quality through next-generation streaming integration, providing audiences with a theatre-like experience from the comfort of their own location.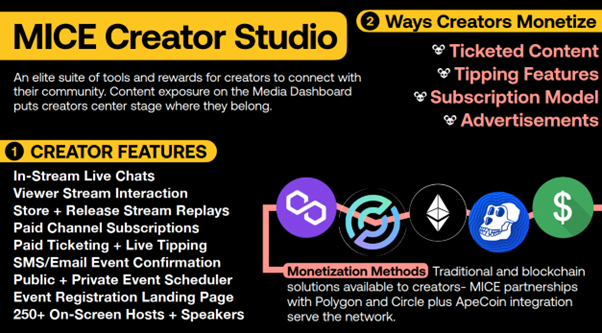 The Media platform aims to provide and cater to many content creator's viewers and listeners. Some areas of content are listed below:
Content Creators:
Sports commentators/Streamers
Education platforms, education content creators
Live Political Debates
News channels/broadcasters
Citizen Journalists
Esports streaming – individual teams, tournaments, and tuition services
Online Gym Instructors
Live reviews of any content
Group conferences
Single 1 on 1 video calls
Article writers and publicists
Video creators (YouTubers)
Documentary creators
Music Producers – live events broadcasting as well as digital radio broadcasting
Infrastructure Contributors:
Individuals who want to operate a node
Enterprises that want to operate a node
Individuals who want to provide data storage
Enterprises that want to provide data storage
🆙the thread above has reached over 150,000 people, and changed our world.

COOP has the 4th largest global reach in the @BoredApeYC ecosystem…

… and is now a member of @THEMICE_ 🧀

WELCOME HOME, @COOP3RDRUMM3R‼️#BAYC @yugalabs 👀 pic.twitter.com/iKJ9IgiJkP

— MIⒸE MEDIA 🧀 (@THEMICE_) April 9, 2023
Additionally, MICE Media integrates seamlessly with existing social media platforms, eliminating the fragmentation caused by multiple platforms by broadcasting a unified message to all community members, wherever they may be watching.
Ultimately, MICE Media offers its community and supporters traditional communication methods but with a significant difference. With a high emphasis on the value of communication within the MICE community, it goes beyond the shallow conversations typical of NFT discords.
The founders have hailed the Community as "Discord with Discourse." With this approach, MICE seeks to foster a community where members can connect meaningfully and engage in immersive content.
2. Utility
As the NFT market evolves, so does the standard for actual utility. MICE Media recognizes this and aims to surpass the outdated notion of offering a low-quality video game or art as the utility.
MICE NFT Utility
Nevertheless, the traditional utility offerings such as IP ownership, merchandise, and streaming activities are still part of MICE's plan. Nonetheless, the proper focus lies in creating the first decentralized Web3 Media Network owned and operated by the MICE Community.
MICE MEDIA Utility
This Media Network, dubbed MICE Media, offers a platform for the Community to interact, vote, and contribute to the media content, thereby shaping the culture and brand of a true Community-created Media Network.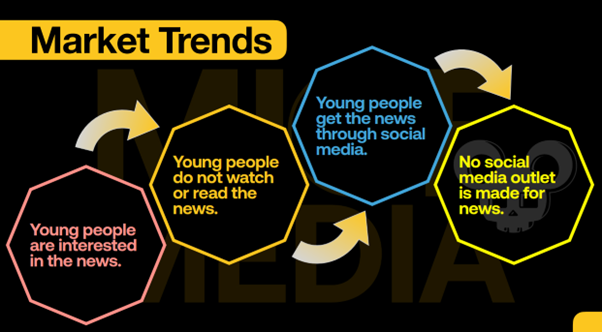 Moreover, the co-founders of MICE MEDIA are seasoned professionals with experience working with high profile brands and global organisations, bringing the expertise to the table to build an organic Community and rapidly build the MICE MEDIA Network into a revolutionary and respected brand.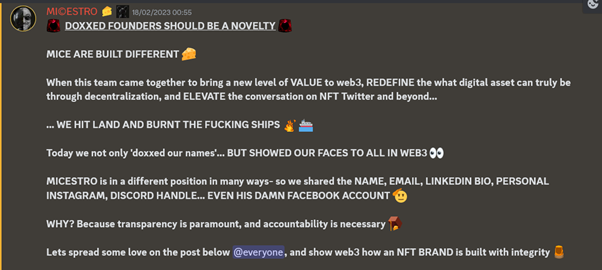 With the MICE Community at the core of its culture and foundation, MICE MEDIA has the potential to become a robust online and IRL media network, built and crafted – by the people and for the people.
Utilising Web3 for more than that just fine art & basic utilities👍

Creating solutions to real life problems that affects the entire world👍

Infrastructure, tech stack & business plan in place that doesn't rely on funding from NFT's👍

Join our discord⤵️https://t.co/9L2HYYqDQ0 pic.twitter.com/ywQagVm3yB

— MIⒸE MEDIA 🧀 (@THEMICE_) March 8, 2023
MICE 3D Animation Access ✅

A dynamic digital asset for all MICE NFT holders to functionally utilize + express their digital identity.

🧵peek behind the scenes ⤵️👀 pic.twitter.com/472VR1FV4N

— MIⒸE MEDIA 🧀 (@THEMICE_) April 25, 2023
3. Value
The MICE Founders saw a problem with how NFTs were valued based solely on "perceived value" through factors like rarity and scarcity without offering enough utility to holders. The team developed three layers of value to maximize the digital asset's worth for their Community.
TRADITIONAL VALUE – includes access to exclusive IP rights, streaming events, IRL events, merchandise, and typical Web 3 offerings.
FUNCTIONAL VALUE – encompasses the unique Community that will be assembled and the ability to interact and contribute to a living Media Network in a revolutionary approach to content creation.
'TRUE VALUE' IRL – aims to democratize an industry dominated by big tech and corporate networks by tethering NFT ownership to equity in the Media Network. This unprecedented "Contribute to Earn" model aligns the Community's interests with promoting media content reflective of their culture, resulting in increased exposure and value for the Media Network and the NFT.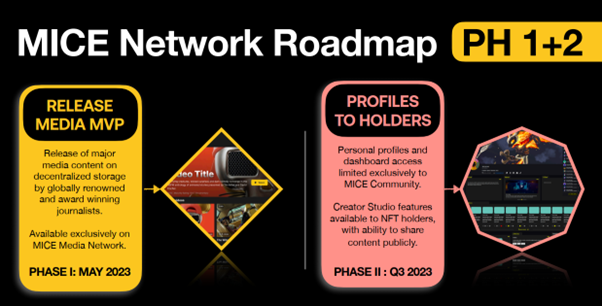 MICE Media Roadmap Phase 1 & 2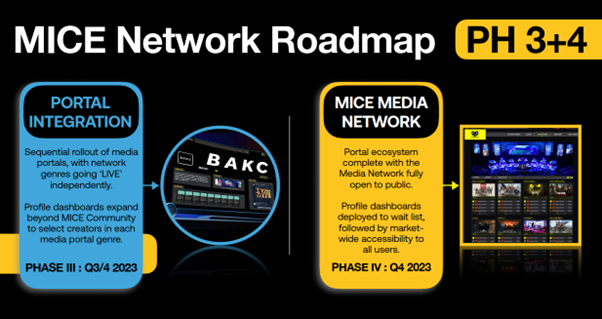 MICE Media Roadmap Phase 3 & 4
The Mint
The MICE team decided to split the release of their 10K Collection into two separate minting processes. This decision had several reasons, but three key factors are noted.

The release of the initial 2K MICE, followed by the remaining 8K pieces of the collection, was a strategic move to appeal to both web3 purists and the broader market. By doing so, the team aimed to capture the attention of a diverse audience and make the collection more approachable and attainable for everyone by eliminating barriers to entry.
Additionally, in line with their commitment to accessibility, the team has made the MICE Collection purchasable using credit cards alongside traditional minting options.
Phase 1 of the MICE NFT collection was made available to the public on the evening of January 12, 2023. The first 2,000 MICE sold out within 24 hours as part of the #MICEEATFIRST campaign. The team designed this initiative to provide their early supporters on Discord, Twitter, and other platforms with a dedicated opportunity to mint the NFTs.
2K Limited mint price $99
SOLD OUT IN 24 HOURS

Current FP $194 📈
Only 4 left until FP matches public mint price, now is your LAST CHANCE to get one cheaper than mint.

Public mint price $199
COMING SOON….

RT for WL & join the MICE MOVEMENT below ⤵️https://t.co/hhb6FoWWzo pic.twitter.com/6KjEwYlThj

— MIⒸE MEDIA 🧀 (@THEMICE_) March 14, 2023
Phase 2 of the project is now underway, with the MICE team focusing on the question of "who" rather than "how" due to the overwhelming response to the initial release. This phase includes the remaining 8,000 MICE, including 20 unique 1/1s. Registration for allowlist spots has already begun, with spots available through Premint.xyz.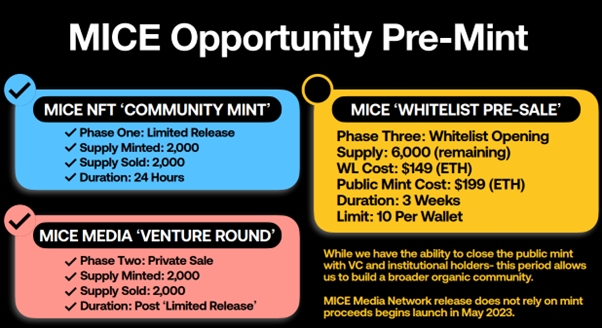 The MICE team believes that the price of the Mint should not solely depend on the potential profit. Instead, they have set a price accessible to all and serves as a filter to attract the most committed and engaged community members.
Unsurprisingly, they have set the price for Phase 2 to remain at $149 for Whitelist participants and $199 for any remaining at public mint, which will be converted to the equivalent ETH on the day and will not increase with demand.
The Current Stats
The minted 2k pieces of the collection have a floor price of 0.7 ETH and a total trading volume of 32 ETH. Interestingly, only 5% of the entire collection is currently listed on OpenSea, indicating that the vast majority of holders are not eager to sell their NFTs.
This has led to speculation in the NFT community that the holders anticipate significant value growth and are therefore holding onto their assets rather than dumping them on the market. The collection's overwhelming reception during its phase one Mint supports this theory, suggesting investors are confident in its long-term potential.
Conclusion
MICE + MICE Media will disrupt and revolutionize the foundation of media empires as the pioneering iconic media brand to emerge from Web 3.
Moreover, MICE Media is getting significant PR buzz through mainstream television interviews and influencer endorsements to bridge an existing community in Web2 with a thriving community in Web3.The team's efforts have been fruitful, as they were the first Web3 media network to be given access as a credentialed media member of the NFL Super Bowl 2023.
💣 MICE MEDIA IRL EVENT LEAKED 💣

PRE-MINT announcement of the first IRL event in the United States for the MICE Community 🔥

MICE INFEST SUPER BOWL 2023 + PHOENIX ARIZONA 🧀

First release of details below, with updates on this IRL EVENT spread throughout the coming week 👀 pic.twitter.com/qNFrtbMNyC

— MIⒸE MEDIA 🧀 (@THEMICE_) January 12, 2023
They also became the official media partner of NFT Paris in February this year.
In conclusion, MICE Media aims to become the top platform for uncensored media not just on blockchain but also on Web2. The project seeks to accomplish this goal by utilizing community content, aggregated sourcing, radio network syndication, and guest contributions.
Undeniably, with a focus on delivering high-quality content and a commitment to decentralization, MICE Media is poised to revolutionize the media industry in the Web3 era.