NBA Top Shot: 5 Stages of Grief
NBA Top Shot is currently existing in somewhat of a no man's land right now. The company appears to be positioning itself for other things, NFL All Day, and less focused on delivering a high-quality product.
It's hard to understand how we got to this place, the team added an economist that was supposed to provide insight on the state of moments, Roham has had some inspiring state of unions, and yet for some reason we continue to see obvious oversight and lapse of judgment.
During a recent discussion with Steve, I went so far as to compare Top Shot to OpenSea. A first mover in the space with an enormous war-chest that continues to disappoint many of its current customers. Admittedly it might not seem fair to judge Top Shot "as they're still in beta" 2+ years after launch, but we judge every single NFT project that comes out and most of them aren't even a year old.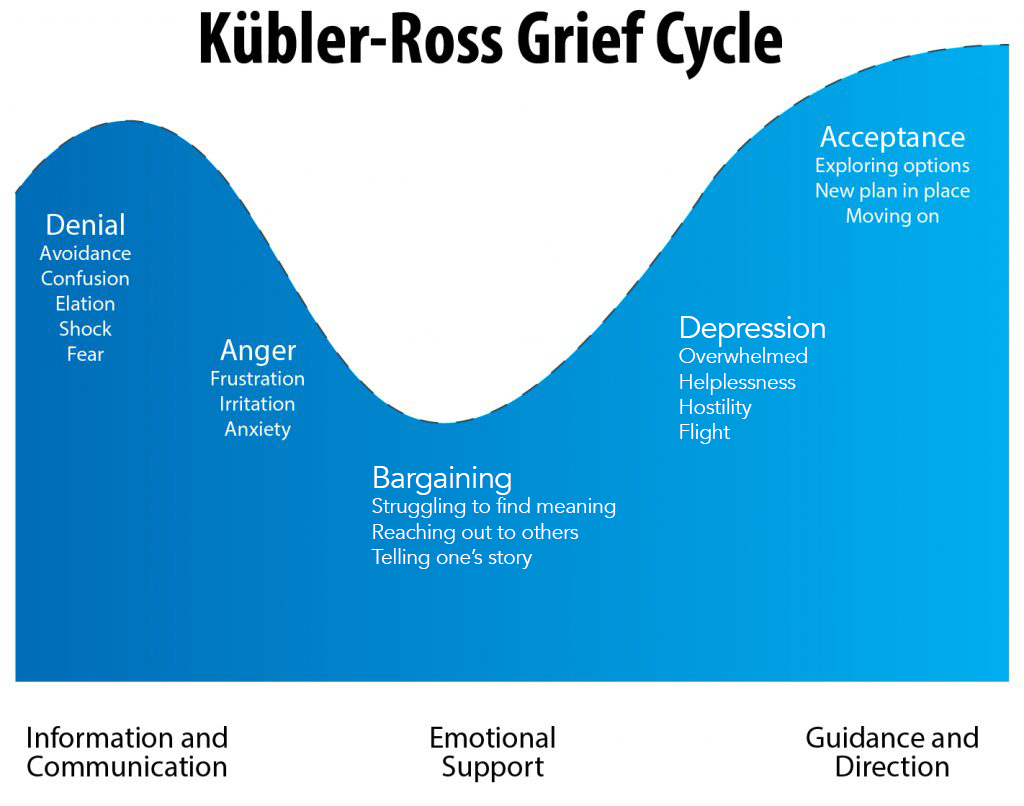 https://www.psycom.net/depression.central.grief.html
Personally, I finally think I've tackled the stages of grief and am currently in acceptance. I know that Top Shot will be successful in the long run, my bullishness on them is primarily because they have the NBA to prop them up. Sports collectors will continue to join Top Shot because it is the best and seemingly only place to collect licensed NBA NFTs and that is an insane barrier to entry.
The success of their product at least financially has been successful enough to bring the NFL on board with NFL All Day in which the Dapper Labs and Top Shot teams at least seemed to have learned from some of their mistakes leading up to release.
When I first bought into NBA Top Shot it was a period of elation, every single moment was going up in value. My friends and I would wake up to see random Series 2 moments that we bought for $10 all of a sudden be worth $50, then $70, then $115. It's as though nothing could stop this bull run.
This insanity lasted maybe a week. Prices plummeted fairly quickly, and I moved into denial, I believed that everything would rebound. I was confused, why would nobody want my Marcus Smart Series 2 Common /15k for $75?
Many others and I likely began checking out accounts and seeing the opposite happening, everything was going down. We were mad. Nobody was having fun anymore, it seemed like everything was on sale and maybe just doubling down on good moments was the best bet! Why couldn't Top Shot just turn it around? What were they doing? Maybe they can just flip a switch and make us happy again! Nope, this negative trend persisted into the Summer.
Bargaining. The summer seemed OK, prices began to rebound, and the WNBA set and challenges were fun! I am not a WNBA fan, but the common WNBA set, and the big names all being included in the rare set were exciting to me. I was finally enjoying collecting Top Shot moments again. I believed that this is what Top Shot was supposed to be about, although I wasn't a huge fan of the teams or players involved it seemed like we were turning a corner on the pendulum.
The past couple months have been straight up depressing from a Top Shot collector's standpoint. Top Shot has managed to ruin the WNBA collection by creating overpriced challenges, there's been little to no oversight or QA as Roham likes to call it on challenges, showcases, or outward communications, we've completely oversaturated the marketplace with Series 3 which is basically a low effort cash grab.
The whole product seems so low effort lately, that we see moments with typos, moments coming out with super low-quality video and challenge information being leaked accidentally in blog articles.
I've recently hit acceptance. I finally liquidated many of my moments in order to afford a Kelly Olynyk Run it Back and complete my Celtics team set. I will continue collecting Celtics moments, superstars and players that I like across the league. I will no longer be trying to complete as many challenges unless I believe them to be EV+ or for a moment that I actually want. I'll stop collecting because of what Top Shot encourages me to collect, but instead will be focused on flipping challenge moments and packs for more Celtics.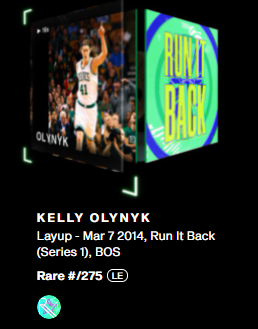 I think Top Shot has a long way to go to appease many of their early supporters, but they also need to decide how much they truly care about them for the long run of the business. Top Shot appears to make knee jerk reactions based on negative feedback, but also not focus on long term feedback from the community.
It all comes across as short sighted. Top Shot needs to stop letting a lack of volume destroy the value in moments, this is through creation of a bid system which would allow people to make offers below the floor that can be fulfilled for quick liquidity. Top Shot also needs to figure out on boarding, Steef has done some amazing analysis on his Twitter and it shows we only have about 40k new users since the start of the season.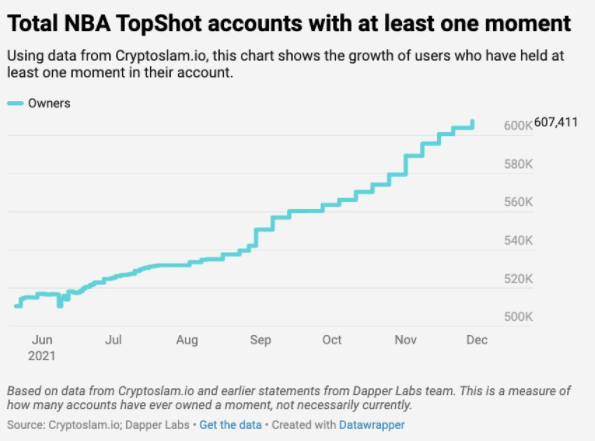 Where is the marketing? That's it, that's the segment.
Finally, my biased take: It makes no sense for Top Shot to be distancing themselves from the Ballerz NFT. It's shortsighted and irrational given the community overlap and essentially free marketing for Dapper wallets which are used on both projects.
Check out my other articles here.