The first question that may come to mind is what is PancakeSwap? PancakeSwap is a decentralized exchange on Binance Smart Chain, one of Ethereum's top competitors. Currently they are on their second version, PancakeSwap V2.
The Binance Smart Chain blockchain is the creation of Binance, a centralized crypto exchange known for being one of the largest in the world, who also have their own token, $BNB, that at the time of writing held a value of $281. PancakeSwap is their venture into the streets of DeFi (decentralized finance).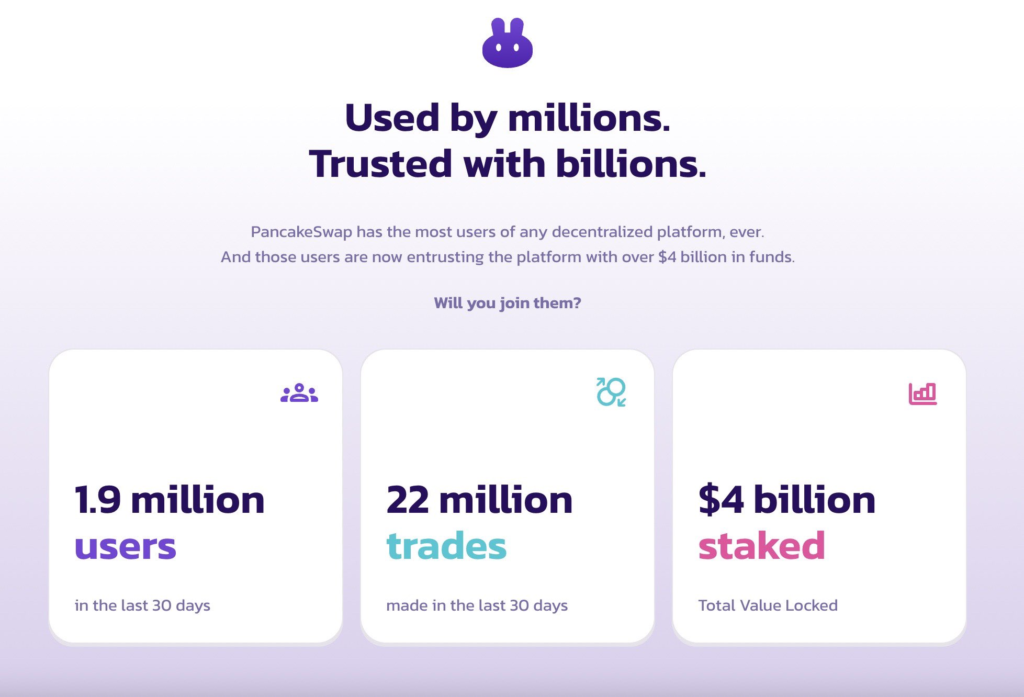 PancakeSwap is one of today's largest DeFi protocols, and one that you are going to want to learn about if you are new to DeFi.
If you are unfamiliar with decentralized exchanges, they use a system known as automated market maker (AMM), which in turn means that you are not transacting against an order book like on most centralized exchanges such as Coinbase, but instead you are transacting directly against a liquidity pool and are able tokens based on the coin swap ratio.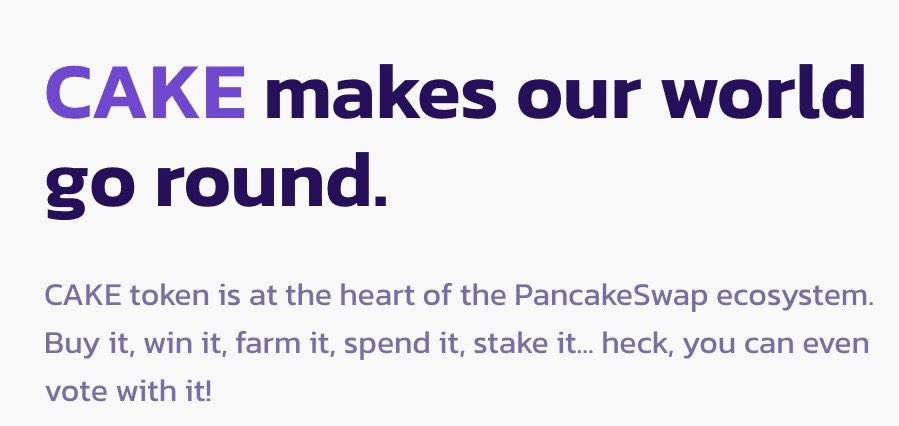 The liquidity pool is created by offering DeFi farming opportunities to liquidity providers, which to date has worked better than expected and has locked in over four billion dollars in liquidity value for the platform. By staking in the liquidity pools, you can in turn earn the native $CAKE token, which can then be staked to earn SYRUP at a 1:1 ratio. Holding SYRUP entitles you to 25% of the CAKE emissions distributed proportionally to holders.
Currently the price of $CAKE has been holding a rough value of $4.60, and depending on the amount of liquidity you provide is congruent with the amount of $CAKE you can earn a day, while DeFi farming most likely will not make you rich overnight, it is a great way to be able to earn currently sustainable passive income if you can earn the $CAKE and restake it in the SYRUP pools to truly extrapulate the value.

PancakeSwap has a leg up on other traditional DeFi exchanges, such as Uniswap and Sushiswap, in the fact that Pancakeswap is faster and cheaper in transaction fees to use. Accessing PancakeSwap is still familiar for Ethereum users since you can connect to the exchange using Metamask, just like you do when using Uniswap and SushiSwap.
Even though you can use the MetaMask wallet for it, you may need to configure your MetaMask wallet so that it can start working with BNB Chain-based decentralized apps like PancakeSwap. Another option would be using a wallet that is already enabled to connect to the BNB chain, such as a Coinbase or BNB chain wallet.
PancakeSwap Lottery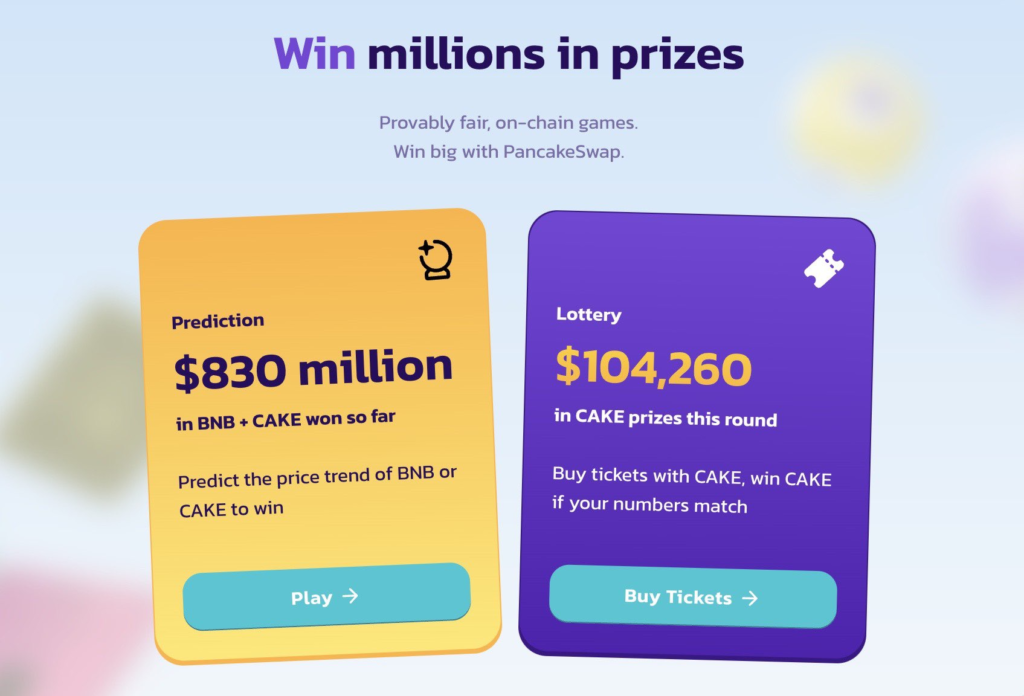 Another thing that sets it apart from its main competitor Uniswap, besides for the food references, is the ability to play the PancakeSwap lottery. Traditionally Uniswap is more of a serious platform whereas PancakeSwap like to inject some fun into its platform, so even though you may not get rich quick farming syrup pools, this lottery gives you the chance to do that, and all you need is just a little luck on your side, so let's take a look at how it works.
Unlike the products highlighted so far, this is more like gambling, as you need to guess a winning four-digit combination made up of numbers between 1 and 14. An example is 3-6-9-12. When you buy a ticket, the system will randomize a ticket with a combination of numbers on it. At the end of the lottery time a winner is determined by identifying any tickets with a matching combination to the randomized winning combination.
The position of the numbers is also taken into account here, but if you are lucky enough to hit the winning match then you will walk away with 50% of the generating pot. Even if you are not lucky enough to win the jackpot you are still able to earn rewards for playing as long as at least two of your numbers are a match, including in the correct placement.
These sessions occur every six hours, which not only creates a great token sink for burning $CAKE, which to date 585,593,391 $CAKE tokens have been burned, which is almost $2.7 billion in value, but also gives you a better chance of eventually hitting it big.
PancakeSwap NFTs

PancakeSwap also offers the opportunity to trade BNB Chain-based non-fungible tokens (NFTs). While the number of collections, and overall volume is much lower than most collections that we are used to on Ethereum or Solana, there are still a few collections that are clearly leading the way. These NFTs are transacted using Binances native token $BNB which has a current value of $281 as stated earlier. The leading collection, known as the Pancake Squad, has done a total volume of 147,322 BNB, which when translated to usd is $41,397,482.
PancakeSwap IFO
PancakeSwap is also one of the first to be introducing a new ICO model called the IFO, which stands for initial farm offering. An IFO enables CAKE-BNB liquidity providers to buy a new project's tokens. Joining an IFO is straightforward if you're already a CAKE-BNB liquidity provider — just deposit your LP tokens on the IFO page.
This is a way to get into upcoming coins before they fully are released on the market, which usually allows you to get them for a very favorable price, but the main issue is not every coin will survive, so while this is not as much of gambling as some of the other features on the website it is a high-risk activity and should be interacted as such.
So, the question at this point is if PancakeSwap should be your go to option for your DeFi experience, and the answer in short is no. It is never good to be a maxi of any platform but currently Uniswap and Sushiswap seem to have a slight leg up in some of the aspects, but with everything PancakeSwap has been able to accomplish to date do not be surprised to see it be the number one DeFi exchange in the near future.
They have many more offerings than their competitors and are rolling out new things every day, so while it shouldn't be the only one you are familiar with, it should be one that you learn the ins and outs of as the opportunities are abundant with new ones coming every day.
As with NFTs, the DeFi activies described in this article are high risk and can be very voliatile and should be treated as such.
If you found this article helpful, check out my other work here.