Full disclosure, I have a decent bag of Renga assets. I'll try to be partial as I give a quick and dirty breakdown of the pros and cons of Renga, Dirty Robot (the artist) and The Art of Seasons project as a whole.
What is Renga?
Renga is a story telling NFT brand (I heard you cringe). Lots of what they have planned hasn't been revealed yet, but the art is dope and the team is seems to be stacked. What started with a The Art of Seasons NFT, turned into a Black Box being dropped that you could burn for your revealed Renga NFT. It's been interesting to watch the dynamic of Black Box to revealed Renga prices take turns running and subsequently, The Art of Seasons pieces getting a little bit of action.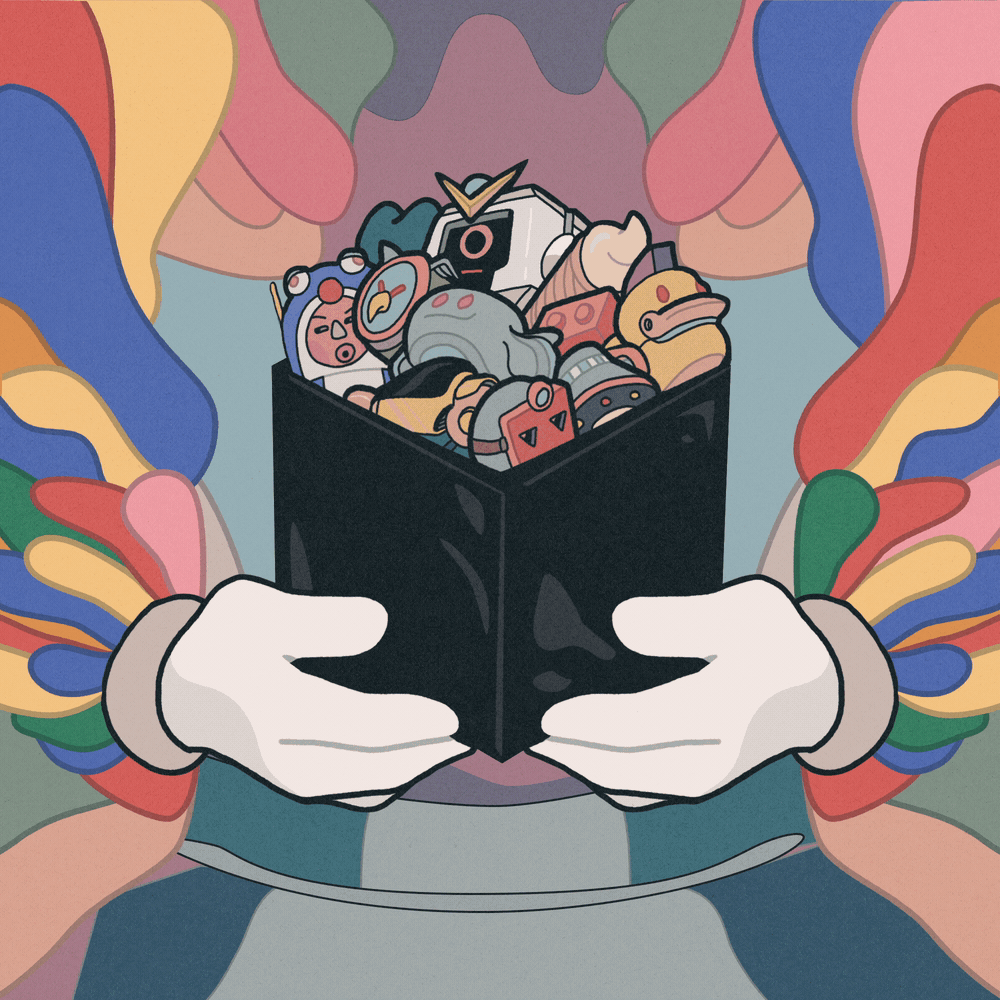 You can learn more about Renga's team, artist and vision here: Renga
Current price floor/volume snapshot as of UTC: 10:30PM on 10/3/2022
Revealed Renga's: Floor Price: 3 ETH – Volume: 13k+ ETH
Renga Black Box: Floor Price: 5.4 ETH – Volume: 7k+ ETH
The Art of Seasons: Floor Price: 0.4 ETH – Volume: 11k+ ETH
Whale Holders
Black Box:
Renga: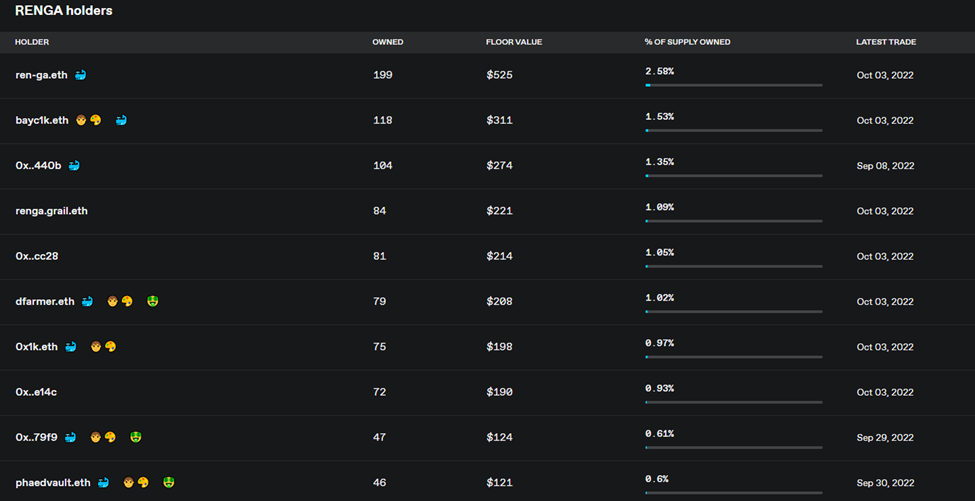 The Art of Seasons: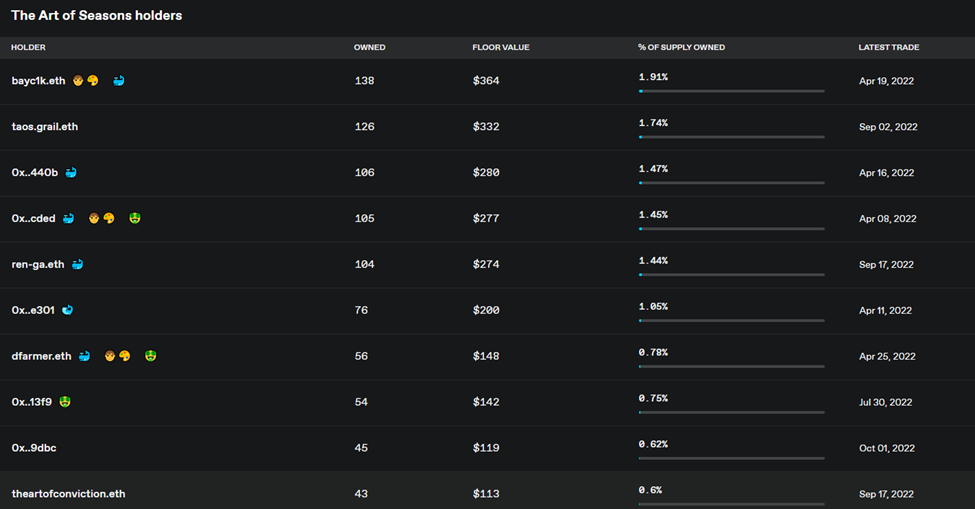 Let's move on to some Pros and Cons.
Pros
Holders: Some of the most prominent names in the NFT space have dealt out praise for the way Renga has been grown and have subsequently loaded their bags with Renga assets. These are some of the smartest minds in the NFT space that are buying and holding and sharing on Twitter.
Market Pressure: This could really apply to any project. The bear market has been a rough go. People are hungry for another blue-chip run, and this might be the one. The only real blue-chip level NFT that we've seen in recent months has been Moonbirds, which had a pretty hard landing from their all time highs. Prior to that, everything that was even in the conversation has come back to earth and lost momentum.
Price Action: Many times, we see a hot NFT jump on the scene and have an insane runup only to come crashing down to more reasonable levels, only to slowly bleed out from there. 3Landers and CyberBrokers both come to mind. The price action on Renga and Boxes has been slow and steady until the last week where we've seen a more aggressive run up. Time will tell if it's sustainable, or not. But slow and steady may win the race in a bear market.

Art: Debatable at some levels, but for the most part, the art is on point. Very well done, attention to detail, color palette that is pleasing and easy to like. There are some exceptions, as with anything. For me, the bodies are bit wide and almost hunched over, and some of the female Rengas have seriously large hands (insert Seinfeld "man hands" reference here).
Burn Mechanic: The box burn has been nothing short of fascinating to watch. Burning has slowed, but it's been interesting to see the boxes and the Rengas trade off in pumping and cooling off. If one seems overpriced, the other one catches up. Any interesting dynamic to pay attention to if you're looking to trade these with any level of success.
The Unknown: The Art of Seasons was the NFT that got you a Black Box. What's in store for The Art of Seasons now? Anything. Will it work in conjunction with boxes and revealed Rengas? There's not a lot out there on what could be next.
The Team: Seems on point, super active, engaging the community, positive. I can't tell if they're doxed or not, but if they aren't already, I'm sure it comes soon. As long as there's no bad apples there, should be good to go.
Cons
Top Heavy: There are a lot of big fish in this one. The owner distribution has not suffered as much as you would think, but it's something to keep an eye on. If a whale decides to dump some bags it would take some time to get the floor stabilized. But that isn't unique to Renga, you see that everywhere to some extent.
Entry Price: We're getting to a point where it's going to be hard for new money to enter the playing field here. Maybe The Art of Seasons is a "get you into the ecosystem" type of play here. But as the floor price climbs, the number of people that can afford an entry will start to dwindle.
Peak Momentum: Unless you're under a metaphorical NFT bridge, you've seen Renga everywhere. How long can that last? Who knows? Are there enough people still in NFT's that have the means to chase down a Renga to hold?
Roadmap: Outside of "Story Telling," there's not much known. It sounds like they have a lot planned, but until we get an official announcement, no one really knows what the next step in the journey is.
Conclusion
I'm in deep, don't listen to me. I'm just trying to not fumble the bag here. But if you want in, watch for a good entry. Seems to pump at night and be a little less active in the early hours. But it's a higher risk play now, so make your decisions wisely, and remember, nothing here is financial advice! Good Luck!
If you enjoyed this article, check out my other work here.