Let's talk about the biggest news in NFTs right now, and honestly the biggest Web3 news in a VERY long time – the @Starbucks NFT program. I'm super excited about this one, and I think it's what the future of NFTs will look like.
Here's why.
The first thing I bet on in Web3 is the team. Forum3, the who's helping lead @Starbucks into NFTs, is a group of Web3 native rockstars. The company includes @adambrotman, @AndySack, @BunchuBets, and @Web3_Morgan. You probably know/follow one (of all) of them.
I know @BunchuBets & @Web3_Morgan really well because they're on the @dGenNetwork executive team with me. Joe and Morgan are two of the hardest working people I know – our CEO and COO – keeping dGEN in order and marching toward success.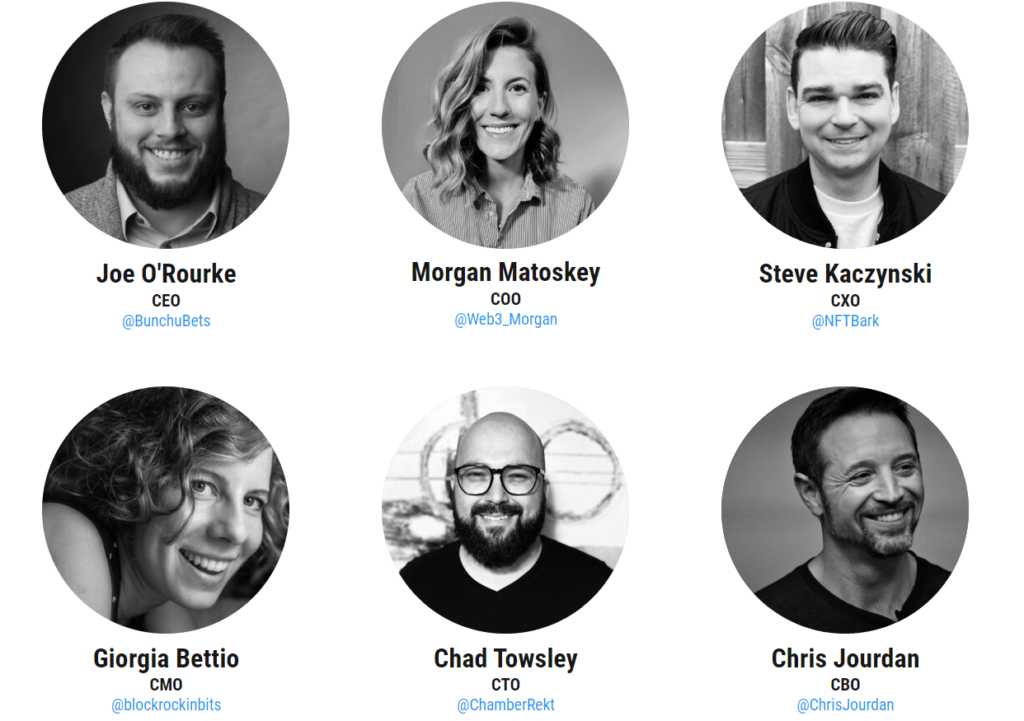 Meanwhile, @adambrotman is the former Chief Digital Officer of Starbucks and the architect for the Mobile Order & Pay system we all use so much. He's in the Web3 weeds buying/selling and has served as an advisor on the powerhouse project @jenkinsthevalet.
On Starbucks' approach
I've often said we'll rarely, if ever, use the term NFT in the future. When we attend a live game we don't say, "let me get my QR code," we say, "let me get my ticket." NFTs will be the same; they'll seamlessly s integrate into our lives.
Starbucks has elected to call the program "Starbucks Odyssey" where participants earn "Stamps" when they go on "Journeys." You don't hear "NFTs" or even "Digital Collectables." NFTs are just the tech used to enhance their customer experience.
It's a gamified extension of their current rewards program. In fact, Starbucks CMO Brady Brewer said to @TechCrunch that customers "may very well not even know that what they're doing is interacting with blockchain technology."
Remember how people got into NFTs last year through @nbatopshot? It's a platform where you don't have to know you're interacting with NFTs. It's a gamified experience that's enabled by the blockchain. NFTs are NOT the appeal. A fun experience IS the appeal.
This helps another barrier to NFTs – cost. Polygon allows for lower cost transactions at high volumes. Building on a proof of stake blockchain is something I think we see boom for big businesses in the months/years ahead.
The program itself is also smart because it aims to deepen the relationship between Starbucks customers and the Starbucks brand. In the current iteration, the relationship is relatively transactional. It's based on buying activity which is rewarded.
Per the @TechCrunch article, Stamps can be earned by "playing interactive games or taking on challenges designed to deepen one's knowledge of the Starbucks brand or coffee in general." This goes beyond purchasing activities and builds brand affinity.
There will be elements that include in-store activity as well, but @Starbucks has said that the goal is to have multiple levels of participation. Sounds a lot like many of our favorite NFT brands that have differing priced entry points with varying utility.
Can Starbucks change NFTs for everyone?
Lastly, the scale is wild. It sounds like this will start with a closed beta to learn/iterate, but this is an extension of @Starbucks existing loyalty program. That loyalty program has 20+ MILLION people in it. If this is successful, the reach is HUGE.
Speaking of which, I got on the waitlist, and if you want to, here's the link. As I mentioned, it sounds like this could be a closed beta, so you'll want to set up a @Starbucks rewards account and get your email on the list.
https://waitlist.starbucks.com/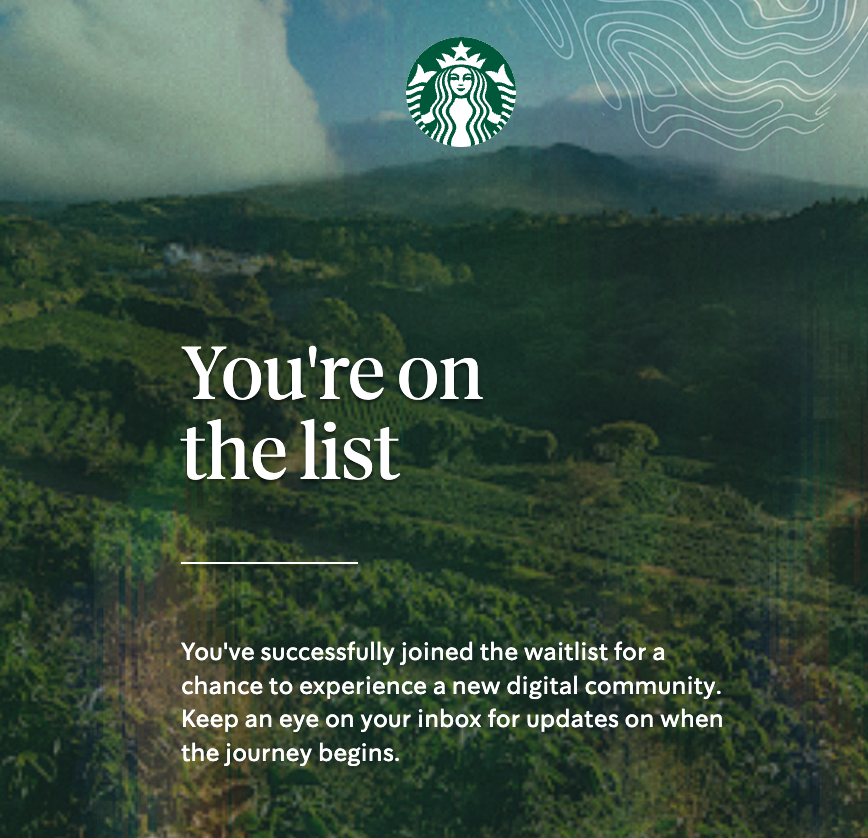 Net-net, this program is being built by Web3 natives who are partnering with an innovative company that isn't just doing a splashy side-project as a stunt. They're applying their Web3 knowledge/learnings to integrate NFTs into a huge organization.
And this is a global brand willing to take risks and push the boundaries of what's possible. They're using Blockchain to tangibly improve the customer experience. I'll end with this Brady Brewer quote from the @TechCrunch that shows SBUX "gets it."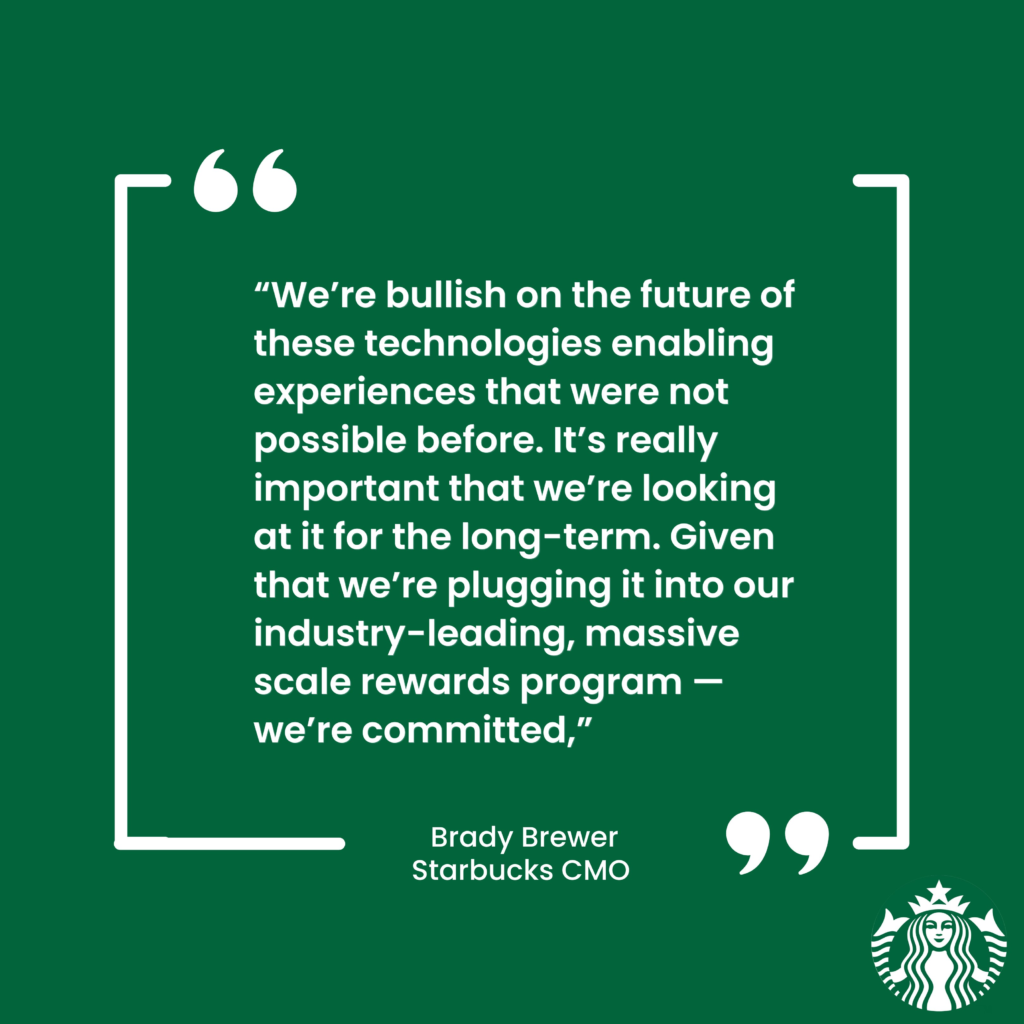 This article was repurposed from a tweet thread I created. You can find it here.
If you liked this, please check out my other articles here.
Disclaimer: This article is not financial advice. The NFT and Cryptocurrency markets are very volatile. Please don't invest what you can't afford to lose. Always do your own research before investing