Top 5 NBA Top Shot Debuts Under $25
One of my favorite NBA Top Shot Twitter follows, girldadnft, yells from the mountain tops about the importance of scarcity, focusing on stars and smashing the floor. He's also a huge proponent of NBA Top Shot Debuts, which is why when I started following him that was something that resonated with me.
We're going to focus on a subset of those debuts, the underhyped, and underpriced. Let's look at my Top 5 NBA Top Shot Debuts all under $25. I am always on the market for a good cheap buy because I know if I'm not dropping too much at the onset, all the room is up!
NBA Top Shot Debuts are a player's first ever moment added to the collection. This is the first time they've appeared on the platform, and the NBA Top Shot team has added a visual badge to add flare to those moments. These moments in my mind are equivalent to that player's rookie card, which those coming from traditional collecting understand, is typically a rare, valuable collectible.
TL; DR – I think the debuts for Blake Griffin, John Wall, Clint Capela, Gordon Hayward and JJ Redick are all great moments under $25.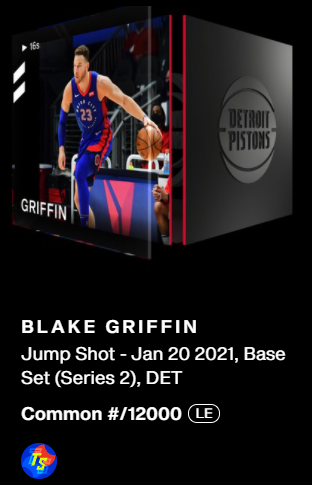 Basics:
Mint – 12k
Low Ask – $8
Low Ask Market Cap – $96,000
Top Holder – Wilt100 with 262
Player Hype:
6x All Star
2x Blake of the Year
3x All NBA Second Team
2x All NBA Third Team
NBA ROY 2011
Dunk Champ 2011
1st overall pick 2009
Moment Type – Jump Shot, this is super lame, because anything related to Blake that isn't a dunk just doesn't seem moment worthy.
Upside – This moment out of 12k will likely be the only moment of Blake wearing a Pistons jersey. As the collector base on Top Shot grows, so will the fans looking to collect complete team sets. Blake has the potential to be a choke point both for complete team and complete series 2 Pistons collectors.
The Pistons were Blake's second stop after getting drafted by the Clippers 1st overall, and he has since joined the Nets. Blake was a perennial all-star with the Clippers and is now chasing a ring. There is a decent chance he leaves Brooklyn after failing to secure one during their playoff run and we know that a change of team typically means at least a short-term spike in price…or who knows does he have retirement on his mind?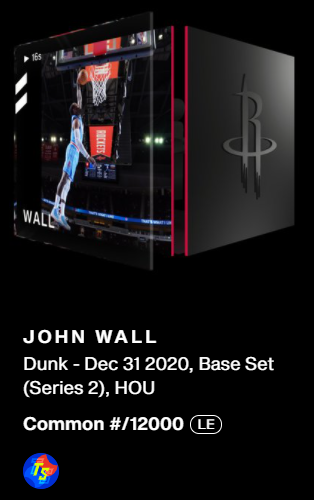 Basics:
Mint – 12k
Low Ask – $13
Low Ask Market Cap – $156,000
Top Holder – ElNidoCatSanctuary with 223
Player Hype:
5x All Star
1x All NBA Third Team
Dunk Champ 2014
1st overall pick 2010
Moment Type – Dunk, featuring a James Harden assist, John Wall is on the break for an easy dunk.
Upside – John Wall is one of the greatest players in Washington Wizards history. He used to be one of the top PGs in the league and after missing the 2019-20 season due to injury rebounded this past season to have a good, not great, season but in relative obscurity down in Houston. John Wall has gotten a little bit older, but if this past season showed us anything it's that he is not done yet. Houston was bad this year, but Wall could help them turn it around or at the very least put-up crazy stats this upcoming season on a bad team and return to the spotlight.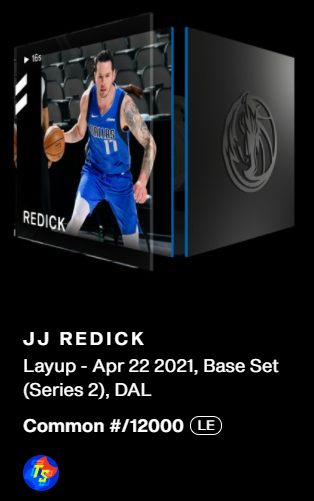 Basics:
Mint – 12k
Low Ask – $8
Low Ask Market Cap – $96,000
Top Holder – ElNidoCatSanctuary with 223
Player Hype:
11th overall pick 2006
Duke Blue Devil
Fun to watch shoot threes
Overall, just better than most of the guys at his price point
Moment Type: It's a layup, honestly, if you haven't noticed there are some moments for guys who have been in the league for awhile that I just don't know what Top Shot was thinking. Why mint a JJ Redick layup? JJ Redick is known for off ball movement and curling around screens to spot up for threes. Unfortunately, we can't pick our actual favorite moments for Top Shot to put on display!
Upside: JJ Redick has a very solid NBA career. I think a lot of guys who are older are being really slept on during this initial Top Shot hype. JJ currently only has one moment minted and is nearing the end of his career. He should go on to continue to be successful as an analyst, in business or just as one of the greatest Dukies of all time.
Those first three followed a theme of older players who are slept on because they didn't make immediate impacts in 2020-21. That doesn't hurt their overall careers, I think it just speaks to the current market of Top Shot collectors. These next two are a look to the future.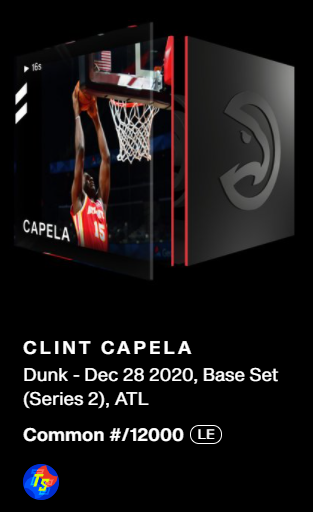 Basics:
Mint – 12k
Low Ask – $8
Low Ask Market Cap – $96,000
Top Holder – Carlini8 with 538
Player Hype:
25th overall pick 2014
NBA Rebound Leader 2021
The Hawks are good.
Moment Type: Dunk, dunks are a great moment for Capela because they don't mint rebounds, yet. This moment is coming off a feed from Trae Young, which means it includes a clip of one of the best young superstars in the league.
Upside: Clint Capela is one of the most important players on a team that dramatically overachieved this season. He's a young(er) hustle player who creates value for his team by securing a ton of boards, disrupting shots and scoring points in the paint. The Hawks will look to improve on their success this season, and Capela will need to play a crucial role for them in order to look towards a potential finals trip.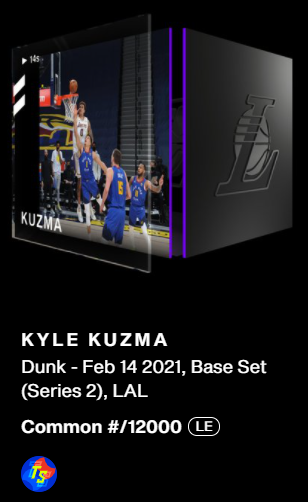 Basics:
Mint – 12k
Low Ask – $9
Low Ask Market Cap – %108,000
Top Holder – altBAE with 72
Player Hype:
27th overall pick 2017
All Rookie First Team 2018
NBA Champion 2020
Lebron's Teammate
Moment Type: Dunk, this putback slam off a KCP miss puts Michael Porter Jr on a poster indeed. It's a great moment and the thumbnail is A+ as well.
Upside: Where do you start with Kyle Kuzma's upside? This is a guy that people thought was going to be an enormous star in the NBA after his rookie success and Laker hype. The Lakers drafted Lonzo Ball 2nd overall the same year, and he was but an afterthought once Kuzma burst onto the scene.
I think Kuzma would be able to reignite with a change of locale, maybe playing in Lebron's shadow isn't good for him, or maybe it has been good for him long term and just hurt his stats in the short term. One thing is for certain, seeing Kuzma float around $10 seems like a steal in a half if he ever returns close to what we saw his rookie year. He also doesn't have a single massive holder like we saw for the other guys, it'll be interesting to see if somebody starts scooping Kuz up later.
Honorable Mentions: I wouldn't be a true homer of a Celtics fan without plugging a couple guys I'm super excited for next season. Robert Williams III and Moses Brown, Bobby Will as I like to call him, showed us some spectacular things this past year, but is prone to injury. If he can stay on the court, he will be a menace, but if he can't the Celtics will look for recently acquired Moses Brown to continue to grow off his solid 2020-21 campaign.
Disclaimer: I own a handful of these guys, 2x Blakes, 1x John Wall, 1x Kuzma, 2x Bobby Will and 1x Moses Brown. There's also a decent chance I accumulate more of all of them over the course of this offseason.
Data from evaluate.market and Wikipedia was used for the creation of this article!