The narratives of the crypto world during the summer of 2023 have been outrageous, to say the least. A Pepe meme that mooned to a billion, hamster races, and now…. eye scanning orbs? Yes, you read that right, the horrors of the movie Minority Report have come to life thanks to WORLDCOIN, which has emerged as one of the most audacious and futuristic projects to date. Founded by Sam Altman, the CEO of OpenAI, Worldcoin ($WLD) aims to address the challenges posed by the rise of artificial intelligence (AI) and create a unique digital identity verification system. ChatGPT has become a household name, but can Worldcoin win over both the real and crypto worlds?
What is Worldcoin?
At its core, Worldcoin is a crypto project that offers a groundbreaking solution for verifying a person's identity in an increasingly AI-dominated society. The project's main offering is its World ID, a digital passport that serves as proof of humanness. Simply put, it's a captcha in real life to make sure that you are indeed a living and breathing specimen and not the T-1000 from Skynet. To obtain a World ID, individuals must undergo an iris scan using Worldcoin's proprietary device, known as the "Orb." This innovative technology generates a unique digital identity, ensuring that users are real humans, not AI bots.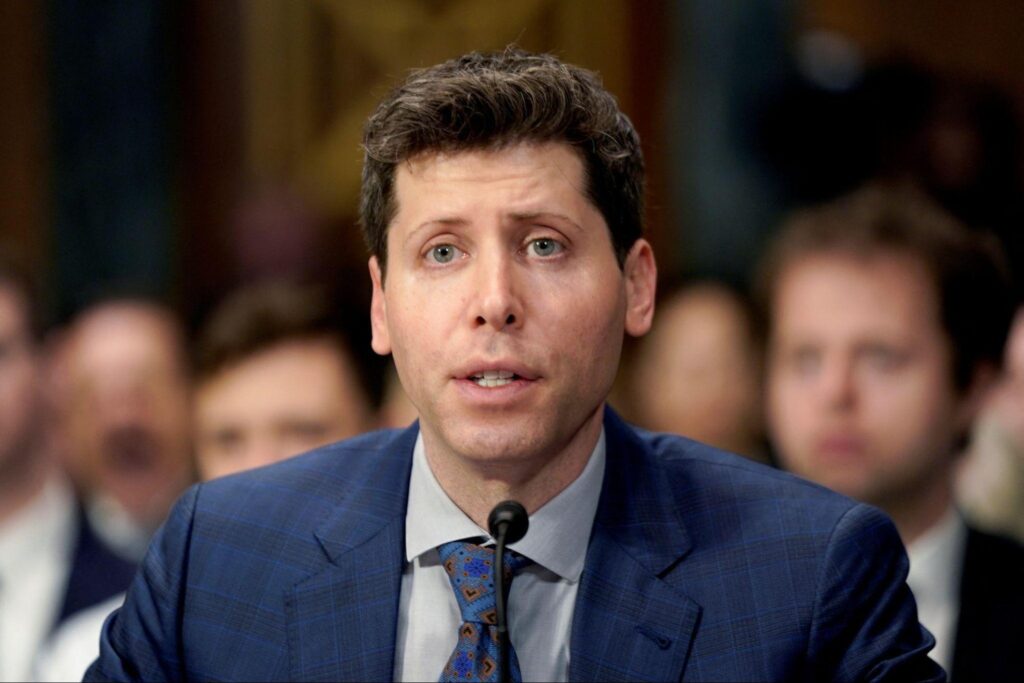 The Visionaries Behind Worldcoin
Worldcoin was co-founded in 2020 by Sam Altman, renowned for his work with OpenAI, and Max Novendstern, an expert in AI-focused investments. While Altman played a pivotal role in the project's early stages, the primary driving force behind this new protocol is Alex Blania, the CEO of Tools for Humanity. This San Francisco and Berlin-based organization is spearheading the development of Worldcoin, with the ultimate goal of achieving full decentralization.
Unveiling Worldcoin's Functionality
Worldcoin's early days revolved around its crypto token, which serves as a reward for users who verify their personhood through an iris scan with the Orb. The project aimed to create a global financial distribution model, where the $WLD token could become a central form of currency and be distributed through universal basic income programs. However, Worldcoin's functionality extends beyond its token.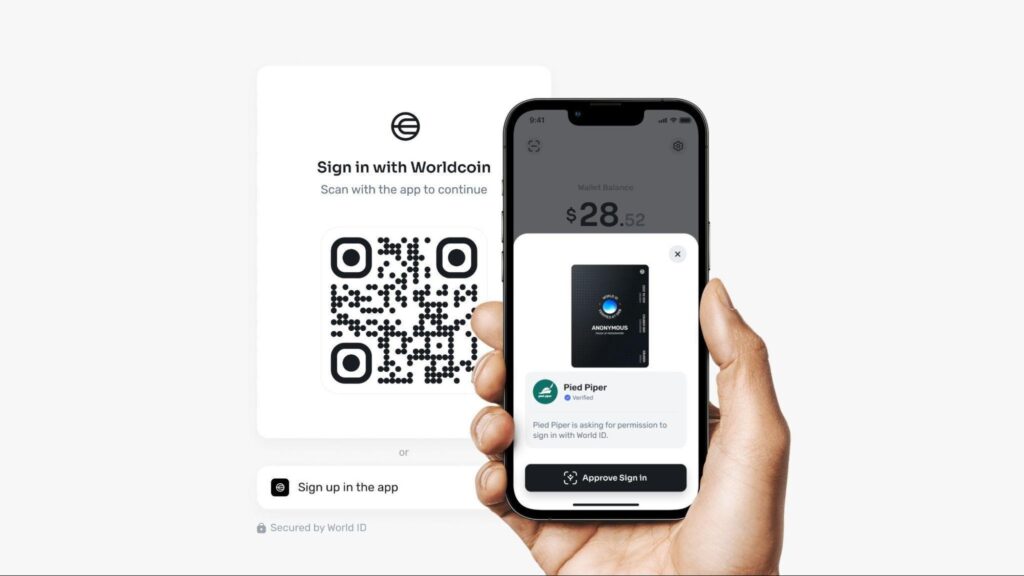 With the launch of its mainnet, Worldcoin introduced its "proof of personhood" system to address concerns surrounding AI-generated content and online identity. The company developed a software development kit (SDK) that allows other applications to leverage the World ID generated through Orb verification (similar to ChatGPT's API being used in other apps). Instead of traditional login credentials, users can rely on their World ID for authentication, enhancing security and combating the infiltration of AI bots.
The Controversies Surrounding the Protocol
What do I think about biometric proof of personhood?https://t.co/yozo1buW24

— vitalik.eth (@VitalikButerin) July 24, 2023
As with any ambitious project, the protocol has faced its fair share of controversies and skepticism. Ethereum co-founder Vitalik Buterin expressed concerns about Worldcoin in a scathing blog article just hours after the launch of the $WLD token. Vitalik brought into question Worldcoin's user authentication system, highlighting potential privacy, accessibility, centralization, and security issues. He also challenged the accessibility limitations due to the requirement of the Orb device. The Orb is currently available in the United States in Los Angeles, New York City, and Miami as well as in many other countries such as Hong Kong, Germany, and India: (Check out where your nearest Orb is here).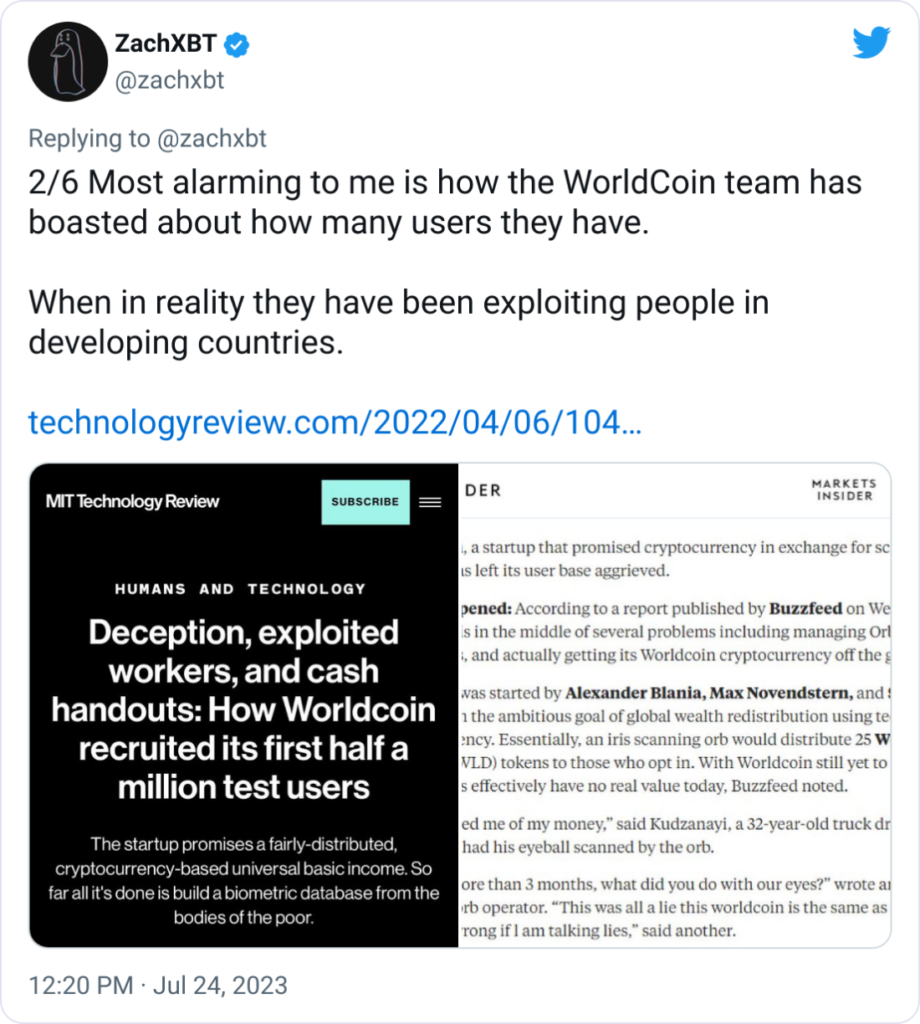 ZachXBT, one of the crypto world's most notable on-chain sleuths, also chimed in on the launch of Worldcoin, particularly attacking the project's enrollment practices. ZachXBT claims that the protocol has populated its user base with mostly kids/teens from underdeveloped countries using very deceptive and exploitative tactics. All these issues may or may not have any bearing on the project's future success solely based on how the coin performs.
The Financial Numbers: Worldcoin's Launch
Worldcoin's highly anticipated launch generated significant interest among investors and crypto enthusiasts. On its first day of trading, the $WLD token experienced a surge in value. Starting at an initial price of $1.70, the token reached a peak of $3.58 before stabilizing around $2.52. The trading volume reached approximately $145 million, with major exchanges like Binance listing the token.
The $WLD token has a max supply of 10 billion tokens, with a circulating supply of 108,320,390 at the time of this writing. The current market cap of the $WLD token is over $200 million, which is currently outside the top 100.
It is important to note that Worldcoin faced regulatory restrictions in the United States, preventing its availability for trading within the country. The regulatory landscape surrounding cryptocurrencies and digital assets continues to remain uncertain, contributing to the exclusion of the US market from Worldcoin's initial launch.
How to Sign Up?
To participate in the protocol and obtain a World ID, individuals must undergo an iris scan using the Orb device. However, access to the Orb is currently limited, with only around 150 devices operational. Worldcoin aims to expand its operations and increase the number of orbs to 1,500 by the end of the year. Users can also secure their $WLD tokens by downloading the company's app until they gain access to an Orb.
It's worth noting that the $WLD token distribution and eligibility vary across countries. While some users can participate in airdrops and receive tokens, others may need to wait until the necessary infrastructure is in place.
Commemorating the Launch: Worldcoin's NFT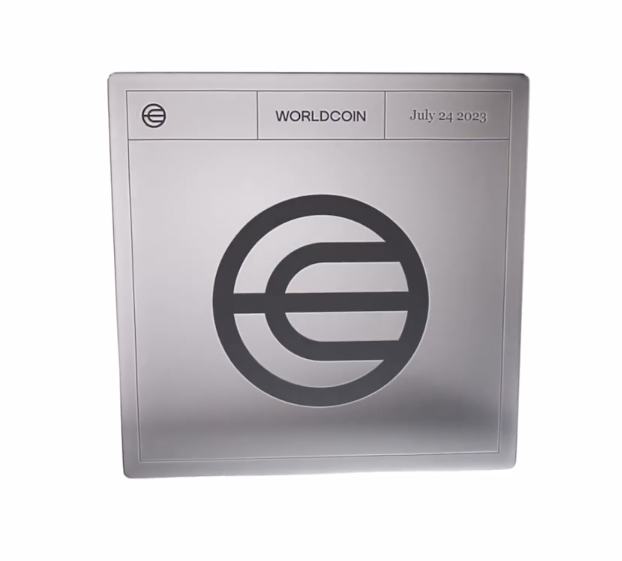 In celebration of its official launch, Worldcoin released a non-fungible token (NFT) to mark this milestone. The limited-edition NFT showcases the project's technological advancements and acts as a testament to its commitment to reshaping the world of cryptocurrencies and AI. There is also a rumored airdrop for those who have joined the project early, as very little of the coin is currently in circulation.
Conclusion
Worldcoin represents a groundbreaking venture at the intersection of blockchain technology, artificial intelligence, and identity verification. Despite the controversies and skepticism surrounding the protocol, Worldcoin remains an intriguing project to watch as it navigates the ever-changing landscape of technology. Its innovative potential holds the ability to shape the future of identity verification and financial distribution.