NFTs will make their way to sports tickets. And when they do, it'll be epic.
Here are four ways NFTs will change sports ticketing in the future.
Looking around my Twitter timeline, almost everyone has found an NFT community. Profile pic projects (PFPs) are dominating the market, and people can find a great community to join at just about any price.
And while PFPs are big at the moment, as time goes on, we're going to see more and more everyday applications of NFT technology. To me, it's inevitable it makes its way to sports tickets. And when it does, it'll be epic. Here are four ways NFTs will change sports ticketing in the future.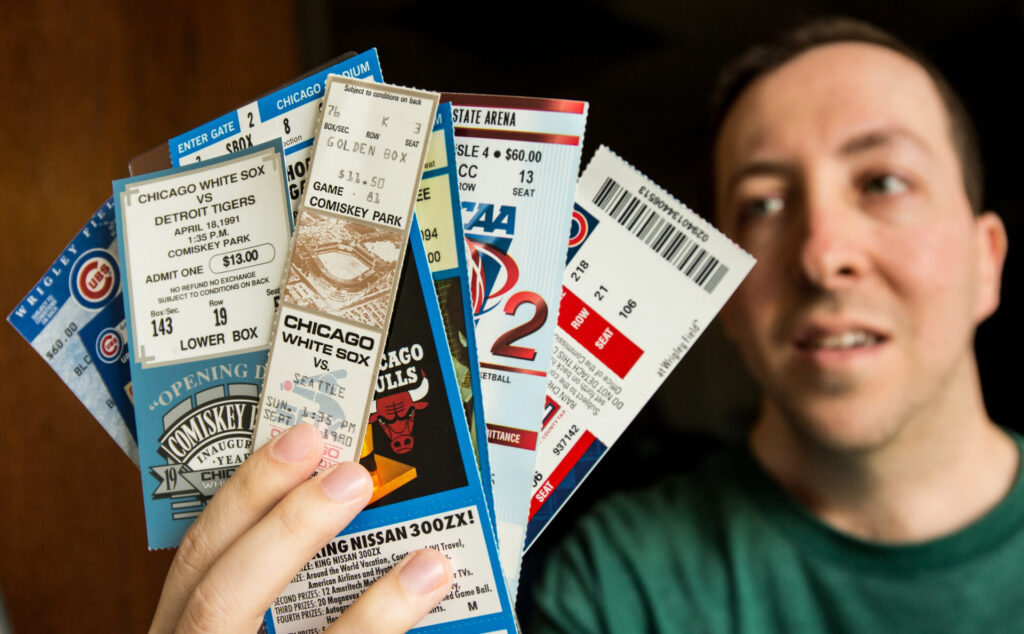 Playing the Ticket Lottery
Imagine if there was a "mint lottery" when you bought a ticket to an event. What if you could buy the least expensive ticket on the market to an NFL game and have a chance to win a player meet and greet? Or field access. Or exclusive team merchandise. This benefit incentivizes people to buy and gives teams a better chance of selling out.
You could also have the tickets hold various rarities to provide aftermarket value to them, long after the event is finished. Tickets from a legendary game, that were super rare, could hold long-term value and easily be bought and sold. Imagine holding a rare ticket from Tom Brady's first Super Bowl win. It becomes a collectable that can be easily bought and sold.
Direct Sales Without a Third Party
Piggybacking off the ticket lottery idea, it also creates a secondary market that doesn't involve third-part vendors like Ticketmaster. Blockchain transfers instantly, and if you won the aforementioned mint lottery and don't care about the bonus prize, you could sell your ticket (with the special benefits) on the secondary market. Then, you can buy a normal ticket to the game. The team makes money on the secondary sale, the holder makes money, everybody wins. Except Ticketmaster. And I'm cool with that.
Exclusive Benefits
This is the most obvious application. Teams can give season ticket holders and loyal fans exclusive benefits. I'm a Cleveland Browns fan. I'm 38 years old. If you're not an NFL fan, allow me to make an NFT analogy. In my 38 years on this planet, up until a few years ago, the Browns were a rug pull. I had season tickets during some of the awful years.
If I received regular extra benefits from the team, I could have taken advantage of them and sold the ones I didn't want. For example, if they airdropped me a ticket for a meet and great with the team, but I had no interest in meeting a team that finished the season without a single win (that happened), I could sell it to someone who wanted it. If that person exists. They don't. But you get the point.
Getting a Keepsake
I've lost a lot of physical tickets, and digital ones don't live forever on the sites that sell them. If you have tickets solidified on the blockchain, they never go away. You can keep them in your wallet. Beyond sentimental value, they serve as a social currency for the events you attend. And, as mentioned earlier, if you attended a legendary event, you could sell that ticket on the secondary market.
Bottom Line
The possibility for utility and rewards are endless when you turn a ticket into NFTs. I talked about sports, but it works for any sort of ticket. From Broadway shows, to concerts…even tickets for flights. NFTs can absolutely change the game.
Check out my other articles here.
Disclaimer: This article is not financial advice. The NFT and Cryptocurrency markets are very volatile. Please don't invest what you can't afford to lose. Always do your own research before investing.