NFT Tips for Beginners
It's been a wild year for NFTs and the more time you spend in the space the more you will find there is so much to learn. There are so many dynamics and moving parts it can be overwhelming. To help you get started or if you just recently started buying NFT's, I put together a list of tips that I've picked up along the way. This is catered to beginners and I hope that after reading you will feel more comfortable jumping in and getting to work buying and selling NFT's!
Before you Start
First off, this is not a 101, but if you are just getting started, there are 5 types of platforms you will need to know. I will reference the most commonly used for each platform here which will all be crucial for your journey. Coinbase.com to buy your crypto, MetaMask Wallet to hold your NFT's, Opensea.io for the marketplace to buy and sell, Twitter to connect with other's in NFT's and Discord for project specific announcements / discussions. Once you have those 5 down your ready to go!
Safety
Now that you're ready to start buying NFT's we need to talk about Privacy and Safety. People will work endlessly to try to scam and steal from you in this space and you need to be aware of the risks.
Remember these rules:
Never click any links unless your 100% certain it can be trusted.
Your Discord DMs will be sent links with potential scams. To help limit this, turn off direct messages from server members here: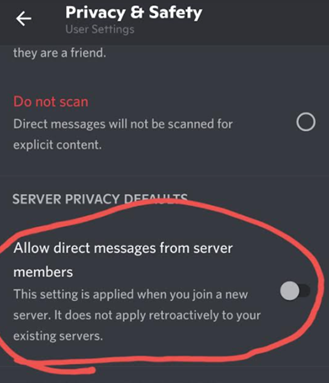 You will get replies on your Twitter posts with links that could be scams, block those people.
Never give anyone your seed phrase! No one needs that besides you, and it needs to stay in a safe place.
Avoid screenshots to reduce the risk of sharing your private info.
Your wallet address is public and can be shared. People will need your address to send you NFT's or crypto. This is safe to share, in fact here is mine so go ahead and send me ETH and NFTs :😊 0xcC5797A24417A337B93706fb432b0e0252b20E11
MetaMask mobile is okay for added convenience but if you use, you'll need to be even more careful not to click any links that could be scams.
If you ever have concerns that you may have been hacked, you can lock your account by clicking here: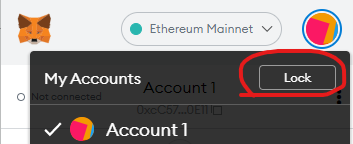 Be careful in OpenSea that you are in the right project. You will see fake projects that look very similar set-up to scam you. Also be careful if buying bundles to ensure each NFT within the bundle is actually from the same project. This is a common scam you will encounter.
Consider a hard wallet for your high value NFT's for an added layer of security. Check out this dGEN article here for more on this.
Hopefully all of this didn't scare you away, but it's important to know this and it will all become second nature soon enough!
Gas
Let's talk tips for Gas!
Majority of NFT's that you will be buying will be on the Ethereum blockchain, and each transaction requires a fee for gas usage. The price of gas fluctuates constantly and the higher the gas, the more it will cost you per transaction.
To better help understand what the price of gas is at the moment, I'd recommend adding the Gas Now Chrome Extension, which constantly monitors activity and tells you the speeds needed to complete a transaction. Thank you to Degen NFTs for this tip!
Second point on gas, is that it tends to be lower during nights and weekends, when activity is lower. Because of this, you should try to wait until these times for low-cost purchases. You would not want to pay .04 ETH in gas for a .01 ETH purchase, right? Thank you Vivek for preaching this!
Lastly, and this is a step above beginner, but you can speed up gas if you are trying to snipe an NFT or if minting a high demand project. To do this click on the speed up button within a pending transaction in MetaMask and approve if you accept the higher cost.
Strategy
Now let's talk NFT Buying / Selling Tips, here are some of my rules that I've added along the way and follow for the most part:
Always buy multiple NFTs from a project if your able to. This allows you to sell one if needed while remaining in the project.
Sell commons, hold rares. If you see a project taking off and you want to take some profits off the table, sell your most common NFTs first as the value growth of the rare NFT has an exponentially larger trajectory if the run continues.
More on identifying rarity later, but a quick tip is to check the properties when searching to see which traits are more limited. Here's an example from one of my favorite projects, The Alien Boy showing the most common skins within the 10k project: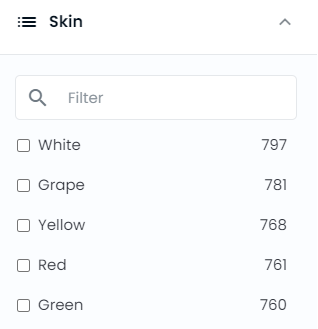 Try to always keep a small balance of $ETH (.1 – .2) for free mints that come up on your project or if the deal of a lifetime pops up. Also, you need to use gas for transactions like listing or delisting NFTs, so helpful to always have reserves.
Look for selling walls. If you see 100 NFTs listed at .15 for example, just know it's going to take time to get through that wall and you will see some undercutting in the meantime.
Check buying activity. This will show you how often this project is being bought and the more buying the more bullish. You can see this for any project in OpenSea.
Tools
Here are some tools you can use:
NFT Trader allows you to safely trade NFTs with anyone.
Rarity.tools is the most used platform for showing rarity rankings by project. This is not the end all be all but is good for a gauge when deciding on what to buy or sell.
EtherScan shows every transaction on the Ethereum network including yours!
Liquidity Pools are commonly used by NFT projects for a quick way for you to either buy or sell the floor level NFTs. Check if your project has NFTs in the pool, there could be some deals!
Next Steps
Now that you have these tips and are ready to start doing some research, I'd recommend checking out another article on how to select an NFT project by NFT Bark here:
Hope you found this my NFT Tips for Beginners helpful, please drop a comment if so and follow me on twitter!