Decentraland (DCL) is a leading 3D open-world, open-source metaverse platform built on the Ethereum blockchain. The platform was founded in 2017 by the Decentraland Foundation, which is spearheaded by Argentinian developers Esteban Ordano and Ari Meilich.
At launch, DCL began as a proof of concept 'for allocating ownership of digital real estate to users on a blockchain,' however in the six years following, its ecosystem has blossomed into a perhaps the most proficient manifestation of 'the metaverse' to date.
In short, DCL allows users to navigate its immersive 3D world through their metaverse avatars, where in doing so, they can embark on an array of user-created content experiences. Of course, with the powers of the blockchain and NFTs, users also own all of the assets they come throughout DCL. 
Decentraland NFTs
DCL NFTs are traded on the platform's very own marketplace. Governing such trades is the platform's native token $MANA (ERC-20).
1. LAND
One of the most integral form of NFT across the DCL ecosystem is the digital real estate known as LAND. Similar to other platforms such as The Sandbox, NFT LAND – which come as 'parcels' – can be pimped out for entertainment, commercial, and/or monetization purposes. 
After purchasing a LAND parcel – or perhaps multiple to form an ESTATE – users can create immersive experiences for their fellow metaverse friends to enjoy, such as virtual stores, art galleries, nightclubs, and more. Here, revenue streams can be realised through entry fees, providing services, creating virtual goods, or even renting out LAND. 
2. Avatar Wearables
The DCL fashion scene providers users with default clothing, however intuitively, these don't seem to satisfy the fashionista requirements of many users. So instead, those looking to express themselves in the metaverse to the fullest can visit the DCL marketplace to pick up some Wearables NFTs – i.e. tokenized digital clothing.
As ever with both the NFT and fashion scenes, DCL Wearables come in different levels of rarity and exclusivity. Many are also officially branded with the logos of partnering fashion labels such as Dolce & Gabbana and Tommy Hilfiger, whilst others are created by community fashion creators. Through such dynamic, digital fashion pioneers have been able to make a name for themselves in the metaverse.
3. Emotes
The latest non-fungible newcomers to the DCL ecosystem are the ever-innovative DCL 'Emotes'.  Be it wacky dance moves, a spliff roll, a game of rock-paper-scissors, or a dramatic pose, DCL Emotes give users an incredibly innovative way to express themselves in the metaverse.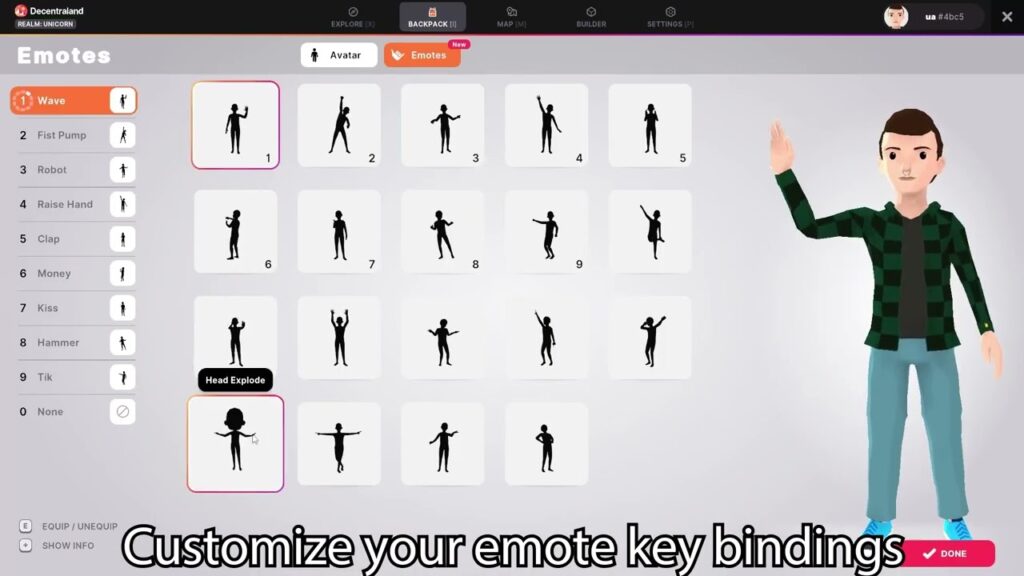 Emotes are minted and stored as NFTs in users' inventories. On the creation side of things, Emotes allow innovators with 3D animation skills and experience to make a name for themselves across the metaverse (as well as money).
To ensure that their metaverse identities are as thorough as they can get, players can also mint (and trade) their own personal DCL name as an NFT. In June 2021, DCL launched support for Ethereum Layer-2 protocol Polygon ($MATIC), in a ploy to leverage the network's faster and more economic transaction capabilities.
Further, DCL LAND can be purchased with both Ethereum and MATIC, whilst Wearables that are minted in wake of the move all reside on Polygon, as well as more-recently launched Emotes. That being, said, there are still Wearables NFTs that reside on Ethereum in circulation, which, in the eyes of the fashionista DCL scene, are deemed as somewhat chic and retro.
Collaborations and Events
Although empowering its creators to the max, DCL is also no stranger to collaborating with outside entities to enhance users' experiences.
DCL events include the annual star-studded 'Metaverse Fashion Week, (MVFW)' whose recent second edition saw exhibitions from the likes of DKYN, Adidas, Tommy Hilfiger, and more. Just to name a few, past DCL events also include auctions from Sotheby's and a Deadmau5 concert, as well as the launch of permanent locations for brands such as Samsung, Atari, and many more international entities.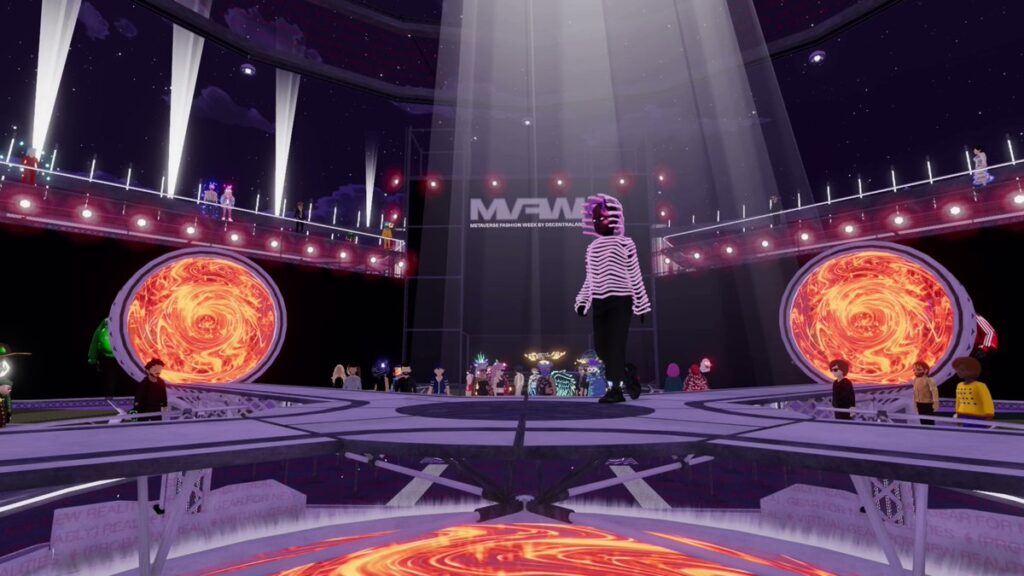 Community events also commence on a daily basis, like virtual concerts and cinema screenings. These take place across the platform's different districts- such as Vegas City, District X, a red-light district, Fashion Street, Dragon City, and other themed spaces- which are all comprised of clusters of LAND parcels.
All DC events can be found on the platform's dedicated events page. 
The Decentraland DAO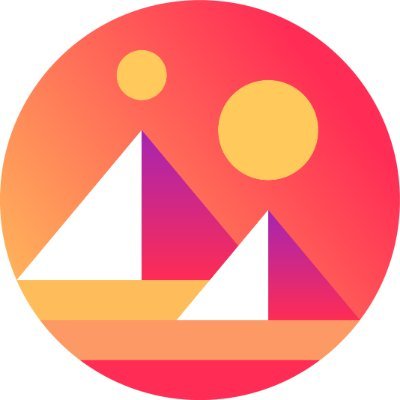 Overseeing the platform's proposals, policies, and overall direction is the DCL DAO. Here, community members are given voting powers to decide on how the DAO's funds are used. 
Here, holders of the platform's native MANA token (in 'wrapped' mode) and LAND are the decision-makers, with each having varying levels of voting power based on the amount of assets they own. Voting decisions passed through the DCL DAO typically relate to project grants, as well as modifications to the ecosystem (regarding things such as locations of interest and banned users).
Here, one MANA token equals one vote, whilst LAND tokens grant 2000 votes per parcel. As you may've gathered, such dynamic can sometimes cause bureaucratic issues within the DCL community, as often, LAND and ESTATE owners, as well as MANA Whales can dictate voting decisions and acquire grant money with relative ease.
As of November 2022, DCL had an estimated market valuation of $2.5 billion (per Investopedia) and is said to host 8,000-10,000 daily users (DappRadar).