One of the value props of web3 and blockchain technology was its ability to revolutionize the gaming industry via asset ownership and financial opportunities.
Augmented reality (AR), virtual reality (VR), and gaming engines like Unreal (developed by Epic Games) are innovating the gaming world at a rapid pace. Yet, traditional gamers continue to reject web3. Why? Because they hate the prioritization of money over the gaming experience. Treasure is a web3 native gaming company trying to break that mold.
Disclosure: At the time of this article Pain owns $MAGIC and Treasure assets
Treasure's Origin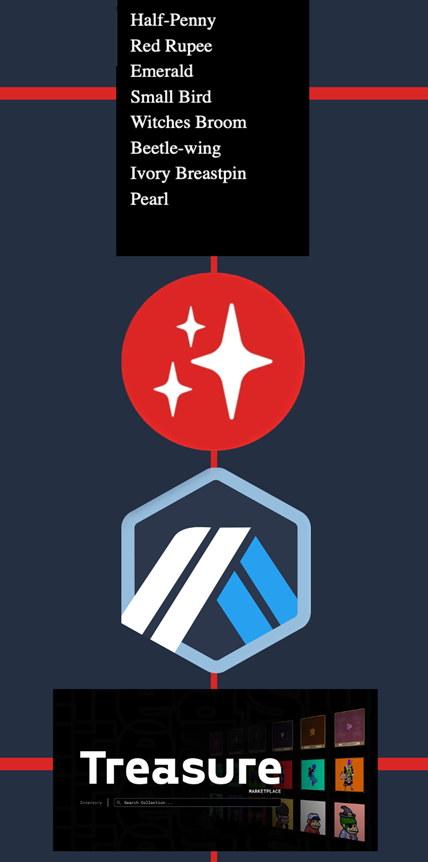 August 2021: Treasure launched as a free mint Loot derivative on Ethereum. It contained a 10k generative collection of 8 randomized resources (i.e. emerald, dragon tail, grain, etc.) and traded on OpenSea. The vision of the TreasureDAO community expanded beyond Loot and the project decided to go in a separate direction.
September 2021:​​ TreasureDAO created an ecosystem and introduced a native token, $MAGIC. The token was completed via fair launch, meaning no private token sale, and in part contributes to their massive success. If you're interested in their launch tokenomics, then check out this medium article.
October 2021: As the ecosystem started to rapidly expand, the project migrated to Arbitrum to offer a cheaper and better UX for transactions. Furthermore, Arbitrum was a vast land waiting to be explored and no established competitors.
November 2021: The move to Arbitrum led to the creation of Treasure Marketplace. The original intent was to provide a storefront for games integrated with the DAO and $MAGIC. Since launching in November, the marketplace has seen a trading volume of 115.7 million $MAGIC (~64k ETH), according to Dune.
What is the Arbitrum Network?
The Arbitrum network is a layer-2 functionality that was created to decrease Ethereum's network congestion. Arbitrum is considered a cheap, fast, and scalable network option with Ethereum Virtual Machine (EVM) compatibility that allows developers to build their dApps with Arbitrum mainnet without learning new code language.
These factors make Arbitrum an ideal network for blockchain gaming. Not to mention Arbitrum still hasn't released a token (hopefully soon), meaning the driving force was innovation, not simply money. Learn more about Arbitrum from their website here.
The Nintendo of Web3
Treasure is a "decentralized video game console" that community and team members call the "Nintendo of web3." Games powered by Treasure are referred to as cartridges, which includes games and metaverses connected by $MAGIC. These carefully chosen ecosystem integrations lead down the sought after path of interoperability in web3 gaming.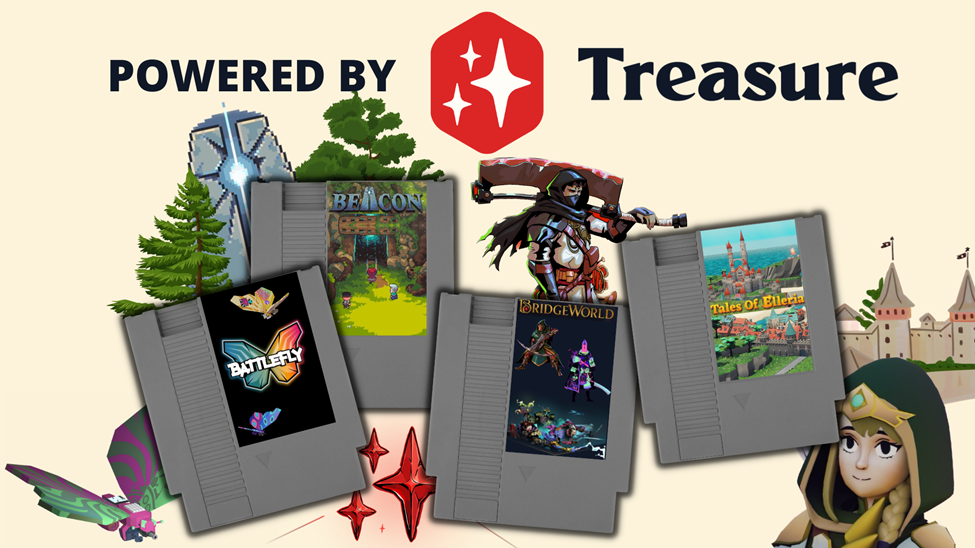 Interoperability is what everyone in the web3 gaming space desires, but few understand what it really means. You can't necessarily take a Fortnite skin and equip it to your Call of Duty player because why would you? The art styles don't match and the different player base likely wouldn't accept it.
There needs to be the appropriate infrastructure and the framework needs to be carefully curated. The official documentation states the purpose of Treasure is for "connecting games and communities together through imagination, $MAGIC, and NFTs."
Treasure has created a framework that has a second, more realistic version of interoperability. One example, owning an asset on a flagship game like The Beacon (seriously, check it out) can give unlockable content in-game from other web3 games and projects.
The key is having the correct infrastructure in place and building an ecosystem where games support each other. Treasure has shown an ability to do both.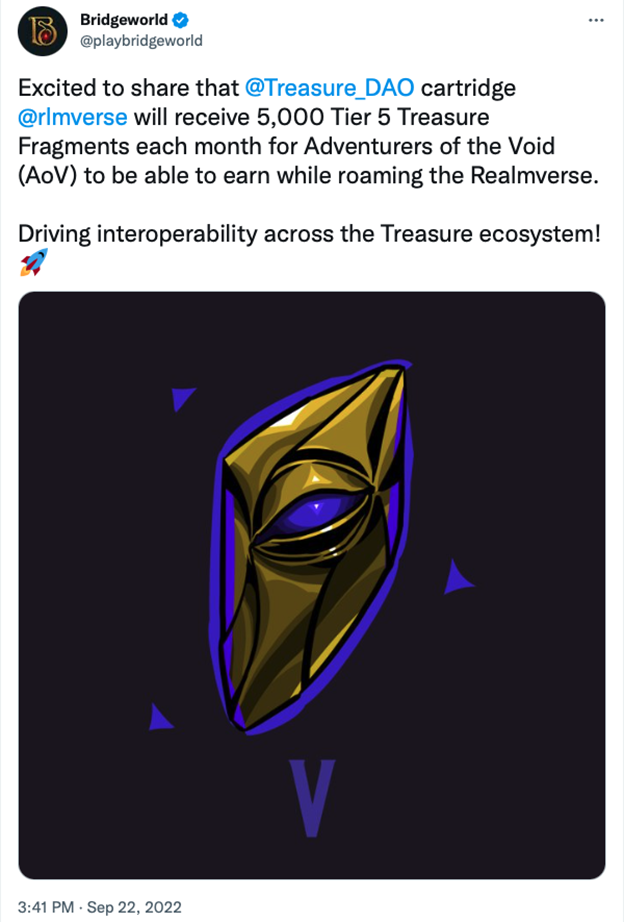 A Dominant Marketplace
TreasureDAO originally set out to create two separate marketplaces. Treasure Marketplace would key in on $MAGIC-denominated projects deeply integrated in TreasureDAO's ecosystem. Trove Marketplace, which would focus on ETH-denominated projects, was meant to be a competitor to OpenSea.
A decision was eventually made to consolidate the two, meaning Trove's launch crowned them the official successor to Treasure Marketplace. This allowed the team to create a singular, high level marketplace for all of Arbitrum.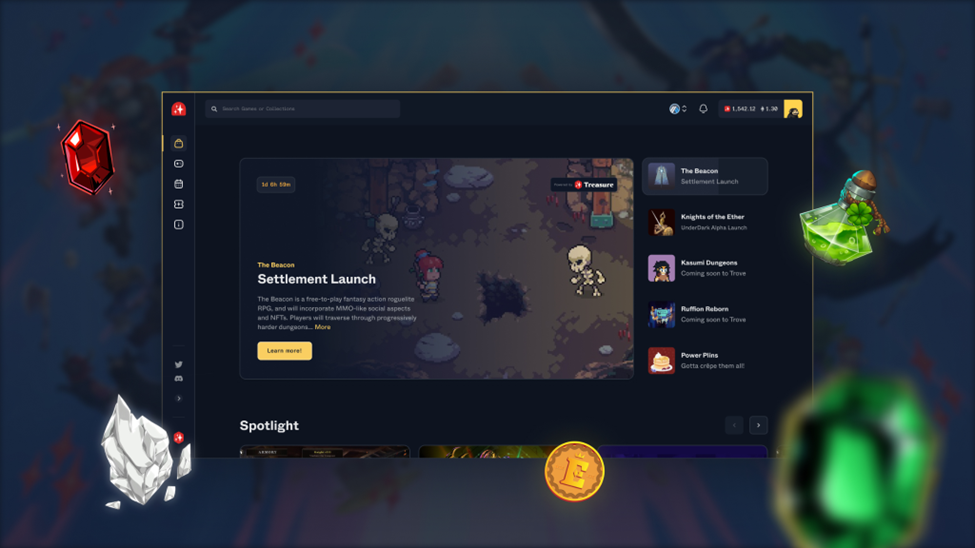 This powerful, high level marketplace currently has two types of collections. Treasure collections consist of games and metaverse projects that incorporate the $MAGIC token directly into their project ecosystem. Generalized collections take a variety of forms including: PFPs (profile pictures), P2E (play-to-earn), art-focused, access passes, etc. Some projects may have subtle integrations with TreasureDAO.
It's worth mentioning that permissionless listing is not currently supported by Trove, but they are set to become fully permissionless at a later date.
Marketplace Gamification
Marketplaces are typically purely transactional, but what if they were also gamified? Trove wants to be one of the first to gamify an NFT marketplace through leveling up collectors and rewarding users. This method will include:
TreasureXP: An experience system that recognizes the user and is earned through interacting with the ecosystem. It will unlock profile customization and access to perks/rewards.
Treasure Achieve: Interoperable badges and achievements providing visual proof of successes within the ecosystem. These will also contribute to your accrual of TreasureXP and unlock redeemable rewards.
Treasure Quests: A cross-ecosystem framework that will encourage game exploration and reward player participation. Quests will reward users with TreasureXP and potentially more unlockables within the ecosystem.
Games powered by Treasure promote interoperability and more importantly FUN! The features are created with both players and game builders in mind. Treasure plans to work together with builders to curate a sustainable framework of games.
A $MAGIC-al Token
$MAGIC is designed to become increasingly scarce with emissions decreasing over time. The emission mimics Bitcoin's halvening, but this event occurs every year as opposed to every four years.
The total supply is ~350 million tokens and ~207.7 million tokens in circulation at the time of the writing, with 44.78% of those tokens staked in the Atlas Mine (viewable Treasure's homepage website). January 2023 is the next major scheduled unlock. To learn more about the Atlas Mine and staking returns read here.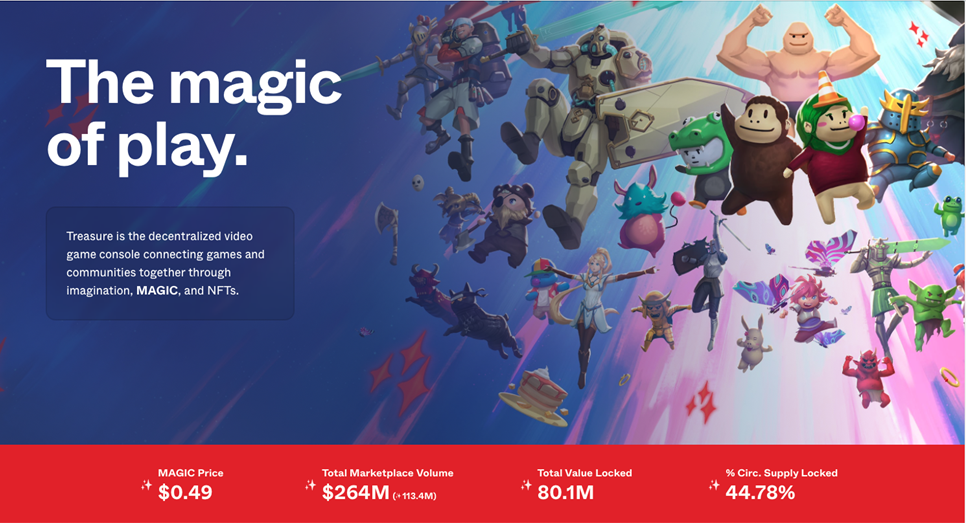 New users who want to participate in the ecosystem will have to bridge ETH from Ethereum mainnet to Arbitrum mainnet. The process is actually pretty simple. Go to https://bridge.arbitrum.io/ and input the amount of ETH you want to bridge and click "Move funds to Artbitrum One."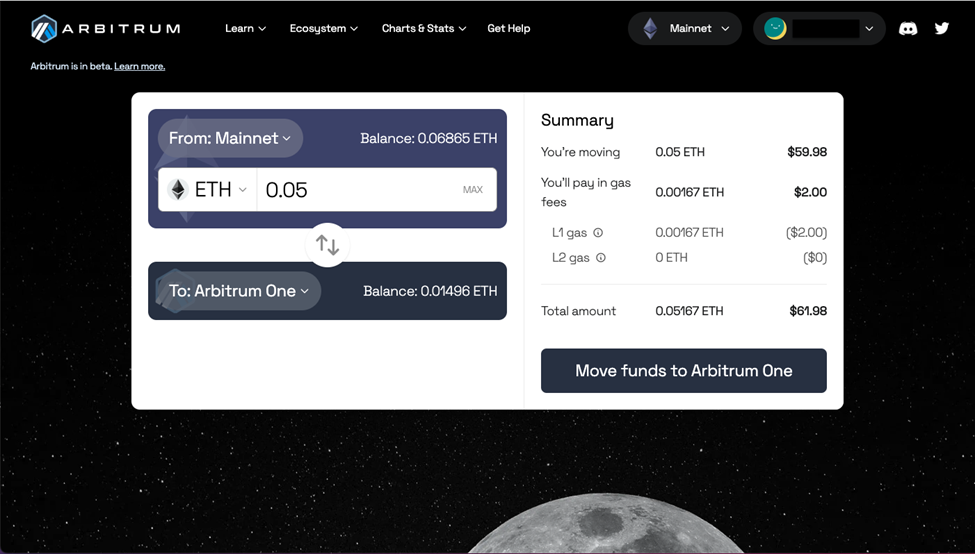 To use ETH (aETH) on Arbitrum, you'll need to change your wallet's active network. If the Arbitrum network hasn't been added to your wallet, then that is your next step. From the Arbitrum bridge site you can simply click "Add L2 Network" to add the network to your wallet of choice. Treasure also has a step-by-step process in their docs.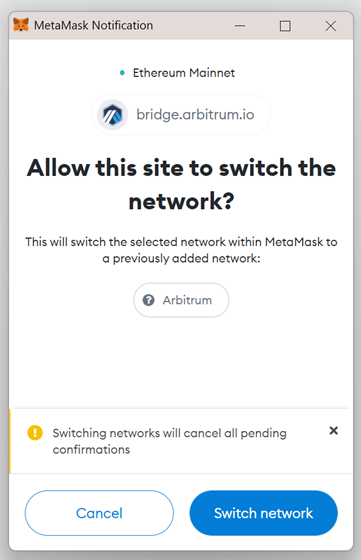 In November 2022, Trove partnered with MoonPay to make it easier to obtain $MAGIC, Eth, or USDC directly on Arbitrum via Trove. Treasure followed that up with $MAGIC listings on both Coinbase (Dec. 8th) and Binance (Dec. 11th).
Conclusion
If you didn't read the disclosure, I want to again note I own $MAGIC and a few Treasure assets so I inherently have some bias. After revisiting research of the ecosystem, I've become more confident in the long-term thesis. Please DYOR and don't chalk this up to another P2E ponzi scheme that plagued web3 in 2022.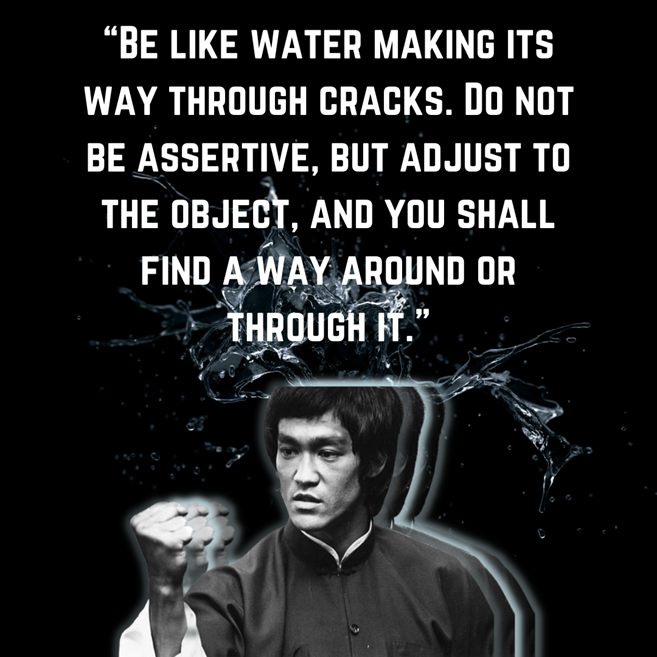 The team hasn't been perfect, but they do a great job at "staying water" to keep pace with the remarkable speed of innovation in web3. The $MAGIC token is the heart of the their ecosystem and its success is dependent on the quality of games produced by partner projects. In the bull market everyone tried to financially incentivize gameplay, hence the ponzinomics of P2E.
For web3 gaming to be successful there needs to be true asset ownership, immersive experiences, creative storylines, and above all the games need to be fun! It sounds simple and many are trying, but it's yet to be accomplished. Will they be successful in becoming the world's first decentralized gaming console?