Axie Infinity will always be the go-to example for P2E and the advent of Web3 gaming in general. The game economy became so successful that people in countries like the Philippines played it as a full-time job back in 2021 and earned decent money.
But Sky Mavis' Pokémon clone has had a difficult few months. The company is still recovering from the Ronin network hack: a March 2022 attack that saw hundreds of millions of dollars taken from its vaults. Since then, the game has slowly lost players, culminating in a mass exodus in June 2022, when more than 1.5 million gamers left.
With the odds stacked against it, can this pioneering play-to-earn game still be worth checking out? Axie has money stashed away for a 10-year runway, but is it worth a second chance?
Axie Infinity, the Game and its Eco-System
Players compete in battles between groups of adorable monsters called Axies. The game's primary focus is turn-based battles against computer-controlled Axie teams or live opponents. Players can monetize their time and make money by playing Axie Infinity's Play-to-Earn feature. Combating and finishing daily tasks will result in real-world rewards like AXS and SLP tokens. The tokens can be swapped for money or used to purchase Axie creatures in the Axie Marketplace ─ an in-game NFT marketplace where all items are pooled together for trading.
Axie Infinity touts itself as a "play to earn" game where users can collect tokens generated by the game while simultaneously selling assets (such as the Axies they produce, in-game real estate, and accessories like flowers or barrels) on the NFT marketplace.
The game has employed two unique cryptocurrencies:
The primary token, Axie Infinity Shards (AXS), can be bought and traded on exchanges. AXS acts as a governance token, enabling owners to influence the game direction.
A second token, dubbed Smooth Love Potion (SLP), is provided to players for spending time in the game. You can win some by defeating an opponent's Axie or doing game missions. You can accrue more SLP the more you play.
SLP's token supply is unrestricted, unlike AXS, which has a cap of 270 million.
A user must purchase at least three Axies from the game's marketplace to start playing the game. Axies are the game's virtual pets. The base class of the Axie are the traits that define an Axie. There are nine distinct Axie classes available: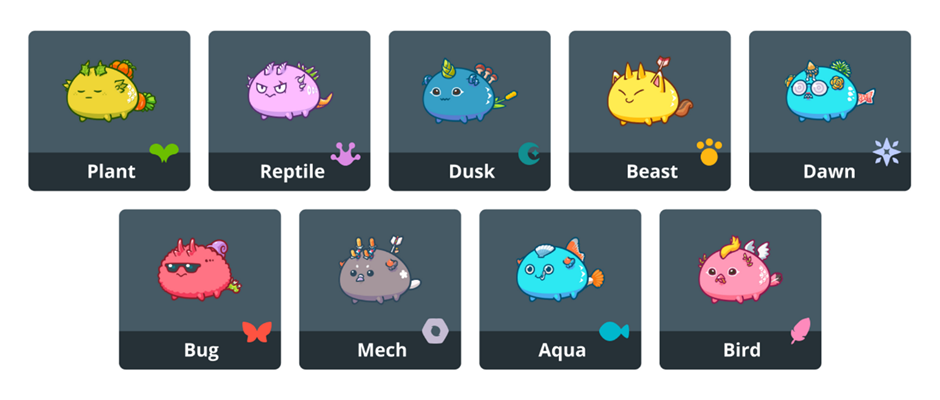 The Creators of Axie Infinity
Axie Infinity launched in March 2018, long before the NFT industry's bull run in 2021. Before becoming the crypto giant it is now, it was initially just a game concept by Trung Nguyen, a Vietnamese developer. The development of Axie Infinity began in 2017, led by Nguyen Thanh Trung, its co-founder and CEO, along with Tu Doan, Aleksander Larsen, Jeffrey Zirlin, and Andy Ho. Nguyen took inspiration from the 'advanced genetic system' found in CryptoKitties and the competitive gameplay of the Pokémon series. He and his team finally put together a beta release for the game in 2018. Besides Axie infinity, Sky Mavis (the studio behind Axie) also launched Axie: Battlegrounds and announced a brand-new game called Project K.
The Ronin Blockchain and its Hack
The Ronin blockchain, serves as the foundation for Axie Infinity. It is an Ethereum sidechain created by Sky Mavis. Sidechains are scaling solutions developed to address network usability concerns that may occur when public blockchain networks are overloaded. Two examples of these challenges are high transaction fees and slow transaction confirmation times. With the use of its own sidechain Axie Infinity benefits from many of the Ethereum blockchain's advantages while relying on a network tailored to meet its transactional requirements.
The Ronin Network got hacked in March 2022, and the hacker took off with an estimated $620 million. According to reports, the attacker signed transactions from five of the nine validator nodes on the network (including four of Sky Mavis validators) using the stolen private keys.
Since the heist, the US Treasury and FBI have been working to recover assets from the criminals. The Sky Mavis team said (https://roninblockchain.substack.com/p/the-ronin-bridge-is-open-) that as of June 2022, they have completely rebuilt the Ronin Network, and all users have been "made whole." The company was able to retrieve $30 million worth of lost crypto in September. Even so, it was only a tiny portion of the $620 million that the company ultimately lost. Currently the Ronin blockchain does not host any other games yet.
Axis Stats
After hitting an all-time high of $164.90 in November 2021, AXS has had a rough 2022. It has lost almost 95% of its value since then. At the time of writing, AXS trades at around $8.50 and is the 45th-largest cryptocurrency boasting a market capitalization just north of $821 million.
Trading volume for Axie Infinity has varied over the last few weeks between about $21,000 to as high as $48,000, according to NFT analytics portal CryptoSlam.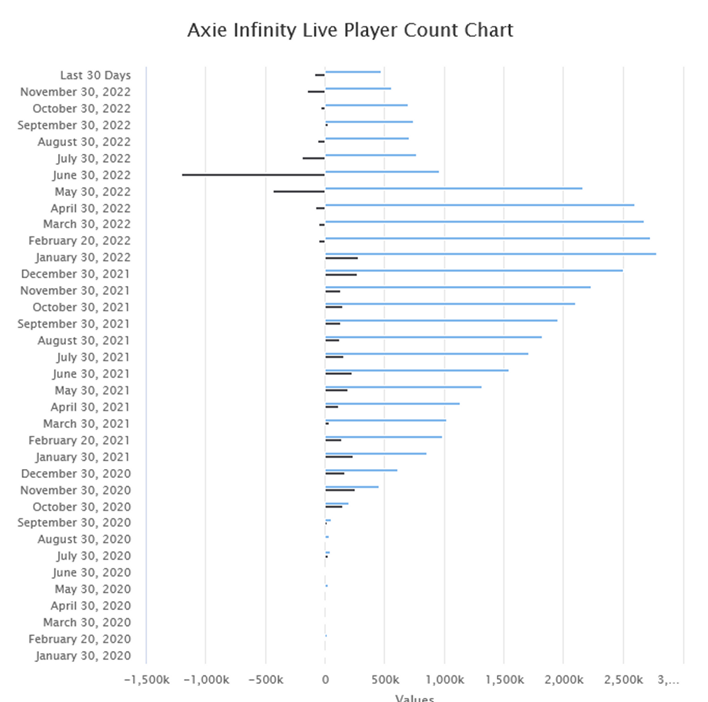 Initially, there were 2.78M players on the platform, and that number dropped to 468K in December 2022. One of the factors behind its diminishing popularity was Ronin bridge hack in March 2022. Since the network hack, the number of active players has been steadily declining.
The unlock of AXS tokens in late October was another factor that has effected the eco-system and a price drop in the $AXS token. As part of its $200 million unlocking event, Axie Infinity reportedly distributed 10 million restricted tokens to investors and insiders.
In addition to the hack and unlock, the team had to make changes to the tokenomics reward system. The team also got rid of the daily quest and adventure mini-game SLP prizes in February as an earlier attempt to stabilize the SLP token's economy. Players can no longer mint Smooth Love Potions (SLP) in the game's classic mod. This change was made in August 2022. The developers tried improved the utility of SLP by enabling players to use it in the new game mode to generate other in-game bonuses like runes and charms.
These factors have led the SLP to decline in price. And as profits disappeared, so too did the players.
Axie Infinity rebuilding with Contribution Program
In 2022, Axie Infinity shared its goal of gradually decentralizing its network. Axie aims to build towards an end-state where the platform users can decide on resource allocations. Since the announcement, the team has been aggressively taking the required actions.
In May 2022, it established "Town builders," which were seasoned community members with a track record of effective government. Later in July, those Town Builders attracted an influx of Contributor Electors to develop and implement the pilot project. Town Builders and Contributor Electors distributed the contribution program applications by the end of October, and in November 2022, a final list of entrants got rolled out into the pilot program.
With almost 700 community members signed up to participate in the first season of Axie Contributors, it is evident that the program is gradually progressing. Axie Infinity is steadily advancing toward its final goal of decentralizing the platform and enjoying support from the crypto space, particularly the gaming community.
Will it ever recover its users and high price?
Axie Infinity has a faint chance of making a comeback. Considered as an OG within the blockchain gaming space, the team has and is trying to fix the problems that it faced. The team recognised that P2E was not sustainable and had to take a change of direction. This had a direct impact on players and their earning ability.
The game and the company could have survived the hack. However, with reward cutbacks and reduction of incentives, gamers feel they are not getting a deal that they once were. There was a spike in July with the games NFT landing staking feature – however this was short lived. It does show a pattern. Axie does have the ability to build a community and attract investors. With the token unlock out of the way, selling pressure is minimised for now. 
If it can give users a reason to earn, they could be back. Although hitting its peak player-count figures and token pricing is perhaps unattainable. More games will emerge, the blockchain gaming landscape will become more difficult. Participants would have to believe and trust the team, this is in addition to enjoying the game for enjoyments sake.