Two years after the industry-shaking $69.3 million sale of his 'Everydays: the first 5000 days' NFT, Beeple – a.k.a. Mike Winkelmann – is still making major waves across the NFT-come-digital art space.
As many will already know, Q1 2023 – as well as the first half of Q2 – have been a busy few months for the esteemed digital artist, as in wake of opening his own IRL art gallery, he's now teamed with notorious Web3 evangelist and cereal entrepreneur Gary Vee to launch an exclusive NFT collection. Of course, this all also comes whilst the Wisconsin-born artist continues his relentless and daily 'Everydays' art extravaganza.
The 'GOAT MILK' NFT Airdrop
Last week saw Beeple tease the launch of an exclusive goat themed NFT airdrop for a portion of his loyal NFT collectors. As per the words of the man himself, those eligible to receive one of the limited-edition NFTs has to hold their all-important asset in a non-custodial wallet at the time of the screenshot (on Thursday of last week).
Per more words from the initial announcement, the event was purely one of airdrop premise, meaning users weren't required to do anything but have their Beeple NFT in the right place at the right time.
With the goat hints at the helm, yesterday then saw the airdrop's official announcement- where, instead of coming from the man himself, it came from the project in which he's been in collaboration with… Gary Vee's 'VeeFriends'.
Further, the collection's name 'Beeple x VeeFriends GOAT MILK' was revealed, which came with the tagline "*GOAT MILK NOT INCLUDED*… I'm sorry but it's basically impossible to ship actual milk!!!!! Plus it would probably get all nasty and let's be honest, you weren't gonna drink it anyway!! LOL."
The announcement then went on to say:
"This partnership with the prolific digital artist and creative visionary, Beeple, offers Gift Goats an exclusive Beeple-designed NFT and a distinct physical collectible crafted only for this collaborative drop: GOAT MILK".
As is evident, a portion of the lucky collectors to receive a 'GOAT MILK' NFT were in-fact the 555 who held a VeeFriend's 'Gift Goat'. Such a system makes intuitive sense, as per their name, 'Gift Goat' NFTs allow holders to receive a minimum of 6 gifting experiences per year- be it physical items or NFT airdrops. Such gifts come free of charge, and will be distributed until the experience ends in May 2024 – i.e. three years after launch. This means that Gift Goat NFT holders will receive a minimum of 18 gifts, with 'GOAT MILK' being the twelfth instalment (therefore marking the end of season/year 3).
As we know, Beeple NFT holders were also expected to join the party, where given the vague language used across the airdrop's marketing endeavours, it appeared that there were no restrictions with regards to which collectors were eligible for the raffle. That being said, we now know that only a lucky 555 Beeple collectors won an NFT airdrop, meaning there were 1,110 'GOAT MILK' NFTs distributed in total.
When it comes to which Beeple NFT holders could've been in recipient of one, these could've been anyone who held an NFT from any of the following collections:
'BEEPLE – GENESIS COLLECTION,' 'BEEPLE: EVERYDAYS- THE 2020 COLLECTION,' 'BEEPLE- SPRING/SUMMER COLLECTION,' 'BEEPLE: HUMAN ONE.' 'BEEPLE: UNCERTAIN FUTURE,' 'BEEPLE EVERYDAYS,' 'H1 GEMS,' 'EVERYDAY ARTIFACTS,' AND '[KENETIC SCULPTURE]'.
As a result of the shared marketing and distribution efforts, both Beeple and VeeFriends co-own the collection. The 'GIFT GOAT' artwork itself comes as part of Beeple's ongoing 'Everdays' art journey, wherein the artist produces distinct 3D artworks on a daily basis.
More specifically, the work in question – which was created by Beeple on May 22nd 2022 – features Gary Vee 's head as its centrepiece, however instead of it being attached to a human body, Gary lays resting as an overweight goat with a disturbing set of udders on show.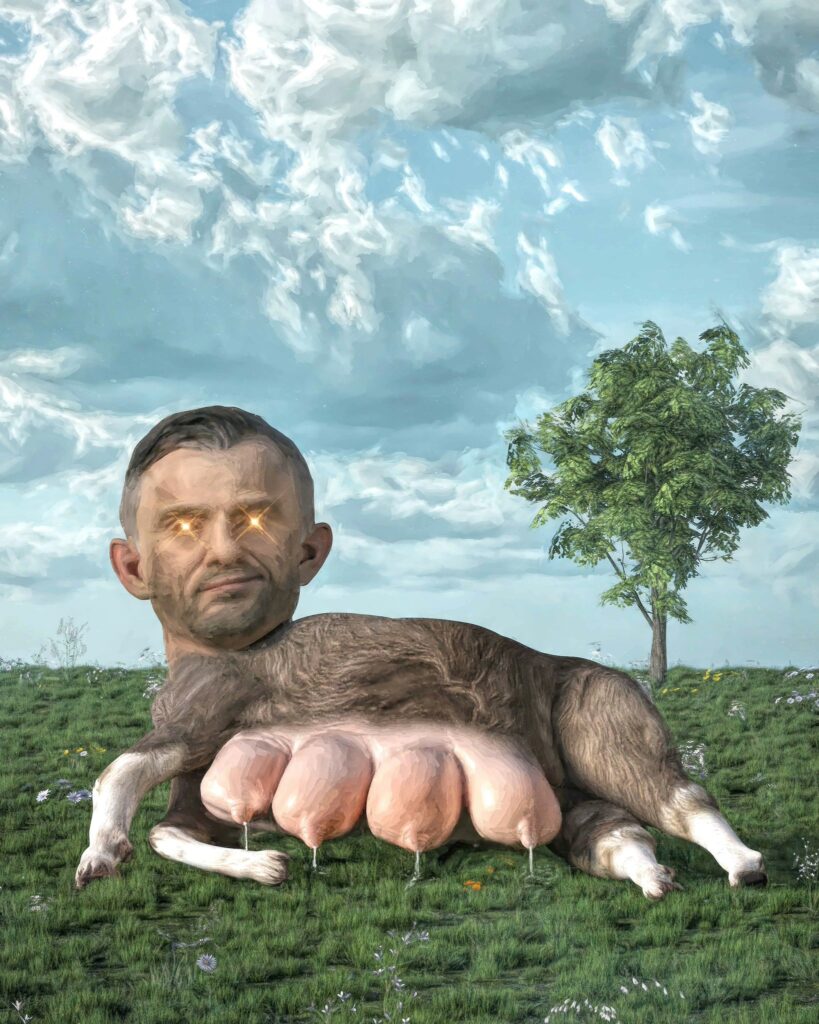 In addition, the physical collectible included in the airdrop will be delivered to rightful owners in the fall of this year. As of now, we have little information as to what it'll be, however as intuition will suggest, it will probably sport an outlandish theme centred around goats and the lactose they produce.
A final point of discussion here is that 'GOAT MILK' launched in the immediate days prior to VeeCon 2023- i.e. the VeeFriends-hosted 'super-conference' for builders in the business, entrepreneurship, and Web3 worlds. With this in mind, don't be surprised if Beeple makes an appearance at the Indianapolis event, alongside a whole host of top NFT artists, collectors, and enthusiasts from across the globe.
The Unveiling of Beeple Studios
More recently, the artist unveiled his new IRL art gallery 'Beeple Studios' last week. The 50,000-square-foot space, which is based in Charleston, South Carolina, was revealed in partnership with Christie's art auction house – i.e. the entity who sold Beeple's landmark $69.3 million NFT.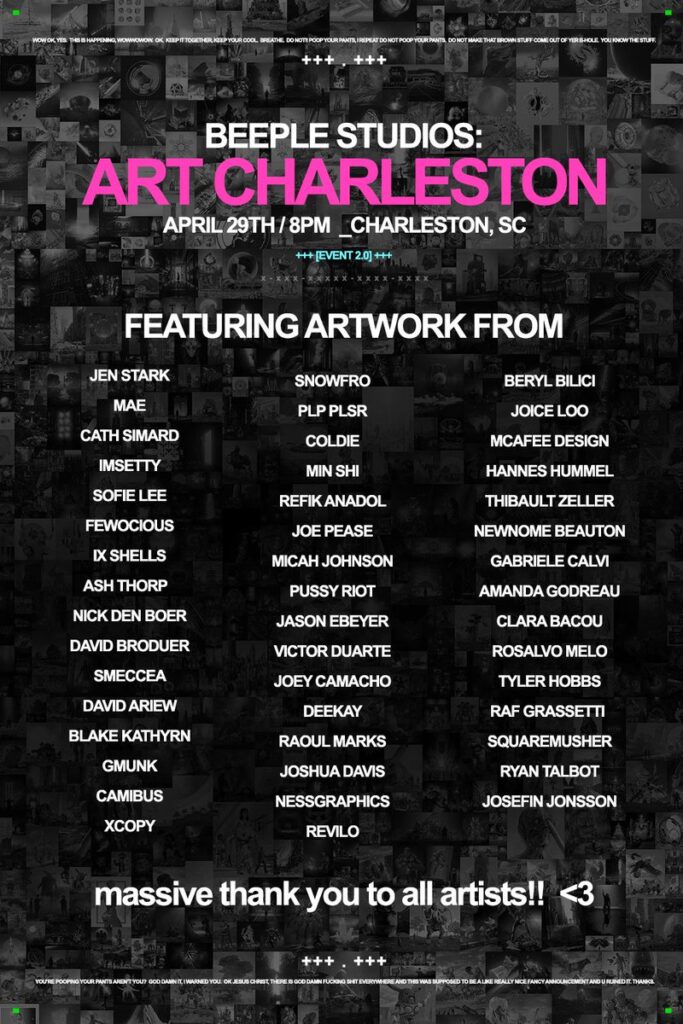 Given its illustrious connections, its walls have been covered in Blue-Chip assets from the off, as the likes of XCopy, Pak, Fvckrender, Victor Duarte, Refik Anadol, and more, all saw their works showcased throughout the event.
Included in the space's main body is a 13,000-square-foot gallery, as well as a 13,000-square-foot 'experimental space' that'll be used to 'program multiple different types of artists showcases and experimental community events'.
Although now teased, digital art enthusiasts aren't actually able to attend the gallery yet, however time slots for scheduled visits will be available soon. Once fully available, the space will serve as a hub for showcasing both Beeple's own art, as well as the works of his fellow digital artists.
"This will be an outlet for not just my artwork, but the entire digital art/ NFT community."

Beeple
The community-driven project was first teased back in October 2022, through a video which showed a time-lapse of a warehouse being renovated and dissected into different rooms.
When explaining his inspiration behind 'Beeple Studios,' the artist stressed the importance of hosting IRL resources and events in order to onboard the next wave of digital artists and collectors- as given the bearishness of Web3 at this particular moment in time, as well as the general lack of understanding surrounding blockchain technology, NFTs, and digital art, many of tomorrow's artists are still sitting at the fringes of the space.
Further, with the genesis of spaces such as 'Beeple Studios,' Beeple hopes that digital art galleries will begin to invoke the same thought and emotion provoking responses as those of the traditional art world.
'Everydays' – A Digital Art Bonanza
Beeple's most famous artist achievement is undoubtedly his $69.3 million sale of 'Everydays: the first 5000 days' at a Christie's auction in March 2021. In-fact, we can assume that such an event has been referenced in near-enough every Beeple-related article since, as well as any other piece covering the most illustrious NFTs to ever hit the blockchain.
'Everydays: the first 5000 days' comes as part of Beeple's relentless mission to produce and release a new digital artwork every day – where as of today, he's nearing-on 6000 consecutive days. As its name suggests, 'Everydays: the first 5000 days' is essentially a collage of the project's first 5000 works.
On a personal note, Beeple describes the project as a method for self-improvement, as per his own words:
"The purpose of this Everydays is to help me get better at different things. By posting the results online, I'm 'less' likely to throw down a big pile of ass-shit even though most of the time I still do because I suck ass."
On the marketing side of things, the project has been flawless in organically attracting the attention of the Web3 world, the wider masses, and even the occasion A-list celebrity (which may in-fact be the focal point of the artwork – such as Gary Vee in 'GOAT MILK').
To do so, Beeple often centres the pieces around current topics of pop-culture, where given the plethora of disturbing events to have taken places across the past few years, many of the works adopt dystopian vibes (which, in turn, do an astute job in catching the attention of Twitter scrollers).
In addition, the project has also allowed the artist to create monetization streams through the various aforementioned NFT collections – which collectively have garnered millions worth of mint and secondary sales revenue.
With almost 6000 'Everydays' now released, there is inevitably a multitude of bizarre and disturbing works now in circulation. From a personal perspective, a favourite 'Everyday' theme of mine is Donald Trump – where given the figure's inability to avoid headlines, many now exist for our entertainment.
For a taste of what these Trump-themed arts entail, an interesting example is 'ENDGAME,' which was released in the midst of the 'Capitol Attack' in Washington D.C. on January 6th, 2021. The work showcases a gigantic Donald Trump standing over the Capitol building whilst protestors fight with police, where in true Beeple fashion, he is naked, with only the building's dome and infamous 'Statue of Freedom' hiding his member.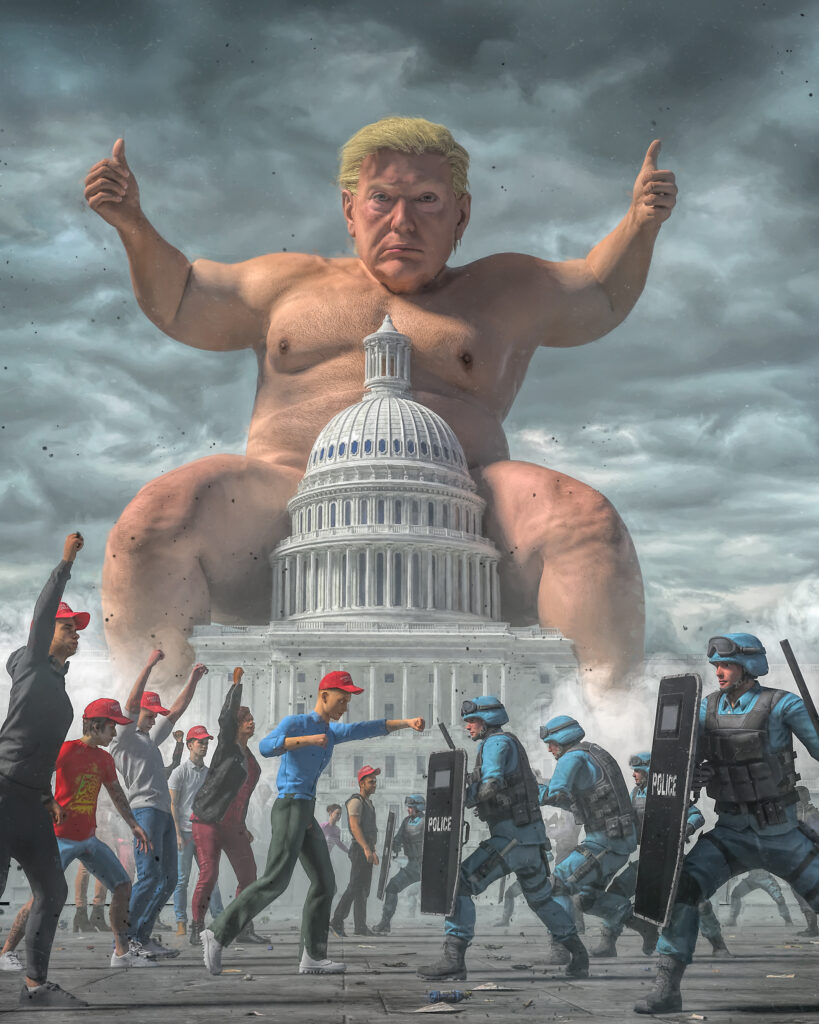 Given Trump's long involvement with the Biden Administration, Twitter controversy, and court action, there is a whole host of other disturbing, dystopian, and even homoerotic works in which he stars in.