Bet on Betty: AlphaBetty NFT
Disclaimer: Moving this up to the top for AlphaBetty NFT. I'm a community rep for the project, I own Betties and believe in this team and project. This is not financial advice. Don't invest what you can't afford to lose. Always do your own research before investing. 
Bet on Betty, because AlphaBetty is changing the world. AlphaBetty is one of those rare NFT projects where the first creative endeavor came out before the generative NFT was minted. AlphaBetty Doodles was released on Amazon back in June 2021, Cheryl Griffin illustrated and self-published this work which has the potential to grow into so much more with the introduction of the AlphaBetty NFT.
When you're looking at projects that are in the marketplace and have the potential to take off, the founding team is a great place to start. Do you trust the team to execute? AlphaBetty has a founding team of Ken, Cheryl and Dan. The artist, Cheryl, previously wrote a children's book and her husband, Ken is behind Malibu Beach Hut. Dan is a great guy to interact with in the NFT space, and honestly has taught me a ton since the first time I DM'd him during our Slacker Duck Pond Days. He brings a very calm methodical approach to how he wants AlphaBetty to take off and is not worried about short term fluctuations.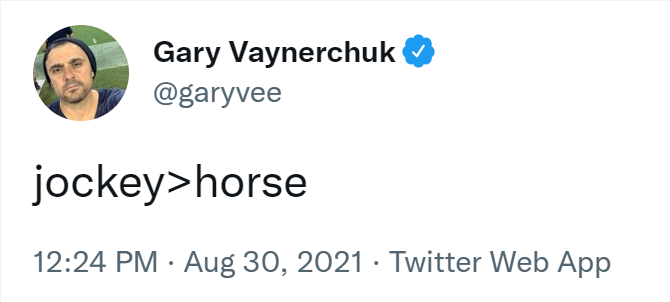 I'd Bet on Betty, this horse has room to run AND the jockey knows how to execute. PS: Gary was an early supporter and holds a bunch of AlphaBetties.
Project Roadmap
This team creates high quality deliverables that look like how a business would present where they are and where they are going to their investors or the board. That's the type of team and project I want to participate in. The team has been constantly executing with a ton of charitable work, partnerships, an expanding digital presence and did I mention the first airdrop, an AlphaBetty Coloring Book is on the way?
The professionalism of the team, the idea of tracking core KPIs is what will help AlphaBetty have staying power as a brand. Not just as another project.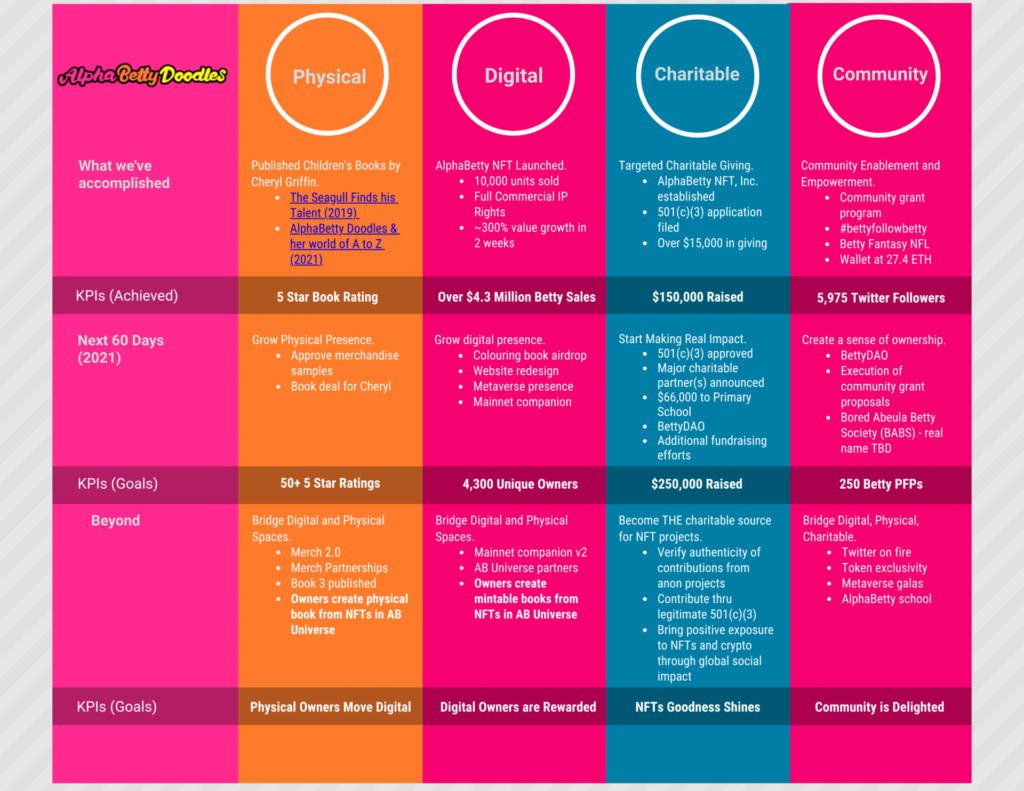 Charitable Focus
If you've read some of my recent work, you'll know that this is one of the most important pieces that I look for in a project. When Dan asked me to join the team, he didn't pitch it as a generative NFT, he talked about the focus on childhood education. This project is meant to be the change we want to see in the world. Already they've capitalized on a major charity raise at mint, follow up charitable auctions and other innovative ways to drive additional funds. AlphaBettyDoodles has also filed for 501(c)(3) approval which will make it officially a charitable organization.
Donor's Choose was used to help quickly facilitate funds to REAL PEOPLE. Real teachers facing real financial struggles in their classrooms received cash donations. They were able to use this money to buy supplies critical to the success of their students. Here are just a couple examples, the team shared over 15!! Teachers and classrooms AlphaBetty's donations impacted.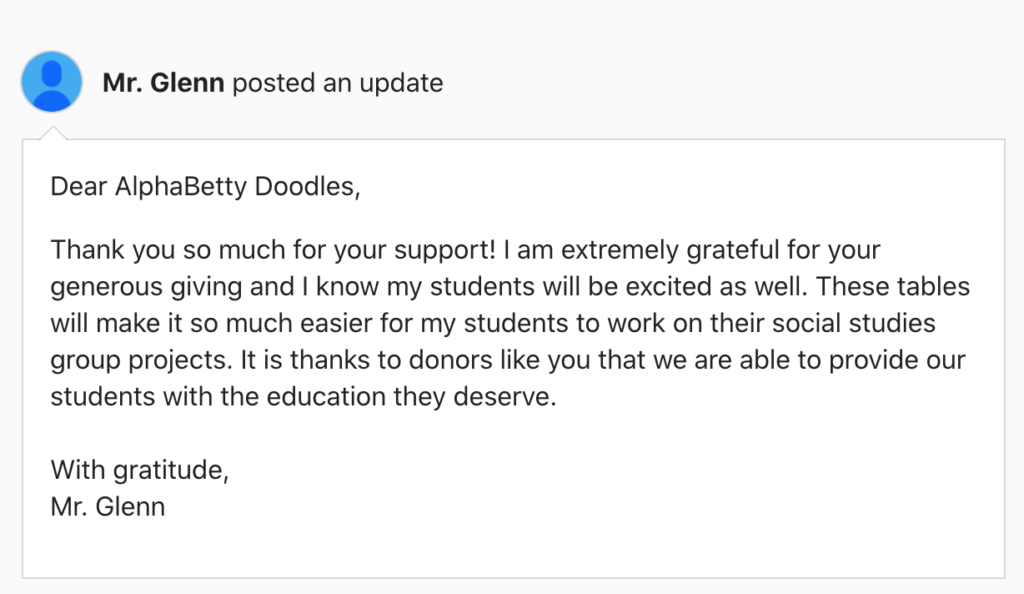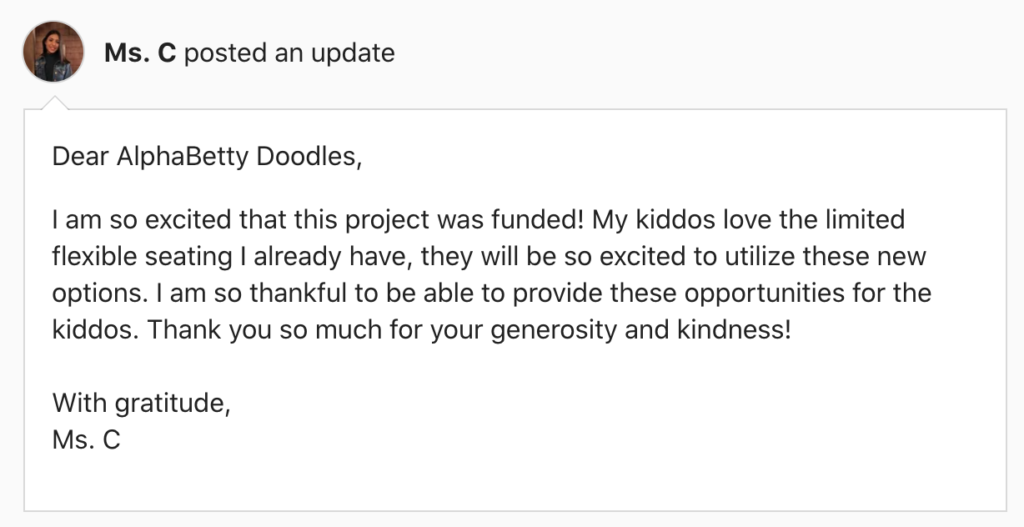 On August 31st, just a few weeks after mint, AlphaBettyDoodles announced an amazing partnership with Gamers Outreach. Gamers Outreach is an organization looking to help hospitalized kids have a feeling of normalcy by bringing gaming into hospitals. For children, being in the hospital can be a traumatic experience, Gamers Outreach is trying to help. The team from AlphaBetty worked to make sure they identified a partner that would really make a difference.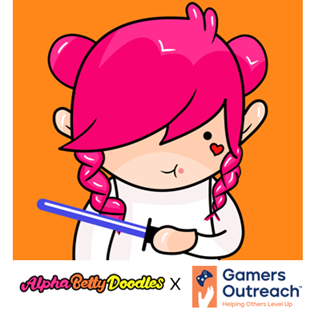 Community / Hype Team
AlphaBetty is not like most other communities, everybody on Twitter and in the Discord understands that short term fluctuations aren't the main drivers of this project. There's a common purpose of creating a brand that will drive the project forward longer than the next day, week or month. AlphaBetty is building a brand for the long run.
When you have this vision and genuinely care about the outcomes, people take notice. Early on AlphaBetty caught the eyes of the Denver Broncos, with Von Miller, Tyler Polumbus and Brandon Stokley all grabbing Betties. GaryVee scooped up a handful as well, and more recently Dez Bryant is looking to get in on the action!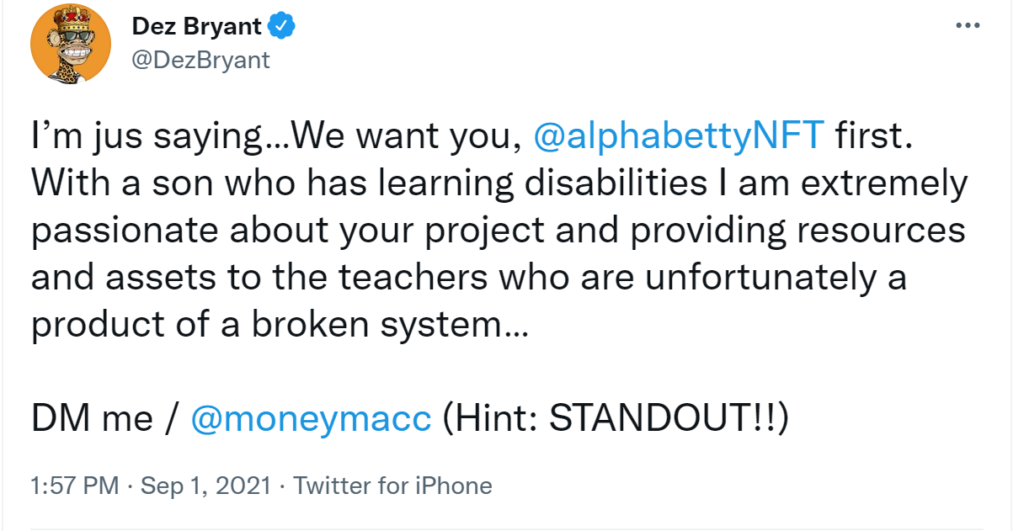 This project, and the people involved with it will be change makers for the future. AlphaBettyDoodles will be a brand you'll hear for generations. Agree, or disagree? Find me on Twitter @drucritt